Self-paced
The Send a Slate to Role Bot
Self-paced
The Send a Slate to Role Bot
The Send a Slate to Role Bot assigns roles to specific people so that they can complete Slate fields connected to their role. In this course, you will learn how to add and set up the Send a Slate to Role Bot.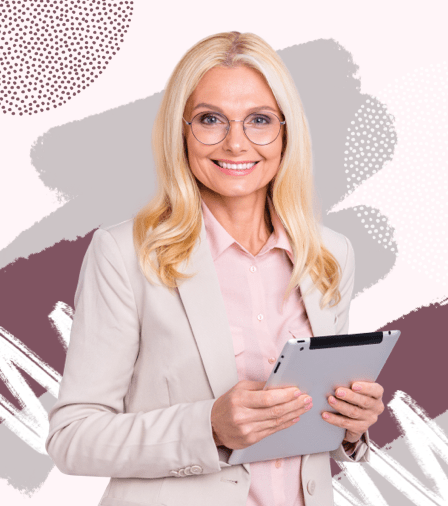 About this course:
Learn how to automate the process of assigning a role to a certain recipient in order for them to complete a Slate.
By the end of this course, you will be able to install the Send a Slate to Role Bot and customize it to your Flow's needs.
What does this course cover?
This course goes over the entire process of setting up the Send a Slate to Role Bot, from assigning roles to teammates to setting conditions for when the Bot will act.
Why was this course made?
We created this course to explain how to send a Slate to a recipient so that they complete it according to their Role.
Who can enroll?
Anyone can enroll in this course and we recommend doing so while getting to know airSlate better.
The materials for this course include:
learning resources to help you set up the Send a Slate to Role Bot on your own
practice sessions so you can consolidate learning through practical application
What you will learn:
How to select a specific role for a recipient
How to assign a role to a recipient
How to find the starting record
How to set conditions for when the Bot will send a Slate to a specific role
| | |
| --- | --- |
| Duration | 1 hour |
| Certificate | A verified certificate is included |
| Subject | The Send a Slate to Role Bot |
| Level | Intermediate |
| Language | English |
| Price | FREE |
Earn a verified certificate to demonstrate the skills you gain
Verified by airSlate
Receive an airSlate-issued certificate with the airSlate logo to verify your achievement and expand your career prospects.
Shareable on social media
Post your certificate on LinkedIn or add it directly to your CV.
Achieve your career goals with airSlate's advanced certification programs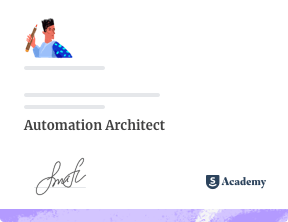 Automation Architect
Learn how to make any process in your workflow run like clockwork. Automate each step using Bots and triggers and perform integrations with popular CRMs like Salesforce or MS Dynamics 365.
Business Process Analyst
Identify which processes in your workflow can be automated. Learn key metrics to propel your business forward and increase your return on investment (ROI).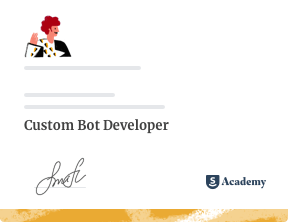 Custom Bot Developer
Learn how to design and develop airSlate Bots — a powerful robotic process automation tool that can be customized using airSlate.
See the certificate sample
Become an airSlate Partner
Students who complete the airSlate Academy's courses are welcome to become partners. Get the necessary skills for building automated processes, helping airSlate newbies, and generating revenue.
Send automatic email reminders to specific recipients with roles that haven't been completed
Managers at all levels are managers because they are good at providing direction and ensuring that tasks and projects get done on time. However, with so much happening, and so many things to monitor, it's not so uncommon for managers to miss little things that end up slowing down processes. But in reality, how can one person manage everything while sending emails as efficiently as the email reminder Bot? Emails, aside from Slack, are still a businesses' number one way of communicating internally and externally.
What do managers across all industries gain by delegating certain tasks to automation software?:
Increased efficiency
Elevated team collaboration
Completed tasks in less time
Reduced employee burnout
Focussed attention on more important tasks
Better customer experiences
What if there was a way of automatically sending notifications from forms directly to the person(s) responsible for completing them? Would you take it? Of course you would! Continue reading this excerpt to learn more about workflow automation and how the email reminder Bot can do to automate your rusty processes.
How do people send email notifications now?
A number of solutions for task management offer various tools for notifying workflow participants of changes or deadlines. However, most of them are only suitable for simple working processes, preventing you from being able to create «tasks» or ''issues" for all team members or for tracking simple actions such as moving cards between three main statuses: «To Do,» «In Progress,» «Done.»
Suppose your working processes are complicated and include a few (or even a few dozens) steps. In that case, you would probably run into problems when it comes to finding the right software, especially if you work with documents. Dividing steps into simpler tasks isn't suitable for concrete systems. Doing so is inefficient overall, and makes sending email notifications for forms tiring and labor-intensive.
How to send email notifications for forms efficiently
Begin by defining the workflow, the negotiation steps, and the signing processes. Define the people connected to and responsible for adding information to the form and prepare to automatically send email notifications from forms to the roles (participants) who haven't filled in their fields yet. Make processes as transparent as possible and simplify document collaboration.
Finding the right software — find capable software that supports adding records, assigning roles, and setting signing orders. It should allow you to receive complete documents without your active participation in reminding participants to complete their assigned roles. Automatically sending email notifications from forms frees you from hiring additional managers to check the status of documents or create labor-intensive email schedules or data tables.
airSlate, a holistic workflow automation platform with automation tools like the Email reminder Bot
Keeping in mind the existing solutions on the market for automating business processes, you won't be able to find a better workflow automation solution than airSlate. It has all the necessary tools for automating your company's processes, from simple tasks to complex workflows; sending customized notifications, and tracking all actions in your Workspace from a single platform.
Automated email reminders can be set up by specialized software robots called Bots. They send form notifications to recipients according to preset conditions and triggers. You can receive an email each time someone opens a document, submits it, adds a signature or specific data, and so on. In addition, if you assign roles, you will be notified as soon as each specific role is completed, and if the role isn't completed, an email Bot will notify the participant connected to that role and remind them to complete the fields assigned to them.
There are numerous reasons why adding automation to your workflows is beneficial. For instance, a Chief Financial Officer needs to insert data into a budget request's fields. Various managers add their personal details along with specific data related to their teams and positions without being able to edit the budget's content. Department managers then approve employee bonuses based on the information gathered. Use airSlate to send email notifications for forms to remind the assigned participants to complete actions and fill in fields.
How to send email notifications from forms in airSlate
Sending emails from airSlate is easy and all you have to do is configure certain email Bots. Get started by completing the actions below:
Select an appropriate Bot from the Bots list
Add conditions for when the Bot will act
Insert recipient emails so that the Bot can message them
To make the Bot setup as easy as possible, consider enrolling in the airSlate Academy courses. There you'll find general knowledge like airSlate Fundamentals course. Learn about what a Workspace is, how to create and use documents, when you need Bots, and so on. You'll also find more specific information about Bots and other tools available in airSlate. Automate and send email notifications for forms like a pro without writing a single line of code. Enroll now!