Self-paced
The Update Salesforce Record Bot
Self-paced
The Update Salesforce Record Bot
The Update Salesforce Record Bot automatically updates Salesforce records with data from a completed Slate. In this course, you will learn how to install the Bot and set it up.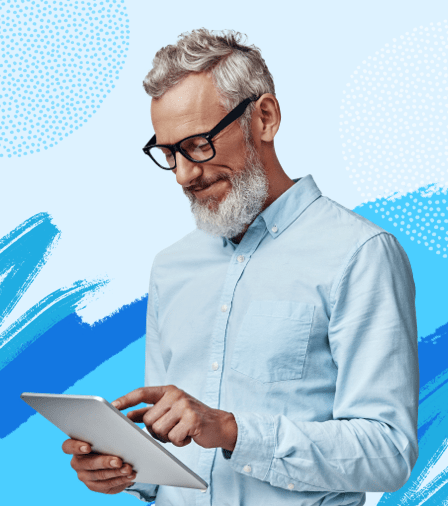 About this course:
Learn how to use the Bot to automatically update Salesforce records with data taken from a completed Slate.
By the end of this course, you will be able to add the Update Salesforce Record Bot to your workflow and set it up.
What does this course cover?
This course explains the entire process of configuring the Update Salesforce Record Bot, from connecting your Salesforce account to setting conditions for when the Bot will act.
Why was this course made?
We created this course to explain how to automatically update a Salesforce record using data from a completed Slate.
Who can enroll?
Anyone can enroll in this course and we recommend doing so while getting to know airSlate better.
The materials for this course include:
learning resources to help you set up the Update Salesforce Record Bot on your own
practice sessions so you can consolidate learning through practical application
What you will learn:
How to connect airSlate to your Salesforce account
How to choose the Salesforce object containing the data you need
How to map document fields to Salesforce object fields
How to add a search field for a starting record
How to set conditions for when the Bot will act
| | |
| --- | --- |
| Duration | 1 hour |
| Certificate | A verified certificate is included |
| Subject | The Update Salesforce Record Bot |
| Level | Intermediate |
| Language | English |
| Price | FREE |
Earn a verified certificate to demonstrate the skills you gain
Verified by airSlate
Receive an airSlate-issued certificate with the airSlate logo to verify your achievement and expand your career prospects.
Shareable on social media
Post your certificate on LinkedIn or add it directly to your CV.
Achieve your career goals with airSlate's advanced certification programs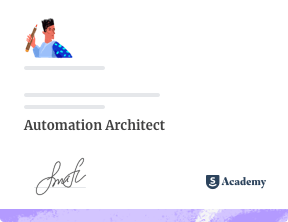 Automation Architect
Learn how to make any process in your workflow run like clockwork. Automate each step using Bots and triggers and perform integrations with popular CRMs like Salesforce or MS Dynamics 365.
Business Process Analyst
Identify which processes in your workflow can be automated. Learn key metrics to propel your business forward and increase your return on investment (ROI).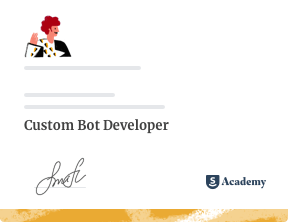 Custom Bot Developer
Learn how to design and develop airSlate Bots — a powerful robotic process automation tool that can be customized using airSlate.
See the certificate sample
Become an airSlate Partner
Students who complete the airSlate Academy's courses are welcome to become partners. Get the necessary skills for building automated processes, helping airSlate newbies, and generating revenue.
Take Your Business Farther With Speed and Efficiency: Change Record Types in Salesforce Faster Than Ever Before With airSlate
The aphorism Time is Money, has never been as relevant for business as it is today. Nowadays, the quality and price of goods and services are not as directly related to customer choice as they used to be. What matters now is the speed at which a customer or client can receive what they want. The ability to respond quickly to customer needs and arrange workflows fast and efficiently is what helps companies win and retain users, buyers, readers, etc., and ultimately lead in the market.
Benefits of CRM and ERP integration
You can hardly find a successful market leader that hasn't employed an enterprise-grade automation system. Automation software streamlines and speeds up business processes, as well as improves productivity. Most of the time it gets categorized with CRMs and ERPs. While CRMs automatically manage information about customer transactions, sales, and marketing campaigns, ERPs deal with workflows. To make a long story shorter, a CRM handles front-end info, while an ERP deals with back-end information. Although both systems work separately, when integrated, it's important to keep their data synchronized. The synchronization is achieved by respective pre-set software robots by airSlate called Bots. For example, if you're using airSlate (ERP) to change record types in Salesforce (CRM), set up the Update Salesforce Record Bot and watch how seamlessly the Bot transfers data and represents that transfer instantly with visible results.
Learn about all the benefits of integrating ERP and CRM systems below:
Complete view of customer

. Get visibility into customer habits and use that data to retain them.

Enhanced mobility

. Close deals more efficiently by using a complete customer portfolio that's stored in the cloud and accessible from anywhere.

Simplified access to customer information

. Enable sales reps to make better offers based on customer data in just a few clicks.

Saved time on repetitive data entry

. Eliminate data duplication with Integration Bots that push and pull data without human involvement or interaction.

Streamlined orders

. Turn generating proposals into a fast, consistent, and accurate process.
Use cases proving that integrating Salesforce and airSlate is a great idea
Integrating Salesforce and airSlate can enhance cross-department information exchange, enabling sales reps to close more successful deals. However, it's not only about mutual access to databases but also about an opportunity to impact and update databases across an entire organization without human interaction. Thus, eliminating the human factor associated with error. By knowing a Salesforce record type's ID, users can easily match fields and enable seamless data transfer to the Salesforce database. It suits well for updating customer contact information. Sales reps can also benefit by having customer profiles updated on last purchases in order to expand opportunities for future offers. Meanwhile, e-commerce platforms can configure the Update Salesforce Record Bot to get updates on new shipments and orders.
Learn how to configure airSlate's Bot to change Salesforce record types
Configuring airSlate's Update Salesforce Record Bot can be difficult for users who haven't dealt with automation software platforms before. That's why airSlate has developed a course to teach users about how to update a record field in Salesforce triggered by the Bot. By the end of the course, users will know how to connect both platforms, match relevant fields for data transfer and configure automation for Salesforce document updates. It takes 10 minutes to set up the Bot for updating the following field types: text, number, date, signature, initials, dropdown and checkbox options. It's perfect for document templates, contracts, and spreadsheets.
To set up the airSlate Bot:
Connect your Salesforce account.
Choose a Salesforce object to be updated.
Map the relevant fields to the relevant airSlate and Salesforce documents.
Set up the Bot by choosing triggers and conditions in the General settings.
Look through the Advanced settings to back up automation if the Bot fails.
The course consists of instructions and illustrations, examples of use cases and tests to assess student progress. The course focuses on just one of the numerous Bots airSlate has to offer. airSlate integrates with many other platforms via easy-to-set-up Integration Bots. By reducing monotonous manual work, airSlate saves a lot of time and helps serve customers faster and better.
airSlate is a robust ERP platform that automates business processes without the need to code. Its Bots can significantly speed up and streamline workflows and its intuitive interface, high security standards, and numerous integrations have already influenced thousands of companies all over the world, notably Xerox, Amgen, and TechData just to name a few.
Get started today!