Self-paced
Travel Request Course
Self-paced
Travel Request Course
A streamlined travel request process helps avoid potential problems arising from poor management and low visibility that can affect spending and tracking. In this course, you will learn how to automate travel requests, create and edit configurable request forms with attachments, accelerate payments, and improve travel planning with airSlate.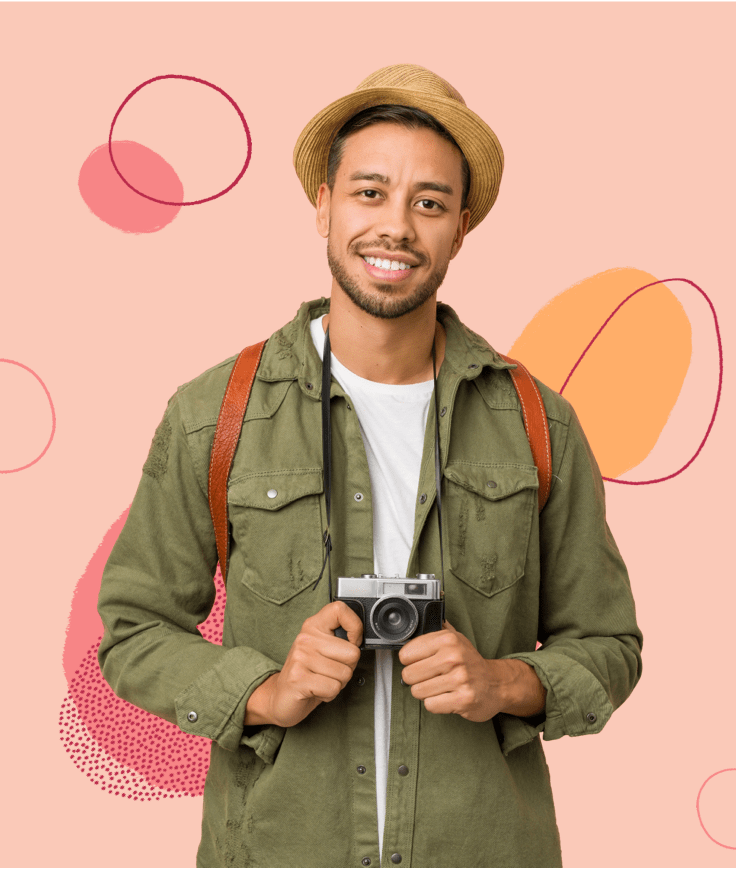 About this course:
Discover how automation helps improve travel approvals and manage costs efficiently. Learn how to enhance your management of travel requests using forms with pre-filled contact information and attached receipts. By integrating these tools with your workflow, you will be able to accept or decline requests in seconds and process payments on time.
By the end of this course, you will know how to automate a travel request workflow, create and assign roles to recipients, add and edit forms, configure notifications and reminders, and even track and audit your Flow's progress.
What does this course cover?
Students taking this course learn how to automate travel requests with airSlate no-code Bots, create reusable templates, set up role-based access, and customize powerful analytics. This course provides a practical knowledge of how to improve collaboration between employees in different departments and managerial levels, simplify budget controls and travel planning, enhance document routing, and accelerate payment cycles.
Why was this course made?
We created this course so that any organization could easily automate travel requests as well as any similar processes. You will learn how to analyze and track all of your team's activities, improve workflow management, streamline travel payments, and route documents in minutes.
Who can enroll?
Users can enroll in this course to reinforce their theoretical knowledge and gain practical experience in automating the travel request workflow.
The materials of this course include:
learning resources to teach you how to automate a travel request workflow in practice.
practice sessions so you can consolidate learning through practical application.
What you will learn:
How to configure different categories of Bots to automatically pre-fill, archive, and update documents
How to create travel request forms and manage them
How to create roles and assign specific fillable fields to them
How to improve collaboration with instant notifications and reminders
How to control and streamline payments
| | |
| --- | --- |
| Duration | 2 hours |
| Certificate | A verified certificate is included |
| Subject | Travel requests workflow |
| Level | Advanced |
| Language | English |
| Price | FREE |
Earn a verified certificate to demonstrate the skills you gain
Verified by airSlate
Receive an airSlate-issued certificate with the airSlate logo to verify your achievement and expand your career prospects.
Shareable on social media
Post your certificate on LinkedIn or add it directly to your CV.
Achieve your career goals with airSlate's advanced certification programs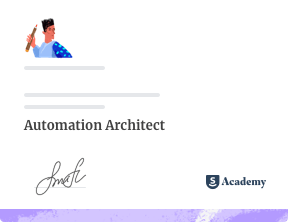 Automation Architect
Learn how to make any process in your workflow run like clockwork. Automate each step using Bots and triggers and perform integrations with popular CRMs like Salesforce or MS Dynamics 365.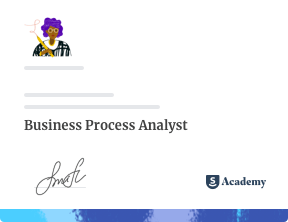 Business Process Analyst
Identify which processes in your workflow can be automated. Learn key metrics to propel your business forward and increase your return on investment (ROI).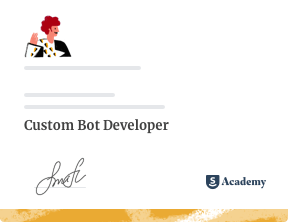 Custom Bot Developer
Learn how to design and develop airSlate Bots — a powerful robotic process automation tool that can be customized using airSlate.
See the certificate sample
Become an airSlate Partner
Students who complete the airSlate Academy's courses are welcome to become partners. Get the necessary skills for building automated processes, helping airSlate newbies, and generating revenue.
How to eliminate bottlenecks in your travel request process
The travel request process can be tricky because its sole purpose is to compensate or even cover an employee's business travel expenses. How is it tricky? Well, to start, anything that involves money is going to be sensitive.
Employees don't want to lose out where they think their employer should pay and employers don't want to pay more than they absolutely have to. It's essential that the procedure your team has to go through to complete a travel request application is one that promotes clarity, consciousness, and accurate data.
Any type of error on either side leads to delay, the potential for over/underpaying, and frustration on both sides. Get your workflow up to par by exploring the airSlate Academy. Take its courses and configure a cost-effective, automated workflow.
The travel request process consists of three steps: filling out a form, approval, and transferring funds to the employee. It seems simple enough, but for those who work with these forms daily, know the processes are littered with bottlenecks.
Simply going paperless isn't going to help much. Even once paper is eliminated, you still need to deal with:
Lost emails. An email can accidentally end up in the spam folder, making it so that no one will notice it. Lost emails create delays and damage communication.
Multiple forms. Instead of a well-organized travel request form template, employees have to fill out three or more applications, making the process difficult to manage and scale.
Manual data entry. Handling multiple requests manually is an error-prone process. If anything gets mistyped, there's a high possibility that someone is losing money.
Human factor. Last but not least, the process is slow because of a million distractions. People aren't robots. Employees can forget to add a ticket to the travel consent form, the finance department can miss emails, and so on. The human factor leads to many delays and a lot of the times failed trips.
How does the Academy help create an errorless workflow starting with a simple travel authorization form template
Getting rid of the stumbling blocks isn't easy. The airSlate Academy's Travel Requests Course comes in handy offering a free 3-part training program — theoretical, practical, and quiz. The program aims to analyze each drawback of your process in detail and provide ways to fix it.
The theoretical part is intended for a deeper understanding of business processes and how to automate them. This is done by evaluating common use cases.
The practical part provides an opportunity to quickly and conveniently learn how to work with airSlate and automate routine work, saving more resources for other more important tasks. airSlate is an end-to-end solution that helps you turn obsolete processes into a smooth workflow. Say goodbye to error-prone, time-consuming, and costly processes.
The quiz puts the record straight and helps you consolidate the knowledge received from the course. After passing the exam, you'll receive a certificate confirming your skills.
While taking this course, you'll learn how to:
Automate the Travel Request Flow
Create a reusable travel request form template
Configure no-code automation Bots to pre-fill and export data between different CRM systems
Set transparent budget limits
Generate invoices automatically
Route documents between recipients and separate systems of record
Everything you need to know about travel request automation is in this course. Besides, the course gives a step-by-step guide on how to implement innovations into your business using airSlate.
The travel request form and what it consists of
Let's dig a little deeper into the travel request form and find out what's needed to properly fill one out.
Every travel request form template should include:
Personal Information. Use pre-fill Bots to transfer employees names, emails, and numbers from the general database, and avoid typos.
Date. Fillable role-based date fields help eliminate future misunderstandings.
Purpose of the trip. Make sure applicants have clear blocks for adding the purpose of the trip and a clear description of what is funded by the company and what is not.
Additional requests. For booking a hotel or transferring from the airport, money is also needed. Ask workers in advance what they might need.
Estimated trip cost. Using the e-form, you can set a limit for each person.
Moreover, airSlate provides your form with required fields meaning employees can't submit the form to the manager without first satisfying those fields, e.g., attaching tickets. A comprehensive form is key to a successful workflow.
Master all airSlate's automation tools and implement them into each of your business processes. Enroll and get your complete guide to building a fast, reliable, and effortless workflow in any industry.