Self-paced
Automating Vendor Contract Approvals
Self-paced
Automating Vendor Contract Approvals
Selecting new suppliers, scheduling payments, and organizing the delivery of goods — it doesn't have to be complex and time-consuming, does it? Not with airSlate. Learn how to automate and streamline the approval and onboarding of new vendors and increase the efficiency of procurement processes.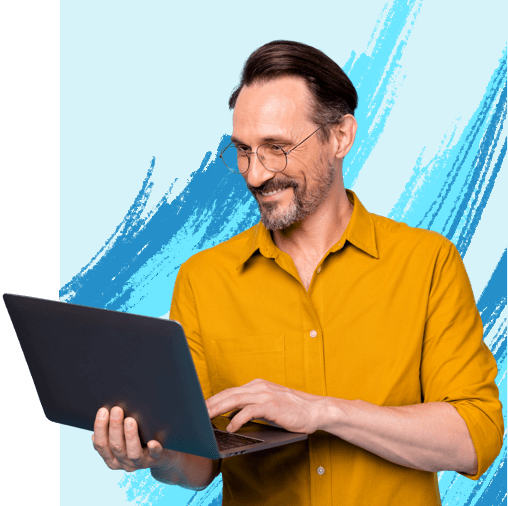 About this course:
The course is aimed at anyone interested in developing relationships with new suppliers and is looking to simplify and maximize the efficiency of this process.
By the end of this course, you will be able to onboard new vendors, streamline your workflows with them, and solve the most common issues procurement departments face due to the lack of automation.
What does this course cover?
This course goes through the most common bottlenecks of vendor contract approvals and how workflow automation helps address these challenges. You will also review detailed guidelines for setting up a fully automated workflow that will benefit both you and your vendors.
Why was this course made?
We created this course to show you how fast, simple, and reliable vendor contract approvals can be if you use workflow automation.
Who can enroll?
Anyone can enroll in this course and we recommend doing so while getting to know airSlate better.
The materials for this course include:
learning resources to teach you how to automate a vendor contract approvals workflow in practice.
quiz and assignments to consolidate the received knowledge.
What you will learn
How to overcome the main challenges of a vendor contract approvals workflow: data errors, lost documents, lengthy process, etc.
How to set up a fully automated workflow without any skills in coding
How to ensure proper access permissions for respective workflow participants
How to track all changes within the workflow and conduct secure payment transactions
| | |
| --- | --- |
| Duration | 30 minutes |
| Certificate | A sharable achievement is included |
| Subject | Vendor contract approvals workflow |
| Level | Intermediate |
| Language | English |
| Price | FREE |
| Rating | |
Earn a verified certificate to demonstrate the skills you gain
Verified by airSlate
Receive an airSlate-issued certificate with the airSlate logo to verify your achievement and expand your career prospects.
Shareable on social media
Post your certificate on LinkedIn or add it directly to your CV.
All you need to digitally transform your business
The airSlate Academy combines everything you need to digitally transform your business, including legally binding eSignatures, advanced PDF editing, and automated workflows.
eSignature workflows
Familiarize yourself with eSignatures, their implementation, business value, and learn how to create legally binding eSignature workflows for your business.
Paperless workflows
Change the way you work with documents into an interactive online experience and learn how to make your documents look professional.
Achieve your career goals with airSlate's advanced certification programs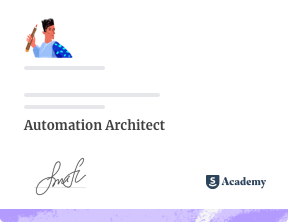 Automation Architect
Learn how to make any process in your workflow run like clockwork. Automate each step using Bots and triggers and perform integrations with popular CRMs like Salesforce or MS Dynamics 365.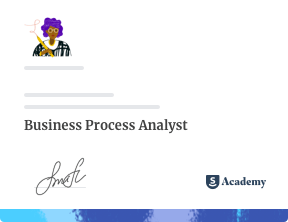 Business Process Analyst
Identify which processes in your workflow can be automated. Learn key metrics to propel your business forward and increase your return on investment (ROI).
Custom Bot Developer
Learn how to design and develop airSlate Bots — a powerful robotic process automation tool that can be customized using airSlate.
View the certificate
Become an airSlate Partner
Students who complete the airSlate Academy courses are welcome to become partners. Get the necessary skills for building automated processes, helping airSlate newbies, and generating revenue.
The contract approval process and the growth of automation
The contract approval process is an integral part of every company and when poorly managed, leads to significant losses in profit, credibility, and reliability.
Even if you feel that your current vendor approval process has been and is successful to date, the implementation of automation can change and your results drastically and affect your business in a very positive way.
Automation is taking hold of the future, and along with it, the vendor management you're used to. Instead of filling out papers or looking for the right document, you can spend that valuable time on more important tasks; looking for a more suitable supplier or researching the market. In short, mastering automated vendor management is something that every business needs to do. As you continue to read, you'll learn all about business process automation (BPA) and how it helps improve supplier relationship management processes.
Where to learn more about vendor relationship management
Before you start transforming supplier relationship management workflows, dot your i's and cross your t's; automation is an advanced tool for your business that needs proper implementation. Therefore, to get the most out of it, we advise you to take and complete the airSlate Academy's Automating Vendor Contract Approvals course.
Compared to other vendor management certification programs, the course is focused on teaching you how to reduce the costs and time it takes to complete your procurement process's lifecycle, eliminate bottlenecks in the workflow, and prevent errors associated with data entry. Expanding your knowledge about vendor management with free online courses or risk management certification programs can save you a lot of headache connected to lost documents, invoice fraud, and much more. Master new solutions like no-code robotic process automation (RPA), esignature, and document generation.
Anyone interested in understanding every step of a fully automated contract approval Flow should sign up for our vendor management certification. Get everything you need to know, from setting up Bots to inviting participants to collaborate.
What can you get with vendor management certification programs by the airSlate Academy?
Unlike other vendor management certification programs, our Academy combines theoretical and practical knowledge. Creating an airSlate account grants you full access to necessary documents, exporting tools, and the ability to negotiate with Flow participants in real time.
The Academy introduces you to all airSlate's features and teaches you how to properly implement them into your supplier relationship management processes. You'll learn how to stay up-to-date with changes in your workflow by giving the tedious work to Bots and eliminating manual reminders; for example, setting up automated email notifications is one of the simplest tasks handled by students at the very beginning of our vendor management certification program. Furthermore, the course goes over how to integrate the process into any third-party system, e.g., CRM/ERP, without writing a single line of code.
Furthermore, in addition to the Academy's vendor management training, our certification also allows you to get risk management certification online at the same time. Instead of completing a few different programs, you get an all-in-one course that covers all your needs: handling vendor relationship management, building IT vendor management Flows, creating a vendor management policy, etc.
The vendor management training certification includes a short quiz to reinforce the knowledge you picked up and evaluate your performance. Take the course as many times as you need to fully understand it. Spending at least 30 minutes a day completing this course will help you complete the vendor management certification program in just one week. Transform Vendor Contract Approvals into a flawless procurement process.
How can you make your vendor management flawless with airSlate?
Take a look below and get a clear insight into what a smooth vendor approval process looks like with airSlate automation in full deployment.
A new vendor fills out a registration form;
The data is automatically saved in the CRM and ERP systems;
The procurement manager then sends the pre-filled contract with the vendor's data from the registration form to the vendor for signing;
Then both parties negotiate in real time right in the document;
Once there's an agreement, the vendor eSigns;
The Chief Operation Officer receives an email notification that all stages have been completed and that they need to eSign as well;
After payment has been received and the payment process form has been completed, everything, including the contract, is automatically stored in the CRM.
airSlate makes supplier relationship management straightforward for everyone. If set up correctly, the process runs like clockwork. With great workflow automation software and, moreover, completion of vendor and risk management certification online courses, you get a seamless contract approval process.
After completing the vendor management certification training, you'll receive a certificate and, most importantly, skills on how to turn the contract approval process into a multi-level, accurate, and reliable automation workflow.
Vendor management training certification summary
Whatever your vendor management policy looks like and how you implement it, there is always room for improvements. Nowadays, this room is for automation, especially for IT vendor management. So forget about getting boring risk management certification online; sign up for vendor management certification programs with airSlate and learn how to boost your existing workflows. When you know how to build automated processes without a single line of code, you'll always be able to enhance current vendor approval processes, accelerate document management, and improve employees' accuracy in any sphere of business or any duty, starting from the need for ordering office supplies and ending with IT vendor management.
So if you're interested in helping your current team innovate or are even interested in future career perspectives in automation architecture, enroll for free.
Questions & answers
Here is a list of the most common customer questions. If you can't find an answer to your question, please don't hesitate to reach out to us.
What is vendor management?
Vendor management is a system of processes that cover all the steps of a deal's lifecycle and allows businesses to control their costs, mitigate risks, and get the best services from vendors. It plays an essential role in ensuring financial stability and resource savings. It's the main reason why many organizations value such experience in this sphere and send their employees to supplier relationship management courses.
What is the vendor management process?
Vendor management includes many separate processes: vendor vetting, onboarding, procurement, order confirmation, performance monitoring, and much more. Each process can be divided into smaller but still important tasks that have to be carried out to guarantee successful cooperation. Otherwise, mistakes can be made, and you'll have to solve newly formed issues. Unfortunately, not everybody can get all the required skills at university, so it's a good idea to enroll in online vendor management certification programs.
What is vendor management in the supply chain?
The importance of supplier relationship management grows as a company grows. Small organizations deal with just a few vendors, large businesses and corporations need to contact dozens or even hundreds. Each of them has its own contract requirements, pay rates, preferred communication methods, and keeping everything in mind is highly complex. Consider completing a vendor management training certification.
What are vendor management skills?
Any supplier relationship management specialist should have a set of skills connected to negotiation, planning, strong verbal and written communication, marketing, and presentation. It's hard to get all these skills after one vendor management certification. Always be on the lookout for new information.
How do I manage a contract approval process?
The main three steps of any contract approval process are document review, approval, and sign off. Without these stages, this process and vendor management as a whole isn't complete, and if any of these stages fails, it offsets all previous steps.
What is a contract approval process for a project?
We can divide any project into five main parts: start, preparation, planning, implementation, completion. All of them require hiring additional specialists or ordering services and goods along with a contract(s) to guarantee credibility and delivery. As a result, people face contract approval processes with multiple vendors during all project steps.
What is contract processing?
There are many activities that accompany the contract approval process called contract processing. People must prepare contract-related data, assess conditions, check agreements for ambiguity, an omission of terms, and potentially incorrect statements. In other words, contract processing is the set of procedures that ensure every agreement's compliance with a company's rules and policies. Unfortunately, it's pretty monotonous work, and there is a high risk of human error. To avoid mistakes, consider automating such tasks. Complete the vendor management training certification by the airSlate Academy and learn how to streamline and accelerate work with contracts for free!
What are the peculiarities of IT vendor management?
IT vendor management has no extraordinary specifics. Managers try to minimize cost and spending and mitigate risks without harming their product's quality. The only things that require additional examination are product implementation and maintenance. Otherwise, IT vendor management specialists work just like managers of all other industries.
How do I get a certificate of vendor compliance?
A certificate of vendor compliance is the document made by every organization to confirm that an organization meets necessary requirements. This document isn't very popular when it comes to relationships, but some governmental institutions request it before allowing an organization to participate in specific tenders or auctions.
Where can I get a vendor management certification?
You can complete vendor management certification programs with the airSlate Academy. It allows students to learn more about contract approval processes, try workflow automation, and get vendor and risk management certifications. Get valuable information at your own pace online.