Self-paced
Web Forms
Online forms possess a number of advantages in comparison to other types of business documents: they are much easier to track, organize, and more convenient for collecting client data. Learn how to create a web form on your own, add various elements to it, and transfer the filled-in data within seconds using airSlate.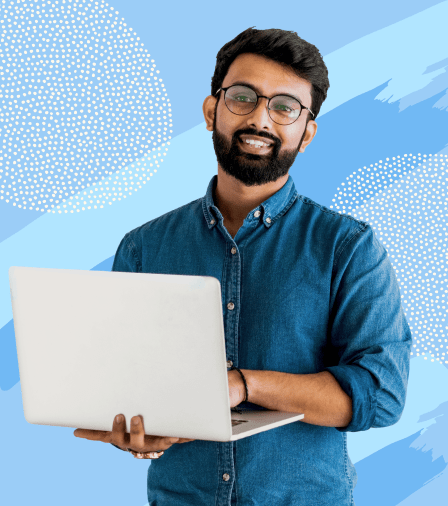 About this course:
This course goes through the process of creating and customizing web forms for each specific use case from scratch or using pre-built form samples and sending them out for completing and signing.
By the end of this course, you will be able to create web forms and conditions for them, customize your form by adding different elements and widgets, use online survey tools, share the template with your recipients, and generate a public link.
What does this course cover?
This course demonstrates how to create, customize, and manage dynamic airSlate web forms to suit your business needs. Moreover, we will teach you how to create simple conditions for your recipients to follow when completing your form.
Why was this course made?
We created this course to help users generate no-code web forms with fillable fields, widgets, and other elements within minutes.
Who can enroll?
Anyone can enroll in this course to gain practical experience in creating dynamic no-code web forms, and we recommend doing so while getting to know airSlate better.
The materials for this course include:
learning resources to teach you how to create web forms and use online survey tools in practice.
practice sessions so you can consolidate learning through practical application.
What you will learn
How to create a web form in airSlate
How to add fillable fields, logos, widgets, and other elements to your form
How to create conditional logic for your forms
How to transfer the collected data to other documents or systems
| | |
| --- | --- |
| Duration | 1 hour |
| Certificate | A sharable achievement is included |
| Subject | Web Form Creation |
| Level | Intermediate |
| Language | English |
| Price | FREE |
| Rating | |
| Enrolled | 1695 students |
Earn a verified certificate to demonstrate the skills you gain
Verified by airSlate
Receive an airSlate-issued certificate with the airSlate logo to verify your achievement and expand your career prospects.
Shareable on social media
Post your certificate on LinkedIn or add it directly to your CV.
All you need to digitally transform your business
The airSlate Academy combines everything you need to digitally transform your business, including legally binding eSignatures, advanced PDF editing, and automated workflows.
eSignature workflows
Familiarize yourself with eSignatures, their implementation, business value, and learn how to create legally binding eSignature workflows for your business.
Paperless workflows
Change the way you work with documents into an interactive online experience and learn how to make your documents look professional.
Achieve your career goals with airSlate's advanced certification programs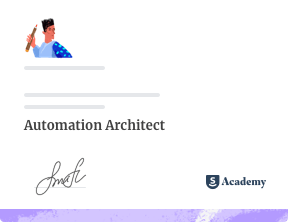 Automation Architect
Learn how to make any process in your workflow run like clockwork. Automate each step using Bots and triggers and perform integrations with popular CRMs like Salesforce or MS Dynamics 365.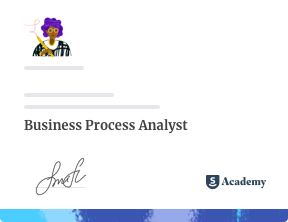 Business Process Analyst
Identify which processes in your workflow can be automated. Learn key metrics to propel your business forward and increase your return on investment (ROI).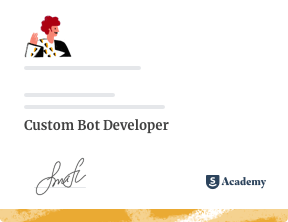 Custom Bot Developer
Learn how to design and develop airSlate Bots — a powerful robotic process automation tool that can be customized using airSlate.
View the certificate
Become an airSlate Partner
Students who complete the airSlate Academy courses are welcome to become partners. Get the necessary skills for building automated processes, helping airSlate newbies, and generating revenue.
Learn how to create web forms without code
Inbound leads are always visitors that fill out a contact form located on your website or specific landing page. However, to turn a visitor into a lead, you need a well constructed web template. With a simple fillable document, you can do anything from collecting feedback and contact information to conducting surveys online.
Creating web templates is a great first step to making lead generation easier. A well-constructed template leads to a few core benefits:
More accurate information. By controlling exactly what you want visitors to see and fill out not only allows you to collect the information you need but allows your visitors to type the information in correctly, without you having to guess or assume.
Saved time. By having easy-to-find contact templates, you and your visitors can save a lot of time for focusing more on solving problems and helping customers than unnecessary calls. Take advantage of the best online survey tools to build a template in clicks.
Improved customer journey. By delighting visitors with customizable and flexible web-based forms instead of clunky, old fashioned templates, you make it easier for them to gain trust and thus, give their information and/or feedback to you.
A few tips on how to create a web form
A web form isn't something new, companies have been using them for ages now. The difference is how easy a no-code survey builder makes it to create them. It doesn't matter if you're sending out questionnaires or trying to collect leads. Take a look at the tips below to learn how to create a web form that's fast, simple, and perfect for collecting data.
Make sure the purpose of the web template is clear
Whether the filler is a new visitor or a direct recipient, they need to understand why they have to or should fill out your survey online and how it helps them. Write text in a clear and concise way, and add examples that clarify the type of information needed and in what format it should be in.
Omit questions or lines of text that are too personal
Getting information from leads or recipients is a sensitive process and nobody likes to give out their information and personal details without understanding 100% why they're doing it. And even then, sometimes they still don't want to. Make sure to create an online survey including headers and questions that encourage trust, so that more people are comfortable giving their information to you.
Turn an interrogation into a conversation
A massive list of questions is likely to scare off your potential customers. A solid block of text and too many questions can easily overwhelm visitors, making most leave without even getting to the first question. Use a good algorithm for redirecting users to the survey (and specific sections in those templates) that match their request. This way, you can create a web form that encompasses all aspects and details while helping users save time.
Jazz up your content
Add video, image, or other widgets to polish and refine templates using a professional free online survey maker. Customization helps you amplify your unique brand in every contact template, questionnaire or survey you design and distribute.
What tools are needed to create a web form?
Let's go over how to create an online survey or web-based questionnaire if you don't have programming skills. airSlate is a solution designed for just that. The platform is equipped with a professional free online survey tool for creating templates and so on, as well as ready-made templates. Choose a category: Custom Service, Education, Finance, etc., and find the example you need. You can insert a matrix, set up conditional fields, and customize just about anything. In addition, the web form creator allows you to throw in widgets for a video, a picture, or HTML code.
Use dynamic robotic process automation (RPA) via airSlate Automation and Integration Bots to pull and push data between documents and any database, CRM system, or ERP system you use. Configure Bots once and set up the necessary triggers so that your template and information move to the right places, saving you from manually running the numbers.
How does airSlate promote more streamlined work? When it comes to no-code, many are afraid to start on the wrong foot and come up short. Therefore the airSlate Academy has dedicated a whole course devoted to creating web-based surveys and dynamic .html. This free course is for those who want to learn how to generate no-code fillable templates and get the most out of the online survey creator.
While taking the course, you can create your account in airSlate and build a web template using the course tips and all-in-one survey maker. This approach can provide you with theoretical and practical knowledge that you can implement anywhere across your team or organization. Assess your abilities by completing the quiz. Take more Academy courses to become certified as an Automation Architect or Business Process Analyst.
Questions & answers
Here is a list of the most common customer questions. If you can't find an answer to your question, please don't hesitate to reach out to us.
How do I create a web form online?
airSlate offers complete flexibility in terms of web form creation. To get started, navigate to All Flows on the left > select from existing Flows that you want to join or create a new one > choose the form type > select Blank form to create one from scratch or use pre-designed templates.
What is the best program to create a web form?
There's a wide range of tools that allows you to build web-based forms. However, not all of them can boast the ease of use and the broad spectrum of functions like airSlate can. For example, you can create a web form from scratch using an intuitive drag-and-drop form builder, edit and configure the ready-made pre-uploaded forms, or upload your own document and turn it into an interactive file.
How do I create a web form that can be filled out electronically?
To create a web form that can be filled out online, you would need a robust solution, like airSlate, that allows users to add fillable fields, collect data from your partners and clients in real time, get insights, and analyze output data. With airSlate, you no longer need to develop various workarounds on how to create a web form. Instead, we offer everything you need to draft a one-click data collection form in minutes.
How do I create a web form in Word?
You can create a web form in Word by using the Developer tab. Alternatively, you can draft or configure one with airSlate. It features an easy-to-use form builder that has a low learning curve and offers more capabilities in terms of automation, delivery, legal compliance, and security.
Can I create a web form from a PDF and make it fillable?
Absolutely. The airSlate drag-and-drop form builder lets you turn your PDF document into an interactive one-click web form based on pre-configured logic without using a single line of code. If you wish to learn the ropes of web form creation and automation, enroll in the airSlate Academy course titled Web Forms; no special skills or knowledge are required on your end.
How do I create a web form and add it to my website?
airSlate provides multiple options that allow you to create a web form that's mobile- and web-friendly and share it with your colleagues, clients, or partners. If you want to embed the form to your website, you can do so through the Distribute option once the Flow is created. It will allow you to copy the snippet of code and place it on your website.
Is it safe to create a web form and share it online?
If you want to create web forms without worrying about security issues, you need to go with the solutions that offer compliance with the leading industry standards. airSlate is one of them. It has SOC 2 Type II and PCI DSS certification and has all the measures in place to be compliant with FERPA, CCPA, HIPAA, and GDPR. Besides, it features two-factor authentication, Audit Trail, and 256-bit encryption. If you wish to get in-depth information about how to create a secure web form, check out our Web Forms course, hosted by the airSlate Academy.