Enrollment is open
Workflow Automation for Education
Explore how workflow automation eliminates paperwork, manual data entry, and human error. Learn how to deploy airSlate to register students online, simplify data collection, prepopulate and store important information, and improve collaboration between educational institutions and students.
About this program:
This certification program is aimed at anyone working at an educational institution and is looking for ways to streamline and enhance their daily workflows.
The program guides you through the entire process of learning the basics of airSlate, presents typical use cases, and teaches you how to apply the knowledge in practice to increase efficiency and reduce stress in your educational organization.
The Essentials section familiarizes you with the key airSlate components, the user interface, and its elements. It will show you how to start working with airSlate, create a workflow from scratch, add documents to it, set up no-code Bots to automate the process, and share your workflow with participants. You will also learn how to keep yourself in the loop regarding any activities in your workflow.
The Use Case section shows you how airSlate helps automate and streamline the most common workflows for the education industry, e.g., Course Enrollment. You will also learn about the key benefits of business process automation for educational institutions and learn how to evaluate their efficiency upon implementing airSlate.
The Bots section of the certification program includes courses dedicated to the Bots suitable for the use cases presented in the previous section. Each course contains a detailed overview of a specific Bot's characteristics and functions as well as step-by-step instructions for its configuration. You will learn to automatically transfer data between your airSlate records and external systems (e.g., Google Sheets), save completed documents to a cloud storage folder, send reminders and notifications about process completion, and more.
What you will learn
The main components and key benefits of airSlate for academic authorities
How to adopt airSlate, invite and onboard your teammates, and configure your Workspace
How to set up a fully automated student registration workflow and track any changes within it
The most typical use cases for airSlate in the education industry
What no-code airSlate Bots are and how educational organizations can benefit from them
The most popular Bots for workflows that academic authorities run and their step-by-step configuration
| | |
| --- | --- |
| Duration | 1 hour 45 minutes |
| Certificate | A sharable achievement is included |
| Level | Intermediate, Beginner, Advanced |
| Language | English |
| Price | FREE |
| Enrolled | 382 students |
Pursue a Verified Certificate to show off the skills you gain

Verified by airSlate
Receive an airSlate-issued certificate with the airSlate logo to verify your achievement and expand your career prospects.

Shareable on social
Post your certificate on LinkedIn or add it directly to your CV.
All you need to digitally transform your business
The airSlate Academy combines everything you need to digitally transform your business, including legally binding eSignatures, advanced PDF editing, and automated workflows.
eSignature workflows
Familiarize yourself with eSignatures, their implementation, business value, and learn how to create legally binding eSignature workflows for your business.
Paperless workflows
Change the way you work with documents into an interactive online experience and learn how to make your documents look professional.
FAQs
Will I earn a separate certification for each course or just one for the entire Education Workflow Automation program?
You will receive an individual verified certificate for each course you pass in the Education Workflow Automation program. In addition, you will receive the verified certificate for the entire Education Workflow Automation certification program.
Can I take the courses in the Education Workflow Automation program in any order?
We recommend passing these courses in the order they are listed in the Education Workflow Automation program to maintain the logical sequence.
Become an airSlate Partner
Students who complete the airSlate Academy courses are welcome to become partners. Get the necessary skills for building automated processes, helping airSlate newbies, and generating revenue.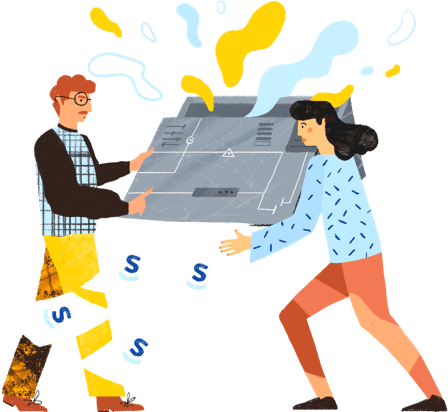 Lost in paperwork: how can automation in education offload educators' administrative tasks
The current state of educational processes, especially those associated with document-heavy administrative tasks, leaves little to be desired. A stressful environment and tons of paperwork challenges those involved.
The pandemic-induced shifts put even more pressure on educators. This leaves teachers less time and opportunities to work with students individually and carry out their primary duties. Despite all the hardships that came with these unprecedented times, there's no better time to turn challenges into opportunities. One of those opportunities being the introduction of automation in education.
How does automation in education work?
Institutions are struggling to deal with an increasingly burdensome workload that doesn't involve the actual process of passing on knowledge to students. It includes signing contracts, making daily inventory purchases, hiring and onboarding new staff, updating policies, etc. The majority of this work is still done on paper and with a lot of direct human involvement. Something as easy as signing a physical document doesn't need to take hours, but very often, it does. A constant effort to follow all bureaucratic procedures and maintain strict compliance leads to increased errors and lost documents. This is where automation comes into play.
When automation in education is brought up, it's immediately associated with robots designed to take the jobs humans do. To some extent, it's true. However, the biggest point to keep in mind is that these robots take over the slow, monotonous work that humans do. As a result, this allows teachers to concentrate on more important things, like teaching and interacting with students.
Usually, automation platforms are built around AI (Artificial Intelligence) or RPA (robotic process automation). In simple terms, AI learns how to think like a human when dealing with specific tasks and how to make decisions and predictions about collected data. Compared to AI, RPA is rather a process-oriented technology. It enables people to build logically structured workflows for automating and streamlining repetitive tasks. Despite these reasonably technical components of automation solutions, they don't necessarily require people to be versed in math or programming. In fact, many of them are low-code or no-code solutions. Let's examine what airSlate, a no-code automation solution for education can bring to the table.
How can airSlate help accelerate automation in education?
airSlate is primarily a no-code solution. It means that educational institutions don't need to spend additional resources on training or hiring an IT team to get it up and running.
In addition to that, it offers a centralized document-oriented place for performing tasks of different complexity:
document generation
Create and edit interactive fillable documents to collect registration forms, policy agreements, parental consent papers, etc. Generate templates for commonly used documents.
Workflow configuration
Automate data collection, extraction, and routing using Automation and Integration Bots that operate on if-this-then-that logic.
Role-based eSigning
Take advantage of legally-binding esignature. Assign roles, restrict, or allow access. Oversee the entire execution process in real time with the Audit Trail feature.
Analytics
Set up your Dashboard with analytics widgets to get insight into a variety of metrics, from completed documents to team members' activity.
This is just a part of what airSlate has to offer to educators. Having all the needed solutions under one roof eliminates the need for using multiple vendors.
Finally, where there's data, there's a risk for error. airSlate is a cloud-based solution. It means that your data will be safely stored and remain consistent no matter what device you use to access it. In addition to that, we follow the leading compliance and legal frameworks (such as GDPR and HIPAA) to ensure the highest level of data protection. To learn about all the measures we take to protect sensitive information, visit our Security and Compliance page.
How to get started with automation in education
Are you new to automation? No worries. We, like all educators, believe that the best results in any sphere can be achieved through constant learning. That's why we created the airSlate Academy. It features dozens of free courses on no-code workflow automation, including education automation. You can create an account and put your knowledge into practice along the way. The courses will help you start your digital transformation journey and learn the ins and outs of education process automation.
Education is probably one of few industries worth investing in because it pays the best interest in the long run. Give airSlate a try and let educators take care of what they're supposed to do in the first place: motivate students and share knowledge.