Enrollment is open
Workflow Automation for Procurement
Start enhancing the efficiency of every business process related to procurement and supply chain by means of automation. Get familiar with the airSlate workflow automation platform and how it allows users to streamline procurement processes with minimal time, hassle, and cost.
About this program:
This certification program is aimed at anyone working in a procurement department and looking to eliminate signing delays, contract negotiation confusion, and manual data transfers often riddled with errors. The program includes everything you need to know about the basics of airSlate as well as typical use cases that expound on the benefits of workflow automation for procurement.
By the end of this program, you will be fully equipped with the necessary knowledge to create automated procurement workflows in a few minutes.
The Essentials section will familiarize you with the key airSlate components, the user interface, and the elements it includes. It will show you how to start working with airSlate, create a workflow from scratch, add documents to it, set up no-code Bots to automate processes, and share your workflow with participants. You will also learn how to stay in the loop regarding any activities in your workflow.
The Use Case section provides the most typical examples of workflows specifically for procurement departments (e.g., Contract Management, Vendor Contract Approvals, Partnership Agreements). You will also find out how different procurement business processes can benefit from workflow automation with airSlate.
The Bots section of the certification program consists of separate courses dedicated to the Bots employed in the use cases outlined in the previous section. Each course contains comprehensive information about a specific Bot with detailed guidelines on its configuration. You will learn to set up automatic reminders, notifications, data transfers between documents, integrate your procurement workflow with CRM systems, save completed documents to a Google Drive folder, and much more.
What you will learn
The main components and key benefits of airSlate for procurement professionals
How to create and configure an airSlate Workspace for team collaboration
How to set up a fully automated workflow and track any changes within it
The most typical use cases of airSlate for procurement departments
What no-code airSlate Bots are and how to use them for procurement business processes
The most popular Bots for procurement workflows and their step-by-step configuration process
| | |
| --- | --- |
| Duration | 4 hours 10 minutes |
| Certificate | A sharable achievement is included |
| Level | Intermediate, Beginner, Advanced |
| Language | English |
| Price | FREE |
| Enrolled | 86 students |
Pursue a Verified Certificate to show off the skills you gain

Verified by airSlate
Receive an airSlate-issued certificate with the airSlate logo to verify your achievement and expand your career prospects.

Shareable on social
Post your certificate on LinkedIn or add it directly to your CV.
All you need to digitally transform your business
The airSlate Academy combines everything you need to digitally transform your business, including legally binding eSignatures, advanced PDF editing, and automated workflows.
eSignature workflows
Familiarize yourself with eSignatures, their implementation, business value, and learn how to create legally binding eSignature workflows for your business.
Paperless workflows
Change the way you work with documents into an interactive online experience and learn how to make your documents look professional.
FAQs
Will I earn a separate certification for each course or just one for the entire Procurement Workflow Automation program?
You will receive an individual verified certificate for each course you pass in the Procurement Workflow Automation program. In addition, you will receive a verified certificate for the entire Procurement Workflow Automation certification program.
Can I take the courses in the Procurement Workflow Automation program in any order?
We recommend passing these courses in the order they are listed in the Procurement Workflow Automation program to maintain the logical sequence.
Become an airSlate Partner
Students who complete the airSlate Academy courses are welcome to become partners. Get the necessary skills for building automated processes, helping airSlate newbies, and generating revenue.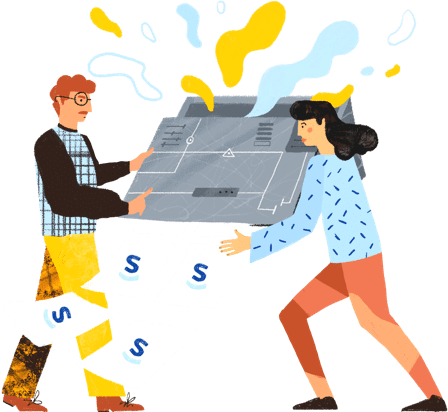 Why do you need an automated procurement system?
Procurement undertakes an important role in any business, no matter what industry you work in and how big your company is. It aims to get qualitative goods and services at the most equitable prices to provide your company with the supplies needed for its operating cycle. However, it transcends the simple acquisition of goods. It's a complex process made of numerous steps from defying your needs to receiving delivery and analyzing the effectiveness of the deal. Building it effectively can significantly increase your company's productivity.
What are the main steps of the procurement workflow?
Understanding the supply cycle is important in improving your procurement process. It can differ in companies depending on their specialization and size. However, here's what the main steps of a typical supply workflow are:
Defying needs. Every acquisition starts with recognizing needs: what items the company lacks for its daily business activities, how much has to be ordered, and what vendors offer the most suitable terms.
Searching for vendor(s). Supply managers create a list of the relevant vendors who offer goods and services at the most attractive prices and select those who meet their item and budget demands.
contract negotiation. This is an important element in building relationships with your suppliers. Parties should agree on prices and other terms of the deal before making an order.
Purchase requisition. This phase of the process comprises receiving an approval for acquisition from the finance department. They need to affirm the requested quantity of goods and prices according to the current budget.
Purchase order release. Once everything is approved, supply managers issue a purchase order (PO) and send it to the vendor company. It must include all the details of the order: item description, their exact number, and information about delivery.
Invoice approval. Based on the PO, the vendor issues an invoice that should be properly checked by the supply team and/or finance department.
Payment processing. If the invoice matches with the PO and the contract terms and conditions earlier agreed, the accountant makes the transaction.
Receiving and checking the delivery. When getting the goods, the supply managers keep records of the delivery and check the quality and whether the number of the delivered goods correlates with the order. If anything doesn't match, they contact the vendor(s) to resolve the issue(s).
Record and document maintenance. All information about the acquisition and confirming documentation should be properly kept.
Purchase analysis. This step is not obligatory but big companies with large supplies often analyze deals, their cost and the bottlenecks associated with the procurement process.
Automation benefit in procurement
As you can see, the procurement workflow includes many stages and requires a lot of paperwork to be done. Handling it all manually is too time-consuming and burdensome. Besides, human errors, delays, failures in the supply process affect the company's operating cycle and can significantly reduce its cash flow. That's why choosing a procurement system is important.
With automation software, anyone can exclude unnecessary manual work and set up the supply cycle with efficiency. Employing automated procurement systems grants many advantages:
Accuracy in documents and records. Decreasing manual data input reduces errors and inconsistencies.
Increased procurement process speed. Automation speeds up document creation, contract and price approval, and record-keeping in purchasing operations. The faster the supply cycle goes, the shorter your operating and cash flow cycle is.
Paperwork elimination. Going digital saves tons of paper and space. Plus, 24/7 access to your documents from any device is super useful.
Saving time and costs. By using a procurement system, you can save hours of working time and reduce operating expenses.
Better control over the purchasing lifecycle. An automation platform for procurement enables teams with effective real-time process tracking.
In other words, procurement automation enhances a company's overall productivity. Choosing the right solution is just another key to your business success.
Why use airSlate as an automated purchasing system
airSlate is a no-code, cloud-based automation platform for companies of all sizes that makes any business process a breeze. The following features make airSlate a perfect automated procurement system:
Flow library. Create your Flows from scratch or choose one of the ready-to-use Flow templates for managing contracts, invoicing, and other related processes.
No code Bots. airSlate uses RPA technology. Easily pre-fill documents, send forms and contracts to other parties, and configure notifications.
Integrations. airSlate offers both Integration and Automation Bots that connect your account with other business solutions, import/export data to and from CRM systems, databases, etc.
Legally-binding electronic signature. No need to buy extra tools for eSigning. Approve documents right from your airSlate account.
Procurement automation is too good and important to ignore. Modernize your business.