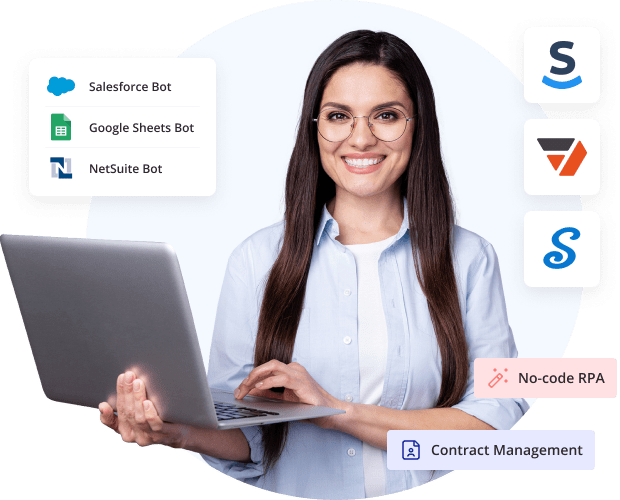 Automate business processes with no‑code skills
Change the way your business works with free online courses. From starter courses that cover the basics of automation to expert certifications that demonstrate how to digitally transform your business.
Automation Courses
Find the course that fits your professional interest and reach new heights in the digital era. There's no hurry, complete any course at your own pace, absolutely for free.
Why study with us?
Master in-demand career skills
Get access to free learning resources that teach you how to create, innovate, automate, and digitally transform the way your organizations do business, all without writing a single line of code.
Grow your business
Learn how to apply the right automation strategy to your internal processes, eliminate time-consuming tasks inside your organization, and achieve efficient team collaboration.
Accelerate your career
Sign up for any of our 50+ free online courses and join over 10,000 HR, Finance, Insurance, and Healthcare professionals who advanced their careers by getting certified with us.
All you need to digitally transform your business
The airSlate Academy combines everything you need to digitally transform your business, including legally binding eSignatures, optimized paperwork processes, and automated workflows.
Familiarize yourself with eSignatures, their implementation, business value, and learn how to create legally binding eSignature workflows for your business.
Change the way you work with documents into an interactive online experience and learn how to make your documents look professional.
Our users are talking
"The contract negotiation course was especially important to me. I got an alternative perspective on how I can solve the problem at hand. airSlate just gives you a different view on how to do business."
"We had been looking over nearly all of the no-code options currently available on the market, this led us to airSlate with its impressive performance in automation."
"We were able to configure airSlate to match our process instead of changing our process to fit into some predetermined workflow."
Get all the essentials you need to succeed

airSlate
Design, integrate, and automate business processes in minutes with an all-in-one, no-code solution.

Become an airSlate partner
Get the necessary skills for building automated processes, helping airSlate newbies, and generating revenue.