 Forbid Saving as Draft Bot
Customize every part of your workflow. Send documents for completion and automatically hide the Save as Draft button from the recipients in the editor for business cases that require it.
Try automation, it's free!
What the Bot does
Install and configure the Bot if you don't want to allow recipients to save unfinished documents that they can complete at a later time.
When to use
The Bot hides the Save as Draft button from recipients based on the 'if-this-then-that' conditions you set.
Author airSlate Inc.

Setup duration

5-10 min.

Used in

75

Templates

Used in

64

Workspaces

Installed

352

times in the last 30 days

98%

success rate
Get your automated workflows up and running in minutes with the Forbid Saving as Draft Bot. No coding required.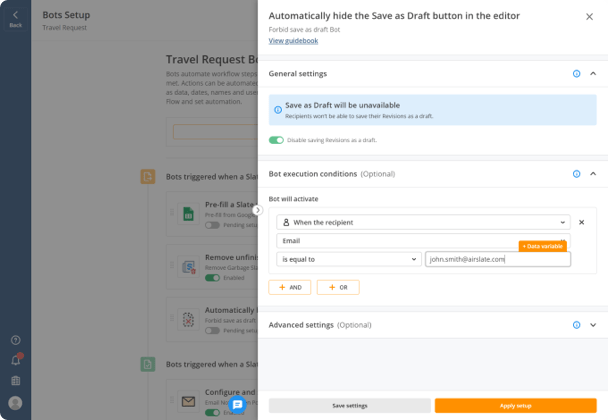 Set conditions to tell the Bot when to hide the button
Configure Bot settings
Choose to disable saving documents as a draft and define what will trigger the Bot to act. These can be a specific date, document data, user roles, email, or name. E.g., select recipients and tell the Bot to hide the Save as Draft button when they open the document.
Note: To install and configure Bots, start by creating a workflow.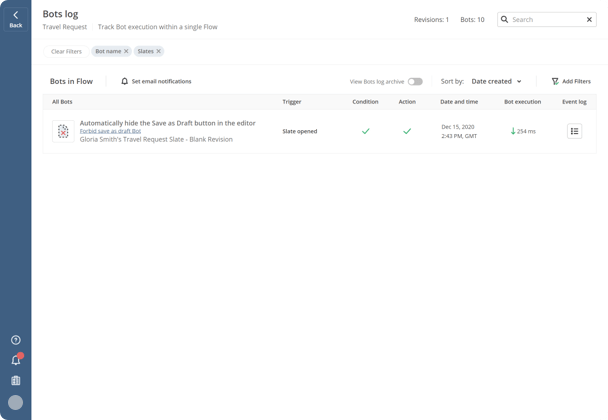 View the Bots log or use tags to check if the Bot ran successfully
Get the Save as Draft button hidden
Once the Bot is configured, recipients won't be able to save their document revisions as a draft.
Try pre-built workflows to experience the Forbid Saving as Draft Bot in action
Install the Forbid Saving as Draft Bot
to automate your document workflows
Other Bots often used with the Forbid Saving as Draft Bot
Set up automatic procedures in a few simple actions
Customize general settings
Outline what exactly your Forbid Saving as Draft Bot must do. Complete all the required fields to make sure about the appropriate completion of tasks. Note: the ability to select Bots is enabled after creating a new Flow and importing a document.
Choose Bot activation conditions
Identify conditions for when your Bot have to initialize. Define rules and connect activation circumstances with actions in documents and dates, or user data.
Customize Advanced settings
Complete this block to choose additional settings and streamline the getting of data like block revisions if something fails, etc., or keep the standard parameters.