 Reassign Step Bot
Provide a seamless experience within your document workflows. Allow more people to complete documents to avoid delays and receive approvals faster.
Try automation, it's free!
What the Bot does
The Bot reassigns document completion to another person after a set time delay or according to a schedule.
When to use
Install and configure the Bot when you need to ask other people to complete a document when the initial recipient failed to do so on time.
Author airSlate Inc.

Setup duration

5-10 min.

Used in

66

Templates

Used in

53

Workspaces

Installed

326

times in the last 30 days

97%

success rate
Get your automated workflows up and running in minutes with the Reassign Step Bot. No coding required.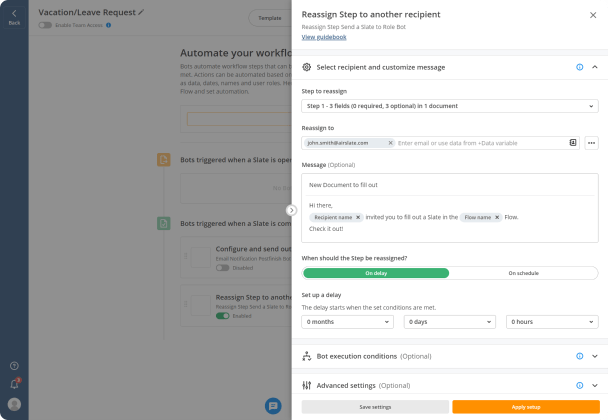 You can set the Step to be reassigned on delay or following a specific schedule
Configure Bot settings
Select the Step you want to reassign and choose the person you want to complete it. Provide their email address or select dynamic data from your document or workflow. Next, customize the message new assignees will receive and configure when the Step should be reassigned.
Note: To install and configure Bots, start by creating a workflow.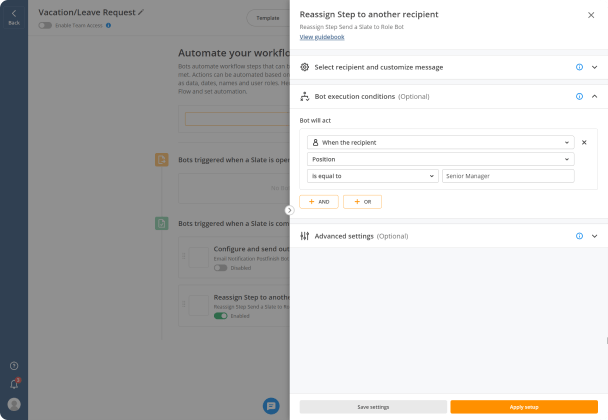 Add multiple conditions and tell the Bot to run when all or some of them are executed
Add conditions for when the Bot should run
If needed, define additional conditions that will trigger the Bot to act. These can be specific document data, user email, or name. E.g., tell the Bot to reassign the Step only if the initial recipient holds a particular position in the organization.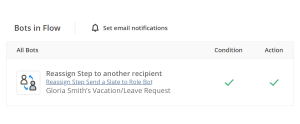 View the Bots log or use tags to check if the Bot ran successfully
Get the Step automatically reassigned to another person
Once the Bot is configured, share your document with anyone who needs to sign and complete it. Based on the conditions you've set, the Step will be reassigned to the person you've specified.
Try pre-built workflows to experience the Reassign Step Bot in action
Install the Reassign Step Bot
to automate your document workflows
Other Bots often used with the Reassign Step Bot
Configure automated processes in a few simple actions
Modify general configurations
Define what exactly your Reassign Step Bot must do. Fill out all the required fields to make sure about the right completing tasks. Note: the ability to pick Bots is enabled only after creating a new Flow and uploading at least one file.
Indicate Bot activation conditions
Identify triggers for when your Bot have to activate. Set up rules and connect activation circumstances with steps in files and dates, or user data.
Customize Advanced settings
Utilize this block to choose additional settings and streamline the finding of knowledge like block changes if something goes wrong, etc., or leave the default parameters.