 Notify Salesforce contacts postfinish Bot
The Notify Salesforce Contacts Postfinish Bot sends email notifications to Salesforce contacts when Slate documents have been completed.
Try automation, it's free!
What the Bot does
Sends an email notifying the specified Salesforce contact(s) that Slate document(s) have been completed.
When to use
Install the Notify Salesforce Contacts Postfinish Bot when you need to automate the process of sending email notifications informing your Salesforce contacts when Slate documents have been completed. For example, the Bot can be used to automatically notify a sales rep once a customer has signed a sales quote.
Author airSlate Inc.

Setup duration

on average 5-10 min.

Used in

35

Flows

Used in

48

Workspaces

Installed

279

times in the last 30 days

100%

success rate
Get your automated processes up and running in minutes with the Notify Salesforce contacts postfinish Bot. No coding required.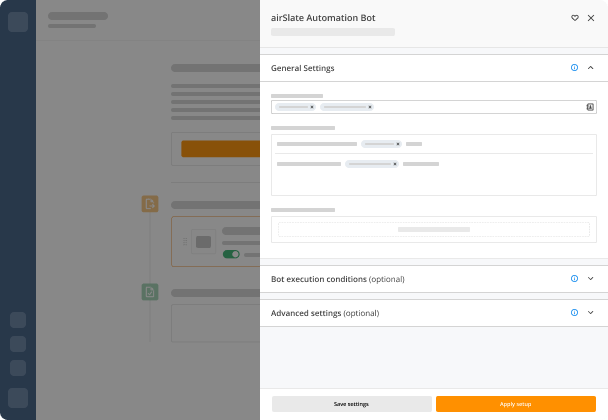 Provide a fully personalized experience by using data variables
Configure Bot settings
Connect to the account of the service you want to send notifications to (if necessary). Then, select the recipients you want to notify and customize the message they will receive. Use dynamic data from your documents for improved personalization.
Note: To install and configure Bots, start by creating a workflow.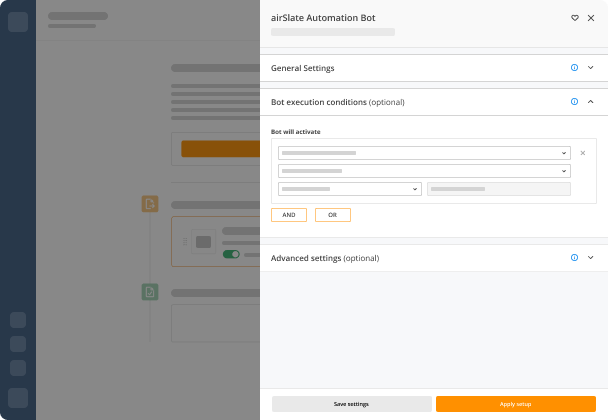 Add multiple conditions and tell the Bot to run when all or some of them are executed
Add conditions for when the Bot should run
Define what will trigger the Bot to act. These can be a specific date, document data, user roles, email, or name. E.g., tell the Bot to send notifications at a specific date and time.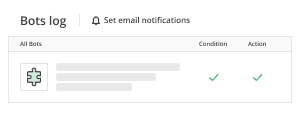 View the Bots log or use tags to check if the Bot ran successfully
Get your recipients notified
Once the Bot is configured, share your document with anyone who needs to sign and complete it. Based on the conditions you've set, recipients will automatically receive notifications.
Try pre-built workflows to experience the Notify Salesforce contacts postfinish Bot in action
Install the Notify Salesforce contacts postfinish Bot
to automate your business processes
Configure a Bot to enable email notifications for forms completion
To stay ahead of the pack, businesses are putting all their eggs into one basket and investing into workflow automation software. Automation ensures smooth sailing while your competitors continue wasting time on manual and routine tasks.
Automation is achieved via configuring software robots. These microprograms facilitate workflow processes and are grouped by particular functions. By setting up just one microprogram, you'll achieve significant reductions in cost and human resources. For example, the Notify Salesforce Contact on Slate Completion Bot can facilitate document verification processes.
This microprogram comes in handy when customers are requested to complete a questionnaire initiated by the marketing department. Upon completion, Salesforce sends notification email to contacts with the help of Bots. It can also be used for cooperation with partners in relation to payments and delivery issues.
Learn how your business can benefit from microprogram automation:
Save time and resources
Enhanced flexibility
24/7 functionality
Elimination of human error
Customer satisfaction
Microprograms facilitate document flow, allowing you to focus on customer attraction and retention. Their benefits won't be contained to particular departments, but your entire company will have a strong backbone for sustained growth. This growth is attainable by employing microprograms, including the Salesforce Auto Notify on Event Bot.
Other Bots often used with the Notify Salesforce contacts postfinish Bot