Set Expiration of Step Assignment Bot
Customize access permissions to your documents to ensure they are completed on time. Automatically revoke document access according to the schedule you've set or after a specific period of time using the Set Expiration of Step Assignment Bot.
Try automation, it's free!
What the Bot does
The Bot revokes access to documents shared after a certain time period or according to a schedule.
When to use
Install and configure the Bot to control the access to documents in your business processes and restrict access if needed.
Author airSlate Inc.

Setup duration

5-10 min.

Used in

68

Flows

Used in

53

Workspaces

Installed

423

times in the last 30 days

98%

success rate
Get your automated processes up and running in minutes with the Set Expiration of Step Assignment Bot. No coding required.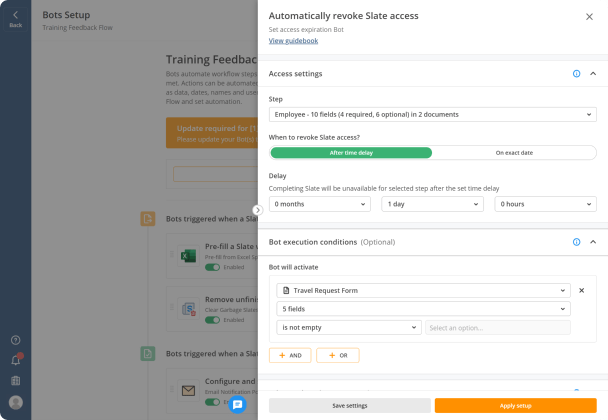 Add multiple conditions and tell the Bot to run when all or some of them are executed
Configure settings and conditions for when the Bot should run
Define when the Bot will act and what will trigger it. Start by choosing the Step for when document access should be revoked. Then, set a time delay or create a schedule to revoke access on an exact date. If necessary, provide additional conditions such as a specific date, document data, recipient email, and more.
Note: To install and configure Bots, start by creating a workflow.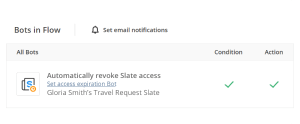 View the Bots log or use tags to check if the Bot ran successfully
Get your Slate's access revoked
Once the Bot is configured, access to your Slate will expire based on the time settings and conditions you've set.
Try pre-built workflows to experience the Set Expiration of Step Assignment Bot in action
Install the Set Expiration of Step Assignment Bot
to automate your business processes
Other Bots often used with the Set Expiration of Step Assignment Bot