Why using RPA in airSlate?
Create easily configurable logic-driven workflows with RPA Bots
How do RPA Bots work in airSlate?
See the easy steps below for automating your workflows in airSlate, no coding necessary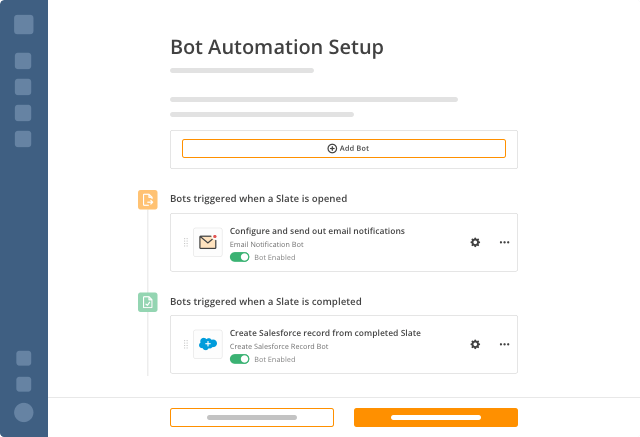 step 2
Choose and configure Bots
Choose Automation and Integration Bots and configure them for every workflow action.
Next step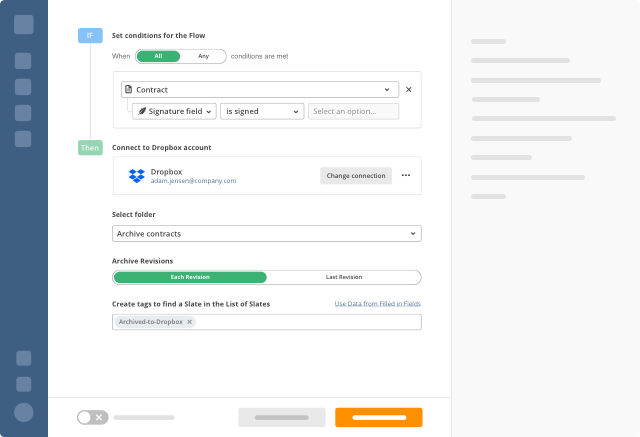 step 3
Watch RPA in action
Collect and archive completed documents, check CRM updates, and use AI-powered analytic widgets.
Start free trial
Get workflows like this up and running
in 30 minutes, not 30 days
01

An insurance agent receives a claim from a customer and sends over an Insurance Claim form that has been automatically

pre-filled

with that client's Salesforce data.

02

The customer completes and signs the form online. Once finished, the form is automatically sent back to the agent's manager.

03

Once the manager has approved the form, a receipt is automatically generated using the airSlate document generator and is sent to the customer.

04

Both the customer and agent receive instant email notifications confirming the claim's approval. An airSlate Bot then sends payment to the customer's bank account.

05

Part of the Claim form's information is used to automatically update the customer's Salesforce record. The Claim is then transmitted separately to the company's internal record management system, the receipt of the processed claim is saved to a folder in Dropbox.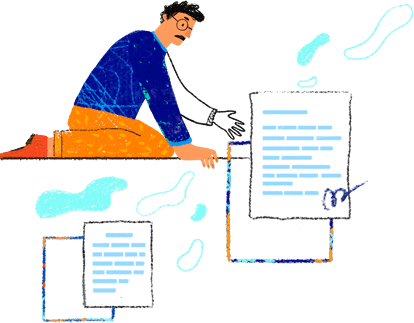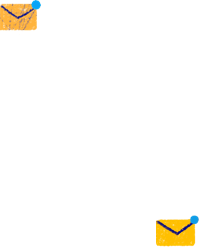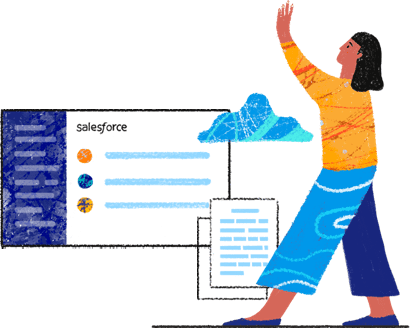 In addition to Robotic Process Automation,
airSlate features:
Built-in e-signature solution
Document generator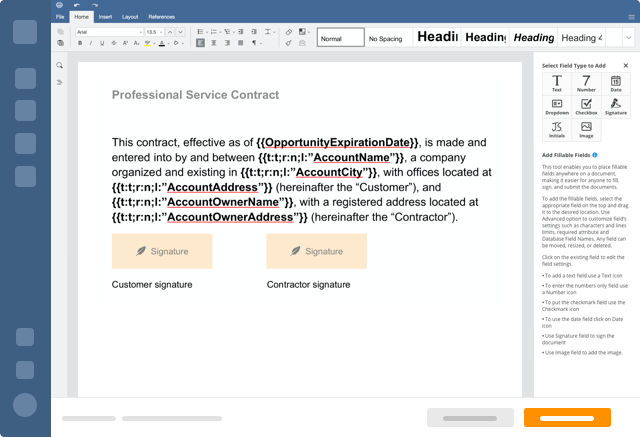 PDF editor and annotator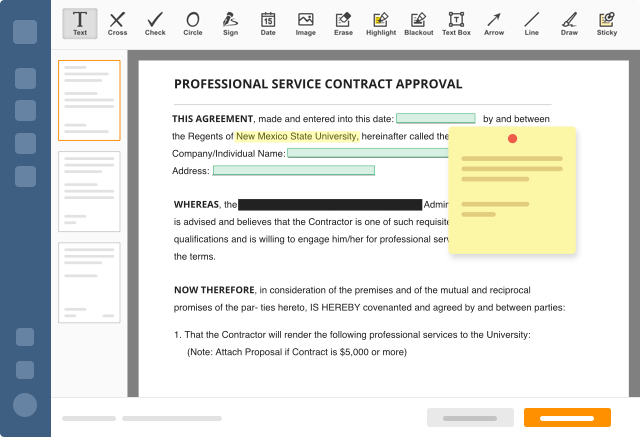 Custom workflow routing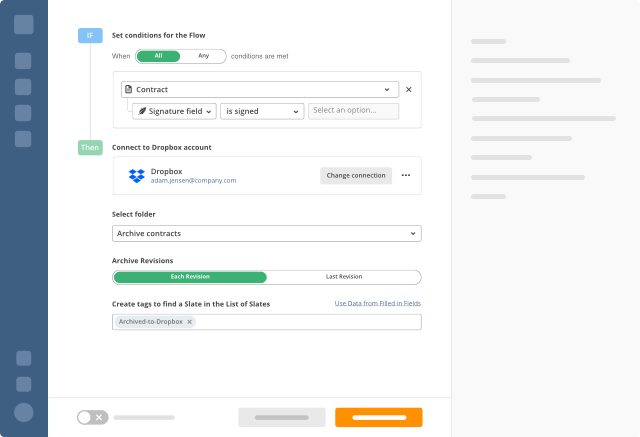 CRM & Cloud integrations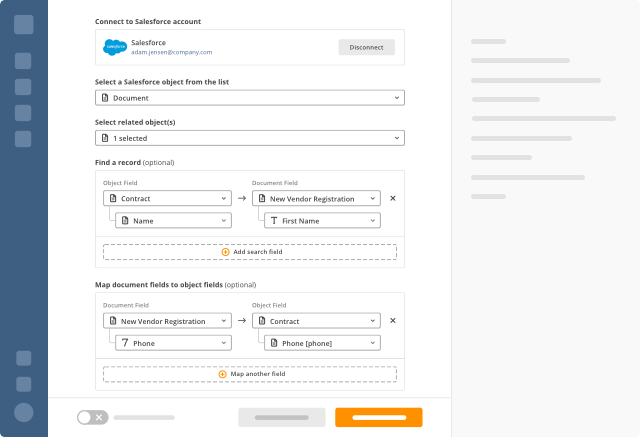 Built-in e-signature solution
Document generator
PDF editor and annotator
Custom workflow routing
CRM & Cloud integrations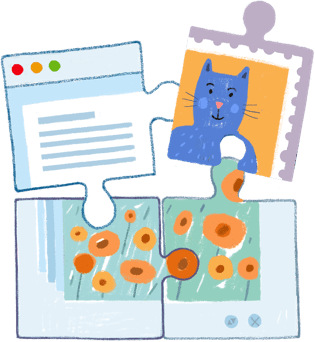 Benefit from airSlate's Robotic Process Automation Solution
Data processing is an inevitable part of any modern business. However, if an organization's document Flow isn't properly arranged from the outset, employees will waste time on mundane tasks. In reality, they should be focusing on making improvements while routine tasks are managed automatically.
Deploying airSlate's Robotic Process Automation technology can help streamline internal processes. The platform has been optimized for any business that deals with agreements, contracts, applications, as well as the data collection and storage.
Below is a list of standard benefits that come pre-packaged with the airSlate RPA platform:
1. Reduced costs for printing, paper storage, and waste management.
2. Fewer manual errors and improved quality for data management.
3. Faster data processing and shorter backlog.
4. Easy Flow creation and management within a user-friendly platform.
5. Notification and Reminder Bots that guide users through the entire process until it's completed.
6. Remote and 24/7 accessibility to a Flow.
7. Configurable templates facilitate the creation of specific documents.
8. Opportunity to administrate document Flows.
9. Option to customize templates based on your specific requirements.
10. Opportunity to create teams, add team members, and track their activity.
11. Grant access to your Flow in partner mode.
airSlate's RPA is a unique solution that can help you create a customized workflow platform that will help your business thrive, improve competitiveness on the market, enhance overall performance and increase income.
Among the numerous advantages, it helps to create a consistent process that is easily recognizable by users in the future. It also enables companies and organizations to adjust automation processes when making alterations to business strategies without any human interaction.
Show more
Out of the box Integrations
Connect your essential business tools to airSlate and make it your project control center. Salesforce, MS Dynamics 365, Google Sheets, MS Office 365, Airtable and many more.
You're in good company
Teams from every industry run their daily workflows
on airSlate and its associated solutions
Sign up to automate your business
with airSlate