airSlate glossary
To avoid any confusion when using a new product, it's good to have some basics covered. Explore the airSlate glossary to discover the most common terms you will encounter when using our platform.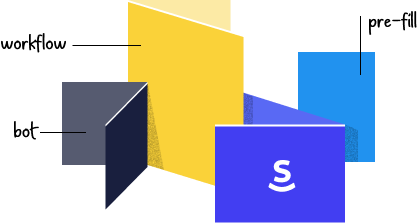 to start searching
esc
to dismiss
Oh dear! We couldn't find anything for
:(
Please refine your search and try again
A
Analytics widget
is a data analytics tool that allows you to track the progress of an event from your dashboard. Use airSlate default widgets or create new ones.
A
Audit trail
displays all actions performed in a Workspace. You can set up custom events to be displayed in the Audit trail using the Add Custom Event to Audit Trail Bot.
A
Autostart
is an event or action that triggers the automatic running of a Flow based on the conditions you set.
B
Bot
is a software robot that performs actions under certain conditions based on recipient actions, internal airSlate triggers, and external third-party service triggers.
B
Bots log
refers to a chronological record that reflects the performance of all Bots configured in a Flow or Template. Bots log acts as an informational page that describes the method, time, and conditions under which certain Bots ran or failed to run.
B
Branches
allow you to split your workflow into two or more Steps and send documents to a specific recipient based on the conditions you set.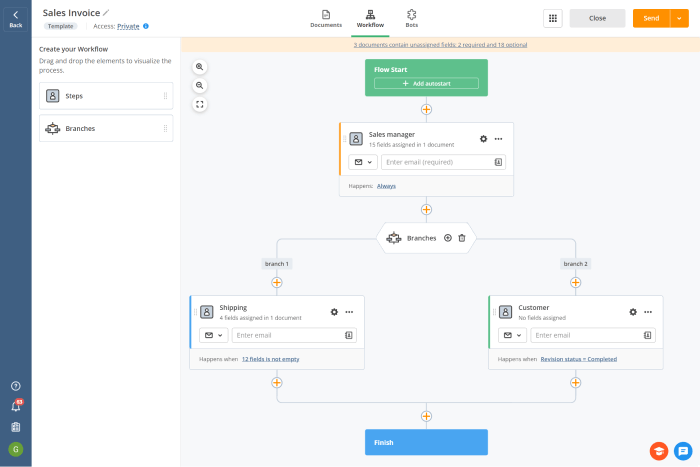 C
Conditions
are simple "if-this-then-that" rules that define when a Bot, Step, Branch, Jump, or Autostart will run. Conditions are set based on document field information, recipient data, Step settings, tags, Revisions, and dates.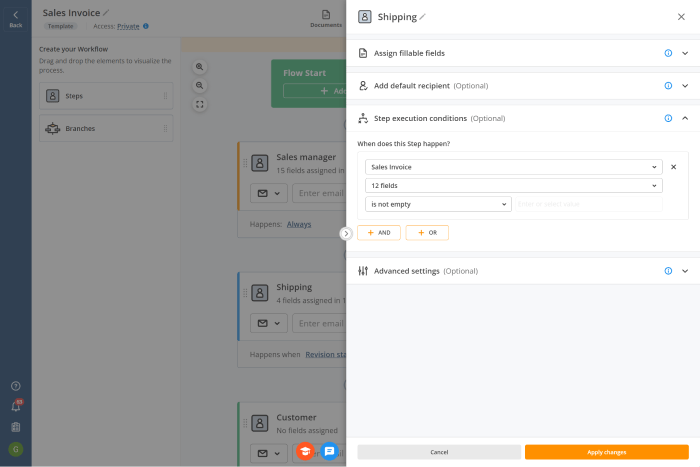 E
Editor widget
allows you to create a web form in a few simple clicks. Some widgets consist of fields grouped by a common topic (like Contact details), while others are placeholders for external data — images, videos, documents, etc.
F
Flow
is a one-time business process that you create by adding fillable documents and forms, setting up a step-by-step workflow, and automating it with the help of Bots. To run multiple Flows with the same settings but different recipients, save your Flow as a Template.
G
Group Template
is accessible to the members of a selected Group in accordance with their access rights. Just as the Owner and Supervisor in a Workspace, a Group Admin can create new Flows and set up Group Templates.
G
Groups
organize your teammates according to their department or level of responsibility and customize their permissions. Admins can configure Group Templates, Auditors can review Flows, and members can run Flows and fill out documents.
J
Jump
allows you to execute Steps in a non-linear way and create loops under certain conditions.
P
Private Template
is only visible to the Creator and Template Admins. Note that the Owner, Supervisor, and Auditor have access to all the Templates in a Workspace, including Private templates.
R
Revision
is a copy of all Flow documents containing all the filled-in data by recipients or Bots working on the current Revision. Every time a Step executes or a Bot acts, a Revision is created in a Flow.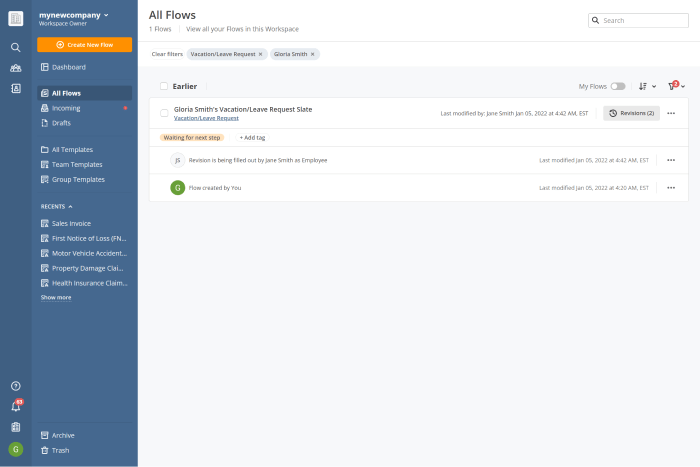 R
Roles
define actions that your teammates can perform in a Workspace.
Owner

is a paid role for a teammate who owns a Workspace and can manage and delete it. Owner has all the permissions of a Supervisor: they can create and set up Flows and Templates, add and manage teammates, edit company info, and deal with payments.

Supervisor

is a paid role for teammates with permission to create and set up Flows and Templates, add and manage teammates, edit company info, and deal with payments.

Auditor

is a free role for teammates with permission to view all Templates, Flows, and Revisions in a Workspace.

Creator

is a paid role for teammates with permission to create and set up new Flows and Templates. Note that Creators can only see the Templates they've created and the Flows within these Templates.

Filler

is a free role for teammates with permission to run and delete their Flows in Team Templates. A teammate becomes a Filler once they confirm their invitation to join a Workspace.

Guest

is a free role for registered airSlate users with permission to view, fill out, and download Flows sent to them.
S
Status
explains what's happening in a Flow at a particular Step.
S
Step
represents a recipient — a person or a Bot — with specific access rights to documents and their fields. Steps are parts of a user journey and execute one by one after the conditions are met.
T
Tags
are words or phrases that describe Flows and Templates and make it easier to find the right one when you need it. Tags can be used to mark a specific Flow, a Template, or actions a Bot has taken with a Flow. Bots can assign default tags that allow you to track the progress of specific Flows. You can also add tags to teammates by creating Groups.
T
Team Template
allows every teammate in a Workspace to run Flows in this Template.
T
Teammates
can collaborate on Team Templates and work on the Flows sent to them. Any Guest of your Workspace can request to become a teammate.
T
Template
is a repeatable business process that allows you to run multiple Flows with the same settings by sending documents to different recipients. By making changes to a Template's configuration, you create a version.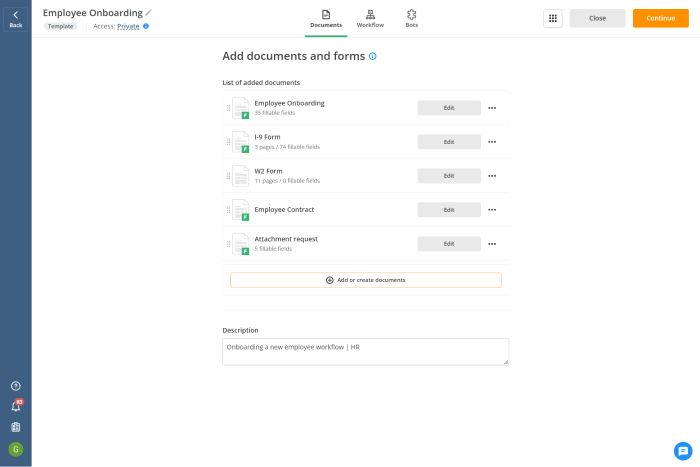 V
Version
represents the current configuration of a Template. When you publish a new version, its settings will be automatically applied to every subsequent Flow.
W
Workspace
is an environment where you can design, integrate, and automate document workflows, collaborate with teammates, as well as maintain your business tasks in accordance with your role and access rights. We recommend creating one Workspace for one organization. To separate departments within a company, you can use Groups.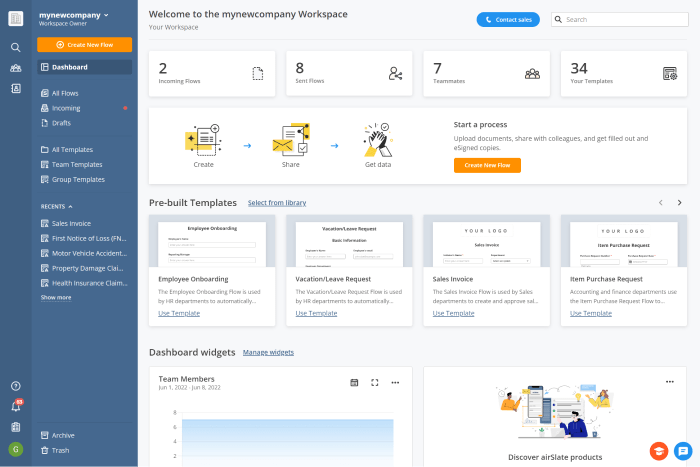 Stay up‑to‑date by subscribing
to our newsletter
Be the first to learn about airSlate changes and feature releases.

airSlate Academy & certification
Learn to apply a no-code solution and automate your routine business tasks at the airSlate Academy

Сustomer success
Need extra help? airSlate has an entire ecosystem of tools and resources to help you succeed.