Banking & Financial Services
Digitalize your financial and administrative operations
Stay competitive by automating critical document workflows in your financial institution. Streamline approval, verification, and reporting processes using an all-in-one solution that doesn't require coding or implementing APIs.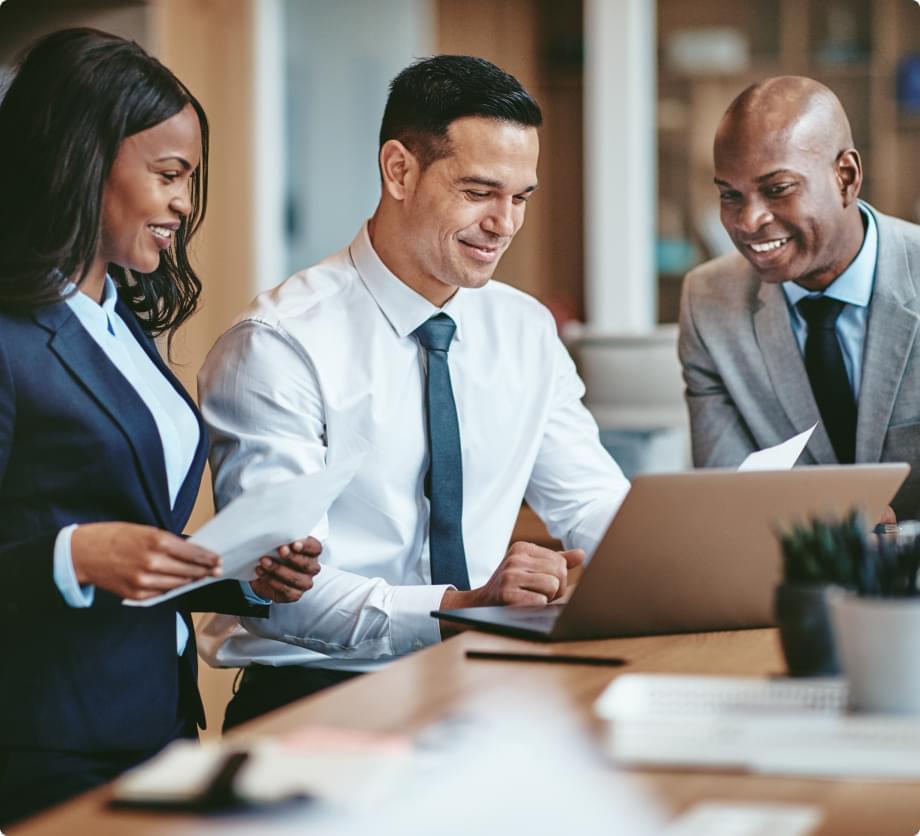 airSlate for financial workflows
Manage administrative banking processes at any scale on a single platform. Improve process efficiency and increase employee and customer satisfaction while maintaining data integrity. Meet financial and regulatory requirements and keep your legacy IT infrastructure by using a flexible, infinitely configurable automation solution.
airSlate for financial workflows
Manage administrative banking processes at any scale on a single platform. Improve process efficiency and increase employee and customer satisfaction while maintaining data integrity. Meet financial and regulatory requirements and keep your legacy IT infrastructure by using a flexible, infinitely configurable automation solution.
Loan applications

Bank loan proposals

Financial reports

Asset management

Authorization forms
Start with a pre-built Template and customize it to fit your unique process
Select from pre-built document workflow Templates used by airSlate customers from the Banking & Financial Services industry.
Everything you need in an all-in-one platform
From eSigning to drag-and-drop process automation and hundreds of no-code Integration and Automation Bots ‒ get everything you need to build document workflows in one platform.
Automate data collection
Use dynamic, mobile-friendly web forms or actionable PDF documents to collect information from clients. Transfer it between multiple departments and update records as soon as you receive new data.
Process payments online
Configure payment collection as a part of your end-to-end automated workflow. Allow for quick and secure payments, send invoices, and track all payments you receive in real time.
Generate and manage documents
Automatically generate contracts, quotes, requests, and more using the data you get from clients. Then, send docs for approval and trigger more document workflows to launch when needed.
Sign and send documents for signing
Sign documents in minutes using legally binding eSignatures. Configure a role-based signing order and send reminders to all parties to ensure a comprehensive process and keep everyone in the loop.
Keep sensitive data protected
Keep your documentation safe with industry-leading security standards and multiple security measures. airSlate complies with major regulations including SOC 2 Type II, PCI DSS, GDPR, and more.
Set up automated approval processes
Configure steps for any workflow once and have documents moved between recipients automatically. Decrease turnaround times and avoid delays by establishing conditional logic for your entire workflow.
See why airSlate beats any alternative on the market
Integrate with any cloud service via no-code Bots to streamline your document workflows
Trusted by forward-thinking companies around the world
"Fast, Friendly, Functional"
"A great suite of offerings for a small to midsize professional firm"
"I would now be lost without airSlate"
Enterprise-grade security and compliance
airSlate is committed to protecting your sensitive information by complying with global industry-leading security standards.
Get the most out of airSlate
The airSlate Academy
Learn how to put workflow automation into action using market-leading solutions.
Partner Program
Collaborate with the most powerful no-code document workflow automation platform.
Finance automation: transforming an industry
The banking and financial sector is the backbone of the global economy, providing services to both customers and enterprises. Yet this industry is being challenged daily as clients' expectations are constantly getting higher and government regulations are tightening. It's impossible to stay in the race without transforming financial processes.
Don't take our word for it, check out the facts. According to a recent study, banks were fined over $700 million in Q2 2021 alone. In general, not every fine is a consequence of human error, but the odds are good that using manual processes can lead to even more significant losses in the future. As for client requirements, most of the younger generation prefer banks that provide personal finance management tools. Therefore, it is critical for the entire industry to focus on building a customer-centric workflow. But this isn't feasible if office workers spend about 69 days a year on administrative tasks. Luckily, financial process automation is here to improve the situation.
Examples of financial process automation that you can implement
Payroll reports.

When it comes to payroll, timing and accuracy are essential. If you still opt for manual data entry, it's a daunting task leading to a mass of working hours and headaches. So a logical question arises: who will crunch the numbers and fill out the spreadsheets? Nobody, this is the responsibility of the RPA. Bots can drive your data-based processes by automatically pushing and pulling information and linking multiple CRM systems. Plus, workflow automation finance enables you to create payroll reports to cross-check financial data in a matter of seconds. Just specify what information you want to retrieve about compensation, taxes, rewards, expense reimbursement, pay rates, etc.

Loan applications.

Count how many loan applications you receive daily. Among them, you'll probably find some that don't fit your lending criteria, but even with them, experts spend their time checking everything manually and writing a letter to applicants. The bigger the loan is, the slower the loan cycle becomes due to time-consuming evaluations. Let workflow automation fix this bottleneck. Create a process that will automatically filter out inappropriate applications, address in-question cases to the manager and notify the borrower of the decision. Ultimately, all your customers need to do is fill out your form online. Then the system checks the applicant's credit history. The application can be declined automatically, transferred to a specialist, or an experienced decision-maker. Save your time without sacrificing productivity.

Budget Approval.

Such a severe process as budget planning forces you to control every step in order to avoid mistakes. Although it's counterintuitive, leaving this process to automation is more efficient. Financial process automation can take over most tasks and cope with them faster and better than any employee. RPA technologies collect data from all departments and calculate their costs and petty cash transactions. Based on analytical data, it's easy to predict further expenses. A financial specialist can track any figure in the report and replace it relying on their personal experience. Automation also eliminates the chance that a budget approval request will be buried in an inbox. Auto-reminders will be sent until the budget is agreed upon.
How to take advantage of finance automation without programming skills
airSlate is a no-code platform that enables you to automate processes without hassle. With our Bots, you can configure financial process automation to run without human intervention. In addition, airSlate helps you in the following ways:
Cost-effectiveness.

Faster, qualified processes reduce operating costs. You don't need a whole team just for paperwork. All you need is a team of specialists who lead the business to higher goals.

Minimized Errors.

You receive accurate reports. Data is transferred directly from CRM and ERP systems. Plus, if you edit a document, your systems are updated automatically too. This will save you from confusion.

Employee and Customer Satisfaction.

By freeing the environment from administrative routines, your employees have more time to work with clients and build long-term rapport. Customer problems take place over of paperwork. As a result, everyone is satisfied because problems get resolved.

Improved Security.

Business processes often rely heavily on third-party input and activity. airSlate enables you to control access levels while minimizing human factors. In addition, the platform is equipped with industry-leading security technologies such as encryption, password hashing, multi-factor authentication, and so on.

Scalability.

Bots are easy to scale. During peak hours, you won't lose customers or money. Whenever you need a new workflow, you just add more Bots.
Deploy airSlate for powerful finance automation and optimize your processes using no-code Bots.