E-commerce
Streamline your business with no-code e-сommerce automation
Bring in more clients while keeping every business process on track. Fulfill purchase orders and payments, conduct customer satisfaction surveys, onboard vendors, suppliers, and more using document workflow automation without ever writing a single line of code.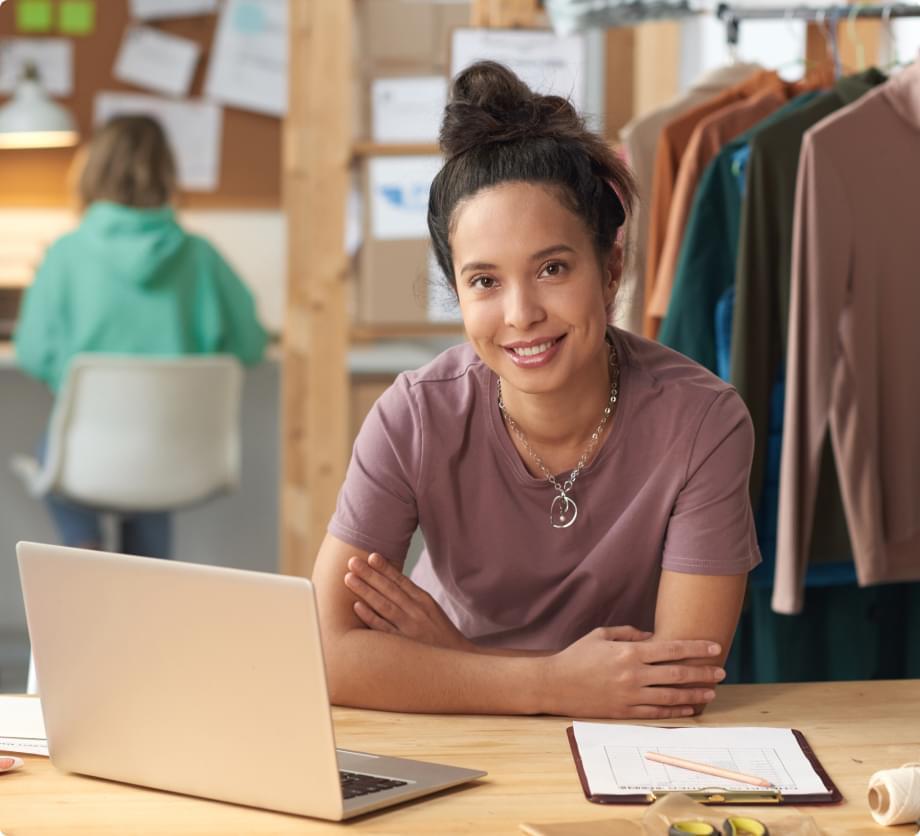 airSlate for e-commerce businesses
airSlate helps your e-commerce business grow by turning manual, time-consuming tasks into automated workflows that take hours, not days, to deploy. Work out new deals faster, increase customer retention rates, streamline inventory management — all within a single automation platform.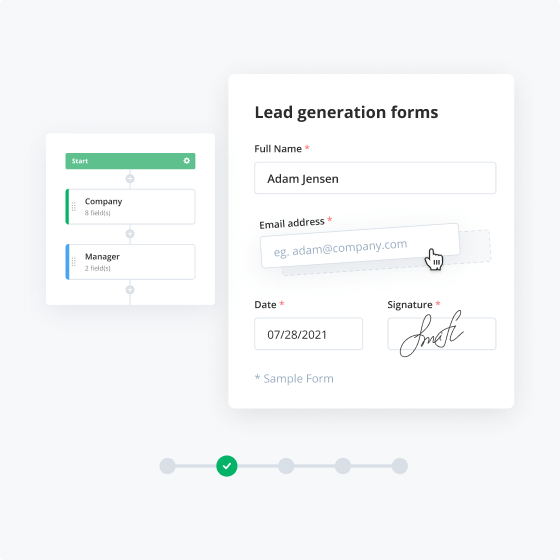 airSlate for e-commerce businesses
airSlate helps your e-commerce business grow by turning manual, time-consuming tasks into automated workflows that take hours, not days, to deploy. Work out new deals faster, increase customer retention rates, streamline inventory management — all within a single automation platform.
Supplier onboarding

Vendor onboarding

Customer satisfaction survey

Listing approval

Purchase requests

Feedback collection
Start with a pre-built Template and customize it to fit your unique process
Select from pre-built document workflow Templates used by airSlate customers from the E-commerce industry.
Everything you need in an all-in-one platform
From eSigning to drag-and-drop process automation and hundreds of no-code Integration and Automation Bots ‒ get everything you need to build document workflows in one platform.
Automate inventory management
Never run out of products with automated inventory management. When a product's availability is low, generate a purchase order populated with CRM data and automatically route it to your supplier. No manual hassle necessary.
Speed up feedback collection
Make sure you're providing excellent service by regularly collecting client feedback. Embed mobile-ready web forms on your website, gather customer feedback, and automatically pull data from the web forms so you can put it together in a result-driven marketing strategy.
Simplify vendor onboarding
Source and retain high-quality vendors by automating onboarding from end-to-end. Capture vendor data on onboarding forms and automatically route it for approval across your team. Collect eSignatures and automatically add approved vendors to the ERP system of your choice.
Automate task creation and notifications
Keep track of new orders placed or new customer reviews left. Use no-code Bots to automatically create Trello cards or send messages in Slack so that your teammates can start working on important business tasks.
Streamline payment collection
Remove human error and cut costs with automated payments. With airSlate, you can integrate payment collection into quote creation, invoicing, or accounting processes and collect payments and signatures all at once.
Leverage analytics and reporting tools
Drive more sales by gathering data and analyzing the key metrics of the document workflows. With customizable dashboard widgets, you can track the number of orders placed, invoices signed, payments received, and more.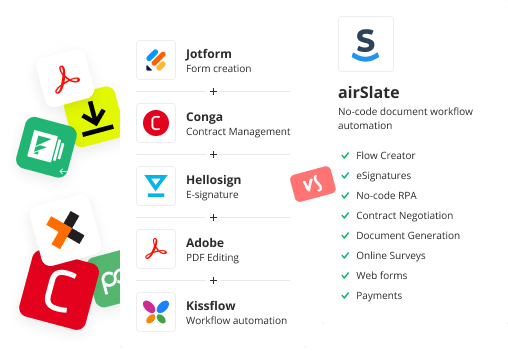 See why airSlate beats any alternative on the market
Integrate with any cloud service via no-code Bots to streamline your document workflows
Trusted by forward-thinking companies around the world


"Incredibly useful and automates a process that previously had to be repeated numerous times a day"
"The customer support is beyond words. So incredibly helpful"
"Great software! Great people!"
Enterprise-grade security and compliance
airSlate is committed to protecting your sensitive information by complying with global industry-leading security standards.
Get the most out of airSlate

The airSlate Academy
Learn how to put workflow automation into action using market-leading solutions.

Partner Program
Collaborate with the most powerful no-code document workflow automation platform.
Get the most out of eCommerce automation with airSlate
The pandemic has drastically changed the way we buy and behave. According to the EY Future Consumer Index, a growing number of US consumers (80%) started to gravitate towards purchasing online. On top of that, they prefer to shop with companies that made sustainability a part of their strategy. These factors stress the necessity to rethink how we approach eCommerce and create a positive long-term customer journey in the new reality. To outmaneuver the risks associated with the post-pandemic echoes disrupting eCommerce, companies need to move offline activities online. There, they need to create an efficient synergy between existing infrastructures and innovative solutions that can accelerate company growth.
The importance of eCommerce marketing automation
One of the trends that have gained immense popularity in recent years is eCommerce marketing automation. Automation tools serve to free marketing specialists by automating a wide range of promotional activities, like newsletters, ad campaigns, SMM posting, data collection, and analysis. However, automating marketing activities alone will not help your eCommerce business to succeed. There are still many under-the-hood business operations that need to be streamlined and spared manually — for instance, the vendor onboarding process. Let's take a closer look at one.
Make vendor onboarding easy right from the start
The relationship with vendors lays the groundwork for any company's growth and success. That is why finding and onboarding can be a challenging task. It usually comes with a screening process, hours of research and negotiations, contract redlining, and, of course, some give and take. This might create administrative chaos and lead to pending or even delayed projects. This is where the automation of the supplier onboarding process comes to the rescue. Before streamlining the onboarding process with the help of automation tools, you need to create and take into consideration essential points to set onboarding on the right track from the start:
Outline your key expectations from vendors.

It will help you understand whether they have enough resources and capabilities to meet your requirements.

Establish an initial selection process.

Interview your chosen prospects and learn about their experience, challenges, and achievements in your domain.

Do extensive research.

Get feedback from the customers the potential vendors or suppliers worked with.

Approach vendors and suppliers as you would approach a new employee.

It's crucial if you're set to create a long-lasting partnership.
How can airSlate improve your supplier onboarding or any other operations for your eCommerce business?
Now that you know about the points you need to consider before selecting new vendors and suppliers, you can make the entire process less chaotic and more streamlined using airSlate. Here's what our solution can bring to the table:
A full-featured document editor.

Apart from endless automation and integration capabilities, airSlate features a powerful document editor that allows you to draft documents from scratch or edit existing ones. Our editor makes paper a thing of the past.

A library of document and workflow templates.

Whenever there's a need to draft new documents and configure workflows from scratch, you don't need to reinvent the wheel but use template-based libraries instead. airSlate offers hundreds of ready-to-use options you can take advantage of. For instance, you can simply select the Contract and Agreement tab if you need to redline a contract and negotiate over price or other terms. It will allow you to suggest, accept, and refuse the changes as you review the document.

A robust web form builder.

airSlate lets you build fillable forms from scratch, use pre-uploaded templates, or upload your own document in any format and turn it into an interactive data and payment collection tool. You can use the form to gather essential information from potential vendors or carry out regular customer satisfaction surveys. In addition, there's a multitude of sharing options. A document made in airSlate can be embedded on your website or sent out through a shareable link.

Automation and integration capabilities.

With airSlate, you can add Bots to specific steps and preselect the conditions under which each action should be triggered. The Bots operate on "if-this-then-that '' logic that lets you configure your vendor onboarding Template down to the last detail. Also, airSlate lets you smoothly integrate your workflows with apps that are already a part of your company's infrastructure and route data without any friction. The best part about automation and integration capabilities is that they don't require a single line of code or special knowledge of programming languages or frameworks.

A unified ecosystem for managing all documents in one place.

You don't need to toggle between multiple third-party applications and software exposing your sensitive data when using our solution. You'll get everything to set your document workflow automation up and running under one roof.

Security and safety-oriented automation solution.

airSlate gained SOC 2 Type II and PCI DSS certification and has legal frameworks to comply with FERPA, CCPA, HIPAA, and GDPR. In addition, it features dual-factor authentication, Audit Trail, and 256-bit encryption.
Getting into the heads of your customers and your business partners is the key to success for any growing eCommerce business. It involves a lot of routine activities and extra tasks that might consume all your time and resources. airSlate will help you sail through these routine processes, digitize your document management, cut operational costs, and create a more sustainable and paperless environment. Try it out now and take advantage of all the opportunities our workflow automation software has to offer.