Education & Training
Automate document workflows within your training department
Optimize training workflows to improve the efficiency of your entire department. Implement your department's assessment and enrollment processes your way with no code. From development plan approvals, and training enrollments to capturing and processing data — automate your most routine tasks within a single, holistic platform. No coding necessary.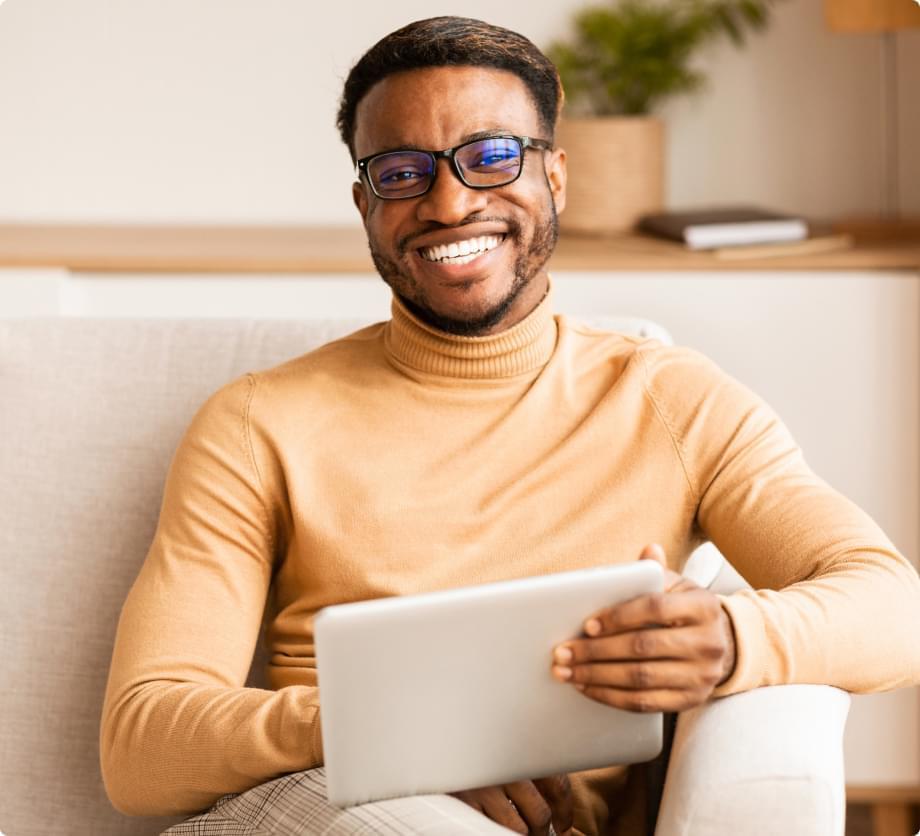 airSlate for training & development departments
Provide qualified training to enhance skill levels and increase the versatility and adaptability of employees. Automate recurring manual tasks and eliminate enrollment bottlenecks while improving compliance and data accuracy with airSlate automation.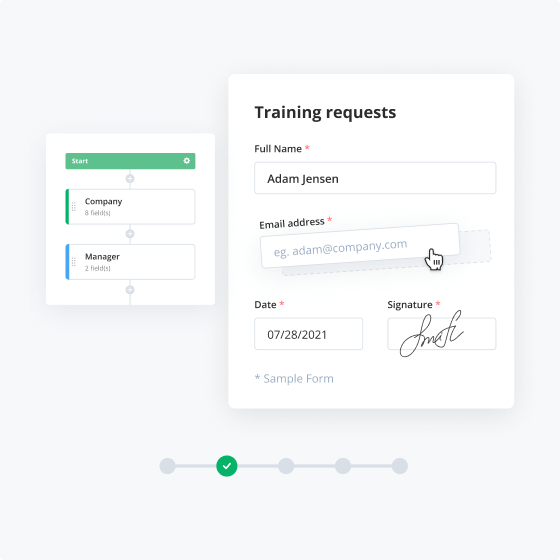 airSlate for training & development departments
Provide qualified training to enhance skill levels and increase the versatility and adaptability of employees. Automate recurring manual tasks and eliminate enrollment bottlenecks while improving compliance and data accuracy with airSlate automation.
Appraisal sheets

Employee assessments

Training requests

Training enrollment

Training reports
Start with a pre-built Template and customize it to fit your unique process
Select from pre-built document workflow Templates used by airSlate customers from the Education & Training industry.
Everything you need in an all-in-one platform
From eSigning to drag-and-drop process automation and hundreds of no-code Integration and Automation Bots ‒ get everything you need to build document workflows in one platform.
Capture and process employee data
Streamline the entire enrollment process with dynamic web forms. Use the forms to capture employee data and automatically route it between departments, your systems of record, or even initiate a new workflow.
Create eSignature workflows
Automate the collection of eSignatures to eliminate bottlenecks in training approvals or program applications. Improve compliance and build legitimacy of internal processes with legally binding eSignatures.
Build an automated application workflow
Reduce administration workloads with end-to-end enrollment process automation. From document routing and data collection to CRM record updates and notifications — no manual hassle is required.
Generate documents in a snap
Once you receive an applicant's information, you can add it to agreements, or reports in seconds. Connect your documents to the system of record you use to pull or push data — no coding necessary.
Secure education and training workflows
airSlate adheres to the strictest compliance protocols and certifications such as FERPA, GDPR, CCPA, and more. Rest assured that the information you, your employees, and trainers share and store is secure.
Track workflow progress in real-time
Monitor the effectiveness of your training or enrollment processes by creating custom reports based on any field in a document. Improve the visibility and transparency of your education workflows with real-time audit trails.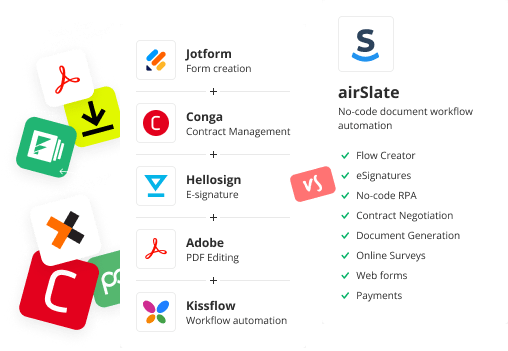 See why airSlate beats any alternative on the market
Integrate with any cloud service via no-code Bots to streamline your document workflows
Trusted by forward-thinking companies around the world


"A time-saver with excellent help"
"Can't stop thinking up ways where I can use airSlate to automate"
"Fast-tracked in 1 day for a complicated process"
Enterprise-grade security and compliance
airSlate is committed to protecting your sensitive information by complying with global industry-leading security standards.
Get the most out of airSlate

The airSlate Academy
Learn how to put workflow automation into action using market-leading solutions.

Partner Program
Collaborate with the most powerful no-code document workflow automation platform.
Education automation: open new horizons for your learning departments
Educational institutions should always be at the forefront of innovation. Although modern technologies are being widely implemented into academic processes, institutions still remain conservative when it comes to paperwork. Not only do admission offices deal with an enormous amount of papers but learning and training departments are also flooded with tons of documents whether we're talking about a large university, college, or a local school. Instructions, regulations, research papers, reports, teaching forms for different types of assessments, and workshop feedback forms are only a few that academic staff deal with every day. How can you save your pedagogical departments from drowning in paperwork and enhance their work? There is a way around this. By implementing workflow automation in education, significantly improve efficiency.
Major hassles that automation in education helps to resolve
It's crucial to keep accuracy and accountability for all learning processes. However, all education departments face the same challenges: they must provide a high level of teaching, giving students their maximum attention, and manage the routine paperwork that eats up plenty of working time. Here's where automation in education proves very useful, streamlining regular tasks and saving teachers a bunch of time to help their students.
The main problems that workflow automation helps to solve in learning processes are:
A substantial amount of paperwork.

All schooling processes like timetable scheduling, class assessments, or sending students workshop feedback forms about their recent work are document heavy. Not only managing them manually but also storing all the hard copies is inefficient and tedious.

Student registration and program changes.

During each semester, students enroll and/or switch to different courses. Dealing with paper forms or sorting out the electronic forms without automation tools takes up too much working time. Using automated training request form templates facilitates and speeds up these procedures.

Transcripts.

Academic personnel use different types of assessments to evaluate student progress, their new level of skills achieved, and their academic weak points. Comparing learners' current skill development with their prior learning assessments without automation is time consuming and prone to error.

Staff and student dissatisfaction.

This results from the reasons described above. When it takes so much time for teachers to fill out appraisal sheets, approve training programs, or prepare and send a workshop feedback form to every single student, it's no wonder that both academic personnel and learners feel disappointed with the processes.
The solution for these issues is rather simple — departments should reduce paperwork as much as possible and minimize human involvement. How many new training courses could your Education department launch, and how many extra hours could your staff devote to their direct professional duties with students if switching to automated processes without the need to manually manage piles of documents? Most regular tasks don't require manual input. You can delegate them to Artificial Intelligence (AI) and automate most of them to make things go faster and more smoothly.
5 reasons why education automation is a necessity
Implementing workflow automation in education departments is about the future benefits; it's the solution that helps your staff here and now to be productive. Of course, you can keep doing things the old way. However, by holding back digital transformation, you risk staying far behind others. Don't be afraid of changes. AI doesn't aim to substitute you but to ease your work and free you from routine steps.
Here are the 5 main advantages that your learning department can gain with automation software:
Minimized errors.

When manually filling out forms, errors and typos are inevitable. With automated workflows, manual data entry is minimized. This excludes inaccuracies made during class assessments or completing workshop feedback forms.

Reduced costs.

Constantly printing and copying forms costs a lot. Replacing paper workflows with digital ones significantly cuts operating expenses

Increased productivity.

With minimal time spent on document processing, learning departments can concentrate more on their students and training programs.

Improved staff and student satisfaction.

Faster processes and less time spent on documents improve the student experience and increase academic personnel satisfaction.

Enhanced data security.

Storing data electronically in the cloud is more secure than keeping it on hard copies. Trustworthy solutions comply with various security regulations and provide the highest level of data encryption.
RPA in education automation: how airSlate helps training departments
The modern market offers many automation tools for educational institutions, which may require different levels of technical skills to deploy. Consider choosing airSlate, a secure cutting-edge no-code solution based on robotic process automation (RPA) technology. This means that airSlate uses ready-to-go Bots for automating routine tasks and integrating other applications with the platform. In other words, you don't need to hire extra IT experts to set up your workflows — anyone can quickly learn to do it.
With airSlate, educational departments can benefit from the following:
A library of form templates.

You can adjust them according to your needs by adding extra smart fields, granting or restricting other users from access to your forms or their fields.

Pre-filled documents with data from other files and/or databases.

For example, when sending your student an academic report, you can pre-fill it with prior learning assessments to show their progress.
esignature collection. Send your learners training request form templates or other academic forms and automatically collect legally-binding esignatures in minutes.

Trackable processes.

Monitor your document completion in real time.

Updated databases.

Use Integration Bots to automatically export data from academic forms to your databases and CRM systems.
Education automation is the key to your training department's success. Work productively and automate with airSlate!