Finance & Accounting
Automate financial workflows in your company
Reduce the risk of payment delays and inaccuracies by liberating your team from daily data-intensive tasks. Simplify key financial document workflows such as invoicing, preparing financial statements, expense management, or reporting while meeting stringent and constantly changing regulatory requirements.
airSlate for financial staff
Financial specialists use airSlate to increase productivity and lower the costs associated with time-consuming document workflows. With a single no-code solution, it only takes minutes to deploy a standard operational workflow that finance professionals used to perform step-by-step manually.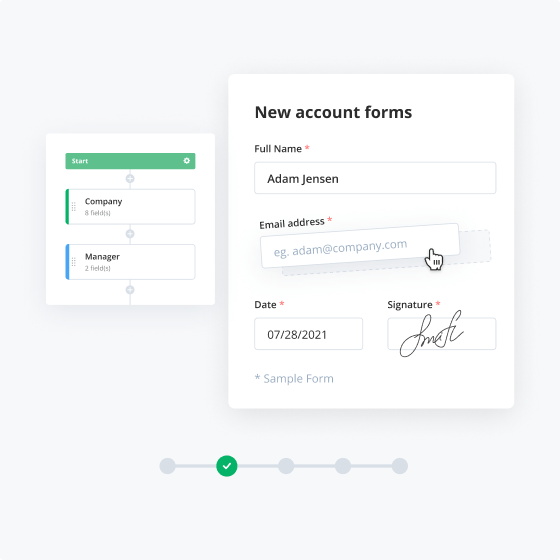 airSlate for financial staff
Financial specialists use airSlate to increase productivity and lower the costs associated with time-consuming document workflows. With a single no-code solution, it only takes minutes to deploy a standard operational workflow that finance professionals used to perform step-by-step manually.
Income tax returns

New account forms

Financial reports

Collecting payments

Self-service signing
Start with a pre-built Template and customize it to fit your unique process
Select from pre-built document workflow Templates used by airSlate customers from the Finance & Accounting industry.
Everything you need in an all-in-one platform
From eSigning to drag-and-drop process automation and hundreds of no-code Integration and Automation Bots ‒ get everything you need to build document workflows in one platform.
Simplify document generation
Create and share statements, loan applications, payment notices, and other professional financial documents. Add fillable number and currency fields using the powerful airSlate editor. Automatically pre-fill documents with data from spreadsheets, CRMs, and databases.
Automate calculations
Ensure data accuracy and accountability by reducing manual data entry. Automatically complete calculations with data pulled from different systems right in your sales order, expense reimbursement, or budget approval.
Manage payments digitally
Add payment forms to your workflow so your business partners and customers can complete sales orders and send payments right away. Integrate with payment gateways without having to code anything.
Speed up signing processes
Ensure your invoices and financial statements are filled and signed properly with legally-binding e-signatures. Сomplete finance transactions while working remotely from any device.
Get payment and billing alerts
Whether you need payment confirmations, non-payment warnings, or payment failure notifications, airSlate automation removes the hassle. Set up notification Bots to push out your emails at the scheduled time.
Get full visibility over your transactions
Get a complete picture of your financial data with real-time analytics. Use widgets and concise graphs to track payments received, invoices signed, contracts created, and more.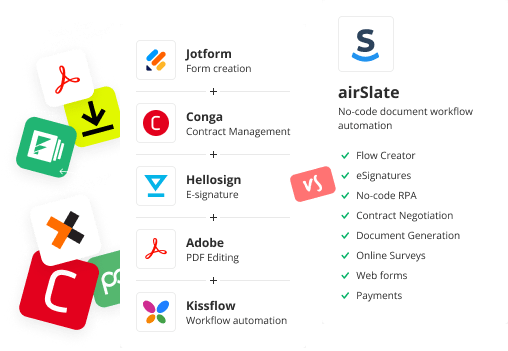 See why airSlate beats any alternative on the market
Integrate with any cloud service via no-code Bots to streamline your document workflows
Trusted by forward-thinking companies around the world


"Fast, Friendly, Functional"
"A great suite of offerings for a small to midsize professional firm"
"Integrating airSlate with Salesforce was the best thing we did to improve the usability of our service documentation"
Enterprise-grade security and compliance
airSlate is committed to protecting your sensitive information by complying with global industry-leading security standards.
Get the most out of airSlate

The airSlate Academy
Learn how to put workflow automation into action using market-leading solutions.

Partner Program
Collaborate with the most powerful no-code document workflow automation platform.
Why you need to implement financial process automation into your business
Accounting information is one of the most important types of data in any business sphere. It's where all of the data for every transaction is kept. It doesn't matter if you're buying stationeries for employees or entering into a contract to build airplanes. Every piece of financial information has to be collected, organized, and stored. Believe it or not, a lot of businesses still use paper tracking their profits and expenses. What if you're making a hundred transactions, a thousand transactions per month? Maybe more? There's always someone, whether that's one person or an entire department managing a business's finances drowning in physical files and receipts.
The typical situation without accounting automation
How do your employees process financial data now? Most likely, they work in old programs and fill information in manually. Unfortunately, this is a highly inefficient process, which leads to multiple problems.
Really, the problem starts right after choosing an outdated software or platform. They have a poor design, interface, search engine, and work slowly. Consequently, these programs require a lot of time to learn how to operate and are inconvenient.
Furthermore, as you understand, working with a massive amount of data and routing it between multiple systems of record aren't the most exciting duties. Let's call it what it is. These tasks are boring and monotonous. As a result, employees in charge of managing them get distracted, lax their diligence, and start making mistakes in documents such as identity verification forms. That means that the risk of human error is high, and errors in finance and tax forms are bound to happen. We all understand the cost of unaccounted for money, and nobody wants to run into any problems with the Internal Revenue Service, so you hire more and more people to handle your transactions. After that, you hire more and more managers to help your army of accountants work conveniently. Most likely you're spending a lot of money on unnecessary human labor for managing receipts!
If you want to develop a powerful business that operates and grows sustainably, you have only one way — implementing workflow automation. Consider starting with accounting automation to free one of the most important people in the company from routine actions.
What benefits will you get by implementing automation for the finance department?
The first and most important benefit of automation is reducing the congestion of your employees' document workflows. In addition, automating the finance department reduces the need for an excess of employees; keeping the department staffed with only those crucial to managing really important stuff.
When all your accounting information is collected and systematized automatically, your employees don't have to spend so much time doing routine tasks like filling out loan application forms. It increases their attentiveness, leading to fewer or even the absence of mistakes.
This improvement brings freedom. Finally, it restores order and controls your assets, liabilities, and equity. Everything you hate about managing the financial aspects of your business will become much easier.
What's the best workflow automation software to use?
Usually, when businesses hear about automating accounting or any other department, they think that it's too expensive to be accessible. If this was 2015, they'd be right. Hiring software architects and developers is expensive! Additionally, the cost of maintaining in-house software can get out of control.
Nowadays, everyone can take advantage of cloud-based services that operate flawlessly, without the need for any IT professionals. No-code platforms are much cheaper and faster than hiring a professional developer or outsourced IT team; all the tools for accounting automation can be accessed right from your browser: Google, Bing, FireFox, DuckDuckGo, it doesn't matter.
What no-code solutions can we recommend? If you want to make your work effective without losing much money, effort, and time, consider using airSlate for financial process automation. It suits companies of any size, ranging from small businesses to big corporations. This is your chance to start the automation of finances by implementing airSlate's simple-to-implement tools, called Bots.
Bots are specialized software robots that perform actions based on pre-set if-this-then-that conditions and help manage certain tasks. Automation for finances will move you forward by:
Creating payroll reports in real time
Adding invoices
Collecting payments
Analyzing loan applications
Receiving fund requests
Preparing different types of financial reports
Budget planning
Customizing automation of taxes
Integrating financial data with external services like CRMs, databases, and many more
An automated accounting system created in airSlate will complete all these actions without wasting your time or effort. All you need is to create an account and complete a few simple steps:
Prepare documents.

Create or upload a payroll report, bank loan proposal template, identity verification form, or any other file that will be used for this specific workflow to the system. Add fillable fields to indicate to airSlate what information to process.

Assign Roles.

Designate responsible people among Template members. Double-check the powers of each decision maker to avoid overlapping responsibilities and potential misunderstandings.

Set up an automated workflow.

Add Bots from the menu. Apply general settings (primary Bot actions) in the right sidebar and customize activation conditions for different cases. Remember that Bots can complete tasks according to the defined circumstances.

Test it out.

Share the Template with colleagues and see how the system works. Find issues or flaws in logic and optimize processes to make them even more efficient and fast.
Aside from financial process automation, use airSlate for other departments and working processes. Workflow automation is accessible for almost any professional situation you can run into at your job or with your business. Consider using airSlate for more than just the automation of finance processes; check out many more departments that benefit from airSlate's powerful tools.