Human Resources
Empower your HR team with
automation
Eliminate routine tasks for your HR specialists by designing automated workflows that only take minutes to complete. Run your onboarding processes, operate claims and checklists, conduct surveys, and approve requests within a single digital workspace.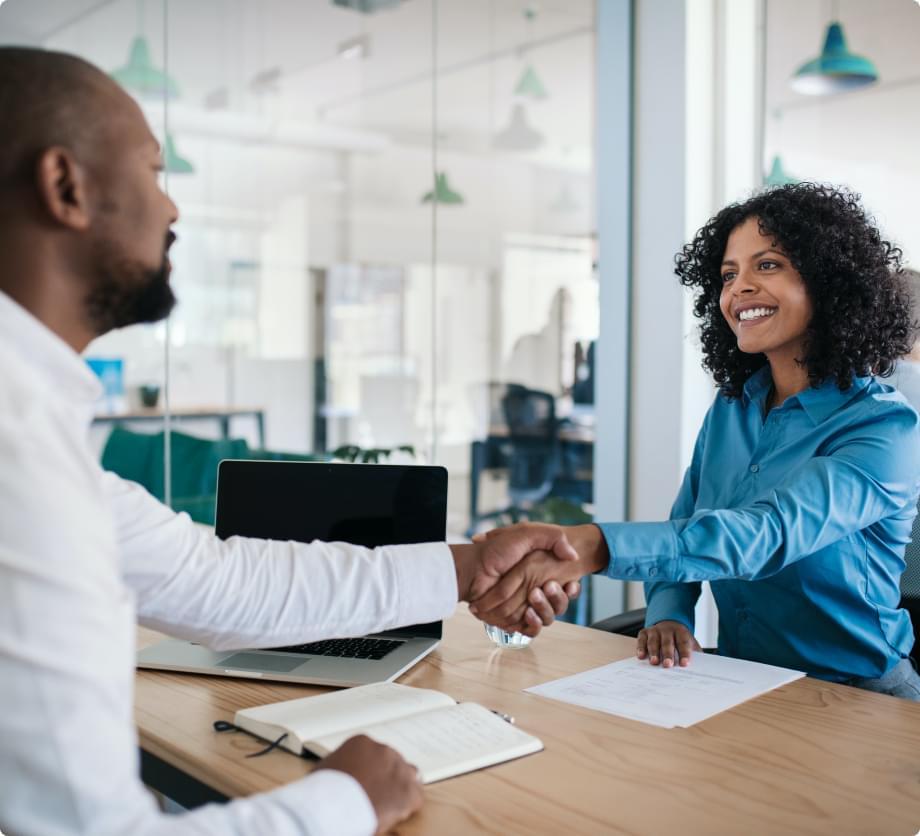 airSlate for Human Resources
With airSlate, organizations of all sizes can streamline their onboarding, performance review, approval, and equipment request processes. HR departments can design end-to-end automated workflows using an all-in-one, no-code solution that allows colleagues to focus on strategic initiatives rather than the paperwork.
airSlate for Human Resources
With airSlate, organizations of all sizes can streamline their onboarding, performance review, approval, and equipment request processes. HR departments can design end-to-end automated workflows using an all-in-one, no-code solution that allows colleagues to focus on strategic initiatives rather than the paperwork.
Hiring requests

Employee onboarding

Collecting feedback

Employee appraisals

Training enrollment
Start with a pre-built Template and customize it to fit your unique process
Select from pre-built document workflow Templates used by airSlate customers from the Human Resources industry.
Everything you need in an all-in-one platform
From eSigning to drag-and-drop process automation and hundreds of no-code Integration and Automation Bots ‒ get everything you need to build document workflows in one platform.
Collect and manage employee information
Reduce the chance of information loss and data entry errors with automated web forms. Onboard new hires and collect employee personal information on a company-wide scale while automatically saving it to your system of record.
Set up automated notifications and reminders
Automatically send customizable reminders and get notified about any request, approval, or rejection via email, text message, or the communication platform of your company's choosing.
Automate feedback forms and surveys
Reveal potential problems by allowing employees to submit their feedback anonymously via an HTML form initiated from a public URL. Collect responses and transfer them to your system of record automatically.
E-sign from anywhere
Always stay in touch with employees and complete HR forms, approvals, and contracts from anywhere in the world with legally-binding e-signatures.
Protect Sensitive Data
Keep NDAs, contracts, and other HR documentation secure with two-factor authentication, advanced encryption, and an Audit Trail. Track all changes made to every document.
Assess your processes with data analytics
Make robust decisions based on well-organized analytics. Visualize real-time data, including the number of new hire requests, offers submitted, and agreements signed.
See why airSlate beats any alternative on the market
Integrate with any cloud service via no-code Bots to streamline your document workflows
Trusted by forward-thinking companies around the world
"Now we have managed to automate most of what we wanted initially"
"Simple, flexible and effective. What more could you want?"
"The customer support is beyond words. So incredibly helpful"
Enterprise-grade security and compliance
airSlate is committed to protecting your sensitive information by complying with global industry-leading security standards.
Get the most out of airSlate
The airSlate Academy
Learn how to put workflow automation into action using market-leading solutions.
Partner Program
Collaborate with the most powerful no-code document workflow automation platform.
Human resources automation: why your company needs it now more than ever
HR managers are always at the frontline of securing the best talent for their companies and building a positive employee experience. Ironically enough, they often fail to develop a healthy working environment for themselves while struggling to grapple with tremendous routine administrative activities. At one point or another, these inefficiencies in traditional HR management systems inevitably lead to:
unorganized documentation located in different databases
inaccurate, manual data entry and the higher possibility for error
inconsistency across document execution processes
no transparency in communication between departments
The situation only got worse after the pandemic broke out and urged businesses to introduce new human resources tools and adapt to a new "hybrid" working landscape. Many companies are trying to adopt a patchwork approach to eliminating these new bottlenecks. For instance, they solve paperwork storage problems by moving it online to a centralized system but close their eyes to other document-related aspects of work, like the need for esignature or automated document routing. As a result, HR workers end up spending less time on their primary duties, such as employee performance appraisal or onboarding, and more time on administrative maintenance.
How to create an efficient HR management system within your company
The core duty of an HR department is to maintain a positive experience throughout the entire employee journey. That's why companies need to consider eliminating tough steps in administrative tasks. One of the possible solutions is to outsource or outstaff these tasks to other companies. However, this decision might not be budget-friendly and may take a lot of time to implement. The most efficient way to offload an HR manager's administrative tasks and help them refocus on higher-value activities is to automate HR processes.
Concerns associated with implementing automation in human resource process management
To a certain degree, people are predisposed to resist change and innovation. Implementing automation into well-established, yet burdensome HR processes is no exception. Here are some of the most common aspects holding companies back from taking steps towards HR automation:
Excessive reliance on paper. 

Despite the rapid trends in digital transformation, we witness today, many companies remain too reliant on traditional paper-based document management and are not entirely prepared to move it online.

Future of employment. 

There's a common misconception that HR automation will displace humans by taking over their jobs.

Security and privacy issues. 

New data and privacy regulations, which went into force in recent years, gave people more control over the data they share online. For companies, it means more rigorous and sometimes costlier measures for keeping this data protected while implementing workflow automation software.

Compatibility with existing processes and infrastructures. 

There's no "one-size-fits-all" solution that would be suitable for all companies. Every solution requires a certain level of fine-tuning when it comes to accommodating existing infrastructures with automation tools.

Need for IT specialists. 

The majority of solutions out there require a certain level of coding, which may scare companies, especially small ones from adopting automation in HR.
Dispelling concerns around HR process automation with airSlate
airSlate is a cloud-based, no-code platform that features eSignature, BPA (Business Process Automation), document generation, workflow automation, and contract negotiation tools that help companies digitize, automate, and configure routine operations, including HR processes.
Eliminate the need for paper. 

airSlate is compatible with various file formats and file templates, including PDF, DOCX, EXCEL, etc., and supports interactive fillable fields. You can create documents from scratch, choose from the ready-made templates, or upload and edit your own.

Free up time for more meaningful tasks. 

Our solution is designed to leverage HR managers' potential by alleviating routine and making any HR-related processes from employee onboarding to policy updates, as accurate and streamlined as possible.

Secure the most sensitive data. 

We designed airSlate with security in mind. It's encrypted by 256-bit SSL. airSlate complies with major legal frameworks on data privacy, including GDPR, HIPAA, and more.

Work in synergy with existing infrastructures. 

airSlate integrates with hundreds of cloud applications commonly used for setting up a human resources workflow.

Get your workflow up and running without IT specialists' help. 

airSlate was designed based on simplicity in complexity. Using the solution is easy and intuitive at every touchpoint.
Implementation of our solution will significantly impact your results, improve the efficiency and productivity of your employees, and make processes associated with any human resource workflow more consistent.