Legal
Improve legal practice management with no-code automation
Streamline entire legal workflows from standard correspondences and contract updates to complex wills, trusts, and corporate agreements. Close deals faster by automating each process, from initiation to completion, while maintaining visibility and keeping all parties in the loop.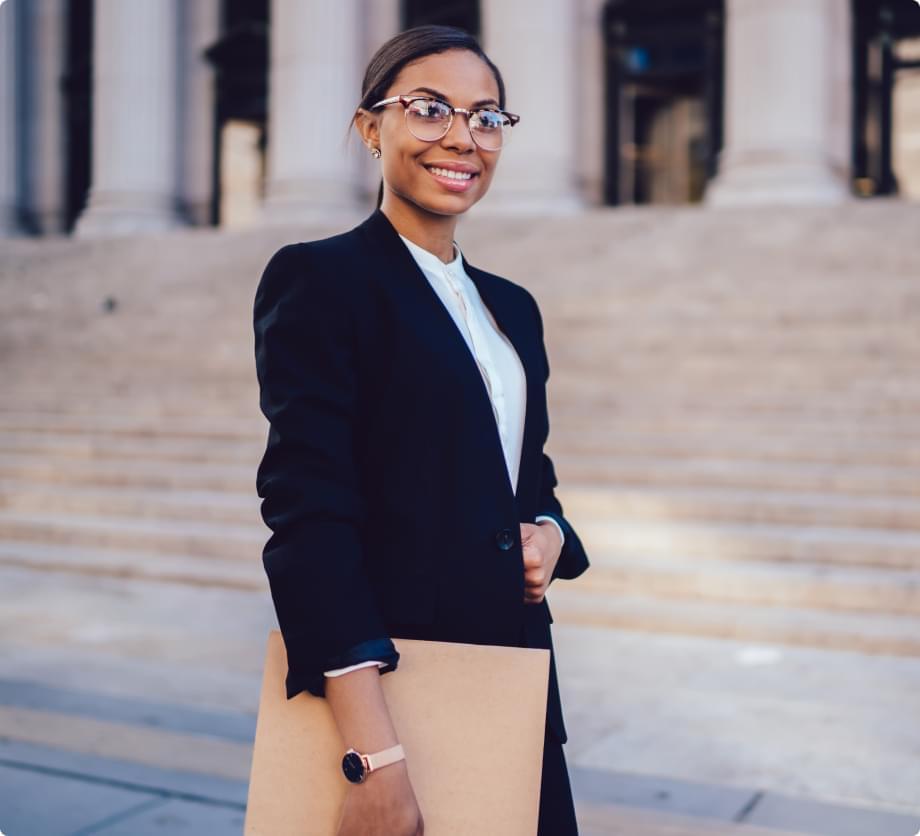 airSlate for legal professionals
airSlate allows legal departments and independent law firms to delegate routine work to technology while providing an impeccable client experience. Stay efficient and compliant with error-free document generation and a court-admissible audit trail, streamline eSigning and approvals, and automate notifications and document archiving to guarantee world-class contract management.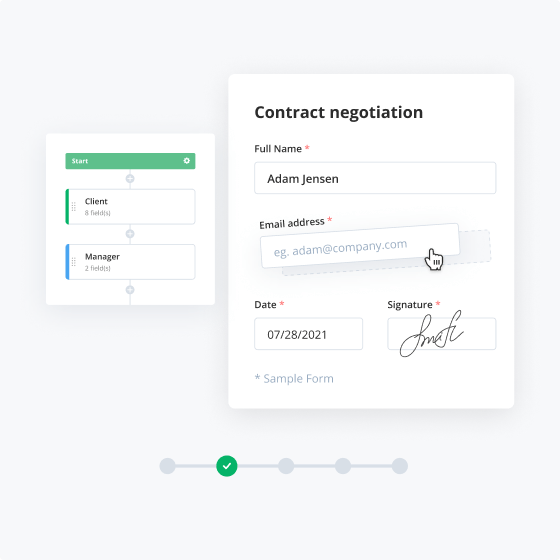 airSlate for legal professionals
airSlate allows legal departments and independent law firms to delegate routine work to technology while providing an impeccable client experience. Stay efficient and compliant with error-free document generation and a court-admissible audit trail, streamline eSigning and approvals, and automate notifications and document archiving to guarantee world-class contract management.
Loan agreements

Power of attorney

Promissory notes

Affidavits

Contract negotiation
Start with a pre-built Template and customize it to fit your unique process
Select from pre-built document workflow Templates used by airSlate customers from the Legal industry.
Everything you need in an all-in-one platform
From eSigning to drag-and-drop process automation and hundreds of no-code Integration and Automation Bots ‒ get everything you need to build document workflows in one platform.
Automate repetitive work with documents
Eliminate the hassle of recreating your most frequently-used documents. Create reusable templates and leverage all the data you receive from clients and staff to automatically generate repetitive contracts, agreements, NDAs, and other documents.
Streamline administrative work
Filing, organizing, scanning, copying, and faxing legal documents is now a thing of the past. Deploy automated workflows for legal departments so they can devote more time to billable work and other revenue-producing activities.
Speed up client intake and follow-ups
Collect your client's information with customizable web forms. Receive accurate data and automatically forward it to your system of record.
Get lawful and court-admissible eSignatures
Any legal document, from Power of Attorney and Shareholder agreements to estate planning, can be signed with a single swipe of your cursor. Designate required fields to each party involved and set the signing order to meet your requirements.
Keep confidential data protected
Be sure your client data is protected from leakage or misuse. airSlate complies with industry-leading security standards and regulations, including FERPA, GDPR, CCPA, SOC 2, HIPAA, and more.
Develop reliable reporting and analytics
Gain end-to-end visibility over your processes with live details of each individual legal item and customizable widgets for critical metrics or KPIs.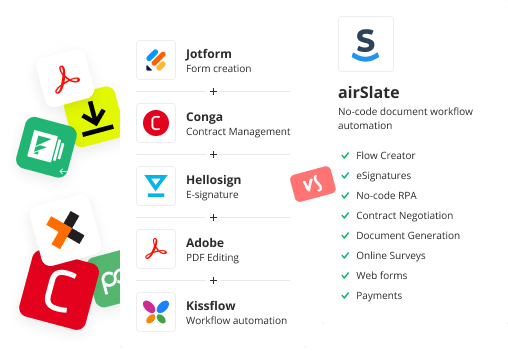 See why airSlate beats any alternative on the market
Integrate with any cloud service via no-code Bots to streamline your document workflows
Trusted by forward-thinking companies around the world


"Incredibly useful and automates a process that previously had to be repeated numerous times a day"
"The customer support is beyond words. So incredibly helpful"
"Solution that can be customized from start to finish according to your business needs"
Enterprise-grade security and compliance
airSlate is committed to protecting your sensitive information by complying with global industry-leading security standards.
Get the most out of airSlate

The airSlate Academy
Learn how to put workflow automation into action using market-leading solutions.

Partner Program
Collaborate with the most powerful no-code document workflow automation platform.
Legal automation: the quickest way to increase efficiency
Get familiar with the best way to enhance your experience in managing legal operations with the help of workflow automation software. Learn to cope with huge volumes of documentation and routine tasks quickly and without much effort. Increase your company's efficiency by organizing files into one system and focusing your attention on more important issues.
Legal document automation in action
The legal sphere implies working with people. Unique details of each individual case demand a lot of human attention. However, when it comes to dealing with hundreds or thousands of printed documents, staying attentive to the smallest details becomes a highly challenging responsibility. Luckily, some of the tasks can be delegated to humans or in today's new reality, workflow automation systems!
Why is workflow automation so important?
The technology is aimed at simplifying repetitive procedures. For example, in terms of legal document automation, you can enhance the drafting process. The list of advantages below speaks for itself:
Increased speed.

As a rule, it takes just a couple of minutes to create an agreement using automated solutions. You can create not just a single record but a suite of related forms. Let your recipients insert valid information once and automatically transfer this data to other documents. By speeding up the process, the volumes of legal papers increase, resulting in profits and business growth and development.

Improved quality.

The key feature of agreements is that they tend to become longer after each new review during contract negotiations. Meanwhile, there are also certain restrictions for editing. Automating the process takes issues into account every time an agreement is created but is addressed only when relevant.

Customization.

By creating a web form, your lawyers can collect the necessary information from their clients. You can set rules so that the system will show questions only if the previous one has had a particular answer. For instance, the information related to children would be required only if the answer to the question 'Do you have children?' was positive.

Risk management.

People are prone to making mistakes. Legal document automation reduces this risk significantly. For instance, users don't need to keep in mind which provisions are already irrelevant. If they were removed, they won't emerge as a basis for a new contract of this type.
Drafting samples and ending negotiations about contracts aren't the only duties a lawyer has to perform. There are numerous additional time-consuming processes that accompany the document creation process. And if you as a business owner want your company to grow, you need to find and automate all of them.
A regular document workflow includes several steps: drafting a sample, passing legal reviews and negotiations, checking attached materials, collecting signatures, and keeping track of further liabilities like processing payments or delivering services or goods.
Furthermore, legal operations often include more complicated processes like budget approval, employee appraisal, customer inquiry, sales orders, etc.
The only salvation in this mess is using legal document automation software.
What legal document automation software is out there
Most likely, you're intrigued by how much these extraordinary automated systems can cost. No, you don't have to look for an appropriate Artificial Intelligence solution; it'll be too expensive and, frankly speaking, needless now.
You don't also have to look for specialized programs or develop legal document automation software on your own. Hiring IT specialists or entire departments can cost you a fortune and require months to show the first results.
So what are the miracles described in the previous paragraphs? How is it possible to achieve them without artificial intelligence and building new software from scratch? Use business automation by airSlate. Our ultimate solution enables anyone to build automated workflows that are suitable for contract negotiations.
How legal automation works in airSlate
airSlate is a completely cloud-based legal document automation software. It means that all needed resources for using this service are located on the vendor's servers and can be accessed remotely from any place around the globe.
When you open our website, you access all the necessary tools for handling the entire document lifecycle. When you click Start New Template, the first thing you'll be asked to do is to create or upload a document or a form.
After that, you'll be able to create different roles and divide responsibilities between Template members. For example, you'll be able to assign fields to document creators, managers, or any other involved people.
Then, you can add Bots. They are specialized tools made for automating your processes or integrating multiple platforms into one comprehensive environment. In other words, they are the ones that will do the monotonous work for you: pre-fill documents, route data, send reminders and notifications, change permissions, hide signatures, or launch other processes.
The most significant airSlate benefit for legal automation
What makes airSlate a solution that will suit both professional lawyers and their clients? Our service doesn't require you to have any special technical skills. On one hand, you need to have a complete understanding of a workflow to be able to draw a scheme and create a basic algorithm with a detailed description of steps. On the other hand, it only requires you to set up a few Bots to complete an entire complex of routine tasks:
Pre-fill your Flow with information from a Google Sheet;
Assign a name to this Flow;
Transfer roles to other people included in the process;
Export particular information from the Flow to the Google Sheet;
Send out email notifications after the procedure is completed.
When you understand the logic of business automation, all these document generation tools, Roles assignments, and Bot configurations become your friendly assistants in accelerating everyday processes.
You can improve your skills in automating workflows on your own or complete free courses at the airSlate Academy (after enrolling in basic training sessions, pay attention to the Contract Negotiations course, it's really helpful for legal automation).
Break free from boring, repetitive tasks that don't actually require your involvement. Leave your legal workflows to airSlate and focus on more important issues!