Marketing
Digitally transform your marketing activities from end-to-end
Easily create and automate marketing processes, from go-to-market campaigns and product launches to data capturing on lead forms, briefing processes, and more. Deploy end-to-end marketing document workflows with a single, no-code solution.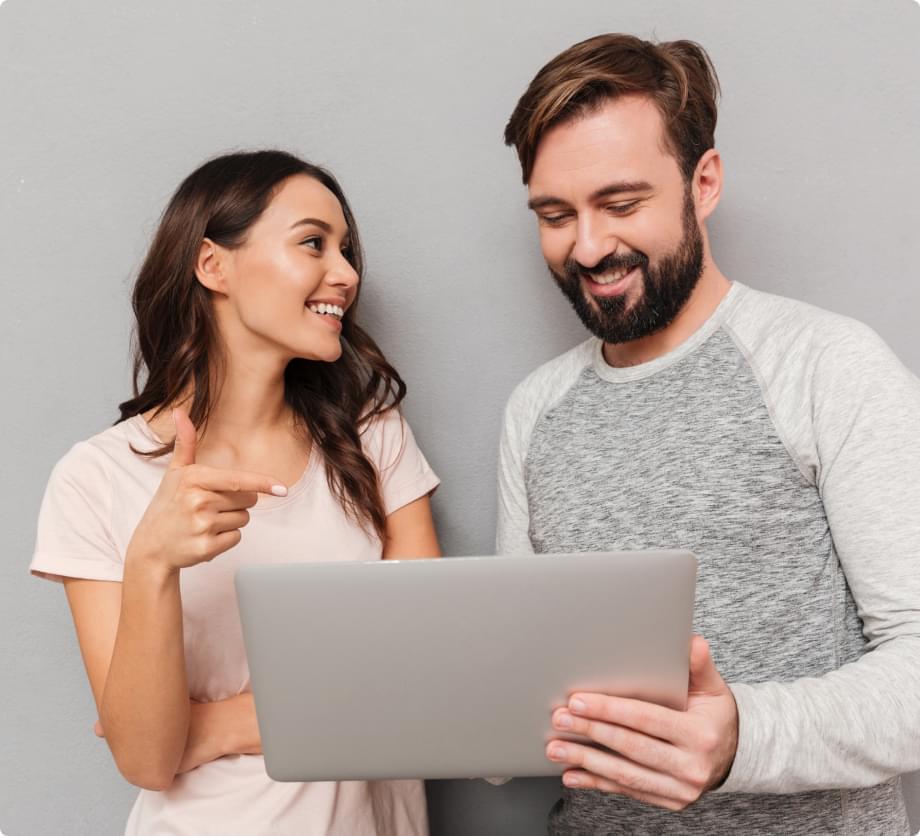 airSlate for marketing departments
Move your marketing initiatives from strategy to execution faster. Empower your team to digitize and automate time-consuming and repetitive marketing processes. With airSlate, your document workflows are deployed in minutes, allowing you to boost employee productivity, increase deal closing rates, and scale conversions.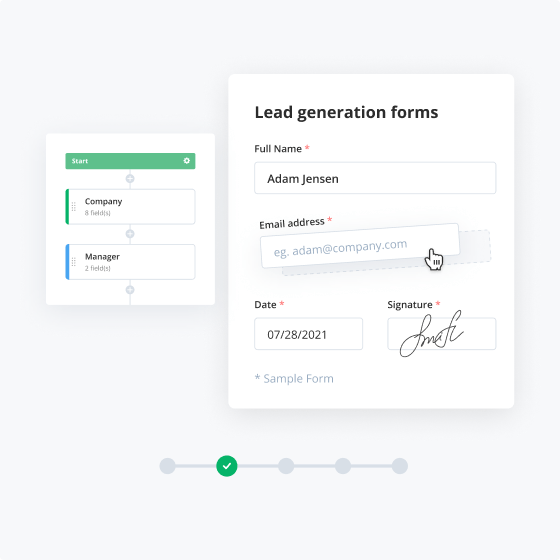 airSlate for marketing departments
Move your marketing initiatives from strategy to execution faster. Empower your team to digitize and automate time-consuming and repetitive marketing processes. With airSlate, your document workflows are deployed in minutes, allowing you to boost employee productivity, increase deal closing rates, and scale conversions.
Lead generation forms

Press release approvals

Online event registrations

Marketing collateral requests

Customer satisfaction surveys
Start with a pre-built Template and customize it to fit your unique process
Select from pre-built document workflow Templates used by airSlate customers from the Marketing industry.
Everything you need in an all-in-one platform
From eSigning to drag-and-drop process automation and hundreds of no-code Integration and Automation Bots ‒ get everything you need to build document workflows in one platform.
Capture and process customer data
Get feedback from your target audience and generate more leads using powerful web forms. Use conditional logic to route client data to the right people or any system of record for processing.
Speed up marketing workflows
Easily design and deploy multi-step workflows such as briefings, submission processes, press release approvals, and more, to produce marketing materials, prepare campaigns, or get products to market faster.
Automate content generation
From a marketing proposal to a marketing agreement, airSlate lets you automatically generate documents pre-populated with client data taken from a CRM and easily forward them to the right people.
Collect eSignatures in minutes
Build smooth and quick signature workflows to easily collect legally-binding eSignatures from customers, prospects, or employees from anywhere in the world.
Ensure the security of customer data
From detailed Audit Trails and password protection to encrypted folders and two-factor user authentication — airSlate ensures the safety and integrity of customer data and business-critical documents.
Track your marketing performance
Get valuable insights from your marketing activities with robust analytics. Configure a dashboard to track the number of event attendees, survey results, and other data that will help you reach your business goals.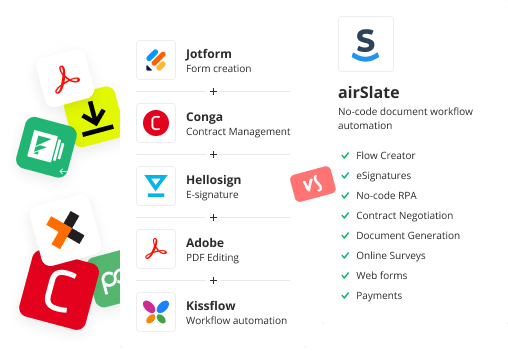 See why airSlate beats any alternative on the market
Integrate with any cloud service via no-code Bots to streamline your document workflows
Trusted by forward-thinking companies around the world


"Incredibly useful and automates a process that previously had to be repeated numerous times a day"
"Can't stop thinking up ways where I can use airSlate to automate"
"Amazing Platform, Customized for our special needs, Sophisticated, Smart & cutting-edge!"
Enterprise-grade security and compliance
airSlate is committed to protecting your sensitive information by complying with global industry-leading security standards.
Get the most out of airSlate

The airSlate Academy
Learn how to put workflow automation into action using market-leading solutions.

Partner Program
Collaborate with the most powerful no-code document workflow automation platform.
Reasons to utilize marketing automation for small business
Many people mistakenly believe that a marketer's duties consist of only creative assignments, brainstorming, and marrowy discussions. In fact, like any other department, this one spends the lion's share of money and time on administrative activities. Every piece of content needs to be revised, every lead should be processed, and every campaign has to be approved. Everyday routine quickly replaces inspiration with paperwork minimizing efficiency. Marketing automation is a technology that makes processes faster. Eliminate manual data entry, forget about error-prone workflows, and save room for creativity.
Challenges in the marketing department:
Scattered data silos

Sticking to the idea that the more data you have, the better it is for you is a deadlock. After all, information is meaningless if the department doesn't know how to use it. One of the biggest pitfalls of multiple silos is that employees can't find the information they need, so they waste time re-collecting the data again and again.

Lack of communication

Lack of communication affects marketing/sales rapport and hurts the customer journey. Having the same tools, data, and a deep understanding of campaigns will help both departments team up and drive profitability.

Incorrect segmentation

A good marketer knows what customers want. This is the fundamental marketing secret of giving people what they are interested in, what they will be happy to discuss and share. But all customers want different things, so it is essential to clearly identify your business target groups and their pain points you can solve.
How can marketing automation help?
Can marketing automation software solve all these problems? Automation provides tools that enable you to build flexible, customizable processes for any condition.
Lead generation forms

New customers are a vital force for business. Marketing departments focus on attracting, nurturing, and generating leads. It takes time. You can nudge prospects into the right direction but never push them. The lead generation form helps you appeal to potential clients in a friendly way and navigate them through the customer journey.

Automation creates a flexible process where leads don't end up in a waiting queue after filling out a form but get a solution quickly. Managers don't need to process documents manually. Based on the filled-out information, the lead can receive missing information or a sales call.

Press release approvals process

Press releases must be timely in order not to miss the moment. Unfortunately, the number of additional administrative steps drag the process down until it becomes irrelevant. No matter how quickly you create content, without approval, a press release remains unpublished. It is the stage where most bottlenecks come around. An email with a file can get lost in the bowels of the inbox. The approver may simply not have time to give feedback or say what needs to be fixed.

Marketing automation platforms such as airSlate can help you avoid the above obstacles. All edits can be made in real time without personal meetings and phone calls. Plus, auto-reminders won't let the document get lost. Finally, all interested parties receive notifications announcing the publication as soon as the press release is agreed upon.

Online event registrations

Organizing events is a tall order. In addition to the event-related tasks, there is also an administrative routine that wastes employee time. Registration is the very first and most crucial step for any event. For the participant, this is just one short form, but let's take a look behind the screen; the names of all participants form lists that help to plan the event.

If you no longer want to enter data and rely on error-prone processes manually, then airSlate is your solution. As soon as the user fills out the online event registrations form, they automatically receive an invitation via email marketing automation, while all information they entered will be populated to the appropriate lists. This way, you don't miss a single name, no matter how many lists you need to make.
How to implement marketing automation for small business
The all-in-one no-code marketing automation software airSlate provides you with an intuitive interface to build a robust workflow. For starters, add a file to expand a document-centric process. The built-in editing tools help you tailor content to your needs by adding fillable fields, a logo, photos, and other objects. Plan your role-based route to navigate customers and prospects.
To level up your workflow, take advantage of airSlate's main advantage — Bots. A Bot is a robotic software that can automate any manual action. Whether you need to export data, pre-fill forms, or send reminders, Bots can take over these duties and cope with them instantly.
airSlate is a digital assistant that helps you leave repetitive tasks in the past and focus on achieving more worthwhile goals. Get started today!