Operations
Improve your business efficiency with automated operations
Streamline business-critical operations within your organization. From tracking your company's assets and managing IT requests to supply chain and delivery control — enjoy faster, simpler, and more secure operations on a single platform.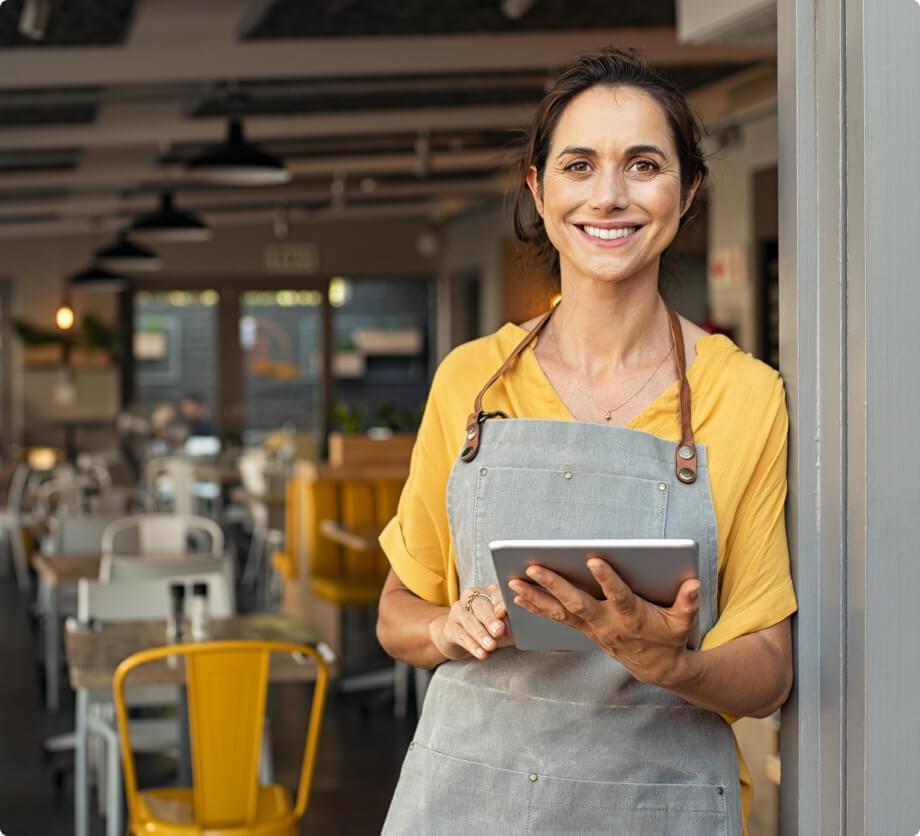 airSlate for operations departments
airSlate helps organizations digitally transform their critical business operations for better cost-efficiency, enhanced customer satisfaction, and improved employee productivity. With airSlate, business operations that used to take days or even weeks to go live, now take hours.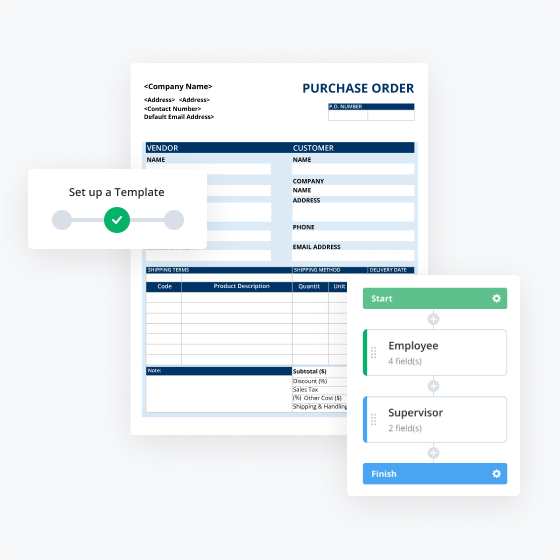 airSlate for operations departments
airSlate helps organizations digitally transform their critical business operations for better cost-efficiency, enhanced customer satisfaction, and improved employee productivity. With airSlate, business operations that used to take days or even weeks to go live, now take hours.
Purchase orders

Vendor registrations

IT access change requests

Supplier agreements

Asset purchase requests
Start with a pre-built Template and customize it to fit your unique process
Select from pre-built document workflow Templates used by airSlate customers from the Operations industry.
Everything you need in an all-in-one platform
From eSigning to drag-and-drop process automation and hundreds of no-code Integration and Automation Bots ‒ get everything you need to build document workflows in one platform.
Simplify document generation
Use the data you get from vendors and clients to automatically generate contracts, quotes, purchase orders, and more. Connect them to any system of record to populate documents with new data, and create or update records.
Streamline approvals
Go from requests to fulfillment faster. Set up an automated workflow that generates purchase and IT requests, and routes documents across departments with complete control and visibility into the process.
Automate payment requests
Make the purchase process stress-free with automated payment requests. Integrate payment collection into your quoting workflow so that your clients can quickly and securely issue payments to avoid delays.
Negotiate supply contracts faster
Get your deals closed faster. Create a dynamic negotiation process with contracts pre-populated with CRM data. Automate role-based contract routing to collect signatures from the right people in no time.
Protect your business operations
Be confident in the security of your business operations. airSlate protects your data with powerful encryption and maintains certifications in industry-leading security standards including FERPA, GDPR, CCPA, and more.
Leverage analytics to enhance your operations
Evaluate the effectiveness of your business operations with customizable analytics and real-time reporting. Track all changes in your workflows including requests approved, contracts signed, payments made, and more.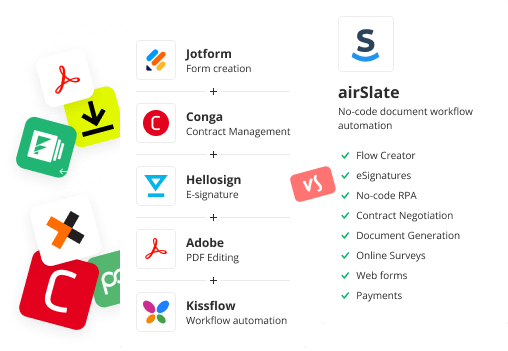 See why airSlate beats any alternative on the market
Integrate with any cloud service via no-code Bots to streamline your document workflows
Trusted by forward-thinking companies around the world


"The customer support is beyond words. So incredibly helpful"
"Support has been excellent and fast"
"Great tool for automation!"
Enterprise-grade security and compliance
airSlate is committed to protecting your sensitive information by complying with global industry-leading security standards.
Get the most out of airSlate

The airSlate Academy
Learn how to put workflow automation into action using market-leading solutions.

Partner Program
Collaborate with the most powerful no-code document workflow automation platform.
Business automation and why it's worth implementing
The aim of any business, be it a small marketing agency or a big insurance company, is to grow and increase profit. However, the bigger the company becomes the more challenges that arise. How can a large number of people be managed efficiently, be sure all processes are carried out properly, and keep customer satisfaction at a high level? If these questions worry you, business processes automation software is exactly what you need.
Automation business processes: what's out there and available?
Workflow automation is a complex idea, and any workflow involves people, technical devices, and documents. Have a look at the main types of automation business.
Robotic automation

Business automation software (software robots) are designed for specific functions to carry out repetitive tasks like data input or checking documents.

Database automation

Creating a reliable and secure database a crucial for efficient business operations; this includes automatic cloning, system monitoring, and performance testing.

Server automation

This type has a lot in common with the previous one. Server tools implement new server software fast and efficiently and provide inventory management and compliance operations.

Department automation

Due to various specializations, different departments need specific tools to optimize their operation. This particular role can be fulfilled by custom software.
For example, airSlate implements automation through RPA ( Bots). Bots help you integrate your Template with any database or CRM system without code. Thus, you can receive and update information at any time; just start the Template and see results. Bot settings are flexible, so they're suitable for any purpose and department.
Does my Operations Department need business automation?
The operations department serves as a supportive pillar, albeit underestimated. To run the day-to-day routine of a company, this department takes all the responsibility for the grunt work like administrative duties and much more. For example, the average operations manager receives dozens of emails a day and sends several times as many. Since companies often forget about business automation and innovation in the department, a manager copes with this enormous load manually. There's one way to make operations duties more straightforward and more efficient. Implement RPA. Take a fresh look at three basic processes.
Surveying employees
Carrying out a corporate party, collecting missing information, and providing health checks can turn into a mess for large companies. Although you can make a form for a survey using Google Forms in a couple of minutes, processing received information manually is a waste of time, not to mention exhausting. Automation business filters data during the process of collecting it. A manager will immediately see the survey result instead of going through each questionnaire one by one.
Fulfilling a purchase order
Purchase orders are an integral part of inventory management. An incorrect process can crash the smooth operation of your supply chain. Optimize the purchase order process and generate ready-made documents based on purchase requests. Additionally, use the integration with your CRM system to assess the feasibility of an order fast.
Speeding up vendor registrations
Vendor registrations consist of repetitive tasks and day-to-day routines starting from new supplier onboarding to risk and compliance assessment. A manager needs to push and pull data between their database and their template manually, even to close supplier agreements. With this outdated workflow, mistakes are unavoidable. As a result, you squander money and time away and get an error-prone process in return. It doesn't seem fair, but business automation technologies can put things right. Eliminate manual data entry and generate documents in clicks. Route any supplier agreement between parties and systems automatically and get approvals hassle free.
The duties of your operations department often relate to burdensome administrative processes. Since teams typically burn most of their time on the routine, they can't focus on what can be improved. You can help the entire department implement automation workflows and reduce mundane activities. If you want more business value and enhanced productivity, you have to free your team from repetitive tasks and allow them to focus on how to help the company grow.
Business automation software: the key benefits
Hardly anyone will find any significant drawbacks of using business automation technologies. It used to be a complicated and rather costly procedure to purchase and install this type of software. Today, the situation has changed dramatically. For instance, airSlate is a no-code business process automation software available online (web based) and doesn't require any special knowledge to figure out how it works. Even if you've never tried to optimize your processes on your own before, airSlate makes it easy. An intuitive interface guides you from creating a document to distributing a Template. All Bots are based on "if-this-then-that" logic. That means you can set any of them up in a couple of minutes. Most importantly, you don't need any programming skills!
Use specialized software for business processes to:
Focus on important tasks

By delegating routine, repetitive tasks to AI, employees get more time to concentrate on the issues that require human involvement.

Increase employee satisfaction

When people feel like the work they do is meaningful, not a set of menial tasks every day, they'll be much happier, which results in higher efficiency and bigger revenue.

Reduce the risk of human error

The essence of RPA is helping a human avoid mistakes via a specialized tool. Therefore, human error is no longer a factor.
Delegate the trivial tasks of your work processes to airSlate. It's cost efficient, fast, and easy to get started with. Enhancing performance and keeping both workers and clients satisfied simultaneously is possible with the right business process automation software.