Recruitment & Staffing
Optimize recruitment with no-code document workflows
Transform the way you manage HR and recruiting processes so you can spend more time on people instead of paperwork. From client onboarding and generating job descriptions to interview evaluations to detailed reports — automate document workflows without coding, APIs, or IT assistance.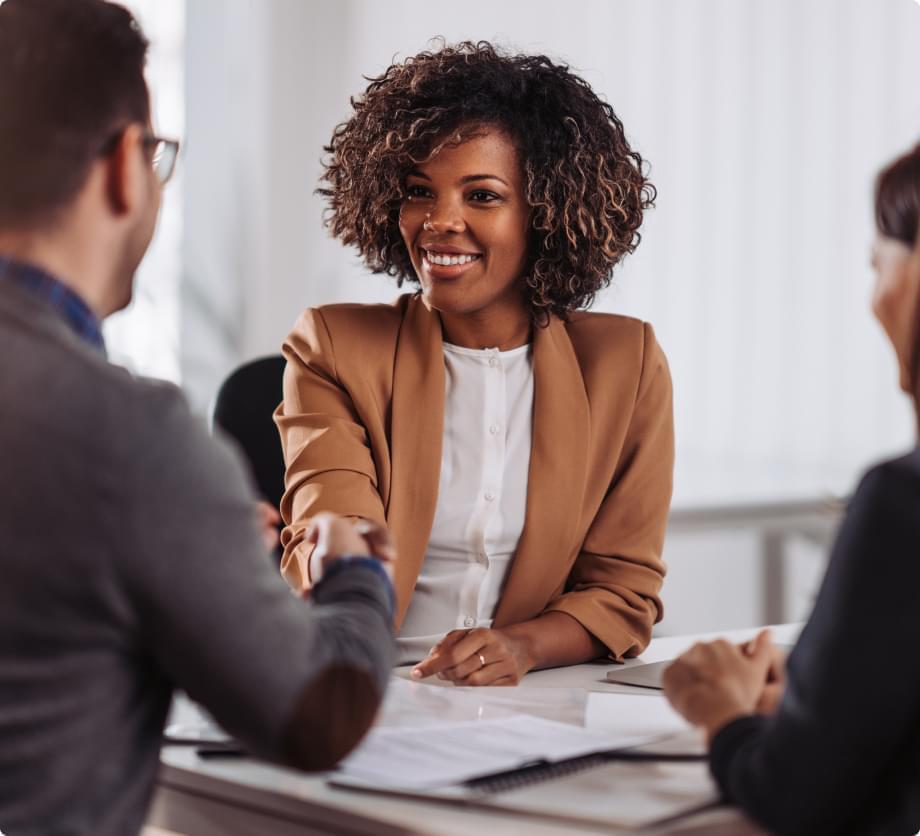 airSlate for HR and staffing
By implementing airSlate automation, recruitment agencies can streamline hiring and improve talent retention while maintaining complete compliance with data security policies. Create, integrate, and automate your entire client pipeline within a single platform.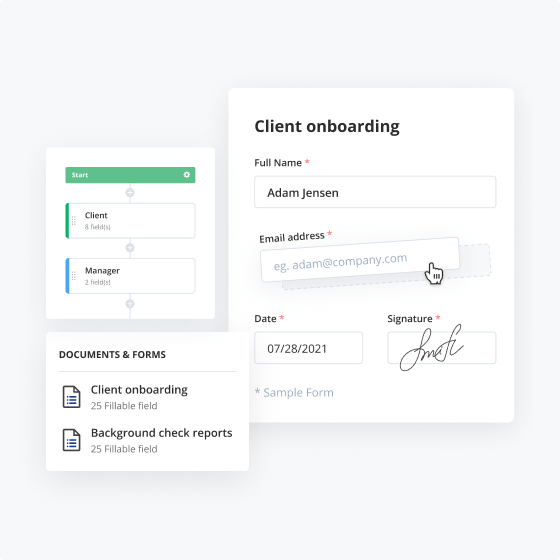 airSlate for HR and staffing
By implementing airSlate automation, recruitment agencies can streamline hiring and improve talent retention while maintaining complete compliance with data security policies. Create, integrate, and automate your entire client pipeline within a single platform.
Client onboarding

Job requisition

Interview notes

Background check reports

Staff hiring service proposal
Start with a pre-built Template and customize it to fit your unique process
Select from pre-built document workflow Templates used by airSlate customers from the Recruitment & Staffing industry.
Everything you need in an all-in-one platform
From eSigning to drag-and-drop process automation and hundreds of no-code Integration and Automation Bots ‒ get everything you need to build document workflows in one platform.
Improve talent acquisition
Attract top talent by digitizing your hiring process. Create job descriptions and perform background checks without manual hassle. Generate offer letters and NDAs and automatically redirect them to the right people for signature and completion.
Automate document creation
Reduce time and resources spent on manually creating agreements, hiring proposals or offer letters. With airSlate's no-code document generation, you can automatically create documents populated with client data while maintaining 100% data accuracy.
Create a seamless onboarding experience
Create multi-step onboarding workflows using no-code web forms for approvals, onboarding forms, and more. Automatically route forms between clients and collect data and signatures. Absolutely no coding necessary.
Speed up administrative workflows
airSlate integrates with the services you already use so you can automatically transfer candidate data or pull it from your system of record. Complete routine tasks in minutes and ensure data accuracy.
Collect eSignatures in minutes
Sign and send client agreements for signature straight from the automated hiring workflows you've built. Assign roles and add automatic reminders and notifications to streamline the entire process.
Track hiring processes in real-time
Analyze candidates and identify hiring bottlenecks with process analytics and configurable dashboard widgets. Keep tabs on recruitment workflows, hiring frequency, number of candidates and other details.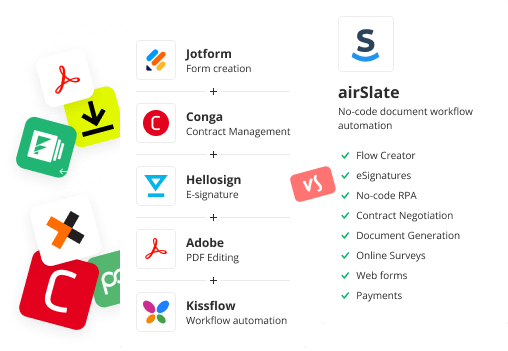 See why airSlate beats any alternative on the market
Integrate with any cloud service via no-code Bots to streamline your document workflows
Trusted by forward-thinking companies around the world


"Now we have managed to automate most of what we wanted initially"
"The customer support is beyond words. So incredibly helpful"
"Fast-tracked in 1 day for a complicated process"
Enterprise-grade security and compliance
airSlate is committed to protecting your sensitive information by complying with global industry-leading security standards.
Get the most out of airSlate

The airSlate Academy
Learn how to put workflow automation into action using market-leading solutions.

Partner Program
Collaborate with the most powerful no-code document workflow automation platform.
Automate your HR management system to get even more benefits
The "I have HR specialists that handle all the required job requisition and hiring processes. Everything already works properly" is not a forward-thinking answer. Even if you have the best employees, there's always room for improvement and optimization.
Why do businesses implement human resource processes?
Most companies around the world have entire departments to handle the human resource processes. The more people that work in the company, the more managers you need to hire. This creates an additional financial burden as productive workers tend to want to have higher wages and a better working environment. If you still doubt whether you need an HR department, look at the main reasons for having one:
Produce quality results.
Understand the development of the entire team and each employee separately.
Know the pros and cons of each group better.
Develop an understanding among the team members.
In other words, the HR industry's primary function is to produce competent personnel and keep employees productive. The big question is, "what do workers care about?" Of course, everyone wants to make money, and your employees are no different. However, they also care about a lot of other things, from who they work with to what their workstation is like. Are you giving your people what they need to feel valued? Implementing and automating the human resource processes at your company could be an impactful step towards a more cohesive and efficient team.
This industry also provides and addresses bonus programs, praise, and overall employee motivation. And as we know, a motivated employee works better. Accordingly, they do their job faster, which means that you reach the company's strategic goals faster too. As a positive result, your profits rise.
These things are elementary, but often they have to be explained. If you are proud of your company and put your heart and soul into it, then human resource automation is something you need.
How to improve the human resource workflows at your company
Obviously, to improve your managers' performance, you should optimize HR workflows to help them work better. This includes:
Planning for workforce needs (how many and when employees will be required).
Recruitment.
Hiring.
Onboarding.
Talent, development, and leadership management (sometimes presented as separate items).
Bonuses and aspirations.
Staff training.
Ensuring the comfort lifecycle of employees.
Recognizing that the development of these factors is often very subjective, it's better to develop an effective system of manager-employee interaction. HR departments try to build communication based on simplicity and trust to achieve the best results. Usually, managers can do it by having individual conversations, surveys, analysis of results, and more. However, it's not very easy when your company grows and includes tens or hundreds of people.
But we have a solution that can improve your human resource workflows and handle more than just processing job requisitions forms or staff hiring proposals. You should implement HR process automation.
What is HR automation?
Regular HR department duties consist of manually collecting answers, creating spreadsheets, recruiting new employees, providing employment screening processes, sending notifications or reminders about upcoming events within the company, etc. The life of the average human resource specialist is engaging and exciting when the tools they have access to help them work more efficiently (tools that help eliminate monotonous actions).
However, there's a way to keep your HR team's motivation high and keep the boredom at bay. Eliminate routine tasks by automating everyday them with software robots. Automation in the HR industry frees your employees from all these manual tasks and allows them to focus on strategic and decision-making processes that are more important from a management perspective than "mechanical" routing of data and transferring survey results to presentations.
Traditionally, the ability to route data automatically costs a lot because of the need for hiring an entire IT team to build and maintain specialized software. But the good news is there are many modern tools that enable HR departments to avoid expensive software and its maintanence. Furthermore, in most cases, you don't even need to install anything. All the required resources are accessible from browser-based applications. All you have to do is pick the right software for your team and organization.
How to automate HR without knowing how to code
Very easy. Start using airSlate. With this multifunctional cloud-based tool, it's possible to build full-fledged workflows that run independently with the help of software robots called Bots. Customize any number of actions that must be done with the information from your CRM. Do you want to send automatic notifications? No problem. Do you want to export charting information and build graphics? Feel free. Do you want to set up automated task creation and assignment processing? You can do this and much more.
We emphasize that you are able to do it without a single line of code. Every savvy HR manager will be able to handle it. Just upload a job requisition template, staff hiring proposal template, or any other sample needed for processing and configure automated actions. airSlate is happy to offer the airSlate Academy with many practical courses for free so that any team member has the opportunity to learn how to automate human resources workflows.
airSlate is more than just a tool. It's a comprehensive solution that, in case of need, can operate as an HR management system, CRM, workflow management software, and many more. It combines all the platforms needed for convenient work in a single place so that you can access all the required sources even without switching a browser tab.
What airSlate will do for your company is up to you. The main tool to automate HR is already in your hands. Start using it now!