Sales
Speed up sales cycle times and close deals faster
Easily go from contacting leads to closing deals by automating your sales workflows with airSlate. Seamlessly collaborate on proposals, auto-generate contracts, collect prospects' data, and execute deals with e-signatures — all with a single, secure, no-code solution.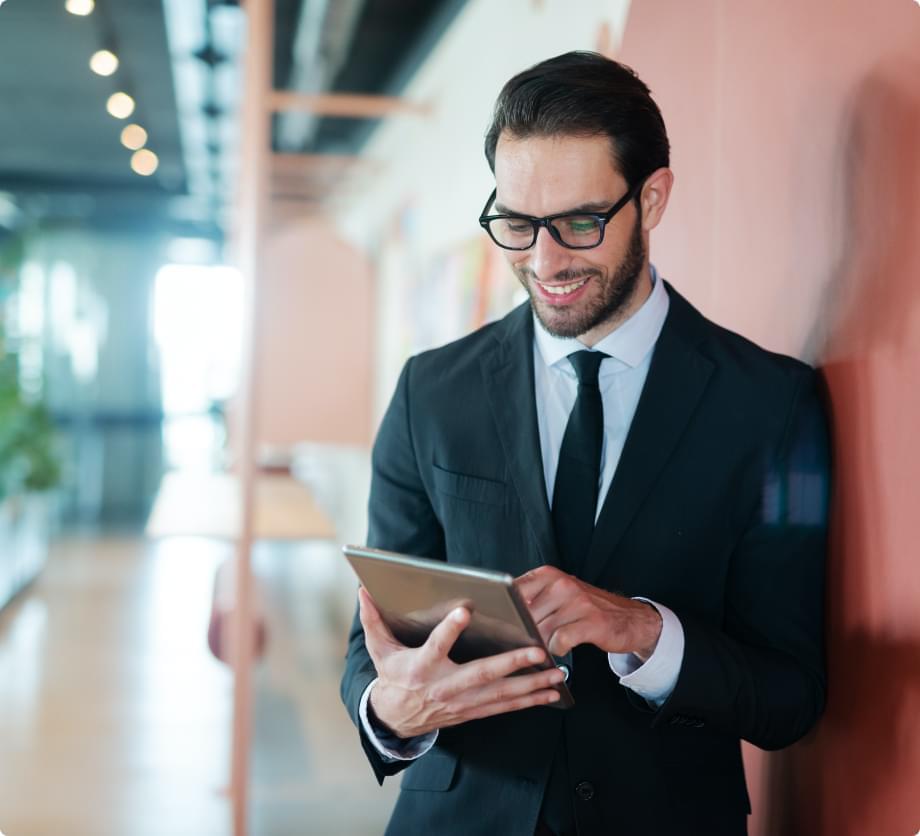 airSlate for sales teams
airSlate helps sales departments eliminate manual, routine processes so they can spend less time on administrative tasks and more time selling. Empower your sales team to create, and automate any workflow in a matter of minutes, no coding or third-party vendors necessary.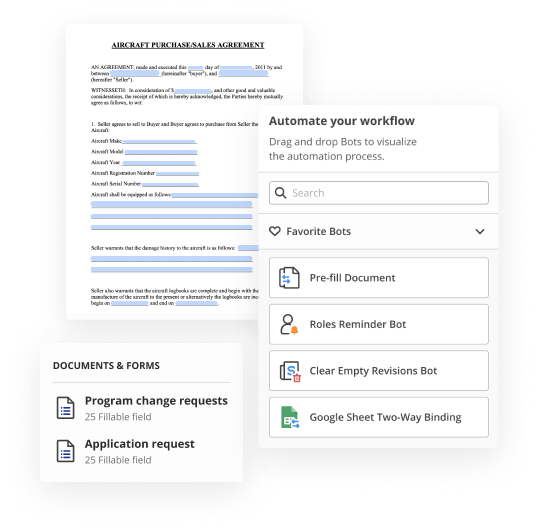 airSlate for sales teams
airSlate helps sales departments eliminate manual, routine processes so they can spend less time on administrative tasks and more time selling. Empower your sales team to create, and automate any workflow in a matter of minutes, no coding or third-party vendors necessary.
Sales proposals

Sales contracts

Purchase invoices

Sales orders

Discount requests
Start with a pre-built Template and customize it to fit your unique process
Select from pre-built document workflow Templates used by airSlate customers from the Sales industry.
Everything you need in an all-in-one platform
From eSigning to drag-and-drop process automation and hundreds of no-code Integration and Automation Bots ‒ get everything you need to build document workflows in one platform.
Automatically generate sales documents
Focus on sales, not paperwork. Generate quotes, contracts, and invoices populated with accurate client data. Minimize time spent on manually updating and creating CRM records.
Optimize end-to-end sales pipelines
From contract management to customer onboarding — set up dynamic multi-step workflows that allow your customers and team to collaborate, edit, and e-sign documents within a secure digital environment.
Make the most of your prospects' information
Easily build a robust customer base by collecting prospect data with customizable web forms. Automatically route data to any system of record or use it to generate documents and start new workflows.
Streamline approvals
Attract more customers by making quick discount decisions. Build approval processes with auto-generated requests, forward them to the right people, and collect e-signatures in minutes
Measure and maximize sales performance
Gain insights into the effectiveness of your processes. Track the number of deals closed, invoices paid, contracts signed, and more using a fully customizable dashboard with custom reports.
Ensure customer data privacy
Safely create, automate and integrate your sales workflows with airSlate security solutions that include a real-time document audit log, disaster recovery, full account monitoring, single sign-on, and more.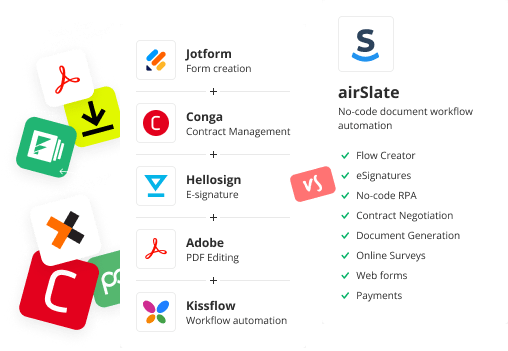 See why airSlate beats any alternative on the market
Integrate with any cloud service via no-code Bots to streamline your document workflows
Trusted by forward-thinking companies around the world


"Incredibly useful and automates a process that previously had to be repeated numerous times a day"
"The customer support is beyond words. So incredibly helpful"
"Integrating airSlate with Salesforce was the best thing we did to improve the usability of our service documentation"
Enterprise-grade security and compliance
airSlate is committed to protecting your sensitive information by complying with global industry-leading security standards.
Get the most out of airSlate

The airSlate Academy
Learn how to put workflow automation into action using market-leading solutions.

Partner Program
Collaborate with the most powerful no-code document workflow automation platform.
Sales automation: an ultimate guide to better selling
The performance of any firm or enterprise is assessed by the quality and quantity of goods and services sold. After all, the primary source of profit and progress lies in sales. It's hardly surprising that the department's bottlenecks and shortcomings lead to lost funds and lower income. Turns out, you can quickly solve main problems by implementing sales process automation.
What challenges can you find in a sales workflow?
Selling is a complex, multi-stage process that depends on many factors and has many indicators. Managing the commercial department means managing vast amounts of information, many people, and distribution channels.
However, in practice, it's not always possible to obtain the necessary data. The sale of goods and services becomes unmanageable, spontaneous, and ineffective. It's impossible to make correct predictions and make effective decisions when you do not know the information and do not have the necessary tools for process management.
Let's go through popular mistakes and try to find a solution to solve them:
The slow processing of prospects

Potential clients can sit as missed opportunities. It's all about the responsiveness of your department. If your competitors send sales proposals faster, you'll lose. It's a competitive race where there are too many people who want to win.

Costly mistakes

If your employees fill out a sales contract template or a sales order manually, there is always room for error. Someone can make inaccurate calculations or write down the wrong payment details. From the moment of negotiation to payment, you can face at least a dozen bottlenecks that force mistakes.

Exhausting bureaucracy

You know they say rich in gold, rich in care. Daily, monthly, and annual reports are essential without doubt. However, consider how much time you are spending on this. In just one year, a sales lead wastes about two weeks by composing and filing reports and checking purchase invoices. Is this what you feel you should be allocating resources to?

Clunky discount requests system

If you process each request manually, then you'll run into the risk of losing more than you earn. Each case demands closer consideration, including the amount of order and other aspects. For example, how often does this client cooperate with you? Of course, you don't have time to look at their purchase orders and invoices and calculate an average check. To make your job easier, you need to keep a transparent and automated discount system at your fingertips that will suit any client.
The tasks that sales process automation addresses
Can automation sales solve the above problems? Sure, it can. Sales process automation helps you get rid of routine tasks. Manual data entry, the preparing of sales agreement contracts, and the combining of data silos for sales proposals are replaced by electronic processes such as template generation, automatic pre-filling and populating.
Sales automation software has become a must for large commerce networks as well as for small businesses. The implementation of the necessary software will significantly improve the quality of your service and the efficiency of your work.
Access the most efficient features for improving workflows with airSlate, the only no-code sales automation software:
The systematization of routine operations and reduction in wasted working time
A centralized storage for customer relationship history
The evaluation of marketing activities and their efficiency
Operational control over purchase orders and invoices
A coherent communication scheme in and out of an organization
The prevention of lost information
The analysis of consumer demand and preparation of sales proposals
The collecting of statistics on volumes and sources
Choosing the best sales automation software for your business
Deciding on the right solution could be a time-consuming and high-pressure task. The IT market for company and customer relationship management software is overflowing. Understanding the benefits of airSlate will help you make your choice faster.
The airSlate sales automation system provides a wealth of opportunities, which ultimately affects the reduction of your business costs and increase profits:
Freedom of choice

Easily integrate into a system you already use. airSlate workflow automation connects with any CRM your business already uses.

Stable operation

Access airSlate features anywhere and anytime from desktop or mobile.

Cut costs without compromising performance

Reduce record-keeping costs through a paperless business workflow and the transition to a single digitized Workspace.

Better data management

Use the ability to upload or create documents or use our library of templates. Quickly share forms with colleagues, extract data, or export it to external storage

Marketing automation and development

Attract new customers and improve the experience for your existing users. Develop a smooth delivery process for documents and a safe platform for payments.

High-level administration

Gain the ability to monitor critical processes in real time and set up permissions and roles. Stay safe and compliant with industry-leading security standards that keep your sensitive information protected at all times.

Configurable analytics and Audit Trail

Enjoy configurable analytics and reports. Create fully customizable reports based on the activity in your Workspace, values entered into fields, or even documents signed.
Everybody dreams about being able to control their sales workflow from start to finish, negotiation to paycheck. Workflow automation has become widespread with the development of specialized software built for e-commerce activities and other large enterprises.