Travel
Improve the travel planning process with no-code workflow automation
Streamline travel planning and management workflows in your organization while eliminating manual, routine tasks. From collecting and managing travel requests to instant invoicing — automate day-to-day tasks with an all-in-one solution. No coding skills required.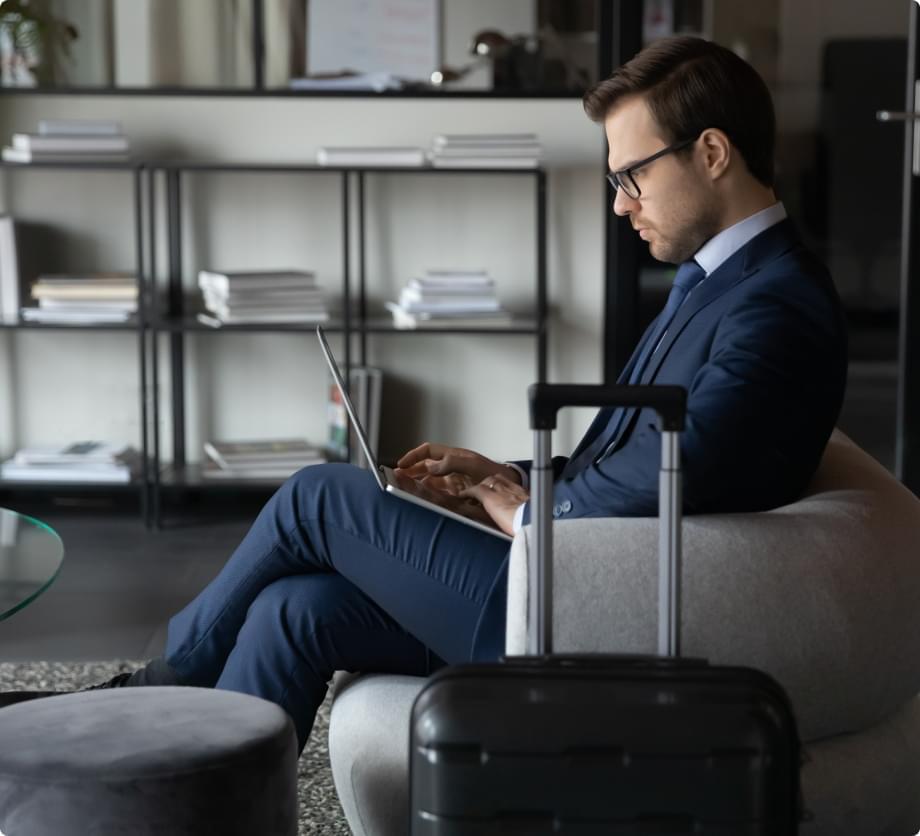 airSlate for the Travel sector
Automate travel request workflows and speed up approval and payment processes. Use airSlate to manage every document in one place, send notifications, reminders, and track the progress of workflows in real time.
airSlate for the Travel sector
Automate travel request workflows and speed up approval and payment processes. Use airSlate to manage every document in one place, send notifications, reminders, and track the progress of workflows in real time.
Travel requests

Vacation & travel surveys

Booking forms

Business trip planning

Travel reimbursement
Start with a pre-built Template and customize it to fit your unique process
Select from pre-built document workflow Templates used by airSlate customers from the Travel industry.
Everything you need in an all-in-one platform
From eSigning to drag-and-drop process automation and hundreds of no-code Integration and Automation Bots ‒ get everything you need to build document workflows in one platform.
Create and edit travel requests
Generate a web form with every necessary field for satisfying your business goals and requirements. Automate the process of managing requests for business trip planning or requesting assistance for upcoming travel.
Collect data faster
Make travel preparations easier with flexible web forms. Send requests to travelers to submit personal data such as their name, surname, ID card, social security number, and more. Collect the data you require in seconds.
Eliminate security risks
airSlate complies with industry-leading security standards and regulations, including GDPR, CCPA, and more, to ensure that your sensitive data is safe.
Build an automated workflow
Automate routing, approvals, data collection, and other processes using 100+ no-code Bots. Configure Bots in minutes to create a custom workflow, depending on your business needs and requirements.
Automate travel reimbursement
Simplify the trip request process for your employees. With airSlate, Finance and Accounting departments can process travel requests and cover an employee's travel expenses faster and more efficiently.
Track progress in real time
Review the data you require, including the number of travel requests and forms completed and signed, to stay up-to-date. Control the progress and effectiveness of workflow by creating custom graphs or reports based on any field in a document or data value.
See why airSlate beats any alternative on the market
Integrate with any cloud service via no-code Bots to streamline your document workflows
Trusted by forward-thinking companies around the world
"The customer support is beyond words. So incredibly helpful"
"Amazing Platform, Customized for our special needs, Sophisticated, Smart & Cutting-Edge!"
"I would now be lost without airSlate"
Enterprise-grade security and compliance
airSlate is committed to protecting your sensitive information by complying with global industry-leading security standards.
Get the most out of airSlate
The airSlate Academy
Learn how to put workflow automation into action using market-leading solutions.
Partner Program
Collaborate with the most powerful no-code document workflow automation platform.
How travel automation management software is helping the tourism industry grow through efficiency
The tourism industry has a huge contribution to the global economy with a market share in the trillions of dollars. Despite this sector facing serious cuts during the last pandemic, traveling is picking back up and getting back to normal. Yet, to fully reboot the industry, tourist operators and agencies arranging personal and business journeys must review the way they process travel requests and manage their regular workflows. Why is it so essential to automate processes in tourism?
The tourism and hospitality sector covers many various elements such as visa application procedures, accommodation and transportation booking, business trip arrangements with further reimbursement of travel expenses, the entertainment segment, car rental, etc. Each of these procedures comprises numerous repetitive steps requiring accuracy and high-level performance. Handling them manually in the old way often causes errors in documentation and travel approval delays. Implementing cutting-edge workflow automation technology can help tour companies to solve a bunch of operational issues.
The bottlenecks to resolve with travel automation management
Let's take a look at the typical travel inquiry process. A tour company receives an email with a travel request form for a journey. Before checking tickets and hotel availability, an employee should contact the customer to confirm their inquiry is accepted and being processed. After checking availability with the service providers, the agent compares and calculates prices considering all possible discounts and the company's margin. The customer and agent may discuss trip details and negotiate on conditions several times, so the agent needs to repeat certain actions, and the time required for making a final tour offer increases. When the customer is satisfied with the offer, they need to confirm their booking by signing the travel approval form. Finally, it comes to invoice generation and processing, confirming the booking with the service providers, etc. Also, tour agents often help customers to collect all the required documents and prepare their visa application in a proper way.
As demonstrated, travel request workflows are complex and include many routine steps. And with the business trip arrangements, the process can be even more complicated, as the customer also needs to get the business travel request form approval from their company and later apply for reimbursement of travel expenses. Considering all of the above, it's easy to identify the main operational problems specific to the tourism industry:
Multiple forms and document-heavy workflows.

Tourism-related business workflows require both agents and customers to fill out numerous forms, starting from a travel request form template and its validation to a final client feedback form.

Time and labor-consuming processes.

Each of the trip organization processes requires a lot of time to properly complete steps. Employees get exhausted when performing routine tasks.

Human errors.

Manually generating and managing all documentation causes errors in client data and trip details. This costs companies money.

Lost emails and travel requests.

Not only can an email accidentally go to spam, but an employee can also miss it in the bunch of inquiries received, especially during the high season. Customers expect agents to answer their requests as soon as possible, not more than a couple of hours. Otherwise, they simply write to competitors and choose those who act more promptly. Thus, any lost inquiry results in lost profit.

Delays in communication with customers and service providers.

It's highly important to communicate with clients on each step of the trip arrangement workflow. Without travel approval software and travel automation management tools, communication gets slow and inefficient.
Workflow automation for travel requests: key reasons why it's a must
All of the above-mentioned problems lead to a decrease in a company's productivity and costs it hundreds of thousands of dollars in lost revenue. And it's workflow automation that can eliminate those bottlenecks and significantly improve efficiency. By implementing modern travel automation management solutions, you can gain the following benefits:
Faster client inquiries and shorter sales cycles.
Accelerated communications (automated emails, notifications, and reminders about missing documentation, payments, or upcoming trips).
Automated calculations and document generation.
Enhanced lead and booking management.
Streamlined payment-related processes (invoicing, payment collection, travel expenses reimbursement, etc.).
Better customer experience and employee satisfaction.
Reduced expenses and increased profitability.
Quick customer feedback collection.
Innovation via travel automation management software is an essential step for tourism companies to achieve efficiency and stay competitive. It helps agencies work more effectively and focus more on their customers and future projects.
airSlate and it's features for personal and business trip process optimization
While looking for an appropriate workflow automation tool, you'll find out that the market offers a wide variety of solutions for various purposes and budgets. Consider choosing airSlate, a holistic end-to-end RPA tool for all sorts of business processes. It's great as a travel approval software for travel expense automation.
Check the benefits that airSlate provides the tour industry with:
Ready-to-use Templates for reimbursement of travel expenses, vacation travel surveys, etc.
Drag-and-drop Template creator with a simple interface for building individual workflows adjusted to your needs.
Large form template library.
Document pre-fill and auto data export to your CRM/ERP systems with integration Bots.
Legally-binding electronic signatures.
Bot-controlled email notifications and reminders.
Invoice generation and payment collection.
Advanced reporting and workflow analytics.
airSlate has another indisputable advantage; as long as it uses no-code Bots, you don't need to hire IT experts to configure your workflows. Even non-tech-savvy employees can easily create and properly set up Templates for travel expenses reimbursement, travel request and approval, trip insurance request, etc. Furthermore, airSlate offers free courses on workflow automation. Create an account with airSlate and sign up for its Academy to keep your business competitive and improve its efficiency.