Veterinary practice
Implement paperless workflows in your veterinary practice
Streamline your veterinary processes, from admission to discharge, and create a coherent visiting experience for clients. Enhance the clarity of patient workflows and treatment status to ensure efficiency and service more clients, more seamlessly.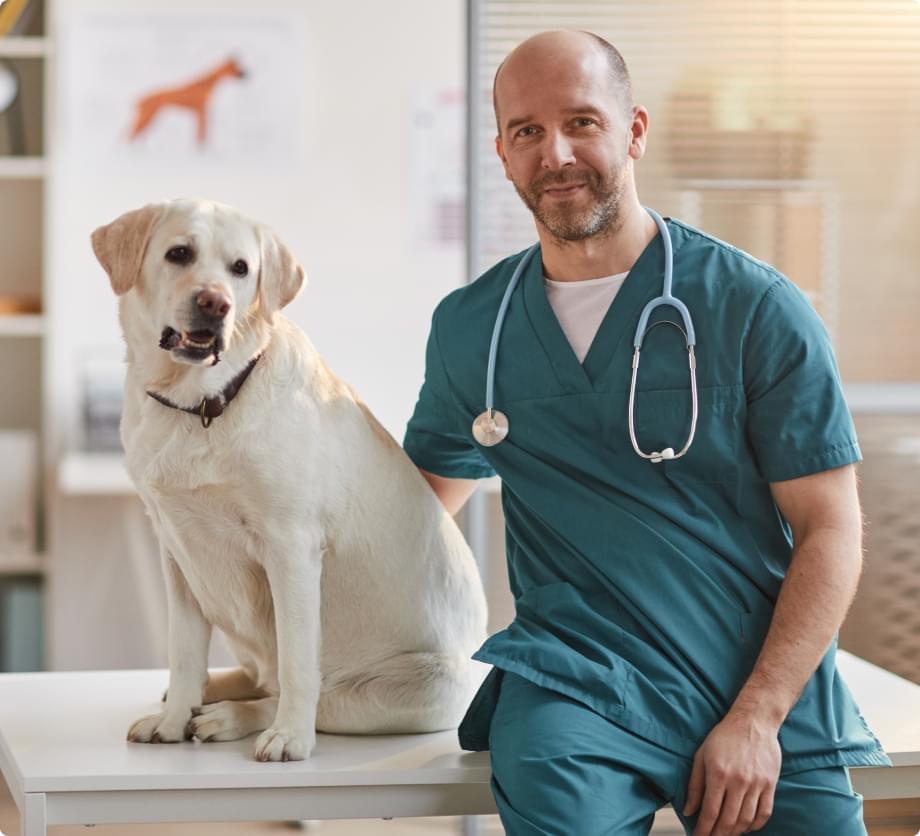 airSlate for veterinarians
Animal hospitals and pharmacies automate their document workflows with airSlate to provide continuity of care as well as free up staff time and reduce costs. No-code technology and ready-to-use templates allow practitioners to digitize processes internally while adjusting to the existing template of their patients.
airSlate for veterinarians
Animal hospitals and pharmacies automate their document workflows with airSlate to provide continuity of care as well as free up staff time and reduce costs. No-code technology and ready-to-use templates allow practitioners to digitize processes internally while adjusting to the existing template of their patients.
Pet registrations

Vaccination records

Test results

SOAP notes

Invoices
Start with a pre-built Template and customize it to fit your unique process
Select from pre-built document workflow Templates used by airSlate customers from the Veterinary practice industry.
Everything you need in an all-in-one platform
From eSigning to drag-and-drop process automation and hundreds of no-code Integration and Automation Bots ‒ get everything you need to build document workflows in one platform.
Standardize document workflows
Provide a consistent experience for both your team and animal guardians. Choose from hundreds of pre-built templates and customize them to your needs. Make health status, patient needs, and other information updates possible from a single administrative point of control.
Automate processes end to end
From instant record updates to automated reminders and saving data to the cloud ‒ reduce the number of routine tasks you need to complete manually. Set up any of the 100+ no-code Bots to streamline time-consuming, yet critical processes.
Improve instant communication
Keep everyone in the loop about patient treatment by creating a tailor-made workflow. Notify any required staff about prescriptions, upcoming tests, or surgeries as soon as they are scheduled.
Ensure all your EMRs are up-to-date
Connect to the cloud service you're using to maintain your records and set up airSlate integration Bots to update record data as soon as it's changed. Avoid human errors and transfer data between documents and your system of record in real time.
Maintain compliance across your organization
Make use of airSlate's market-leading security standards. Access the Audit Trail to track any changes made in the course of treatment. Encryption keeps animal guardian and employee data secure during and after the process.
Access robust analytics
Track admission and discharge activity, billing processes, and anything that matters within your practice using custom metrics. Set up analytics widgets to keep an eye on critical workflows without any extra clicks.
See why airSlate beats any alternative on the market
Integrate with any cloud service via no-code Bots to streamline your document workflows
Trusted by forward-thinking companies around the world
"The customer support is beyond words. So incredibly helpful"
"Simple, flexible and effective. What more could you want?"
"Great software! Great people!"
Enterprise-grade security and compliance
airSlate is committed to protecting your sensitive information by complying with global industry-leading security standards.
Get the most out of airSlate
The airSlate Academy
Learn how to put workflow automation into action using market-leading solutions.
Partner Program
Collaborate with the most powerful no-code document workflow automation platform.
Make treatment a priority by eliminating the routine of pet registration and related processes with airSlate
In 2020, the news about empty cages in California's pet shelter melted the hearts of millions of people around the world. Shelter representatives announced that they had run out of pets for adoption. It's only one of the few proofs that the pandemic created an extra incentive for people to adopt.
The USA has always been a leader among the countries that spend the most on pet wellness. The pandemic-induced a surge in pet adoption. The pet business is now booming even more in the United States. On the one hand, it's a good tendency. The economy is growing, and pet owners get one of the most memorable and life-changing experiences. On the other hand, institutions that stand on the frontline of pet health are forced to grapple with the increasing administrative tasks and databases to ensure uninterrupted care for pets. Records management reliant on paper and desynchronized operational activities is adding fuel to the fire. Even a seemingly simple process, like filling out a pet registration form or proof of vaccination, might take twice the time it's supposed to.
Hurdles of pet registration and other processes associated with paper-based document management
Working in a veterinary clinic or pet adoption center always comes with a great deal of stress. It could be anything from completing vet applications and microchip consent forms to issuing post-care papers to owners.
Consider the following scenario: you're a vet that needs to register a dog or carry out an annual or monthly wellness check. The dog's owner needed to fill out a form, but it got jammed in the printer. After fixing it, you or your receptionist gives the form to the recipient. They return it, but the writing isn't legible. So you need to start the process over. This minor interruption doesn't seem serious on the surface. However, it can eventually lead to lost time, resources, and, what's worse, long queues of unsatisfied customers and exhausted employees. If you want to eliminate all the hurdles associated with paper-based processes, it's time to consider digitizing document management and streamline it with a workflow automation solution, like airSlate.
How can vet clinics benefit from automating pet registration and other processes with airSlate?
Reduced costs associated with generating, storing, and shipping paper documents. With airSlate, you'll eliminate the most important factor slowing down your day-to-day operations — the paper. You'll get increased flexibility by using a robust document generator that lets you create fillable forms from scratch, edit existing ones, or choose from ready-to-use document templates. Speaking of which, they're reusable and can be replicated as many times and for as many patients as needed. You can easily collect information, signatures, and even payments right from the documents.
Less room for erroneous situations and confusion. Everyone is prone to making errors at some point. However, the possibility of making mistakes is even higher when it comes to working under pressure and with tight deadlines. airSlate can help you end manual data entry and make any process efficient and error free.
Improved employee performance and productivity. In many clinics, the salary rate is linked directly to performance results. Having to deal with excessive administrative work might put a lot of strain on their motivation and productivity. airSlate alleviates the burden of keeping and updating pet records with powerful automation Bots.
Seamless integration with the most popular applications and solutions. You no longer need to toggle between different apps to push and pull data back and forth. Our integration Bots will help you keep records up to date with a few mouse clicks.
Minimized need for physical presence. In the post-pandemic reality, it's crucial to create conditions suitable enough for everyone to feel safe and secure. With airSlate, you'll get a myriad of options to carry out pet registration online by sending a secure link to the form to the pet owner or by embedding the form directly on the website. Pet parents can fill it out from the comfort of their homes.
Delighted customers and employees. The first impression matters. Our solution will help you make it right from the very first point of interaction, be it with your potential employees or clients. With airSlate, you'll get more chances of securing the best talent for your clinic by providing a seamless vet application and onboarding experience.
It's suitable enough to cover the needs of veterinary educational institutions and streamline anything from vet school applications to onboarding a new student.
airSlate can become a great asset not only for pet clinics or medical schools but also for adoption centers. They need to maintain records of vaccinations, wellness checks, and other routines. This will help organize document chaos, facilitate the pet adoption experience for potential pet parents and center employees, and cut veterinary expenses.
Having healthcare records streamlined, kept in order, and updated with airSlate will benefit both pet owners and vets. It will help the latter remove multitasking, get an aerial view of the medical history and eventually get more insights into how to treat and prevent potential diseases.