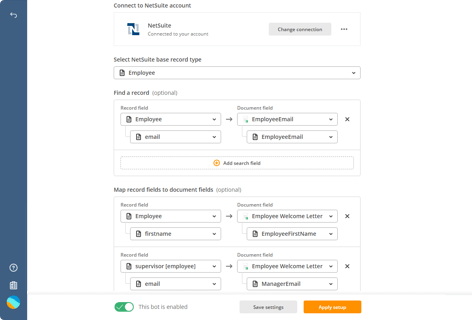 Automate
NetSuite

workflows with this no-code airSlate integration

Speed up NetSuite marketing automation with no-code airSlate workflows. Generate data-driven documents, send them for signing in a role-based order, and use them to create or update NetSuite records.
Use a single no-code integration instead of five different solutions
airSlate has everything you'll ever need to run the perfect NetSuite workflow
in a single application
Forms and Surveys

Document Generation

PDF editor

Contract Management

E-signature
Enjoy fast and easy-to-configure robotic process automation
Try airSlate Bots to make your NetSuite workflows more robust. Bots are configured in minutes and don't require any coding. Automate these routine tasks:
Learn more
Conditional routing of documents between CRM contacts, internal and external recipients
Generating actionable documents pre-filled with NetSuite data
Creating new records based on data entered into a document's fillable fields
Updating existing records based on fillable field data from documents
Saving e-signed documents to NetSuite attachments or external services
Learn more
See it in action
Watch how to easily automate workflows in your NetSuite
account using no-code airSlate Bots
What if you could make this kind of workflow
configurable in minutes?
01

An insurance agent receives a claim from a customer and sends over a Claim form that has been automatically pre-filled with that client's NetSuite data.

02

Once completed by the client, the form is automatically sent back to the agent's manager.

03

Once the manager has approved the form, a receipt is automatically generated and sent to the customer using the airSlate document generator.

04

Part of the claim form's information is used to automatically update the сustomer's NetSuite record. All Claim information is then transmitted separately to the company's internal record management system.

05

Both the customer and agent receive instant email notifications confirming the claim's approval. An airSlate Bot then sends payment to the customer's bank account.
Start automating in minutes by adding NetSuite Bots to any of your airSlate Flows.
Still have questions? Tell us a little bit more and we will help you