Start using airSlate for free today
Use airSlate all-in-one no-code solution for free and choose the best option to scale automation for your business. Cancel any time with no obligations.
Free
Team workspace, customizable workflows with no-code automation.
Full access to each Slate is limited to 30 days after account creation.
Unlimited team Workspace
Online PDF editor
Drag-and-drop web form builder
Legally-binding electronic signatures
Document Generation
Contract Negotiation and management
Payment collection
Configurable workflow routing
Robotic Process Automation
Analytics
Basic
airSlate Free + unlimited access to Slates.
Everything you need to automate your business, no limits for access to airSlate.
Unlimited access to features and bots
Unlimited team Workspace
Online PDF editor
Drag-and-drop web form builder
Legally-binding electronic signatures
Document Generation
Contract Negotiation and management
Payment collection
Configurable workflow routing
Robotic Process Automation
Analytics
Business Cloud
Includes airSlate Basic, signNow, pdfFiller and integrations.
50
Flow Creator/month
5 users minimum
The whole suite of tools on a single business platform. Including one integration with the CRM platform of your choice.
The most powerful PDF editor
Enterprise-grade eSignature
USLegal 85,000 forms library
Сhoose one free integration
Salesforce
Netsuite
Microsoft Dynamics 365
MS Power Automate
Microsoft Sharepoint
You only pay for Flow Creators
Having a big team doesn't mean paying more. airSlate only charges for users with Flow editing permissions. Filling out Slates is free for everyone.
PAID
The Owner and Supervisors manage the Workspace and its team, as well as create, set up, and edit Flows
ALWAYS FREE
Flow Fillers fill out Slates and track their progress with the Audit Trail and Analytics widgets
Why airSlate?
For the first time, deploying, automating and sharing workflows is fun. airSlate allows everyone in your organization to focus on what's important: customers, career and business success.
Ten times faster to deploy
airSlate decreases the costs of configuration and time to deployment by up to 10 times.
No-code configuration and automation
Configure, automate and integrate business processes without the need to code APIs.
Natively multi-cloud
airSlate is the only platform that is natively multi-cloud, ensuring your workflows function across all your cloud applications at the same time.
Data accuracy, security and compliance
When airSlate Bots transfer data, you can be sure it's accurate, compliant and auditable.
Add more value to your business with automation
Join 100+ teams that have transitioned their many manual and paper-based processes to a single, all-in-one automation platform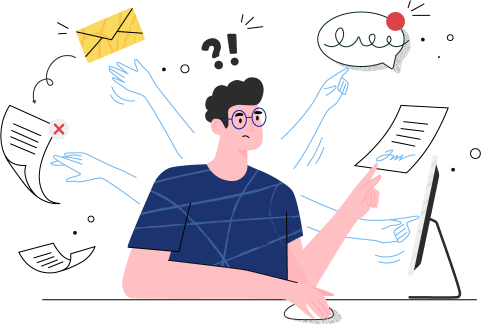 Everyday manual tasks are holding your business back
Without automation, daily workflows undermine productivity and slow down business growth. Hours of employee resources are lost on completing tasks manually along with thousands of dollars spent on configuring integrations and deploying different solutions.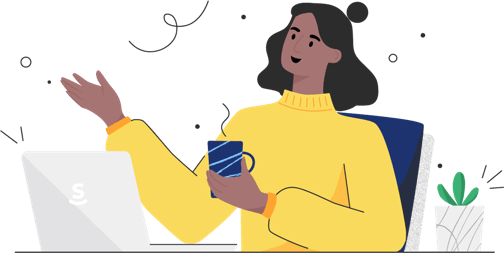 ...but you can supercharge it with airSlate automation
Processes run faster and deliver more value when automated with airSlate. You can create, automate, and deploy entire business interactions in hours using an all-in-one solution. No need for coding, expensive consultants, or multiple vendors.
Save BIG with airSlate
airSlate has everything you need to automate any business process.
No need to pay for managing multiple vendors.
airSlate
$30 Flow Admin/month
Workflow automation
Built-in eSignature
Document generation
Online PDF editor
Web form builder
CRMs integrations
Reports
Audit trail for all modules
Contact management
Contract negotiation
$30
Flow Creator/month,
flat
.
Including unlimited workflows.
Nintex Standard: workflow automation
DocuSign Business Pro: eSignature
Zapier Professional: document generation
Acrobat PRO DC: PDF editor
Formstack Silver: web form solution
$49.16
/ month / per 20 forms
$1028.15
/month for one person and
10 workflows.
FAQ
User Roles and Permissions
What are the Flow and Slate?
A Flow, short for workflow, is a business process that contains documents and forms as well as the settings for access and editing permissions. You can automate any step of a Flow with the help of airSlate's integration and automation Bots.
A Slate contains copies of the documents and forms that you've added to a Flow. You can fill out and edit a Slate, share it with anyone, and collaborate on it. Any time a Slate's content is changed, a new Slate Revision is created.
Do users have to be signed in or registered to access a Flow or a Slate?
No, they don't. An airSlate user may share a Flow or a Slate with anyone outside the organization. They will be using airSlate in Guest mode, without the need to register or sign in.
What are Bots and Bot actions?
Bots are configurable actions that are executed based on pre-set triggers and conditions so that you can automate any step of a workflow. Bots allow you to pre-fill documents with data, send notifications or reminders, export filled-in data, archive documents and more.
How do we integrate airSlate with other services?
airSlate integrates with cloud services, CRMs, email providers and SQL databases via Bots. The advantage of using Bots is that you never have to code or use an API to integrate your workflows with the services you already use. Our library of integration Bots covers Salesforce, Netsuite, Microsoft and Google suites, Dropbox, and others.
If your company requires a specific integration, contact our support team.
Do we need to complete training before using airSlate?
airSlate was designed to deliver the most intuitive and powerful user experience on the market. You don't need any training or additional skills to start using airSlate right away. Yet, if you want to become a power user or advance your career by becoming an automation leader for your organization, we suggest taking a look at the airSlate University courses.
Where can we get more information about using airSlate?
What kind of workflows does airSlate support?
You can create, automate and manage almost any industry's workflow in airSlate. These include HR, sales, finance, procurement, administration and many others.
Check out our Flow Library to find ready-to-use Flow templates for your company's needs.
Is airSlate GDPR/PCI DSS compliant?
Yes, airSlate complies with GDPR and PCI DSS security standards.
What are the differences between airSlate plans?
airSlate includes 3 subscription plans: Free, Basic, and airSlate Business Cloud. There is no difference in functionality between the Free and Basic plans.
Full access to each Slate is limited to 30 days after account creation.
The Free plan limits the amount of time you and your teammates can work on Slates in your Workspace.
Create, send, view, and export as many Slates as you want for the first 30 days after registering an account. After 30 days, exporting Slates will be unavailable for the following 14 days.
During this time, you can renew full access to Slates by subscribing to any plan. If you choose not to do that, access to your Workspace will be restricted for the next 16 days, preventing you from logging in. After 16 days, your Workspace domain name will be deleted from airSlate. All the Slates you have created are archived. The Workspace Owner can access them by sending a request to the airSlate support team.
The airSlate Business Cloud plan helps businesses digitize andautomate processes no matter how big, all within one holistic ecosystem of products. The Business Cloud plan gives you 4 essential products that span PDF editing, workflow automation, e-signature workflows, and robotic and document process automation. Because this plan is essential for your business processes it is the only airSlate plan that requires you to contact a sales representative before subscribing.
Is airSlate free?
airSlate offers an unlimited free plan for starter users. Advanced subscriptions are paid but offer more broad usage packages aimed at small, medium and enterprise organizations.
Do we need to submit credit card information to start our free trial?
No, you do not need to add your payment details when signing up for a free trial. Just enter your email and you'll be ready to create your workspace in a few steps.
Can we change our subscription plan?
The Workspace Owner can switch between airSlate plans at any time.
How does adding members to my workspaces affect billing?
With the airSlate Free subscription plan, you can add as many users as you need.
The usage limit for a Basic subscription plan is one seat. If an organization's subscription is billed monthly and intends to add more user seats to their current Basic plan, a separate charge will be issued for each new user in addition to the organization's monthly subscription bill.
With an annually billed plan, you make one payment for an entire year upfront. The cost for additional users is charged on a monthly basis.
However, the pricing for additional users will vary depending on the user type. Flow Filler and Guest are counted as free users, whereas a Workspace Owner, Supervisor, and Flow Creator are paid users.
The airSlate Business Cloud plan includes 5 user seats. If you'd like to add more user seats to your Business Cloud plan, please contact our sales representative +1 (800) 511 4951
Does everyone I collaborate with in airSlate need an account?
No, people who receive documents for signing don't need an airSlate account. However, if you're sending documents and Flows for recipients to edit and collaborate on, those recipients will have to create an airSlate account.
If a workspace member invites people to my workspace, will I be charged?
Only users with adequate permissions can add user seats to your account. If the number of users added doesn't exceed the usage limit, you will be charged according to your subscription's billing plan.
What are user roles and rights in airSlate?
Every airSlate user can have a specific Workspace role. The role of Supervisor gives a user the same access privileges as the Workspace Owner. Users with the role of Flow Creator have the ability to create and set up new Flows whereas users in the role of Auditor can view all Flows in a Workspace, along with their Slates and Slate Revisions, but has no editing permissions and can't change Flow settings.
Users assigned to the Flow Filler role can collaborate on Team Flows and work on the Flows that have been shared with them.
The role of Guest gives a user the right to fill out Slates that have been assigned to them and download Slate documents. But they can't create or change Flow settings, assign Slates, add and manage teammates, or edit company info.
What can a user added to an organization do?
Users can create and change Flows, send Slates, setup Bots, and share a Flow with teammates and guests.