Start automating for free today
Try the airSlate all-in-one no-code solution for free and choose the best option to scale automation for your business. Cancel any time with no obligations.
Starter
500 Credits / year
Starter plan includes
200

documents per year
No-code workflow creator
Document generation
Legally-binding eSignatures
Drag-and-drop web form builder
Integration and automation with more than 150 Bots
Most popular
30-day free trial
Growth
2,000 Credits / year
Everything in Starter plus
Unlimited

documents
Advanced roles and permissions
Contract negotiation
Payment collection
Custom branding
Advanced analytics
Advanced HTML widgets
Enterprise
10,000 Credits / year + 1,000 extra Credits (10%)
Everything in Growth plus
Dedicated integration apps for:

Salesforce
NetSuite
Microsoft SharePoint, Dynamics 365, Power Automate

HIPAA-ready
SAML/SSO
Solutions engineering assistance
Custom integrations and API
Automation Suite
20,000 Credits / year + 4,000 extra Credits (20%)
Everything in Enterprise plus
25 document editing licenses with pdfFiller
10 enterprise eSignature licenses with signNow
More than 85,000 templates with US Legal Forms
Dedicated Customer Success Manager
Frequently asked questions
How many users are included in airSlate?
Unlimited! Our goal is to align how much you pay with how much value you get out of airSlate — always maintaining a high ROI — which is why airSlate pricing is based on usage.
What are credits and how is their usage calculated?
Credits enable you to automate your busy work. Each successful execution of a paid airSlate bot or a document send costs 1 credit. For example, if you have a workflow that uses 3 bots, 4 credits will be used – 1 to send the document and 1 for each triggered bot.
What happens if I use all the credits included in my subscription?
If you exceed the number of credits included in your subscription, the card you added to your Workspace will be charged at a pay-as-you-go rate of $0.50 per credit at the end of each month, ensuring no interruption to your workflow. To discuss high-volume plans or check whether you are on the best subscription for your needs, contact our Sales team.
What is the best way to estimate how many credits I will need?
airSlate users typically use between 2 - 5 credits per document, depending on the complexity of their workflow, with an average of 3. Multiplying the expected number of documents at this rate is the best way to estimate how many credits you will need.
Read the full FAQ
Why airSlate?
For the first time, creating and automating document workflows is fun. airSlate allows everyone in your organization to focus on what's important: customers, career, and business success.
Ten times faster to deploy
airSlate decreases the costs of configuration and time to deployment by up to 10 times.
No-code configuration and automation
Configure, automate and integrate business processes without the need to code APIs.
Natively multi-cloud
airSlate is the only platform that is natively multi-cloud, ensuring your workflows function across all your cloud applications at the same time.
Data accuracy, security and compliance
When airSlate Bots transfer data, you can be sure it's accurate, compliant and auditable.
VALUE
Add more value to your business with automation
Join 100+ teams that have transitioned their many manual and paper-based processes to a single, all-in-one automation platform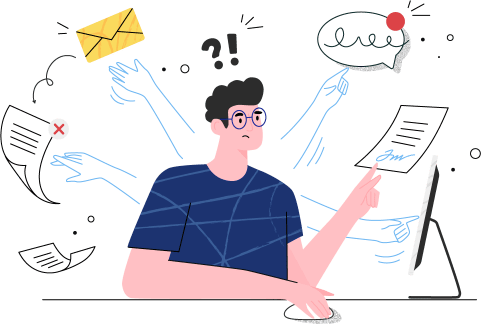 Everyday
manual tasks
are holding your business back
Without automation, daily workflows undermine productivity and slow down business growth. Hours of employee resources are lost on completing tasks manually along with thousands of dollars spent on configuring integrations and deploying different solutions.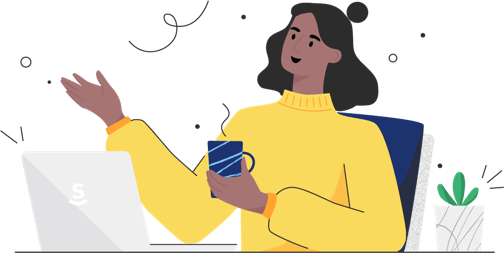 ...but you can
supercharge
it with airSlate automation
Processes run faster and deliver more value when automated with airSlate. You can create, automate, and deploy entire business interactions in hours using an all-in-one solution. No need for coding, expensive consultants, or multiple vendors.
Questions & answers
Here is a list of the most common customer questions. If you can't find an answer to your question, please don't hesitate to reach out to us.
What are documents, templates, and workflows?
A document is a digital envelope filled with one or more files sent to different recipients based on their roles in a document workflow. It's like a package that holds everything related to a specific process.
A template is a reusable document with pre-defined roles and fillable fields. Create it once and use it to send one packet of documents to different recipients every time you need it. You can even turn your template into a workflow to add automation magic.
A workflow is your repeatable business process. You add fillable documents and forms, set up a step-by-step document journey, and then spice it up with automation using bots, autostarts, shareable links, and conditions.
How does adding members to workspaces affect billing?
All airSlate subscriptions come with unlimited users!
Starter, Growth, Enterprise, and Automation Suite plans are billed annually. The plans are based on what features are included and how many credits are included in a plan. If you happen to use up every Bot action that came with your plan, you will simply be billed at a fair pay-as-you-go rate of $0.50 per credit at the end of each month. Customers are never forced to upgrade subscription tiers based on volume (always choosing the best plan based on the features they need).
The airSlate Automation Suite plan also includes 25 pdfFiller and 10 signNow licenses. Additional licenses of pdfFiller and signNow are available for purchase depending on the needs of your organization. If you need help figuring out which plan is right for you or would like to learn more about high-volume pricing discounts, please contact our Sales team at +1 (800) 511 4951
Does everyone I collaborate with in airSlate need an account?
No, people who receive documents for signing don't need an airSlate account. However, if you're sharing templates and workflows to edit and collaborate on, those recipients will have to create an airSlate account.
What are user roles in airSlate?
Roles define what your teammates can do within a workspace. There are six roles: Workspace Owner, Supervisor, Auditor, Creator, Filler, and Guest.
The Workspace Owner can manage and delete a workspace if needed. They can send documents, create templates, design workflows, manage teammates, and handle payments.
The Supervisor has all the powers of a Workspace Owner, except for the ability to delete the workspace.
An Auditor can see all the documents, templates, and workflows within a workspace.
A Creator can send documents, create templates, and design workflows. But remember, they can only see and send documents from the templates and workflows they've created.
A Filler can send and delete their documents within team workflows. A teammate becomes a Filler after they accept an invitation to join a workspace.
A Guest is a registered airSlate user who can view, fill out, and download documents sent to them.
What are the differences between airSlate plans?
airSlate includes 4 subscription plans: Starter, Growth, Enterprise, and Automation Suite. The plans are based on what features are included and how many Bot actions are included in the plan you choose.
The airSlate Enterprise and Automation Suite plans help businesses digitize and automate processes no matter how big, all within one holistic ecosystem of products. The Enterprise plan gives you the ability to add integrations that are essential to workflow productivity. The Automation Suite plan gives you 4 essential products that span enterprise-grade eSignature, PDF editing, and document workflow automation.
Enterprise plans come with implementation assistance from our expert Solutions Engineers that will help you and your team implement your ideal workflow. With the Automation Suite, you'll also get a dedicated Customer Success Manager that will ensure you're getting the most value out of airSlate. Our CSMs will provide the tools and support you need to achieve your organizational goals at every step of the process.
What can a user added to a Workspace do?
Depending on their roles, users can manage teammates and company info, create and edit documents, templates, and workflows while collaborating with teammates and people outside the organization.
How do we integrate airSlate with other services?
airSlate integrates with cloud services, CRMs, email providers, and SQL databases via Bots. The advantage of using Bots is that you never have to code or use an API to integrate your workflows with the services you already use. Our library of integration Bots covers Salesforce, NetSuite, Microsoft, Google, Dropbox, and others. If your company requires a specific integration, contact our Support team.
Do we need to complete training before using airSlate?
airSlate was designed to deliver the most intuitive and powerful user experience on the market. You don't need any training or additional skills to start using airSlate right away. Yet, if you want to become a power user or advance your career by becoming an automation leader for your organization, we suggest taking a look at the airSlate Academy courses.
What kind of workflows does airSlate support?
You can create, automate, and integrate document workflows for almost any industry or department using airSlate. These include HR, sales, finance, procurement, administration, and many others. Check out Templates to find ready-to-use document workflows for your organization's needs.
Can we change our subscription plan?
Users with the Workspace Owner or Supervisor roles can switch between airSlate plans anytime.
Is airSlate GDPR/PCI DSS compliant?
airSlate is committed to protecting your sensitive information by complying with global industry-leading security standards, including GDPR, CCPA, and PCI DSS certifications, and more.