Contract Management
Automate your contract management lifecycle
Generate quotes, contracts, orders, and invoices while receiving payments and tracking contract processing. Automate every step of the sales and procurement process by setting up document workflows on a single, no-code platform.
airSlate is a critical business component for our customers, small or large








Simplify approval lifecycles and close deals faster
Eliminate errors and automate your contract management workflows from start to finish using an all-in-one, no-code platform.
Author contracts from DOCX and PDF templates
Edit your existing contracts and create new ones from DOCX or PDF documents. Integrate with multiple systems of record and cloud apps to manage your document workflows on a single platform.
Along with making us more efficient and saving us an incredible amount of time, airSlate was easy to set up, and its templates are already set in a way that is more simple to use.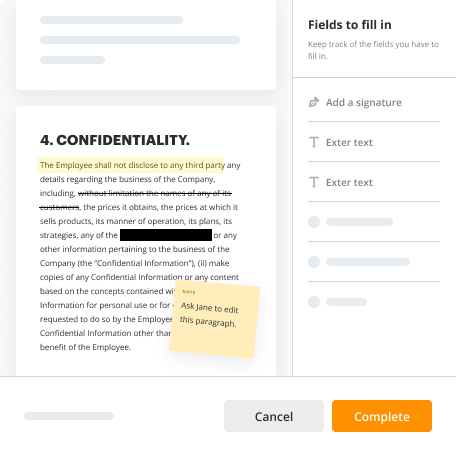 Connect contract-related tasks into a single workflow
Automate generating and sending out invoices. Allow clients to securely pay when completing your documents. Forward signed quotes to procurement and update your CRM records automatically.
We were looking for a Clm salesforce solution. We have found the right solution for Contract Management with airSlate.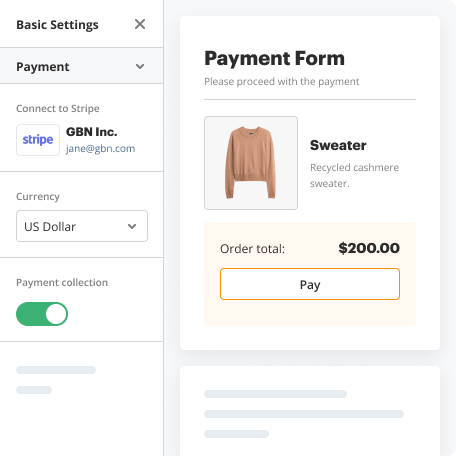 Integrate contract management with your system of record
Transfer documents and data across all your cloud applications. Create and update records, and run new workflows automatically using airSlate Bots. No coding or expensive configurations necessary.
The flexibility of airSlate allowed us to design a workflow that works for us. The automation built into airSlate helped us remove many manual steps in our old process.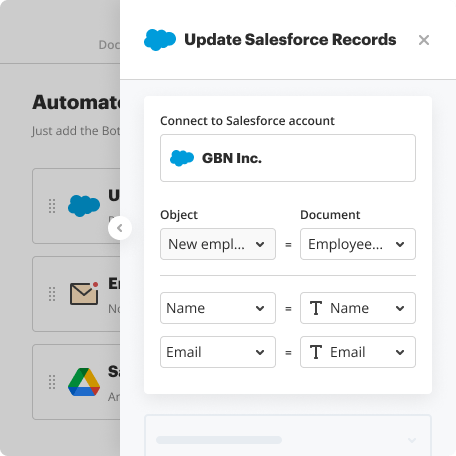 ALTERNATIVES
Powerful contract management solution
Learn why airSlate's contract management beats the competition
| This chart represents a partial list of features available in airSlate, Nintex, KissFlow, K2 and Spring CM. | | PandaDoc | DocuSign | Conga |
| --- | --- | --- | --- | --- |
| Basic document generation from Salesforce | | | | |
| Basic document generation from MS Dynamics 365 | | | | |
| Basic document generation from NetSuite | | | | |
| Advanced multi-source document generation | | | | |
| Actionable fields | | | | |
| Online editor | | | | Extra cost |
| Conditional logic | | | | |
| eSignature | | | Extra cost | Extra cost |
| Customizable document routing and approval workflow | | | | |
| Template library | | | | |
| Automated notifications and reminders | | | | |
| Redlining | | | | |
| Revisions | | | | |
| Audit log | | | | |
| External contract review | | | | |
| Web forms | | | | Extra fee |
| Workflow library | | | | |
| Multi-cloud workflow automation | | | | |
| No-code integration bots | | | | |
| No-code automation bots | | | | |
| No-code archive bots | | | | |
| No-code workflow analytics setup | | | | |
| PDF editing | | | | |
| PDF annotations | | | | |
| Role based document access | | | | |
| Role based field access | | | | |
| Robotic process automation | | | | |
| Security and compliance | | | | |
| HIPAA compliance | | | | |
| User management | | | | |
| User and access control | | | | |
| Organization administration | | | | |
| Multiple workspaces | | | | |
| Mobile application | | | | |
| Integrated payments | | | | |
| Spreadsheet creation | | | | |
| In-person signing | | | Extra cost | Extra cost |
| Advanced recipient authentication | | | | |
| Recipient attachments | | | | |
| Custom welcome form | | | | |
| Address book | | | | |
| Document import | | | | |
| Document storage | | | | |
| Branching | | | | |
| Signing order | | | Extra cost | Extra cost |
| Certificate of completion | | | Extra cost | Extra cost |
| Bulk send | | | Extra cost | Extra cost |
| Distribute via QR code | | | | |
| File sharing with teammates | | | | |
| Document authoring and collaboration | | | | |
| Expiration for process | | | | |
| No-code analytics | | | | |
| Custom charts and reporting | | | | |
| Custom email notifications | | | | |
| SSO | | | | |
Choose a better solution
Try airSlate's all-in-one document workflow automation for free.
Contact Sales
Contract management software is not the solution you're looking for?
Searches related:
contract management system
enterprise contract management software
contract management
project contract management software
contract tracking software
contract management tools
contract management software for construction
contract automation software
Enterprise‑grade security and compliance
airSlate is committed to protecting your sensitive information by complying with global industry‑leading security standards.
Security overview
GDPR compliance
Regulates the use and storage of personal data belonging to EU residents.
SOC 2 Type II Certified
Identifies organizational controls that secure your data & the privacy of your clients.
PCI DSS certification
Safeguards credit/debit card data during the payment process.

FERPA readiness
Protects the privacy of student records maintained by an educational institution.
HIPAA readiness
Protects the processing of your patients' private health information.
CCPA compliant
Enhances the protection and privacy of personal data for California residents.
Automate in minutes with pre‑built templates
Forget about weeks spent on automation setup ‒ choose from thousands of ready‑to‑use forms and workflow templates handpicked for your industry and department.
Human resources
Legal
IT & Digital
Marketing
Healthcare
Education
Insurance
Questions & answers
Here is a list of the most common customer questions. If you can't find an answer to your question, please don't hesitate to reach out to us.
What is contract management?
contract management is one of the essential business processes which every company should take seriously. It helps to establish relationships and agreements between two or more parties from their creation through to their execution. It involves managing agreements with all their terms and conditions that are intended to be legally binding. Effectively administering contracts is an important part of business reputation and success.
What is a contract management system?
A contract management system may be represented as an on-premise software or a specific cloud tool that companies use to effectively manage their contracts. These solutions help companies to automate the entire process of accurately creating agreement templates, negotiating on their terms, quickly making changes in the conditions, signing contracts, and contract payment procedures. The market offers a wide variety of tools for businesses of all sizes and budgets. airSlate is one of the top contract management solutions that automates all the processes and doesn't require hiring additional IT specialists to set up the workflows. Utilize it to easily manage sales, financial, or even real estate air contracts.
Why is contract management important?
Agreements are the basis of any sales, financial, and customer service operations. Managing contracts in a proper way enables companies to improve and speed up their business life cycles.
Contract management eliminates bottlenecks of generating contract templates and negotiating key terms of agreements. It helps to reduce errors that often occur while manual document editing and proofreading. This reduces time and cost spent on each operation. Implementing contract management software is crucial for companies that want to increase productivity and maintain business reputation on the highest level.
What are the main steps in contract management?
Contract lifecycle management is a complex process that involves a multitude of activities on successfully running an agreement. Starting from preparing a draft copy of a typical contract, it goes through completing templates with parties' details, adding the main terms of the deal, and the negotiation process. An efficient contract management system automates all these steps and makes the process fast and error-free. It also provides contract approval by all parties, signature collection, easy contract tracking, and final analysis after it's been executed.
What is contract management in procurement?
Contract management is a critical element of supply chain management. Procurement specialists must monitor all changes in terms of supplies verifying every single detail of an agreement. If any errors arise, it may cause delays in delivery and harm the business cycle. That's why it's important to implement an automated contract management system for tracking contracts on every step of the process.
How do you cancel a pain management contract?
A pain management contract is an agreement between medical specialists and their patients that secures a person from abusing narcotic medications. This kind of agreement ends up when the patient finishes the course of treatment under the doctor's prescription or in case both agree to stop the therapy. However, the doctor can terminate the pain contract when the patient doesn't comply with its terms. Managing pain agreements requires time and attention, so using a contract automation software can help medical staff to prepare and track such contracts in a proper way.
What does a contract management software do?
Contract management software automates all stages of generating, negotiating, and executing agreements. This takes both buyers and sellers to greater productivity, reducing costs and time spent on each contract management step. Online contract management solutions like airSlate enable users with instruments for tracking contracts, eSigning them, and even analyzing their effectiveness in the company's overall transactions. Implementing airSlate as your contract management software will also help you automatically renew agreements with your business partners without spending hours on re-checking data and manually completing new templates.
What is contract lifecycle management software?
Actually, this is just another name for a contract management solution. It's an installable or online contract builder software that streamlines the processes of creating an agreement draft, compromising on its terms with partners, and seamlessly making changes until the contract is executed. In other words, its purpose is to manage contracts through their lifecycle, eliminating manual errors and business time losses. These tools automate all these stages and notify parties of every action taken. airSlate is a good example of an effective and affordable contract lifecycle management platform for businesses of all sizes.
How do you track contract performance?
Manually checking amendments in contracts takes too much time and causes errors that lead to reputational and financial losses. Using contract automation software is a smart solution to deal with manual errors. airSlate uses small robotic solutions (Bots) for automating all the essential contract management process steps. By properly setting them up, you can easily track contracts and get automated notifications when parties make changes in the terms or sign your agreement. That's simpler than it seems: configuring workflows and implementing Bots doesn't require any particular coding skills but only 10-15 minutes of your time. The platform provides free courses with the airSlate Academy for everyone who wants to learn effective contract management.
What is the best contract management software?
Many companies still use Excel spreadsheets as a kind of contract management template.
However, there are plenty of modern automation tools reasonably priced that can help you to better manage your agreements. Choose airSlate, an end-to-end workflow automation platform that simplifies and streamlines just about any business operation. The tool comprises all the contract management process steps from initiating the deal to its execution and renewal and automates them with no-code Bots. Simplicity in setting the workflows, a great number of features and integrations, and an affordable pricing policy make airSlate one of the best business choices for managing contracts in companies of any kind and size.
What are the principles of effective contract management?
Contract management is based on several basic principles: contract consolidation, time and cost optimization, errors elimination, revenue prediction, and contract tracking. It aims to properly arrange the company's agreements in the most efficient way and keep an eye on their execution with minimum manual input. This can be achieved only with a complex contract management software like airSlate. You can use the platform without programming skills and learn how to set up all processes for free in the airSlate Academy.
How much does a contract management software cost?
Prices vary a lot. You can find contract management solutions affordable for small businesses with prices starting from around $8 for a basic document processing tool as well as complex enterprise-oriented tools that charge over thousands of dollars. Different factors affect prices for contract builder software but mostly it depends on the features you need, the complexity of your workflows, the number of documents you process monthly, and so on. In addition, sometimes you need to buy several tools and unite them with each other, which costs even more. airSlate offers several subscription plans including a free one for feature testing purposes and for those who only need to complete documents. You can choose a Basic plan for $30/Template creator per month or a Business Cloud account for $50/Template creator per month, granting access to the full set of document editing, eSigning, workflow automation tools, and the biggest online library of state-specific forms.
Automate document workflows with airSlate products
Deploy any business process with an all-in-one no-code automation platform.
Why is a well-oiled contract management process is so important for business revenue?
Contract management is a standard part of a company's activities, seen in every industry. The usually complex process aims to build relationships between two parties. Contract management consists of different stages, each of which is important and has its own bottleneck.
Mistakes in contract management can lead to a multitude of costly consequences:
Delivery delays and missed deadlines
Lack of transparency
Slow lifecycles
Errors
Lack of compliance
To improve your process, you need to evaluate it from the bottom up. Find inefficiencies and eliminate them. For the rest of this article, we're going to break down how airSlate turns your rusty steps into a fully automated Template.
Step 1. Preparation
Utilize the Forms library — Every new deal requires the proper amount of due diligence to be done. However, most deals are actually very similar. Most often the only things changing are; names, dates, addresses, numbers, product/service, etc. Once you have a good template you don't have to recreate contracts from scratch.
Step 2. Negotiation
Highlight and redline documents in real time — Negotiating is exhausting. Everyone's goal is to compromise, while at the same time get what they want. Once one party receives the document, they get right to work, making changes it to it. Without transparency, the deal is doomed to failure. Keep things clear and both parties working collaboratively by keeping everything in one Template. In the airSlate, you see everything, from the edits your client makes to the comments they leave. Once everything has been addressed, in just a few clicks you can transform the written-on draft into a ready agreement.
Step 3. Approval
Send the final draft for signing — After all the preparatory red tape and discussion is completed, you're ready for the most straightforward stage of contract lifecycle management. Sending documents with a courier or attending meetings to share a document are time-consuming with a lot of moving parts. airSlate makes sending a contract out for signing super simple. All you need to do is add their email addresses or simply create a Public link. Oh, and remember those automation Bots we talked about earlier? One of those Bots even sends reminders to signers so that they don't forget to add their signature.
Step 4. Execution
Execute and store the contract — Now it's time to sign. airSlate gives each recipient a unique and legally-binding eSignature even if they don't already have an account. All they have to do is accept to do business electronically. Once they've done that and applied their signatures you receive a notification that the contract is executed. From there, integration Bots move the contract to your desired and pre-defined location.
Step 5. Renewal
Take full advantage of contract lifecycle management — Agreement renewals are a great chance to strengthen relationships with business partners and increase your revenue. On the other hand, it takes a lot of time to check records manually or set calendar reminders. Plus, it's not uncommon for someone to misenter information. Automated contract management services via Bots allow you to automatically create a new agreement towards the end of the previous one.
Step 6. Analysis
Explore your Dashboard — Keeping track of one contract's lifecycle is hard enough. How about three, ten, thirty? That gets insane. If your company does any more than a hundred transactions a month, keeping track of all that data manually becomes impossible. And it's a whole nother thing turning that mess of information into organized data sets and graphs. In airSlate, get metrics in real time. Widgets accurately represent what is happening and even calculate KPI and use measures to gauge various trends.
Get comprehensive contract management software that you don't need to install. airSlate is an all-in-one platform that provides contract management certification. If you or your employees have an interest in getting free certification in business process automation, visit the airSlate Academy today.