Contract Negotiation
Finalize contracts faster with airSlate
Draft contracts and automatically pre-fill them with data from multiple cloud apps such as CRMs, spreadsheets, or SQL databases. Share contracts with partners to seamlessly negotiate on and finalize using eSignatures.
airSlate is a critical business component for our customers, small or large







Negotiate in real-time and sign contracts faster
Create, redline, and eSign contracts on a single platform while collaborating with customers and business partners.
Author contracts from DOCX and PDF templates
Edit your existing contracts and create new ones from DOCX or PDF documents. Integrate with multiple systems of record and cloud apps to manage your workflows on a single platform.
Along with making us more efficient and saving us an incredible amount of time, airSlate was easy to set up, and its templates are already set in a way that is more simple to use.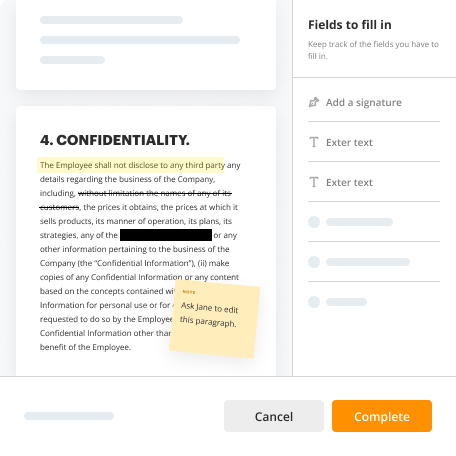 Streamline contract negotiation using no-code Bots
Set up airSlate Bots to send notifications for contract changes, add reminders for deadlines, archive contracts upon approval, and more. Automate role-based contract routing when eSigning.
We were looking for a Contract negotiation solution. We have found the right solution for Contract Negotiation with airSlate.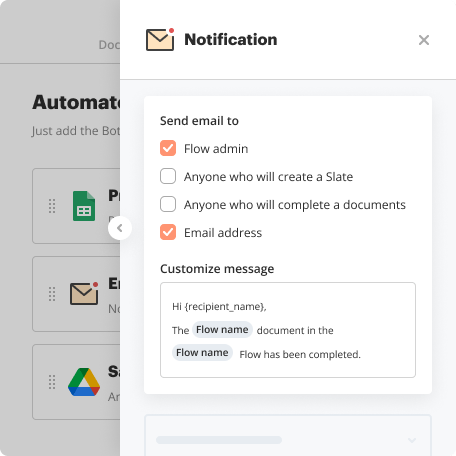 Connect to cloud apps to automate payments
Build a comprehensive agreement workflow that includes order forms, contracts, invoices, payments, and more. Integrate with and across multiple systems of record to transfer data and archive completed contracts.
The flexibility of airSlate allowed us to design a workflow that works for us. The automation built into airSlate helped us remove many manual steps in our old process.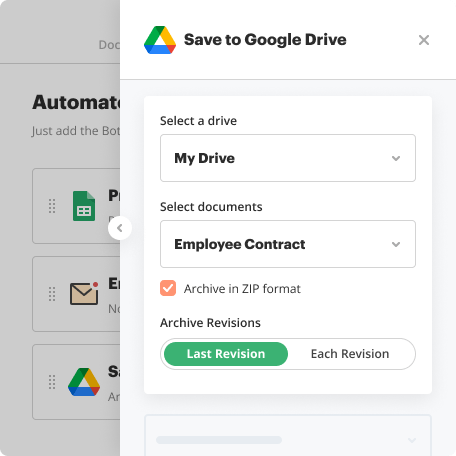 ALTERNATIVES
Powerful contract negotiation solution
Learn why airSlate's contract negotiation beats the competition
| This chart represents a partial list of features available in airSlate, Nintex, KissFlow, K2 and Spring CM. | | PandaDoc | DocuSign | Conga |
| --- | --- | --- | --- | --- |
| Document generation from Salesforce | | | | |
| Document generation from MS Dynamics 365 | | | | |
| Document generation from NetSuite | | | | |
| Advanced multi-cloud document generation | | | | |
| Actionable fields | | | | |
| Create contracts and templates online | | | | |
| Conditional logic | | | | |
| eSignature | | | for extra cost | for extra cost |
| Customizable document routing and approval workflow | | | | |
| Template library | | | | |
| Automated notifications and reminders | | | | |
| Redlining | | | | |
| Track changes | | | | |
| Versioning | | | | |
| Audit log | | | | |
| External contract review | | | | |
| Integrated payments | | | | |
| Recipient authentication | | | | |
| Workflow library | | | | |
| Multi-cloud workflow automation | | | | |
| No-code integration bots | | | | |
| No-code automation bots | | | | |
| No-code archive bots | | | | |
| No-code reminders and notifications, event-based | | | | |
| No-code workflow analytics setup | | | | |
| PDF editing | | | | |
| PDF annotations | | | | |
| Contract lifecycle management | | | | |
| Spreadsheet creation | | | | |
| Role based document access | | | | |
| Role based field access | | | | |
| Robotic process automation | | | | |
| Web form builder | | | | |
| Security and compliance | | | | |
| HIPAA compliance | | | | |
| User management | | | | |
| User and access control | | | | |
| Organization administration | | | | |
| Audit trail | | | | |
| Multiple workspaces | | | | |
| Mobile application | | | | |
| In-person signing | | | for extra cost | for extra cost |
| Advanced recipient authentication | | | | |
| Recipient attachments | | | | |
| Custom welcome form | | | | |
| Address book | | | | |
| Document import | | | | |
| Document storage | | | | |
| Branching | | | | |
| Signing order | | | Extra cost | Extra cost |
| Certificate of completion | | | Extra cost | Extra cost |
| Bulk send | | | Extra cost | Extra cost |
| Distribute via QR code | | | | |
| File sharing with teammates | | | | |
| Document authoring and collaboration | | | | |
| Expiration for process | | | | |
| No-code analytics | | | | |
| Custom charts and reporting | | | | |
| Custom email notifications | | | | |
| SSO | | | | |
Choose a better solution
Try airSlate's all-in-one document workflow automation for free.
Contact Sales
Contract negotiation software is not the solution you're looking for?
Searches related:
negotiation software
contract redlining software
contract negotiation platform
contract negotiation workflow
software negotiation
what is contract negotiation
contract negotiation process
software contract negotiation
Enterprise‑grade security and compliance
airSlate is committed to protecting your sensitive information by complying with global industry‑leading security standards.
Security overview
GDPR compliance
Regulates the use and storage of personal data belonging to EU residents.
SOC 2 Type II Certified
Identifies organizational controls that secure your data & the privacy of your clients.
PCI DSS certification
Safeguards credit/debit card data during the payment process.

FERPA readiness
Protects the privacy of student records maintained by an educational institution.
HIPAA readiness
Protects the processing of your patients' private health information.
CCPA compliant
Enhances the protection and privacy of personal data for California residents.
Automate in minutes with pre‑built templates
Forget about weeks spent on automation setup ‒ choose from thousands of ready‑to‑use forms and workflow templates handpicked for your industry and department.
Human resources
Legal
IT & Digital
Marketing
Healthcare
Education
Insurance
Questions & answers
Here is a list of the most common customer questions. If you can't find an answer to your question, please don't hesitate to reach out to us.
What is contract negotiation?
contract negotiation is the process that involves a certain level of give-and-take aimed at reaching a mutual agreement over the preliminary points laid out in a contract's draft. Depending on the scope of the contract, negotiations can be broken down into multiple stages and, overall, take somewhere between one week to a few months. contract negotiations are an essential part of a business's strategy. They are vital, especially for businesses that depend on long-term relationships with partners and strive to avoid win-lose situations.
What is contract negotiation software, and how does it work?
It's a specific category of software that serves to streamline and organize the negotiation process by automating the routine side of contract management and minimizing human input. It also provides an all-in-one document-centric place for coordinating and tracking a document's template from start to execution. Every negotiation software usually includes electronic signatures, workflow automation, and document generation; everything that concerns data intake and movement.
What are contract negotiation templates in airSlate?
airSlate offers numerous possibilities for creating a specific contract negotiation Template from scratch or based on a professional pre-made Flow template. In airSlate terms, a Template is a document or documents that you generate or upload and customize by adding fillable fields, setting up Automation and Integration Bots, adding features like payments and attachment requests, etc. Once a Template is triggered, the system creates a copy of the Template, called a Flow, that follows all the setup settings found and configured in the Flow template.
How to use airSlate to redline an agreement?
When setting up a Template, you can select from multiple document types. For the negotiation of a contract, choose the Contract and Agreement tab. All changes made to a document are tracked and highlighted along the way. After the first revision of your contract, you can start collaborating on documents by suggesting, accepting, or refusing the changes made to them. As soon as all parties involved agree to the contract's terms, you can send it out to counterparties and request them to sign it.
What makes airSlate better than other negotiation software?
airSlate is a multi-cloud solution that has everything to facilitate the contract negotiation process for parties on both executing sides. It features a powerful workflow and document generation tool, integrates with hundreds of other solutions allowing for the pulling and pushing of data, works with various document formats, and operates natively with Bots. What is more, airSlate provides endless opportunities for contract negotiations and contract redlining through the track changes option. Also, unlike other solutions, airSlate doesn't charge per document. Finally, it remains compliant with all major standards concerning data protection and e-commerce.
How can I use text tags in the contract negotiation process?
A Tag is a combination of symbols that will help you create and structure a specific fillable field in your document. The most used fillable fields are Signature, Text, Currency, etc. You can either use our Document creator to preset the fillable fields or add them to your existing document before uploading. The system will recognize them automatically. This way, you will bring more flexibility and efficiency to your contract workflow.
How do I restrict the rights of specific users while carrying out the negotiations of a contract?
When negotiating contracts, you can set limits on what each user can and can't do on a document. To restrict or expand the permission rights for a specific user, go to the Template Settings. Select Roles and click on the gear icon. In the Manage field permissions tab, choose a suitable option from the drop-down list, and click Apply changes. You can also use the Additional options section to define who can finalize the contract.
How to set up a contract negotiation process in airSlate?
Template setup is the starting point of contract negotiation. You can customize an existing, pre-uploaded Template or create one from scratch. While configuring your Template, you can add documents along with fillable fields, assign roles, define access rights, automate routine tasks (like data transfers or reminders) using Bots, and logically connect them to each step of your contract execution workflow. If you didn't assign or forgot to assign roles at the beginning of Template setup, you could do so after applying all the needed settings. The contract workflow is up and running and ready for the next stage – negotiation.
How does the process of negotiating the contract look in your contract negotiation software?
The negotiation process can differ based on the complexity and preset conditions. Let's review a simple example of the process in airSlate. Once you've finalized the Template setup, the assigned parties receive the document(s). Based on the permission rights you assigned for each role, they review the contract and make suggestions accordingly. Those on the other side of the negotiation process, in turn, decline or accept the suggestions. As soon as all the details are ironed out, and the contract is ready for signing, the chosen parties can eSign and finalize the contract negotiation process.
How do I make sure that the document is legally binding after contract negotiation?
The legal validity of any electronic signature varies from one country to another and might even depend on local and federal laws. Conformity with leading standards like ESIGN, UETA, and eIDAS makes eSignature legally valid in the USA and in most European countries. In addition to that, features like an audit trail, multi-step authentication, and tamper-proofing make eSignature an even more secure way of certifying documents. airSlate offers all the features mentioned above and full compliance with the world-leading e-commerce standards. That's why you can stay reassured while initiating contract negotiations in airSlate.
How do I use airSlate to reinitiate the contract negotiation process?
Besides staying in the loop while negotiating contracts, airSlate makes sure you don't miss deadlines and renew contracts on time. You can set up reminder Bots that will help you remember to renew contracts as they approach their renewal or expiration dates. Bots follow if-this-then-that conditional logic that triggers them. Besides, they are easy to set up and don't require specific knowledge of programming languages or frameworks.
How can I benefit from using contract negotiation software by airSlate?
airSlate is designed to delegate all routine tasks to an intelligently made platform built around automating industry-specific and document-heavy business processes. It makes any business workflow the way it should be: flexible, cost-efficient, error- and paper-free. Using airSlate, a contract negotiation software, you will get a higher level of accuracy, more streamlined workflows, and increased visibility across every point of document execution. You can see the complete set of capabilities airSlate has to offer in action by setting up a free account and signing up for self-paced airSlate Academy courses.
Automate document workflows with airSlate products
Deploy any business process with an all-in-one no-code automation platform.
Contract negotiation: The Present Model and Future Outlook
Signing a contract is always preceded by negotiation. Parties go back and forth on terms related to their cooperation until both sides are satisfied and ready to seal the deal. The process of contract negotiation can be quick and painless or slow and full of misunderstanding. The evolution of digitized processes offers new ways and opportunities for us to work together from the first stage of negotiation to the final signing.
What does a manual contract negotiation process look like?
Contract negotiation as we know it involves multiple face-to-face meetings and over the phone conversations between businesses and their lawyers. But even if we take the simplest model, it's easy to see the bottlenecks and inefficiencies. For example, company 1 meets with company 2. They agree on document provisions and company 1 sends company 2 a draft contract. Company 2 forwards the doc to their legal department and makes slight alterations. Company 2 calls company 1 and informs them of the amendments. Company 1 agrees to the changes by phone, but once they receive the amended document and consult with their lawyers, it requires some additional changes. This process can go on and on and sometimes companies 1 and 2 never come to an agreement. The traditional go around explained above is a massive waste of time. Why even do business, if simply talking about doing business is such a hassle?
Let us layout the most common issues with traditional contract negotiation:
Low customer satisfaction 

– It's 2020. No matter what part of the world you're doing business in your customers and clients expect smooth and comfortable processes. If your business can't handle dynamic document management, then the customer experience you deliver will be low.

Poor compliance 

– Failure to keep track of each step and change in your negotiation process can lead to missed information, misunderstandings and possible compliance issues with state or federal regulations.

Waste of time and resources 

– Every time either party introduces new amendments, new drafts need to be authored. Drafting new docs isn't cheap nor is it fast.
How can software enhance contract negotiation?
As we already know the process of contract negotiation has an end goal of reaching a compromise between two or more parties. It usually incorporates two stages: negotiation between businesses followed by conversation between lawyers. While businesses focus on things that get them what they want, lawyers pursue the goal of diminishing risks and increasing benefits. The legal side is the most difficult and time-consuming and what calls for everyone to re-negotiate.
Doing all of this manually takes a lot of time, effort, and resources. Basically, inefficient. It's the beginning of bottlenecks that lead to lost money, productivity, and in some cases reputation.
To speed everything up, many of the best companies introduce advanced software for automating mundane steps, sending notifications, and building more collaborative environments.
Implementing contract negotiation software:
Accelerates negotiation 

– Slow processes quickly become a thing of the past. Good software speeds up how two parties work together.

Enhances visibility 

– Poor visibility is number one for complaints connected to contract negotiations. People want to know what's happening.

Streamlines the approval process 

– Roles are set-up in a certain order. Bargaining becomes clear, smooth and fast. Every party involved is aware of their contribution in the document lifecycle.

Improves accuracy 

– Automated processes reduce human-prone errors like misspellings, repeated info, missing info, etc.

Strengthens compliance 

– Having an audit trail enables everyone to track every single step made during the process and by who.
How to negotiate a contract in airSlate?
airSlate is a no-code BPA platform for automating and enhancing workflows. It incorporates document generation, contract negotiation and management, eSigning, editing, document pre-filling and post-filling. Over 20 million users already deploy airSlate; Amgen, First Data, Xerox and many others.
Contract negotiation with airSlate:
The author creates a document either from scratch or using a template.
The author adds fillable fields to the document using the online editor.
Automation and integration Bots are added.
The author assigns roles, configures the Bots and sends out the document.
The receiving party redlines and comments on the document in real time.
Each party goes back and forth in real-time negotiation (within the platform) until both parties are in agreement.
airSlate is an all-in-one solution that integrates with the other platforms you already use and love. It guarantees top-notch security and data compliance. Negotiate your contracts fast and efficiently with airSlate.