airSlate is a critical business component for our customers, small or large








Automate workflows your way. No coding or APIs.
Set up efficient document workflows for any business case using an all-in-one, no-code solution.
Create actionable document templates
Make documents from PDF and DOCX files or use customizable web forms to collect client information. Automatically pre-populate documents and web forms with data from multiple cloud environments.
Along with making us more efficient and saving us an incredible amount of time, airSlate was easy to set up, and its templates are already set in a way that is more simple to use.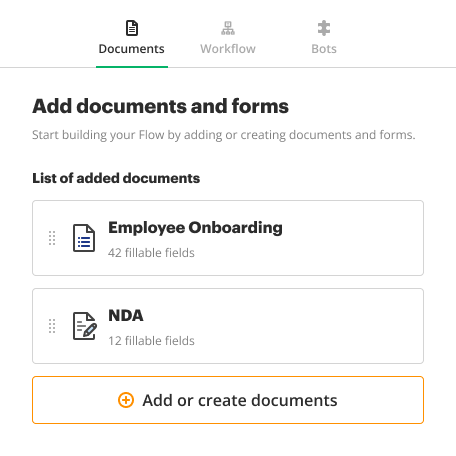 Streamline routine automation and integration tasks
Configure no-code Bots to send reminders and notifications. Route documents between recipients and systems of record. Use CRMs or other cloud services as a part of your automated workflows.
We were looking for a Business process management automation solution. We have found the right solution for Workflow Automation with airSlate.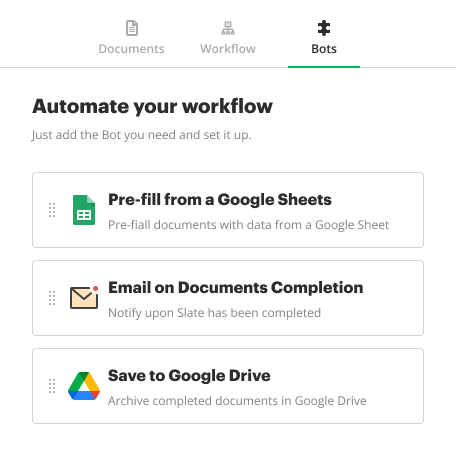 Sign documents using a built-in eSignature solution
Manage your eSignature workflow online from end to end. Set up signing steps, assign access permissions, automatically send out documents for eSigning, and collect them, once completed.
The flexibility of airSlate allowed us to design a workflow that works for us. The automation built into airSlate helped us remove many manual steps in our old process.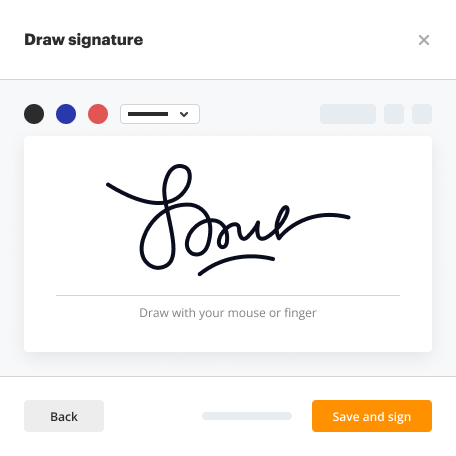 ALTERNATIVES
Powerful workflow automation
Learn why airSlate workflow automation beats the competition
This chart represents a partial list of features available in airSlate, Nintex, KissFlow, K2 and Spring CM.

Nintex
KissFlow
K2
Pega System
Basic workflows
Advanced workflows
Custom workflow routing
No-code conditional routing
Versioning
Assign recipient roles to fields in web forms, PDFs and contracts
Assign recipient roles to forms, contracts and documents
Workflow library
Embedded workflows
Unlimited workflows

no info

No-code multi-cloud workflow automation
Pre-fill workflows with data from Salesforce, GSuite, Office 365 via no-code integrations
Extract data from workflows to CRM, GSuite, Office365 via no-code integrations
Robotic process automation
No-code automation bots

+/

No-code integration bots

+/

No-code archive bots
Task assignment
File sharing with teammates
Bulk workflow initiation
No-code reminders and notifications
Expiration for process
Redirect to external link
Advanced recipient authentication
Recipient attachments
Accept payments
eSignature

via integration

via integration

via integration

via Docusign

Signing order

via Docusign

Certificate of completion

via Docusign

In person signing

via Docusign

Adding fillable fields to PDF files
Advanced fields in web form builder and PDF editor
Conditional fields in web form builder and PDF editor
Formula fields in web form builder and PDF editor
Actionable fields
In Editor comments
PDF editing
PDF annotations
Redlining documents
Web form builder
Drag & drop interface
Custom applications in Salesforce, NetSuite, Dynamics, Office 365
Document generation
Spreadsheet creation
Document storage
Reusable templates
Contract negotiation
Contract lifecycle management
Document authoring and collaboration
Custom branding
SSO
User management
Organization administration
Audit trail
Multiple workspaces
Security and compliance
HIPAA compliance
No-code analytics
Custom reports
Mobile application
Choose a better solution
Try airSlate's all-in-one document workflow automation for free.
Contact Sales
Sales process automation salesforce is not the solution you're looking for?
Searches related:
workflow process software
workflow automation system
business process automation tool
business process workflow
workflow automation tools
automate your business process
business process workflow software
workflow process automation
Enterprise‑grade security and compliance
airSlate is committed to protecting your sensitive information by complying with global industry‑leading security standards.
Security overview
GDPR compliance
Regulates the use and storage of personal data belonging to EU residents.
SOC 2 Type II Certified
Identifies organizational controls that secure your data & the privacy of your clients.
PCI DSS certification
Safeguards credit/debit card data during the payment process.

FERPA readiness
Protects the privacy of student records maintained by an educational institution.
HIPAA readiness
Protects the processing of your patients' private health information.
CCPA compliant
Enhances the protection and privacy of personal data for California residents.
Automate in minutes with pre‑built templates
Forget about weeks spent on automation setup ‒ choose from thousands of ready‑to‑use forms and workflow templates handpicked for your industry and department.
Human resources
Legal
IT & Digital
Marketing
Healthcare
Education
Insurance
Questions & answers
Here is a list of the most common customer questions. If you can't find an answer to your question, please don't hesitate to reach out to us.
What are workflow automation tools?
Workflow tools help you to build, optimize and automate your processes. If it comes to a no-code automation solution, you use RPA tools or robotic software, like airSlate's Bots, that you can implement without any programming skills. The intuitive interface and simple logics enable them to be implemented into any process in a matter of few clicks. All you need to do is to set up conditions and specify the results you expect. Additionally, you can add as many Bots as you want to combine various data silos efficiently.
How does workflow automation software work?
workflow automation software replicates any of your business processes but removes all bottlenecks. For example, your document moves between the involved parties but is automatically pre-populated with data from a database. This means that you do not need to enter information manually. Plus, to avoid losing a document, you can trace the route of any file. In airSlate, your documents are stored in the corresponding Template, and if you want, you can archive them to the cloud.
What is workflow software?
Workflow software is a solution that automates and handles processes within your company. Any process is a sequence of tasks that software can keep in order by removing shortcomings and optimizing time-consuming steps. Usually, the software offers different tools to make your work easier. That way, you can pre-fill documents without manual data entry, set up auto-notifications, and filter information effortlessly.
What does a document workflow management system do?
A document workflow management system helps you optimize document-centric processes such as contract approvals, purchase orders, etc. Systems route forms between CRMs, databases, and recipients to complete documents and get results. With a document management system in place, you can generate documents, pull and push data automatically, and archive records. Additionally, you can get an analytic report about your processes.
What is the difference between automation workflow software and RPA?
Nowadays the terms automation workflow software and RPA have become interchangeable because it's impossible to imagine a no-code solution that can work without bots. But if we talk about traditional automation this difference becomes more noticeable. The software implements your process via an API. Unfortunately, such processes are inflexible and require programming skills to set up. While RPA is a tool that helps to create an automated process by default without a need to code a single line. To make automation available to everyone, airSlate adheres to a no-code way.
Why do I need to implement task automation software?
Task automation creates a comprehensive process, increasing accuracy. Employees concentrate on goals and solve issues, while "digital workers" take care of administrative red-tape and labor. Humans and bots don't replace each other but work together to get significant results. Software is much more efficient in coping with manual data entry or document creation.
What are the types of workflow applications?
There are three types of workflow applications ( Project, Case, and Process). The last one consists of repetitive tasks that you can automate, such as submitting documents, entering data, etc. A process follows a predictable path, so it's easy to implement any solution or software. However, a project and case are either unique or unstable. If you want to automate your business, you have to start by deciding on the process you'll change.
What is business workflow software used for?
In a nutshell, you should use business workflow software to get more accurate and faster processes. Automation is a solution to any business, industry, and department because any company has bureaucratic bottlenecks that can be solved harmlessly with the help of RPA tools. Additionally, automated workflow software helps you save money. You free your employees to solve business-related issues instead of overwhelming them with day-to-day duties. As a result, your team is focused on reaching value and increasing profits for the company rather than burning out coping with ongoing routine tasks.
How does automated workflow software work?
An automated workflow system runs just like any other basic business process, except that bots do most of the tasks. To clarify things, take a look at an example of the Vacation request Template from airSlate. An employee launches Template and receives a document prefilled with data, including name, position, etc. All that is left to do is choose a date and press Done. The manager opens this form to approve or deny a vacation request. Regardless of the manager's response, the employee receives an email notification. You can add as many steps and Bots as you need and integrate your Template with third-party systems. The settings are flexible, so adjust and adapt them to your needs.
What is the purpose of a workflow program?
The most obvious answer is to make the job easier and more accurate. A program divides the process of any complexity into steps that are easy to change and improve. This way, you will quickly find inconsistencies and get rid of them. As a result, you get a process that works even without your intervention. With airSlate, you can build a parallel and sequential process by designing a simple and straightforward algorithm.
What are document workflow solutions?
Document workflow solutions manage forms, files records that your business needs. Almost any process is based on paperwork that steals the team's time using administrative, day-to-day tasks. A solution takes care of exporting, importing, and archiving data without your intervention. The same can be said for populating templates and generating contracts, which is no longer the concern of your employees. So you can solve any document-related problem in no time without even thinking about that. All you need is to build your Template.
What is the best workflow process software?
The market offers a lot of great and advanced no-code automation software solutions. But if you don't know where to start, try airSlate. This all-in-one platform is able to optimize processes for any of your departments. As a result you can get onboarding, invoicing, and payrolling processes fully automated. The intuitive interface helps you figure out all settings and configure your first Template with ease, even if you lack technical skills. The solution provides you with additional educational content such as airSlate Academy to make your acquaintance even faster. Check out the free plan and design a step-by-step path for any process with airSlate!
Automate document workflows with airSlate products
Deploy any business process with an all-in-one no-code automation platform.
What is workflow automation?
Workflow automation is a rule-based series of actions for different steps in a business process. By using specialized software, you can design, execute, and automate processes to improve everyday business responsibilities.
Workflow automation can include several actions, ranging from a straightforward request or approval to combining dozens of complicated processes with several departments involved. It allows you to get more done with less hassle and concentrate on more critical tasks.
What benefits do you get with business process automation?
Usually, people spend just as much time on the actual work as they do on the processes that support this work. If you want to save more time for tasks that matter, implementing automation into your business is a must.
An excellent way to determine whether or not you need automation is if you use multiple tools and services for accomplishing one task (CRM systems, email marketing services, cloud storage) or if you work with a lot of documents (approvals, requests, contracts). Business automation quickly solves the problems associated with routine steps. In addition, it helps you:
Keep everything in a single workspace. Easily and quickly access anything you need.
Reduce expenses. Using a business process automation (BPA) platform allows you to reduce unnecessary costs.
Eliminate human-prone errors. Systems with accurately defined rules don't make mistakes, and if they do, they flag them.
Optimize document processing. Calibrated steps remove the need to send each record manually.
Enhance cross-organization collaboration. Teams that have more clarity in the process and know who's involved generate better results and are, on average, more productive.
How to create a workflow online
Workflow automation software can be used by organizations in almost any industry, from IT to sales and HR. And yet, the process of getting started is universal for all of them.
Create a visual representation of your work process

. 
The most convenient way to get a visual representation is to draw a diagram. This diagram doesn't have to be perfect. Its primary purpose is to give you and your team a more transparent and understandable view of how things operate. It outlines each step of your work. Take notice of repetitive tasks, bottlenecks, and identify critical points that need decision-making.

Ask for opinions.

. 
Show the diagram to people who're involved in the workflow. Talk to them about their experiences and if they know what works or doesn't work for them. Then improve the plan.

Define roles.

. 
Compose a list of roles and positions to establish different levels of access and responsibilities within the workflow.

Test your workflow.

. 
Many often skip testing their ideas and go straight to implementation and live use. Don't rush. Try to use it in different situations with various data to ensure that your workflow automation software holds up.
How to use airSlate workflow automation in your business
airSlate takes automation in a workflow to a whole new level. It can do much more than what typical document workflow software can.
A future-forward way to automate even the most complex business processes:
Upload a document, create one from scratch, or choose a template from the Forms library
Select and set up automation and integration Bots
Set 'if-that-then-this' conditions for when Bots act
Track each stage with a powerful Audit trail
Analyze data with intuitive analytics widgets
On top of all of that, you're able to use advanced features like a PDF editor, document generator, built-in electronic signature solution, CRM, and cloud integrations.
Start using airSlate from day one. Create a workflow and launch it in just a couple of minutes, depending on how complex it is. airSlate would not be a full-featured platform without educational courses on how to use workflow software efficiently. The airSlate Academy takes you and your team through a thorough certification program that teaches you everything you need to know about creating any workflow online, setting up Bots, and recreating real-life use cases.