Document Generation
The first and only no-code, multi-cloud document generation platform
Automate the process of creating custom agreements, contracts, reports, and forms. Generate actionable forms or PDFs with fillable fields and automatically populate them with data from your systems of record.
airSlate is a critical business component for our customers, small or large







Start generating error-free and robust documents
Create professional documents and pre-populate them with data taken from multiple sources.
Prepare document templates for any business case
Transform any DOCX or PDF into a document template by adding custom tags and fillable fields. Or use the intuitive no-code editor to create a new template from scratch.
Along with making us more efficient and saving us an incredible amount of time, airSlate was easy to set up, and its templates are already set in a way that is more simple to use.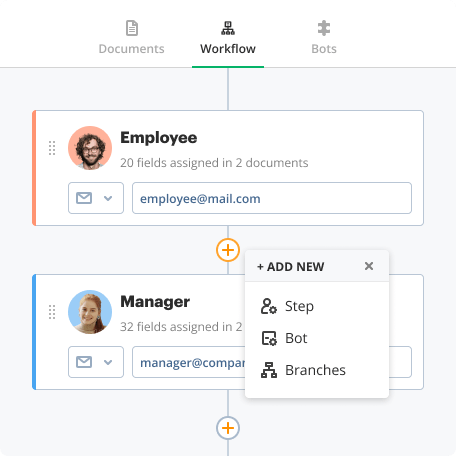 Transfer data between a template and cloud apps
Integrate your templates with any system of record or cloud app using no-code Bots. Pull and push data to automatically populate templates, update existing records, or create new ones.
We were looking for a Generate documents solution. We have found the right solution for Document Generation with airSlate.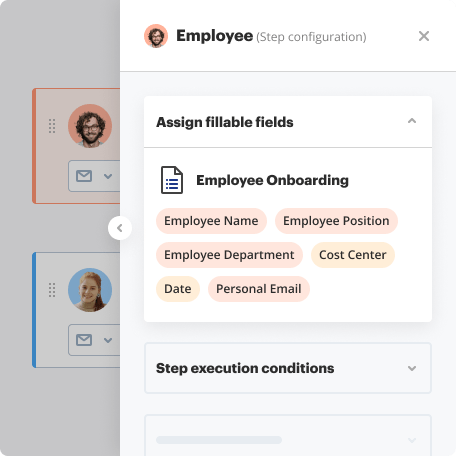 Streamline manual processes with no-code Bots
Let airSlate's Bots automate all routine tasks. From document generation and data collection to reminders, notifications, document archiving, and more — no coding, APIs, or expensive configurations required.
The flexibility of airSlate allowed us to design a workflow that works for us. The automation built into airSlate helped us remove many manual steps in our old process.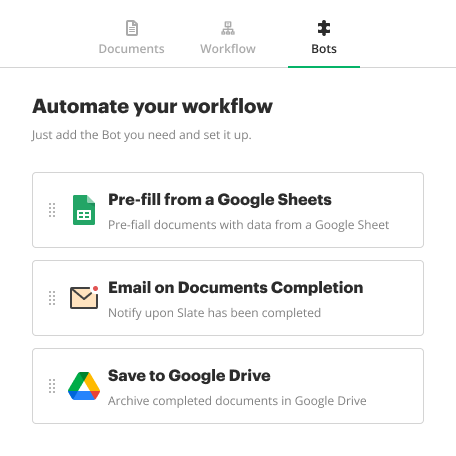 ALTERNATIVES
Powerful document generation
Learn why airSlate document generation beats the competition.
| This chart represents a partial list of features available in airSlate, Nintex, KissFlow, K2 and Spring CM. | | Conga | Nintex | PandaDoc | Formstack |
| --- | --- | --- | --- | --- | --- |
| Pre-fill from any standard or custom object in Salesforce | | | | | |
| Pre-fill from any standard or custom object in MS Dynamics 365 | | | | | |
| Pre-fill from any standard or custom object in NetSuite | | | | | |
| Multi-cloud document generation | | | | | |
| Template formats (input) | PDF, Word, HTML, Excel | Word, PowerPoint, Excel, PDF | Word, PowerPoint, Excel, PDF | Word, PDF | PDF, Word, HTML, Excel, PowerPoint |
| Document formats (output) | PDF, Word, HTML, Excel | Word, PowerPoint, Excel, PDF | Word, PowerPoint, Excel, PDF | Word, PDF | PDF, Word, HTML, Excel, PowerPoint |
| Template builder | | | | | |
| Merge related lists | | | | | |
| Select Salesforce data via SOQL queries | | | | | |
| Conditional logic | | | | | |
| In-document calculations | | | | | |
| Generate fillable fields in documents | Supported in PDF, Word, HTML templates | Supported only in PDF templates | Supported only in PDF templates | | Only Signature field |
| Generate actionable fields in documents | | | | | |
| Update data in Salesforce | | | | | |
| Create new records in Salesforce | | | | | |
| Update data in MS Dynamics 365 | | | | | |
| Create new records in MS Dynamics 365 | | | | | |
| Update data in NetSuite | | | | | |
| Create new records in NetSuite | | | | | |
| Automatically created custom buttons in Salesforce | | | | | |
| Automatically created custom buttons in MS Dynamics 365 | | | | | |
| Automatically created custom buttons in NetSuite | | | | | |
| No-code Salesforce Process Builder integration | | Extra cost | Extra cost | | |
| No-code NetSuite Workflow integration | | | | | |
| Batching | | Extra cost | Extra cost | | Extra cost |
| Scheduled batches | | Extra cost | Extra cost | | |
| Multi-cloud workflow automation | | | | | |
| No-code integration bots | | | | | |
| No-code automation bots | | | | | |
| No-code archive bots | | | | | |
| No-code reminders and notifications, event-based | | | | | |
| No-code workflow analytics setup | | | | | |
| eSigning | | Extra cost | Extra cost | | Extra cost |
| PDF editing | | | | | |
| PDF annotations | | | | | |
| Contract negotiation | | | | | |
| Contract lifecycle management | | | | | |
| Redlining documents | | | | | |
| Role based document access | | | | | |
| Role based field access | | | | | |
| Custom workflow routing | | | | | |
| Robotic process automation | | | | | |
| Web form builder | | | | | |
| Integrated payments | | | | | |
| Workflow library | | | | | |
| Security and compliance | | | | | |
| HIPAA compliance | | | | | |
| User management | | | | | |
| User and access control | | | | | |
| Organization administration | | | | | |
| Audit trail | | | | | |
| Multiple workspaces | | | | | |
| Mobile application | | | | | |
| In-person signing | | | | | |
| Advanced recipient authentication | | | | | |
| Recipient attachments | | | | | |
| Custom welcome form | | | | | |
| Address book | | | | | |
| Document import | | | | | |
| Document storage | | | | | |
| Branching | | | | | |
| Signing order | | Extra cost | Extra cost | | Extra cost |
| Certificate of completion | | Extra cost | Extra cost | | Extra cost |
| Bulk send | | | | | |
| Distribute via QR code | | | | | |
| File sharing with teammates | | | | | |
| Document authoring and collaboration | | | | | |
| Expiration for process | | | | | |
| No-code analytics | | | | | |
| Custom charts and reporting | | | | | |
| Custom event-based email notifications | | | | | |
| SSO | | Not applicable | Not applicable | | |
Choose a better solution
Try airSlate's all-in-one document workflow automation for free.
Contact Sales
Free document creator is not the solution you're looking for?
Searches related:
word document creator
document generation
document generator free
create a document online free
document generation software
legal document generation software
document generation tools
automated document generation
Enterprise‑grade security and compliance
airSlate is committed to protecting your sensitive information by complying with global industry‑leading security standards.
Security overview
GDPR compliance
Regulates the use and storage of personal data belonging to EU residents.
SOC 2 Type II Certified
Identifies organizational controls that secure your data & the privacy of your clients.
PCI DSS certification
Safeguards credit/debit card data during the payment process.

FERPA readiness
Protects the privacy of student records maintained by an educational institution.
HIPAA readiness
Protects the processing of your patients' private health information.
CCPA compliant
Enhances the protection and privacy of personal data for California residents.
Automate in minutes with pre‑built templates
Forget about weeks spent on automation setup ‒ choose from thousands of ready‑to‑use forms and workflow templates handpicked for your industry and department.
Human resources
Legal
IT & Digital
Marketing
Healthcare
Education
Insurance
Questions & answers
Here is a list of the most common customer questions. If you can't find an answer to your question, please don't hesitate to reach out to us.
What is document generation?
The process of automatically creating documents from scratch is called document generation. It enables users to create business records like invoices, requests of all kinds, or even simple contracts without human interaction, so that workflows get more streamlined. Automated document generation accelerates and streamlines routine and time-consuming tasks. As a result, your efficiency grows, and you get more (and better) results in less time.
What are document generation tools?
Document generation tools are independent platforms or sets of services/functions that enable you to set up the automatic creation of needed records. You can find some low-code automation platforms like Zapier or check out airSlate – a holistic no-code business automation solution. You'll save time, money, and effort that's usually spent on finding and hiring IT developers.
What is automated document generation?
Document generation is the automatic creation of new records. By adding in automation, the process is simply enhanced, growing the number of opportunities for reducing costs. For example, with a tool like airSlate, you get the ability to pick a template, route data, and much more using software robots, called Bots that work for you 24/7. Consider creating a free airSlate account to explore the capabilities and learn about new ways of improving document-based workflows.
How can I get started with automated Word document creation?
Start with creating an airSlate account. It's the first step to automating the process. Consider completing a few of the airSlate Academy's courses to learn more about document production software and the benefits of no-code Bots. Next, set up automated Word document creation and test out different real-life scenarios found in your everyday workflow.
Can I integrate document generation with Salesforce?
Yes, and if you don't want to spend extra money on IT specialists who typically write the code for the integration, consider using airSlate. This comprehensive solution enables you to pick actions for each workflow by setting up Bots that make decisions based on "if-this-then-that" logic. You'll get extensive capabilities like importing and updating information from Salesforce combined with powerful document generation. Choose a document and send it to your Salesforce contacts with assigned fillable fields in seconds.
What is a document engine?
A document engine is an interface used to process documents. It helps you to parse content and render or modify pages. There are plenty of great engines on the market but pay attention to their supported platforms and portability limitations. airSlate is a great engine with no-code automated document generation capabilities.
How does document generation software work?
Let's learn how documentation automation software works using airSlate as an example. When you upload a file to the system for the first time, the service explores the record, recognizes document engines, and prepares it for further use. After that, you need to indicate variables using fillable fields or other interactive elements and choose Bots for completing those actions. Actions like data routing or password protecting documents. When a recipient receives a link and starts to complete forms, the system guides them between the records according to previously given answers and exports the data to your CRM or cloud storage system.
Where do I find an online document creator?
You can find such a powerful document creator in airSlate – document generation software. When you create a new or configure an existing Template, click Add or drag & drop documents > Document > Create. The service will launch Word document generation and open a text editor for the convenient inserting and editing of texts. When the content is ready, airSlate will transform it into a fillable PDF so that recipients can add their information in the fields you assign to them.
How do I choose the right contract generator software?
Pay attention to two main aspects a good document generation software will have: editing tools and automation features. An editor where you need to write new content must include at least basic functions like the ability to choose fonts, font size, formatting, etc. When it comes to testing automation features, things get tricky. Consider drawing a scheme of a few everyday processes and choose the solution that can offer you the most, because after implementing these tools, you'll notice that you have more time for optimization and start investigating other features for improving your document generation workflows even further.
What are the benefits of automating PDF creation?
When you delegate such tedious tasks to robots and systems, you save time for improving workflows and finding additional perspectives for your company. However, we recommend that you look further than just PDF generation. Look for a platform that will allow you to import or export information to/from forms, archive filled samples to the cloud, and connect different systems of record in one comprehensive ecosystem. Try airSlate and its advanced document generation capabilities.
What is the purpose of automated document generation?
The main purpose of automated document generation is to empower businesses to deliver better services instead of completing routine and document-connected tasks without spending additional costs. Document generation software only needs to be set up once, no need for IT specialists. For example, airSlate allows you to create a file from scratch right in the system and use it as a template as many times as you need. Furthermore, recipients will be able to fill out forms and the system will automatically transfer all provided information to a designated sample.
Can I combine automating PDF creation and eSigning processes?
It's possible with airSlate. Document generation is just one of its available features. Add software robots (called Bots), use legally-binding electronic signatures, track analytics, process payments, and use many other useful options. Take a quick tour around airSlate – start a free trail and explore all its capabilities now!
Automate document workflows with airSlate products
Deploy any business process with an all-in-one no-code automation platform.
Automated Document Generation: What are the Advantages?
Document generation tools have gradually evolved into all-in-one automation solutions for managing document workflows. A company that introduces it, benefits. However, a company that combines it with other automation tools, achieves growth. This article sheds light on the sphere of document creation, its benefits, the software involved and how to get it.
What is document generation?
Document generation is a part of the automation process that in conjunction with other tools streamlines a workflow. Document generation solutions enable users to create a range of docs; invoices, contracts, payment forms, reports, job offers, etc. Usually, document creation is a part of holistic software, that also allows for the modifying, customizing and sharing of templates.
Organizational growth is achieved through efficiency. A solution for generating templates:
Frees up time 

for employees to focus on more urgent and creative tasks.

Processes data more securely 

in accordance with industry security standards.

Increases accuracy and eliminates human error 

by removing the need to manually input data from one place to another.

Stores files faster 

and in a more organized way.

Improves data compliance 

with audit trails that ensure transparency via recorded actions.
Document generation can shape your business into a more organized machine. For many companies that means an increase in sales productivity, employment efficiency, payment processing and more. Even a tiny investment into the right software can significantly boost a company's performance.
How to choose the right document generation software
Document generation is used globally. With the help of software, businesses consolidate data from CRMs and ERPs to templates. It's a unique opportunity to create templates that are banded to your company and connected to your clients' data. With so many different options out there, how do you choose the right one?
Quality document generation software:
Boasts custom document templates.
Features dynamic fillable templates.
Integrations with SQL, CRM, ERP and other systems.
Works with diverse formats (PDF, Word, Excel, etc).
Accepts the help of software robots for importing and exporting information.
Tracks actions, and shows results and analytics.
When choosing a software pay attention to how user-friendly the interface is. Go through the reviews and take advantage of comparison charts. But most importantly find a solution that combines document generation with other types of automation.
What are the benefits of document generation with airSlate?
airSlate is an all-in-one DPA solution that enables users to generate forms, automate workflows, collect eSignatures, integrate with CRMs, build web-forms, and so much more. .Within its 4-years it's served over 20 M customers, including XEROX, CBS SPORTS and AMGEN. airSlate suits any industry and helps generate the following docs; contracts, invoices, proposals, agreements, reports and applications. The best part is — it combines multiple types of automation into one holistic platform.
Document generation in airSlate is the future of process management:
Upload an existing file or create one from scratch.
Add fillable fields where needed.
Edit original content with the online editor.
Set Bots to connect to CRMs, ERPs and other systems.
Set up workflow conditions for file pre-filling and post-filling.
Using airSlate you are able to eliminate manual work, human errors, and wasted time. In addition, airSlate guarantees top-notch security and reliability. Generate an unlimited number of e-templates and use Bots to move data around faster than ever. Join the other 20 million users who are already benefiting from improved workflows.