Workflow Builder
Design and visualize automation using the no-code workflow builder
Create a visual representation of any document workflow with the intuitive drag-and-drop interface. Automate real-time conditional routing and step assignments to set up and launch your streamlined workflows in minutes.
airSlate is a critical business component for our customers, small or large







Design, visualize, and automate any document workflow. No coding needed.
Build & visualize automation for any workflow, from two-step approvals to complex cross-departmental business processes.
Visualize your workflow with drag-and-drop elements
Add the documents or forms that you want to be completed and eSigned. Drag and drop workflow steps in sequential order or use branches to run multiple steps in parallel.
Along with making us more efficient and saving us an incredible amount of time, airSlate was easy to set up, and its templates are already set in a way that is more simple to use.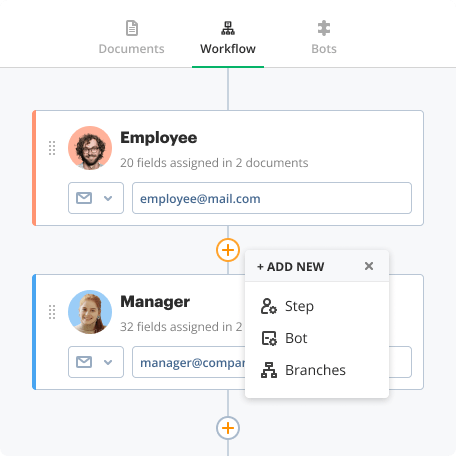 Configure automation settings for each step
Assign steps and set document access permissions. Route documents between recipients or CRM contacts. Follow no-code conditional logic to automate sequential and parallel routing based on real-time data.
We were looking for a Create a new app solution. We have found the right solution for Workflow Builder with airSlate.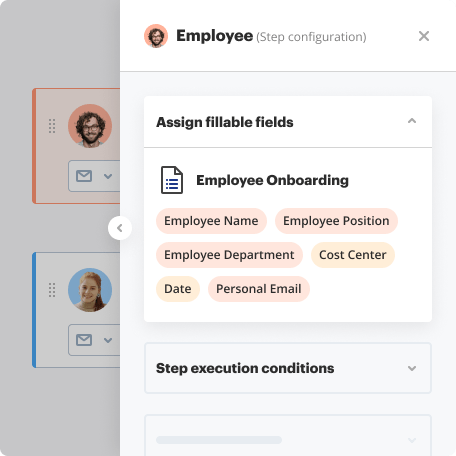 Add no-code Bots and start your workflow in one click
Automate any action within a workflow using no-code Bots. Run your workflow from airSlate or integrate with multiple cloud apps to start the workflow directly from them.
The flexibility of airSlate allowed us to design a workflow that works for us. The automation built into airSlate helped us remove many manual steps in our old process.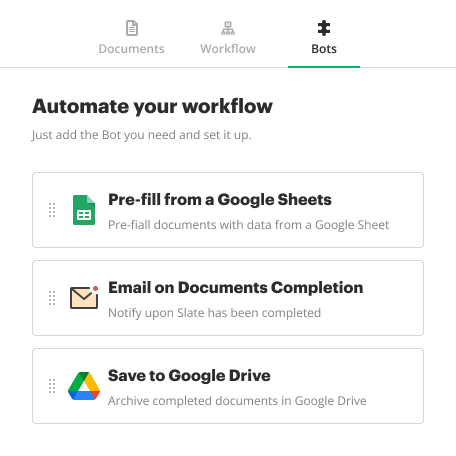 ALTERNATIVES
Powerful workflow builder
Learn why airSlate's drag-and-drop functionality beats the competition
| This chart represents a partial list of features available in airSlate, Nintex, KissFlow, K2 and Spring CM. | | Nintex | KissFlow | K2 | Spring CM |
| --- | --- | --- | --- | --- | --- |
| Workflow library | | | | | |
| Drag & drop interface | | | | | |
| Predefined workflows | | | | | |
| Configurable custom workflows | | | | | |
| Workflow automation | | | | | |
| Custom workflow routing | | | | | |
| No-code conditional routing | | | | | |
| Role-based field access | | | | | |
| Role-based document access | | | | | |
| Embedded workflows | | | | | |
| No-code multi-cloud workflow automation | | | | | |
| Visualized comparative analytics | | | | | |
| PDF, CSV, XLS data reports | | | | | |
| Real-time data updates | | | | | |
| No-code analytics | | | | | |
| Custom reports | | | | | |
| Audit trail | | | | | |
| Pre-fill workflows with data from Salesforce, GSuite, Office 365 via no-code integrations | | | | | |
| Extract data from workflows to CRM, GSuite, Office365 via no-code integrations | | | | | |
| Robotic process automation | | | | | |
| No-code automation bots | | | | | |
| No-code integration bots | | | | | |
| No-code archive bots | | | | | |
| Expiration for process | | | | | |
| Redirect to external link | | | | | |
| Advanced recipient authentication | | | | | |
| Recipient attachments | | | | | |
| Accept payments | | | | | |
| eSignature | | via integration | via integration | via integration | Extra cost |
| Signing order | | | | | Extra cost |
| Certificate of completion | | | | | Extra cost |
| In person signing | | | | | Extra cost |
| Adding fillable fields to PDF files | | | | | |
| Advanced fields | | | | | |
| Conditional fields | | | | | |
| Formula fields | | | | | |
| Actionable fields | | | | | |
| In Editor comments | | | | | |
| PDF editing | | | | | |
| PDF annotations | | | | | |
| Web form builder | | | | | |
| Reusable templates | | | | | |
| Spreadsheet creation | | | | | |
| Document generation | | | | | |
| Document storage | | | | | |
| Redlining documents | | | | | |
| Document authoring and collaboration | | | | | |
| Contract negotiation | | | | | |
| Contract lifecycle management | | | | | |
| Custom branding | | | | | |
| Security and compliance | | | | | |
| HIPAA compliance | | | | | |
| File sharing with teammates | | | | | |
| No-code reminders and notifications | | | | | |
Choose a better solution
Try airSlate's all-in-one document workflow automation for free.
Contact Sales
Workflow maker is not the solution you're looking for?
Searches related:
online workflow diagram maker
workflow diagram creator
workflow maker online
workflow diagram maker
free workflow diagram creator
workflow creator
drag and drop workflow builder
drag and drop workflow
Enterprise‑grade security and compliance
airSlate is committed to protecting your sensitive information by complying with global industry‑leading security standards.
Security overview
GDPR compliance
Regulates the use and storage of personal data belonging to EU residents.
SOC 2 Type II Certified
Identifies organizational controls that secure your data & the privacy of your clients.
PCI DSS certification
Safeguards credit/debit card data during the payment process.

FERPA readiness
Protects the privacy of student records maintained by an educational institution.
HIPAA readiness
Protects the processing of your patients' private health information.
CCPA compliant
Enhances the protection and privacy of personal data for California residents.
Automate in minutes with pre‑built templates
Forget about weeks spent on automation setup ‒ choose from thousands of ready‑to‑use forms and workflow templates handpicked for your industry and department.
Human resources
Legal
IT & Digital
Marketing
Healthcare
Education
Insurance
Questions & answers
Here is a list of the most common customer questions. If you can't find an answer to your question, please don't hesitate to reach out to us.
What program can you use to visualize a process?
airSlate enables you to map out a workflow and take a closer look at the details. With the process template creator, you can visualize any process regardless of the number of established actions. Add participants, replace steps, and change conditions as you like. Advanced settings are available for each step, so keep configuring your workflow until satisfied.
What is a process template diagram creator?
A process template diagram creator is a solution that builds a flowchart of any process to present a sequence of steps. No matter which department uses this process, the workflow creator will help design a clear and straightforward algorithm. In general, creating a diagram helps to model, optimize, and enhance your process. Using a drag and drop editing solution, you can eliminate and move steps to get rid of bottlenecks.
How do you create your own workflow?
Once you've created your interactive form using airSlate, you can start setting up your workflow. Use drag and drop editing tools, pick a Step or a Branch, and insert it into your workflow. Add roles and conditions to each step to trigger any action. Save your changes and launch the workflow by sharing a document via link or email.
How do you create a workflow diagram?
A diagram fully reflects the process as it is. So when you create your flowchart, make sure you don't miss a single step. If your process is sequential, use Steps. If there are parallel processes, use Branches. Double check the visual presentation of your workflow before launching it and remove bottlenecks as you find them. One more tip, name each action to navigate between them easily.
What do you call a visual representation of a workflow?
A comprehensible visual representation of workflow is a diagram. It includes all the actions that take place in your process and also links these actions in a logical order. Also, the diagram distinguishes between sequential and parallel steps. Thus, anyone who looks at the chart will be able to follow the process from the very beginning.
Can you establish a parallel workflow using the airSlate process creator?
A parallel workflow, also called an unordered workflow delivers documents to multiple users at once. Nobody has to wait for others to complete or approve their designated parts of the form or contract. To launch parallel document routing with the airSlate process creator, use Branches. Don't forget to set trigger conditions to guide the document. The process is based on if-that-then-that logic to help you create an algorithm for your Template.
How do you make a Template from scratch using drag and drop software?
airSlate has an intuitive process creator interface. You just need to drag steps or branches and connect them to each other. Name each step to get a full visualization of your workflow from beginning to end. Once you've finished, click Done and test your Template.
How do you use airSlate's drag and drop software?
As the name suggests, you just need to pull blocks and insert them into your workflow. For each step, you can install a Bot to automate an action. airSlate provides a no-code process creator, so you don't need programming skills to use it. Create an efficient online workflow without printing, manual data entry, or error-prone processes.
Where can I find a visual representation of a workflow?
To get a visual representation of a workflow, go to the Template settings. There, you can look at the sequence of steps and change them if you want. To add more steps, just drag and drop an item from the left menu. In addition, airSlate allows you to name each step to get a clear picture.
What is a workflow visual presentation?
Any workflow is a sequence of specific actions. To better understand the whole workflow and quickly find bottlenecks, process visualisation is essential. Using the airSlate workflow creator, you can take a closer look at steps and make changes. By polishing every action, you achieve the perfect workflow that suits your needs.
How do you use airSlate's process Template creator?
airSlate developers enable users who don't have a programming background to automate workflows in a few clicks. Even if you haven't used a drag and drop software builder before, the solution's intuitive interface will help bring all your ideas into reality. On average, setting up a process takes half an hour. You edit documents, add participants, and set up Bots. Then, click one button to launch your workflow.
What steps does the airSlate workflow creator follow?
airSlate helps you create an end-to-end process. What that means is you're able to build a workflow from the first document to gathering data within one solution. The comprehensive workflow creator enables you to upload and edit templates, configure steps, set up Bots, distribute your Template, and get results.
Automate document workflows with airSlate products
Deploy any business process with an all-in-one no-code automation platform.
Things just got easier: a visual representation of your workflow
Even no‑code automation can be confusing, especially if you haven't used it before. Bots, routing documents, mapping fields, etc. The whole process should run like clockwork, but the lack of visual representation of your workflow often leads to a lot of errors that make the process harder than it has to be.
Automating multi‑step processes just got more comfortable than ever with the new airSlate drag-and-drop workflow builder. In fact, this is an updated and easy‑to‑use interface that allows you to build a workflow simply by dragging and dropping airSlate elements, modifying steps and managing roles. Let's check out process visualization and all the benefits it has to offer.
What can you get from the drag-and-drop workflow builder?
airSlate makes workflow automation easier and more accessible to companies of all sizes. Each new feature and tool helps users jump into automatization, and avoid the traditional obstacles and hassles along the way. The drag-and-drop workflow builder is no exception. The updated workflow builder provides you with process visualization and helps you turn your operations into a smooth workflow faster and easier than ever.
Visual interface
The user‑friendly workflow builder allows you to build processes step by step by dragging and dropping airSlate elements. Visualize processes to find and remove bottlenecks, combine review stages, and understand your workflow in a diagram format.
Expanded settings
Create a flexible workflow with ease. Set up unique conditions for each Step and navigate documents between recipients without human intervention. A Slate's route depends on what conditions are met. This allows you to set up a Step with conditions that save you from making a new workflow for each new condition. Simply put, you can create a comprehensive workflow that adapts to any case according to the prescribed algorithm.
Parallel document sharing
The parallel sending function enables the transfer of a Slate between multiple recipients for filling. Set up the workflow once and enjoy how easily the process can be adjusted to all scenarios. It doesn't matter if you're sending a document to one person or several.
How to visualize a process with airSlate
The system is built on two main elements: Steps and Branches. They can be dragged and swapped as you see fit. To do this, simply select one of the items in the left menu and click on it. Customize every step, add a name and role with assigned fields so that every stage of your workflow is straightforward and clear. If you need to set up the parallel sending of documents, choose Branches. This stage consists of several steps that are executed in parallel or selectively. For example, based on the information filled in by the first recipient, a document can be sent to the correct manager without any additional human intervention.
Assign a recipient to each Step with fields and conditions. In the end, take a look at the visual presentation, and if everything looks alright, proceed to Bot setup. At any time, you can change the algorithm and reconfigure your workflow. Make sure to pay attention to every Step's conditions you add to a Branch. Conditions must apply to both roles in a Branch. Otherwise, immediately after one of the roles fills out a Slate, it'll pass to the next stage while closing access for another recipient coming from a different Branch.
Enjoy workflow automation with airSlate. Get access to fast, easy‑to‑use, and professional tools. Build a simple and understandable algorithm‑based mind map. Create transparent and clear processes that are fully automated with airSlate. Get started today!