Electronic Signature
Add, customize, and automate online signatures in documents
Sign and send documents for signing from your automated workflows on any device. Quickly set up & deploy legally binding eSignatures for your documents, contracts, and web forms. Automate, assign steps, add notifications, and integrate with CRMs and databases using 100+ no-code Bots.
airSlate is a critical business component for our customers, small or large








Sign documents online your way ‒ no coding or APIs needed
Use airSlate's enterprise-grade online signature to set up any multi-step conditional workflows.
Add signatures to forms, documents, and templates
Drag and drop eSignature fields into PDFs, DOCX templates, web forms, generated quotes, invoices, and contracts. Assign steps to signers and easily collect signed documents.
airSlate has been essential in increasing our efficiency at Rock The Street, Wall Street. airSlate allows us to send batch emails instead of having to send each form out individually. Because of airSlate, our forms can now be easily filled out from a mobile device, which has made a huge difference for us and our recipients. The customer service has also been excellent!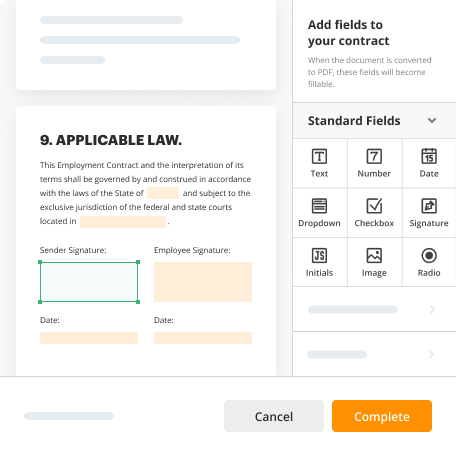 Integrate eSignature workflows with multiple cloud apps
Use no-code airSlate Bots to pre-fill and initiate eSignature workflows from CRMs, cloud environments, or local databases. Extract data and move documents between single or multiple systems of record.
We were looking for a Sign documents online solution. We have found the right solution for Electronic Signature with airSlate.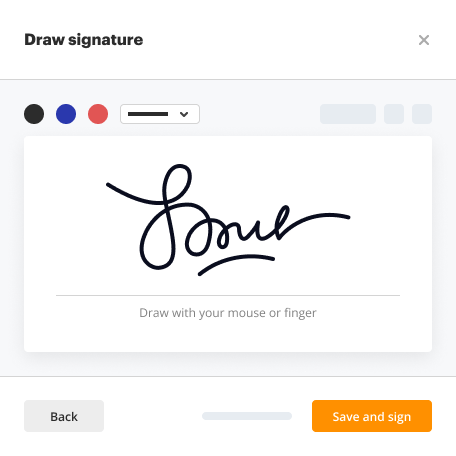 Automate document routing, reminders, and notifications
Set all pre- and post-signature processes on autopilot. Streamline notifications, reminders, and conditional document routing. Let airSlate Bots perform any routine task automatically.
The flexibility of airSlate allowed us to design a workflow that works for us. The automation built into airSlate helped us remove many manual steps in our old process.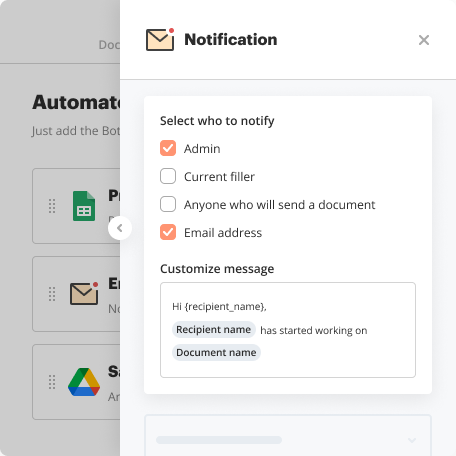 Alternatives
Powerful eSignature solution
Learn why airSlate's eSignature solution beats the competition.
This chart represents a partial list of features available in airSlate, DocuSign, Adobe Sign and HelloSign.

DocuSign
Adobe Sign
HelloSign

Dropbox Sign

Send documents for eSignature
Send documents via link

for extra cost

for extra cost

Adding fillable fields to PDF files
Template fields
Conditional fields

for extra cost

Formula field

for extra cost

Actionable fields
Field validation
Recipient attachments

for extra cost

In Editor comments
PDF editing

Available via Dropbox

PDF annotations

Available via Dropbox

Redlining documents
Bulk send

for extra cost

Reusable templates
Signing order
Custom workflow routing
End-to end multi-cloud workflow automation
In person signing

for extra cost

Embedded signing

for extra cost

for extra cost

for extra cost

Accept payments

for extra cost

multi-cloud workflow automation
No-code automation bots
No-code integration bots
No-code archive bots
Pre-fill documents with data from Salesforce, GSuite, Office 365 via no-code integrations
Extract data from documents to CRM, GSuite, Office365 via no-code integrations
Robotic process automation
No-code reminders and notifications
Expiration for process
Redirect to external link
File sharing with teammates

for extra cost

Advanced recipient authentication

for extra cost

for extra cost

Certificate of completion
Web form builder
Multi-cloud document generation
Built-in Contract Negotiation

for extra cost

Contract lifecycle management

for extra cost

Document authoring and collaboration

for extra cost

Workflow library
Custom branding
No-code workflow analytics setup
Custom reports
Security and compliance
HIPAA compliance

for extra cost

for extra cost

SSO
User management

for extra cost

Organization administration

for extra cost

Audit trail
Multiple workspaces
Mobile application
Recipient permissions
Role based document access
Role based Field access
User and access control
Choose a better solution
Try airSlate's all-in-one document workflow automation for free
Contact Sales
Online signature is not the solution you're looking for?
Searches related:
electronic signature
esignature
sign a document online
online document signing
e signature
sign document online
how to sign documents online
signing documents online
Enterprise‑grade security and compliance
airSlate is committed to protecting your sensitive information by complying with global industry‑leading security standards.
Security overview
GDPR compliance
Regulates the use and storage of personal data belonging to EU residents.
SOC 2 Type II Certified
Identifies organizational controls that secure your data & the privacy of your clients.
PCI DSS certification
Safeguards credit/debit card data during the payment process.

FERPA readiness
Protects the privacy of student records maintained by an educational institution.
HIPAA readiness
Protects the processing of your patients' private health information.
CCPA compliant
Enhances the protection and privacy of personal data for California residents.
Automate in minutes with pre‑built templates
Forget about weeks spent on automation setup ‒ choose from thousands of ready‑to‑use forms and workflow templates handpicked for your industry and department.
Human resources
Education
Finance
Healthcare
Insurance
Legal
Market Research
IT & Digital
Questions & answers
Here is a list of the most common customer questions. If you can t find an answer to your question, please don't hesitate to each out to us.
How can I create an electronic signature online?
airSlate is a comprehensive solution for getting your document signing and execution process on the right track. Upload your document, browse the forms template library, or take advantage of the built-in document generation tool. Fill out the required fields using advanced editing features, sign the document yourself, and invite others to sign it. You and other signers can select how you'd like to create your esignature: typing one, drawing one, or uploading one. Set up a signing order and include the predefined logic for document routing by launching Bots. You can add multiple documents and build sophisticated document signing workflows using various automation and integration capabilities.
Is eSignature legal?
Yes, an electronic signature is a legal way to confirm and certify the acceptance of paperwork. It has the same legal standing as a traditional autograph. This statement is valid for the United States and other countries in the EU. Yet, to seal the deal with a legally-binding signature, you need to use professional software that is compliant with UETA and the ESIGN Act. airSlate is one of the tools.
How can someone verify the authenticity of my online signature?
To prove that your signature is authentic, you need to consider these points before choosing a tool to sign a document online. First and foremost, it's crucial to use a solution that maintains compliance with critical state and federal eSignature laws such as UETA, eIDAS, etc. A solution that offers an audit trail feature to track every action taken on a document and establish a single source of truth for document management is necessary. It's among the most critical factors for document authenticity and verification. Last but not least, it's preferable to opt for a solution that provides more flexibility concerning access rights and signing roles, such as two-factor authentication and role-based signing.
Is there a difference between a digital signature and an electronic signature?
Yes, there is a substantial difference between these two concepts. As a matter of fact, it's a common misconception that these types of signatures can be used for the same purposes and in the same industries. You can use an electronic signature as a legally valid equivalent to a paper-and-ink one. On the other hand, the technology behind a digital signature is based on encryption techniques and offers more options in terms of security and protection against forgery. While both types of document signatures are legally binding, a digital signature is suitable for industries dealing with high-stake business operations and transactions.
What is an automated signature workflow?
The traditional way of signing documents involves many extra steps from each side of the signing process. It includes sending out copies to multiple parties, restricting and expanding access to specific parts of document execution, and tracking and analyzing the entire document management process. airSlate helps businesses and organizations minimize the manual input in the above-described process and build signature workflows around automation. It has an arsenal of features flexible enough to automate and streamline online document signing at any stage and take redundant steps out of well-established business operations.
What are the benefits of using an electronic signature with airSlate?
One of the most excellent perks of using airSlate as your go-to electronic signature tool lies in its countless automation options. It helps you free up your employees to do more meaningful tasks, reduce the likelihood of errors, and build more transparent communication among teams. In addition, it serves to create and maintain up-to-date and industry-compliant document management, which is critical in the present "privacy era". As a no-code and end-to-end solution, airSlate can become a one-stop tool for companies that want to seamlessly streamline and automate their well-established processes using airSlate's infrastructure without having to write a single line of code.
How do I sign documents online and track their status in airSlate?
airSlate can help you get a greater transparency of who, when, and how someone worked on a document. Using Bots, you can preselect the time frame and conditions under which signers will be notified about a document's completion status. You can also order Bots to route the documents to the chosen source as soon as they get a special completion status. What's more, all actions made throughout the signing process will be recorded in the Audit Trail.
What is an electronic signature used for?
eSignature can be used for certifying documents, negotiating contracts, and sealing deals in virtually any industry with a few exceptions imposed by state or federal laws. However, using this type of signature isn't limited solely to the corporate world. You can take advantage of eSignature tools to deal with something as simple as a one-page rental contract or gym membership agreement. No matter the purposes and the type of documents you work with, they all have something in common - sensitive information. That's why it's essential to choose a solution that guarantees compliance with the major security and privacy standards.
Is it safe to sign a document online?
Yes. With airSlate, an industry-compliant no-code solution, you can sign documents online and configure complex eSignature workflows without having to worry about privacy- and security-related issues. It's backed up by SOC 2 Type II and PCI DSS certification and maintains compliance with FERPA, CCPA, HIPAA, and GDPR. On top of that, it offers extra possibilities for sensitive data protection enabled by two-factor authentication and 256-bit encryption. If you wish to get more information on how to sign documents online and how airSlate can help you avoid legal pitfalls, you can visit our Security and Compliance page.
What actions other than signing documents online can I perform in airSlate?
airSlate is a tool for setting up complex and straightforward eSignature workflows. However, signing documents online is just a fraction of what our solution can boast about. airSlate is also packed with a set of powerful document generation features that are suited for generating, editing, and completing fillable forms. All documents created within airSlate can be seamlessly incorporated into workflows through various integration options and configurable Bots. It's an excellent choice for companies aiming to eliminate paperwork and bring data and teams scattered across different locations together.
How can I send a document for eSignature to multiple parties?
airSlate lets you create an electronic signature and send documents for signing to as many parties as you need in bulk or individually. For that, you need to add and customize fillable fields to collect eAutographs. You can also assign roles for your signers to specific fields, make them conditional, and create a sequential signing order. This way, you will get more transparency and control over any signing process. Besides eSignatures, you can collect other needed information, request attachments, and collect payments from your signers right from your document.
Do I need to have special tech skills to set up an automated signature workflow?
You don't have to worry if you're not cut out for tech. airSlate is primarily a no-code solution, meaning that you don't need to use a single line of code to set up the multi-branch workflows, nor do you need an IT specialist. Our solution comes with an intuitive interface and a myriad of integration and automation capabilities that can work in synergy with your existing CRMs and infrastructure elements. In addition, we provide educational courses where you can learn not only how to how to create an electronic signature but how to set up and streamline an entire document workflow in minutes. This makes airSlate a suited solution for small-to-medium businesses that want to get the most out of automation without breaking the bank.
Automate document workflows with airSlate products
Deploy any business process with an all-in-one no-code automation platform..
Get Massive Benefits By Introducing Electronic Signature to Your Business
It's never a bad time to introduce eSignature to your business. Quite honestly, if you haven't already, you're a little late to the game. In this article, we're going to go over everything you need to know to get started.
The eSignature boom
Every day, thousands of businesses are making the switch to electronic means of signing. Nowadays, it's hard to find someone who still signs with pen and ink. ESignature is booming because it saves so much time and even Vermont has started to sign documents online, giving the state back close to 75% of worker time. Things that took weeks, now take hours.
What is an electronic signature?
An eSignature is a way of singing something electronically. It's applied to electronic documents that show a signer's intent to sign and do business electronically. For many, it provides an opportunity to sign an online document and avoid the hassle of physically showing up somewhere. Before getting into the benefits of online document signing its not too hard to realize why millions of users love it so much.
Are electronic signatures valid?
An online signature has the same legal standing as a written one does. Before using a service to sign documents online, check their compliance certificates. If you want an eSignature that works in the United States, it must be compliant with NIST-DSS, in the European Union — eiDAS, in Switzerland — ZertES.
But keep in mind that just because a service provider is American, it doesn't mean it's fit to work with all types of American data. There are unique regulations for; education, pharmaceuticals, medicine, etc.
How to create an eSignature using most services
Today, more and more products offer features for eSigning. In the latest version of macOS, you can create your eSignature with Preview. If you use Windows, you can create one using Word or Google Docs. But if you work with documents regularly, use a professional platform built for eSignature. You'll be able to:
Use advanced features for adding checkboxes, radio button groups, dropdown lists.
Request attachments.
Send forms for signing to people who don't use eSignature services via e-mail, mail or using links.
Add smart fillable fields, etc.
airSlate, the most convenient way to sign
airSlate makes online document signing easier. Do more than just eSign. Create automated workflows in minutes instead of days.
Discover a new way to sign documents online:
Upload a document or use a template from the Forms library.
Add fillable fields, date, dropdown boxes and many other useful tools.
Set up roles and permissions if needed.
Configure workflow automation — setup Bots to automate actions after the signing: sending e-mails, updating records, starting other workflows.
You might be confused. What workflows are we talking about? What do Bots do? airSlate is a powerful example of a whole new approach to business process automation (BPA). In airSlate, you set the conditions for what needs to happen and Bots (software robots) make them happen.
Usually, you need to create a document, fill in all the required data, create an online signature, send it to the recipient and get it back. If you or your employee make a mistake, everything starts from the very beginning. That's a very long and monotonous process. With airSlate, you can collect information with forms, then use that info to automatically fill in document fields. Sounds great, right?
In addition to a convenient online document signature, with airSlate, you get:
A powerful document editor that accepts a variety of formats (PDF, Word, images)
Decreased risk of human error
Improved document management
Streamlined business processes
Access to the advanced automation tools