Payments
Get paid faster with airSlate's payment automation
Integrate payment collection into contract negotiation, invoicing, and accounting workflows. Allow your customers to pay quickly and eliminate delays and any risk of nonpayment. Automate quoting and payments without writing a single line of code.
airSlate is a critical business component for our customers, small or large






Accept online payments quickly and securely
Automate payment collection while delivering an uninterrupted experience for customers, clients, and partners.
Collecting payments is now easier than ever
Add a payment form to your workflow so your business partners and customers can complete your agreement and send payments right away. Integrate with a payment gateway in less than 10min, no coding necessary.
airSlate has been essential in increasing our efficiency at Rock The Street, Wall Street. airSlate allows us to send batch emails instead of having to send each form out individually. Because of airSlate, our forms can now be easily filled out from a mobile device, which has made a huge difference for us and our recipients. The customer service has also been excellent!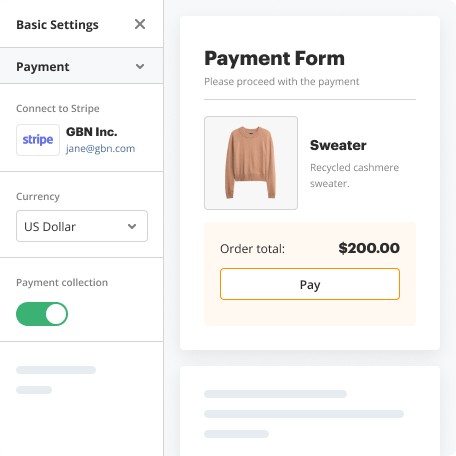 Automate entire workflows on one platform
Make payment collection an integral part of your workflows rather than a separate business process. Generate documents, negotiate contracts, manage agreements, and accept payments automatically.
We were looking for a Air slate solution. We have found the right solution for Payments with airSlate.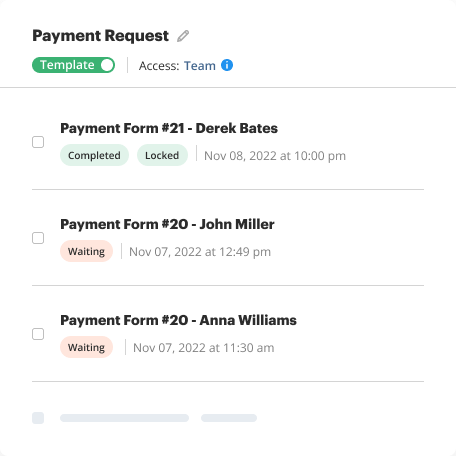 Secure, compliant, and trackable billing
Build automated workflows with payment collection technology that allows you to maintain compliance with PCI DSS certification requirements. Keep track of all payment data in real time via the Analytics widgets and Audit trail.
The flexibility of airSlate allowed us to design a workflow that works for us. The automation built into airSlate helped us remove many manual steps in our old process.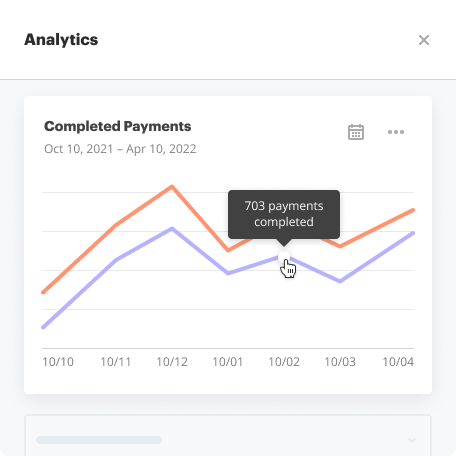 Alternatives
Powerful payments solution
Learn why airSlate Payments beat the competition.
| This chart represents a partial list of features available in airSlate, Nintex, KissFlow, K2 and Spring CM. | | DocuSign | Nintex | K2 | Hyland |
| --- | --- | --- | --- | --- | --- |
| No-code payment processing form | | | | | |
| Payment form preview | | | | | |
| Payment conditional routing | | | | | |
| Pre-fill payment forms with data from Salesforce, GSuite, Office 365 via no-code integrations | | | | | |
| Extract data from payment forms to CRM, GSuite, Office365 via no-code integrations | | | | | |
| Stripe integration | | | | | |
| Multi-currency | | | | | |
| Workflow automation | | | | | |
| Custom workflow routing | | | | | |
| No-code conditional routing | | | | | |
| Assign recipient roles to fields in web forms, PDFs and contracts | | | | | |
| Assign recipient roles to forms, contracts and documents | | | | | |
| Workflow library | | | | | |
| Embedded workflows | | | | | |
| No-code multi-cloud workflow automation | | | | | |
| Robotic process automation | | | | | |
| No-code automation bots | | | | | |
| No-code integration bots | | | | | |
| No-code archive bots | | | | | |
| Task assignment | | for extra cost | | | |
| File sharing with teammates | | for extra cost | | | |
| No-code reminders and notifications | | | | | |
| Expiration for process | | | | | |
| Redirect to external link | | | | | |
| Advanced recipient authentication | | for extra cost | | | |
| Recipient attachments | | for extra cost | | | |
| Accept payments | | for extra cost | | | |
| eSignature | | | via integration | via integration | |
| Signing order | | | | | |
| Certificate of completion | | | | | |
| In person signing | | for extra cost | | | |
| Adding fillable fields to PDF files | | | | | |
| Advanced fields in web form builder and PDF editor | | | | | |
| Conditional fields in web form builder and PDF editor | | | | | |
| Formula fields in web form builder and PDF editor | | | | | |
| Actionable fields | | | | | |
| In Editor comments | | | | | |
| PDF editing | | | | | |
| PDF annotations | | | | | |
| Redlining documents | | | | | |
| Web form builder | | | | | |
| Drag & drop interface | | | | | |
| Custom applications in Salesforce, NetSuite, Dynamics, Office 365 | | | | | |
| Document generation | | | | | |
| Spreadsheet creation | | | | | |
| Document storage | | | | | |
| Reusable templates | | | | | |
| Contract negotiation | | for extra cost | | | |
| Contract lifecycle management | | for extra cost | | | |
| Document authoring and collaboration | | for extra cost | | | |
| Custom branding | | | | | |
| SSO | | | | | |
| User management | | for extra cost | | | |
| Organization administration | | for extra cost | | | |
| Audit trail | | | | | |
| Multiple workspaces | | | | | |
| Security and compliance | | | | | |
| HIPAA compliance | | for extra cost | | | |
| No-code analytics | | | | | |
| Custom reports | | | | | |
| Mobile application | | | | | |
Choose a better solution
Try airSlate's all-in-one document workflow automation for free
Contact Sales
Airslate login is not the solution you're looking for?
Searches related:
payment forms
payment process automation
msc airslate
automated payment collection
airslate msc
payment automation
what is airslate
what is payment automation
Enterprise‑grade security and compliance
airSlate is committed to protecting your sensitive information by complying with global industry‑leading security standards.
Security overview
GDPR compliance
Regulates the use and storage of personal data belonging to EU residents.
SOC 2 Type II Certified
Identifies organizational controls that secure your data & the privacy of your clients.
PCI DSS certification
Safeguards credit/debit card data during the payment process.

FERPA readiness
Protects the privacy of student records maintained by an educational institution.
HIPAA readiness
Protects the processing of your patients' private health information.
CCPA compliant
Enhances the protection and privacy of personal data for California residents.
Automate in minutes with pre‑built templates
Forget about weeks spent on automation setup ‒ choose from thousands of ready‑to‑use forms and workflow templates handpicked for your industry and department.
Human resources
Education
Finance
Healthcare
Insurance
Legal
Market Research
IT & Digital
Questions & answers
Here is a list of the most common customer questions. If you can t find an answer to your question, please don't hesitate to each out to us.
What is payment automation?
Payment automation is the use of specialized services that allow businesses to work with various forms of payment without significant human involvement. Most of the solutions considered as automation platforms easily handle check, virtual card, wire, and ACH payments. They gather all the required information in one place, approve and process invoices, and send payments.
How do you automate payment collection?
To automate payment collection, you need to choose the right service. Finding it may be pretty challenging because of specific requirements for each business. However, there is one tool that will, most likely, suit almost any industry. It's airSlate. It has extensive capabilities for document process automation and supports the creation of payment requests. This tool streamlines and accelerates the process of collecting payments from customers without hiring IT specialists or the need for using a bunch of single-functional platforms.
What is vendor payment automation?
When businesses use specialized tools that automatically calculate the amount that must be paid, it's called vendor payment automation. Nowadays, payment automation software supports the processing of a comprehensive variety of data related to payments. These capabilities allow people to control the quality of work automatically instead of manually calculating and routing data.
What is payment automation software?
Payment automation software is a platform used for gathering, interpreting, and processing invoices. It can work with invoices in various formats and unify them in one template to simplify payment automation. As a result, payment collection becomes much more straightforward and leads you to better benefits such as improving relationships with vendors or developing payment security.
Can I automate the collecting of payments from customers?
Of course, you can! Many services offer the opportunity to collect payments from customers automatically via APIs or other integrations. However, you should definitely try airSlate and automate the process of collecting payments from customers without coding. This service can be set up in any browser, even by someone that doesn't understand anything about building integrations.
What's the best payment automation software?
airSlate is the best solution for this task. This document process automation platform not only supports all the steps of a document lifecycle but also the stages of completing it. As a result, you can close deals and collect payments rolled into one.
What are the main bottlenecks of payment collection?
Payment collection is always accompanied by lots of tedious tasks like examining all calculations, checking invoices, sending or collecting payments from customers, etc. Decreasing the number of existing bottlenecks will, most likely, lead to the creation of new ones. In this situation, the only way to avoid problems is the implementation of payment automation. Analyze services available on the web or get everything you need for document management and payment collection in our comprehensive solution.
How can I collect payments from customers online?
The easiest way of collecting payments from customers is to use specialized financial services developed for the secure transfer of money between accounts. We won't recommend you one from several existing forms of payment because all of them have their own pros and cons. When you use our service, airSlate, you don't even need to sign anything in person. Set up everything you need to work with your customers online.
What are payment automation benefits?
The diversity of payment automation benefits deserves a particular article. Using a proper payment automation service not only assists you in collecting payments from customers but also helps save time and costs and improve accuracy. The system can make all required calculations, send invoices, check their statuses, and notify you about successful payment collection. Additionally, you get access to enhanced analytics (to make workflows more transparent), increased security (to eliminate the risk of fraud), and almost free data preservation (to store records according to the IRS recommendations).
How can I get a notification about collecting payment in email?
You can set up this notification in your account. Most likely, it's located in the Notifications menu. If you utilize airSlate, you have access to advanced email features. Just add a specialized Bot to your Template (select it from the list of Bots), choose conditions for when it should activate, who must be notified about collecting payment in an email, and which documents to attach. Furthermore, you can indicate various people for different circumstances and change them at any time.
Can airSlate be used as a payment automation software?
You can set up your airSlate workflow to collect information, use it in different systems of record, and request payments after automatic calculations and approval by the needed people. In this way, airSlate is more than just a solution for payment automation. However, it still supports some of its features so that you can use it for payment collection purposes.
How do you implement automation in collecting payments?
The easiest way to implement automation into payment collection workflows is using airSlate. This comprehensive solution allows you to negotiate contracts and request payments without leaving the service. As a result, you save time and costs that could be spent on redlining, manual calculations, and generating invitations, etc. Avoid the routine with airSlate – use payment automation.
Automate document workflows with airSlate products
Deploy any business process with an all-in-one no-code automation platform..
airSlate payment automation: the next generation in payment technology
Sooner or later every business faces the need to implement an automated payment system. In today's fast-growing e-commerce market the need for a payment workflow is high.
The e-commerce market is growing, leading to competition among various providers resulting in increased user experience and customer service. The main trend is to provide clients with the most convenient and modern level of service. One of the key links to making that happen is an automated monetary transaction system.
Why do I need an automated payment workflow?
Like we mentioned above, the competition is getting fierce. It's not just Amazon or Alibaba anymore. Having an automated workflow makes everything more comfortable for everyone. Your employees included. The buyer gets a comfortable environment to make a purchase in, while you get a brand new paying customer.
airSlate is one of those advanced systems making revolutionary changes to e-commerce business practices. It's a holistic automation platform that's compatible with any OS and even operates on mobile. Get a solution that's remote, multi-cloud, automated, and packed with integrations.
Experience automation in a new light:
Feel confident with industry-leading security and global compliance certificates.
Get unlimited card transactions.
Receive payments and money transfers from any device.
Deploy branded and customized payment request forms.
eSign and execute in real-time.
airSlate payment automation is built for taking your business to the next level with features for effective interaction between customers, partners, and teammates. Having professional payment forms that are embedded into your website is a sure way to stand out as a leader in online sales. Use a drag-and-drop wizard for creating powerful, interactive, native mobile web forms that capture and track data. In addition, you don't need to be or even have a developer to use airSlate. It's a no-code automation platform built for immediate deployment.
How does the payment automation system connect?
airSlate-workflow-automation products are natively integrated with airSlate payments. In fact, you get everything your business needs for automating your entire Template from start to finish.
Learn how to set up the payment workflow in a few simple clicks:
Create a web form.
Configure automation Bots to pre-fill documents.
Connect to a payment gateway.
Set conditions for when money should be sent.
Collect quick payments automatically.
The Payment Card Industry Security Standard (PCI DSS) compliance ensures the safety of every transaction. You can track all data collected through the advanced Analytics widgets and powerful Audit Trail.
How much does it cost to get started with payment automation?
Most payment automation providers out there charge an arm and a leg plus commission for simple features. However, with airSlate, it doesn't cost you a penny to get started because the features needed for the payment request workflow are included in your basic subscription. Quickly automate without code.
Bottom line
To sum up, deploying an automatic payment workflow with airSlate is a win. Avoid expensive software, long setup times, and prolonged maintenance. Try airSlate's payment solution in any industry!