PDF Editing
Work with PDFs as part of your document workflow automation
Author PDFs or edit original content in your contracts, agreements, and document templates. Annotate, blackout, highlight, and add images to PDF documents in the cloud. No need to integrate with third-party apps or install expensive software.
airSlate is a critical business component for our customers, small or large







Integrate a full-featured PDF editor with your workflows
Use the airSlate PDF editing functionality to create powerful and versatile document workflows.
Edit PDF content without leaving airSlate
Change text and graphics anywhere in PDF documents. Emphasize information with highlights, blackout confidential data, annotate, and comment on a PDF for improved collaboration.
Along with making us more efficient and saving us an incredible amount of time, airSlate was easy to set up, and its templates are already set in a way that is more simple to use.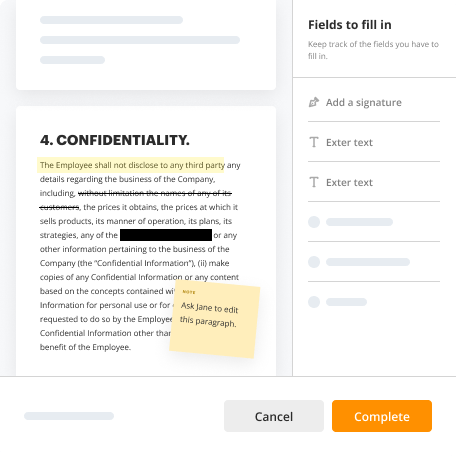 Create actionable PDF documents from scratch
Create a PDF as if you're writing in a text editor and turn it into a dynamic template. Add fillable fields for signatures, initials, date, checkbox, dropdown, numbers, and much more.
We were looking for a Edit pdf solution. We have found the right solution for PDF Editing with airSlate.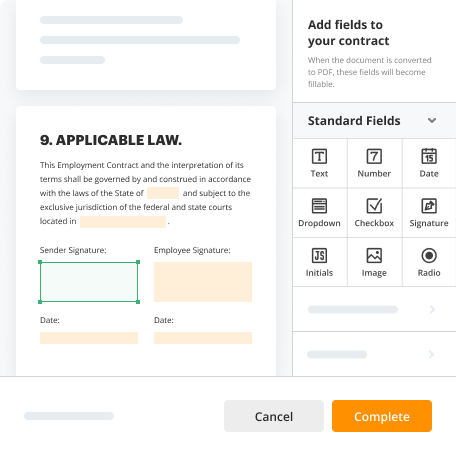 Transfer data between documents and cloud apps
Bring your documents to life with fillable fields and 100+ no-code airSlate Bots. Automate data transfers between fillable fields in your PDFs and multiple systems of record, such as CRMs or spreadsheets.
The flexibility of airSlate allowed us to design a workflow that works for us. The automation built into airSlate helped us remove many manual steps in our old process.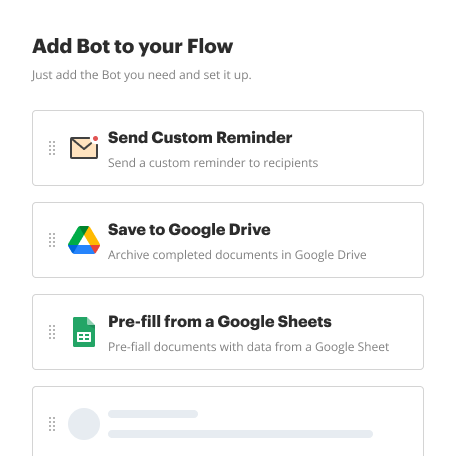 ALTERNATIVES
Powerful PDF editing
Learn why airSlate PDF editing beats the competition.
| This chart represents a partial list of features available in airSlate, Nintex, KissFlow, K2 and Spring CM. | | Adobe Document Cloud | Foxlt | pdfFiller |
| --- | --- | --- | --- | --- |
| PDF editing | | | | |
| PDF annotations | | | | |
| PDF сonverter | | | | |
| Redlining documents | | | | |
| Adding text and media | | | | |
| In Editor comments | | | | |
| Adding fillable fields to PDF files | | | | |
| Template fields | | | | |
| Conditional fields | | | | |
| Formula field | | | | |
| Actionable fields | | | | |
| Field validation | | | | |
| eSignature | | | | |
| Signing order | | | | |
| Certificate of completion | | | | |
| In person signing | | | | |
| Web form builder | | | | |
| Drag & drop interface | | | | |
| Workflow automation | | | | |
| Custom workflow routing | | | | |
| No-code conditional routing | | | | |
| Assign recipient roles to fields in web forms, PDFs and contracts | | | | |
| Assign recipient roles to forms, contracts and documents | | | | |
| Workflow library | | | | |
| Embedded workflows | | | | |
| No-code multi-cloud workflow automation | | | | |
| Robotic process automation | | | | |
| No-code automation bots | | | | |
| No-code integration bots | | | | |
| No-code archive bots | | | | |
| Task assignment | | | | |
| File sharing with teammates | | | | |
| No-code reminders and notifications | | | | |
| Expiration for process | | | | |
| Redirect to external link | | | | |
| Advanced recipient authentication | | | | |
| Recipient attachments | | | | |
| Accept payments | | | | |
| Custom applications in Salesforce, NetSuite, Dynamics, Office 365 | | | | |
| Document generation | | | | |
| Spreadsheet creation | | | | |
| Document storage | | | | |
| Reusable templates | | | | |
| Contract negotiation | | | | |
| Contract lifecycle management | | | | |
| Document authoring and collaboration | | | | |
| Custom branding | | | | |
| SSO | | | | |
| User management | | | | |
| Organization administration | | | | |
| Audit trail | | | | |
| Multiple workspaces | | | | |
| Security and compliance | | | | |
| HIPAA compliance | | | | |
| No-code analytics | | | | |
| Custom reports | | | | |
| Mobile application | | | | |
Choose a better solution
Try airSlate's all-in-one document workflow automation for free.
Contact Sales
Edit pdf online is not the solution you're looking for?
Searches related:
online pdf editor
pdf editor
edit pdf text online
airslate pdf
pdf editing
pdf online editor
edit pdf online free
change pdf to word document
Enterprise‑grade security and compliance
airSlate is committed to protecting your sensitive information by complying with global industry‑leading security standards.
Security overview
GDPR compliance
Regulates the use and storage of personal data belonging to EU residents.
SOC 2 Type II Certified
Identifies organizational controls that secure your data & the privacy of your clients.
PCI DSS certification
Safeguards credit/debit card data during the payment process.

FERPA readiness
Protects the privacy of student records maintained by an educational institution.
HIPAA readiness
Protects the processing of your patients' private health information.
CCPA compliant
Enhances the protection and privacy of personal data for California residents.
Automate in minutes with pre‑built templates
Forget about weeks spent on automation setup ‒ choose from thousands of ready‑to‑use forms and workflow templates handpicked for your industry and department.
Human resources
Legal
IT & Digital
Marketing
Healthcare
Education
Insurance
Questions & answers
Here is a list of the most common customer questions. If you can't find an answer to your question, please don't hesitate to reach out to us.
How do I edit a PDF?
Editing PDFs is possible only by using specialized tools. First of all, choose the appropriate service with all the required features. If you want to avoid installing additional software, consider finding a web solution and edit pdfs online. Try airSlate. Just upload a sample and change it the way you need: insert fillable fields, add texts, request signatures, payments, and attachments. After that, check out the capability to automate data routing between multiple databases and feel how your business becomes more efficient.
What is the best PDF editor?
It depends on the needs of each particular user. For some people, the cheaper PDF editor is the better. However, if you're looking for a professional service, pay attention to pdfFiller and airSlate. In pdfFiller, you have the ability to edit PDFs like a professional. In airSlate, you have the same functions but also the capability to automate processing data and documents in general.
How do I use a PDF editor?
If you've decided to utilize web services to edit PDFs, the first thing you need to do is to import a file to the system. You can upload it from your device or transfer it from the cloud if you use professional tools like airSlate. When a sample is imported, you can start modifying it. Most platforms offer you to add more texts or insert new objects. With airSlate, you'll be able to make your document interactive and valid by using fillable fields and electronic signatures. So if you want to make the most out of editing PDFs, choose our service.
What is a PDF editor?
A PDF editor is a specialized software or service used for altering files in Portable Document Format files. Unfortunately, regular text editors can't handle this task because of the greater complexity of this format, so you need to find a more advanced solution. If you need to edit PDF files for business, consider using airSlate. It's more than just an online PDF editor. Here you can take advantage of professional features and accelerate document management at the same time.
How do I edit a PDF file online?
It's much more convenient to edit PDF texts online and automate the filling process, isn't it? Take advantage of airSlate – a holistic business process automation solution. Upload a document or import it from the cloud. Then, click Add Fields and switch to the Edit tab in the top left screen corner. This way, you'll reach our professional PDF text editor and will be able to modify its content, include new shapes, images, and insert fillable fields with different validation types.
How do you edit a PDF in macOS?
Most websites will advise you to utilize Preview. It's a default feature for macOS devices. However, it can assist you only with minor changes: adding one more text line, highlighting a paragraph, or inserting a new shape. If you need actual editing of PDF documents, use airSlate. Editing a PDF text online is a simple task for our service. Just upload a file, select the orange Add Fields button, and access advanced editing capabilities.
How can I edit a PDF in Word?
Launch Microsoft Word. Click File > Open and select your file in Portable Document Format. Word will transfer the information from an original sample to your new file to avoid alterations in an original document. Wait for a couple of moments until the process is completed, and then edit PDFs as you want. Please note that the program has no Optical Character Recognition functionality. If your file contains only scanned images, Word will insert images on its pictures too.
How do you edit a PDF without Adobe?
There are many other PDF text editors except Adobe. If you don't want to install new software on your device, try using airSlate. With this powerful solution, you'll be able not only to edit PDF texts online but also to accelerate and streamline your entire document management. If you learn how to use airSlate, you can forget about manual data routing between clouds, CRM systems, or databases. The Bots will do the work for you.
How do I edit a secured PDF?
The only way to work with secured documents is to disable or delete a password. Before editing a PDF text online, find any document unlocker, upload a sample to the service, and remove protection. Then, import it to airSlate. This business automation service includes all the tools required for professional document management, including a PDF online editor, legally binding electronic signatures, web forms, and integration and automation Bots.
How can I unlock PDF for editing?
You can upload it to pdfFiller and delete the password or use any other available service like altopdf.com. When you save a file without protection, you can edit PDFs according to your needs. If you want to build efficient workflows and accelerate your business, consider editing a PDF text online in airSlate. Its robust tool will help you avoid repetitive tasks and free time for things that matter more than paperwork.
Why is it better to edit a PDF online?
Most programs for editing PDFs require a lot of space on your hard drive. When you edit PDF texts online, you don't have to install any additional software. Consequently, your device is cleaner and works faster. Of course, editing PDF files becomes impossible when you have no internet connection but, maybe, it's not a big issue after all?
Does airSlate include an online PDF text editor?
airSlate is a comprehensive document process automation solution. It allows you to generate documents, edit PDF files, build web forms, place electronic signatures and automate repetitive tasks.
Automate document workflows with airSlate products
Deploy any business process with an all-in-one no-code automation platform.
Why do I need to edit PDF files?
Portable Document Format was developed by Adobe Systems to save a file's appearance and layout independently from the hardware, software, or operating systems it originated on.
Portable Document Format and why it changed the world:
It combines different types of text into one fixed layout.
Many different formats can be added to it like texts, raster images, vector graphics, spreadsheets and more.
It easily converts to DOCX, XLSX, PPTX, Text, PNG, JPG and more.
Passwords can be applied to it for protecting sensitive information.
In 2008, this document type was standardized, and its popularity started to grow much faster. Now, it's one of the most commonly used formats for document management. There are lots of specialized services for creating, signing, filling and editing PDFs. With so many choices, the problematic question arises: what is the best service out there for working with PDFs? In this article, we're going to answer that question together.
How do I edit PDF?
Some years ago, the only program for viewing and editing Portable Document Format was Adobe Reader, but things have changed. Now there are hundreds, thousands of different software for working with PDF files. For example, Mac's Preview allows you to edit PDF; add text, draw on it and even create and apply an electronic signature. Windows has no default software for PDF editing, but you can view them using a web browser. Just about any of Adobe's programs work, but each one of them requires you to pay a subscription. And for many, that's not convenient.
The other powerful advantage of Portable Document Format over other file types is the opportunity to edit PDF online. There are a lot of programs out there (both paid and free) that let you edit right from your browser without the need to install software.
How to make PDF editing more beneficial
Using PDFs for document management allows you to eliminate the paper mess in your office and at home — no more need for printers, scanners, filers, wet stamps, pens or even paper.
Literally, hours of work turns into minutes with the help of PDF. What if you could do much more than just add text boxes and signatures? What if you could change and highlight texts, move and replace graphics, leave comments in documents, just like in Microsoft Word?
airSlate is more than the usual PDF editing software. Editing PDF is just the foundation. Automate all your document processes: from filling out tax forms, sending approval requests to full-on contract negotiation. airSlate supports multiple integrations, so using it with third-party services like CRM/ERP systems, cloud storages and email marketing isn't a problem.
airSlate is an all-in-one platform for business process automation. Edit PDF documents from the same platform you automate your workflow in.
How to edit PDF file in airSlate
When you create a Template (an automated process), you'll need to add documents. Easily edit a PDF file by uploading it or choose a template to customize from the Forms library.
Follow the instructions below to edit PDF files easier than ever:
Select

Import document

to add a file from pdfFiller, signNow, or cloud service.
Choose

Upload document

to add the file from your device.
Edit PDF online according to your needs.
Add dynamic content; fillable fields, checkboxes, dropdowns, etc.
Set up Bots. Get Bots to automatically send documents, update records, import or export data and even deploy more Templates.
Share the Template with others.
airSlate is the most straightforward platform available. Even if working with PDFs on a major scale intimidates you, don't worry because the airSlate Academy is actively working with new users. It teaches you everything you need to know, starting with the Fundamentals.
Get the tools you need with the right PDF editing software. Edit PDF online and take your workflows to the next level!