Robotic Process Automation
Automate document workflows with no-code robotic process automation
Use no-code airSlate Bots to automate routing, approvals, data analytics, and notifications. Set up Bots in minutes to trigger specific events or transfer information once data is received.
airSlate is a critical business component for our customers, small or large







Automate any part of your document workflow
Eliminate routine tasks, streamline processes, and connect to multiple cloud apps using airSlate's no-code Bots.
Intuitive interface and setup
airSlate Bots are easy to set up, no coding experience necessary. Follow simple 'if-this-then-that' logic to add conditions and tasks for Bot automation in minutes.
Along with making us more efficient and saving us an incredible amount of time, airSlate was easy to set up, and its templates are already set in a way that is more simple to use.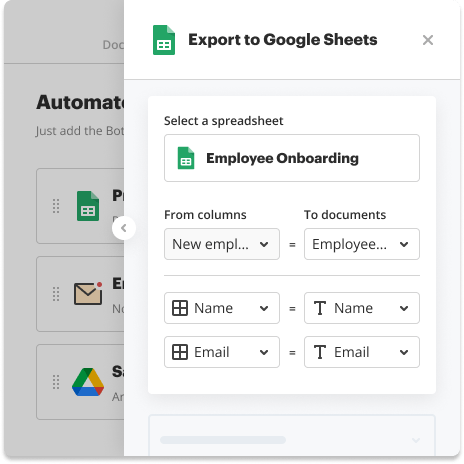 No-code Bots for any task
airSlate Bots send reminders, assign permissions, transfer data, and integrate with the services you already use. Choose from 100+ Bots working simultaneously to complete your routine tasks.
We were looking for a Robotic automation solution. We have found the right solution for Robotic Process Automation with airSlate.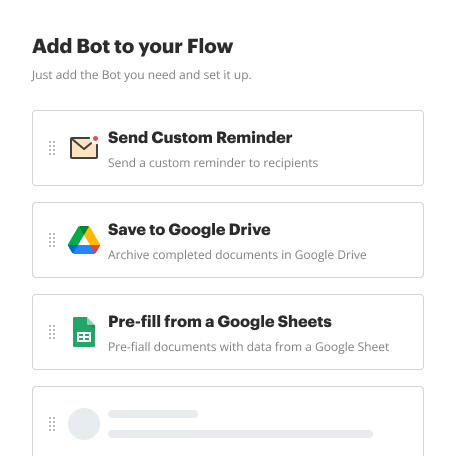 Get your custom Bot in a week
Can't find the Bot you need for a specific task? Feel free to request it from the airSlate team. If we don't have it in our library, we'll create a new Bot for you in a week.
The flexibility of airSlate allowed us to design a workflow that works for us. The automation built into airSlate helped us remove many manual steps in our old process.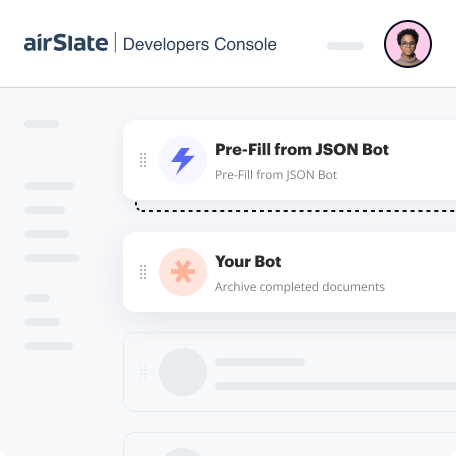 ALTERNATIVES
Powerful robotic process automation
Learn why airSlate's RPA beats the competition
| This chart represents a partial list of features available in airSlate, Nintex, KissFlow, K2 and Spring CM. | | Automation Anywhere | Blue Prism | Microsoft Power Automate |
| --- | --- | --- | --- | --- |
| Automate repetitive tasks | | | | |
| Scheduling tasks | | | | |
| No-code bot configuration | | | | |
| No-code bot orchestration | | | | |
| No-code multi-cloud workflow automation | | | | |
| Pre-fill workflows with data from Salesforce, GSuite, Office 365 via no-code integrations | | | | |
| Extract data from workflows to CRM, GSuite, Office365 via no-code integrations | | | | |
| No-code automation bots | | | | |
| No-code integration bots | | | | |
| No-code archive bots | | | | |
| Custom bots | | | | |
| Batch processing | | | | |
| Real-time data routing | | | | |
| No-code conditional routing | | | | |
| Custom applications in Salesforce, NetSuite, Dynamics, Office 365 | | | | |
| Natively multi-cloud | | | | |
| Onboarding | | | | |
| Workflow library | | | | |
| Embedded workflows | | | | |
| Task assignment | | | | |
| File sharing with teammates | | | | |
| Bulk send | | | | |
| No-code reminders and notifications | | | | |
| Expiration for process | | | | |
| Redirect to external link | | | | |
| Advanced recipient authentication | | | | |
| Recipient attachments | | | | |
| Accept payments | | | | |
| eSignature | | | | |
| Signing order | | | | |
| Certificate of completion | | | | |
| In person signing | | | | |
| Adding fillable fields to PDF files | | | | |
| Advanced fields in web form builder and PDF editor | | | | |
| Conditional fields in web form builder and PDF editor | | | | |
| Formula fields in web form builder and PDF editor | | | | |
| Actionable fields | | | | |
| Assign recipient roles to fields in web forms, PDFs and contracts | | | | |
| Assign recipient roles to forms, contracts and documents | | | | |
| In Editor comments | | | | |
| PDF editing | | | | |
| PDF annotations | | | | |
| Redlining documents | | | | |
| Web form builder | | | | |
| Drag & drop interface | | | | |
| Document generation | | | | |
| Spreadsheet creation | | | | |
| Document types | | | | |
| Document storage | | | | |
| Reusable templates | | | | |
| Contract negotiation | | | | |
| Contract lifecycle management | | | | |
| Document authoring and collaboration | | | | |
| Custom branding | | | | |
| SSO | | | | |
| User management | | | | |
| Organization administration | | | | |
| Audit trail | | | | |
| Multiple workspaces | | | | |
| Security and compliance | | | | |
| HIPAA compliance | | | | |
| No-code analytics | | | | |
| Custom reports | | | | |
| Mobile application | | | | |
Choose a better solution
Try airSlate's all-in-one document workflow automation for free.
Contact Sales
Automated process management is not the solution you're looking for?
Searches related:
robotic process automation
robotic accounting
rpa process automation
process automation market
robotic process automation tools
rpa software
rpa automation
process automation services
Enterprise‑grade security and compliance
airSlate is committed to protecting your sensitive information by complying with global industry‑leading security standards.
Security overview
GDPR compliance
Regulates the use and storage of personal data belonging to EU residents.
SOC 2 Type II Certified
Identifies organizational controls that secure your data & the privacy of your clients.
PCI DSS certification
Safeguards credit/debit card data during the payment process.

FERPA readiness
Protects the privacy of student records maintained by an educational institution.
HIPAA readiness
Protects the processing of your patients' private health information.
CCPA compliant
Enhances the protection and privacy of personal data for California residents.
Automate in minutes with pre‑built templates
Forget about weeks spent on automation setup ‒ choose from thousands of ready‑to‑use forms and workflow templates handpicked for your industry and department.
Human resources
Legal
IT & Digital
Marketing
Healthcare
Education
Insurance
Questions & answers
Here is a list of the most common customer questions. If you can't find an answer to your question, please don't hesitate to reach out to us.
What does RPA stand for?
RPA is an acronym that stands for robotic process automation. As the term implies, RPA encompasses a range of technologies built around automating routine processes. While there is a "robotic" component to this term, it has nothing to do with physical robots in the workplace. Robot is in reference to a digital software that uses bots to alleviate routine business operations.
What is robotic process automation?
RPA is the process by which routine tasks are streamlined and piped through the special business robotic process automation software. In simple terms, RPA lets you set up specific "bots" (often referred to as digital workers) to take over the tedious and monotonous tasks. As a result, you will minimize human interaction, reduce the possibility of errors, and build logically structured business workflows around automation.
What is RPA software?
RPA software is a particular category of software that puts intelligent technology in place to automate menial and repetitive tasks. These tasks might include but are not limited to routing and collecting data, triggering specific reactions, establishing communication between programs within a company's existing tech infrastructure, etc. RPA software operates based on preset conditional logic that allows users to take out the redundant steps from any digital business process. As a result, companies and organizations drive more efficiency in the workplace and let employees focus more on the tasks that require a human touch.
Why is robotic process automation so popular now?
Various factors have led to the upsurge in RPA's popularity. One of the most impactful ones is the increased number of data companies struggling to produce, manage, analyze, and store their data. In the race to not be left behind, they quickly adapted RPA to cope with data overload. However, the most immense impulse for embracing new technology was driven by pandemic-induced shifts that made companies move their processes from the physical world to the digital online.
How does robotic process automation work?
The answer to this question is manifold and can vary from one software to another. RPA technology uses specific tools, such as bots to automate routine activities across different functions within your company based on pre-set rules and conditions. Some solutions offer the needed tools to get started with robotic process automation and build bots yourself. It might include a certain level of coding skills. Others, like airSlate, provide pre-designed bots that can be geared for any business process in your company or organization.
Does RPA differ from AI technologies?
Yes, these terms are different and can't be used interchangeably. Whereas generally, RPA tools can be configured to execute specific tasks based on if-this-then-that logic, AI technologies go beyond predefined execution. They can make predictions and decisions about the data they interact with. Though they're using different approaches and goals to deal with data, they can work in sync to generate even more benefits.
How do I learn the ropes of RPA automation?
If you're new to RPA technology or want to get an in-depth understanding of it, we created the airSlate Academy that offers insightful courses on no-code business process automation. They will help you become an airSlate pro and expand your knowledge about business workflow automation, analytics, and no-code Bots. After completion, you'll get a certificate that you can use to advance your career and reach new heights in digital transformation.
What tasks can your RPA software help me with?
Amidst COVID-19, having a paperless and online solution for managing documents is imperative for businesses that want to keep pace with changes. airSlate lets companies configure and automate any business process. With our solution, you can generate documents from scratch or use a document-rich library of pre-designed templates, request electronic signatures and data from your customers, invoice and collect payments, route data within your company's tech ecosystem, etc. This list of capabilities isn't exhaustive and if you want to learn more about RPA opportunities with airSlate, try it out.
How can businesses benefit from using RPA products?
Generally speaking, using an RPA solution like airSlate helps create a more eco-friendly workspace, cut costs associated with paper-based document management, bring together the data scattered across various programs and systems, and manage from a single central place. Last but not least, it'll help you secure top talents for your company and turn their skills into something more impactful rather than routine tasks. This way, you'll gain more transparency over your day-to-day operations, give you an aerial view of the company's internal processes, and drive more efficiency to whatever mission your company is after.
What is RPA certification?
Robotic process automation certification is a set of courses created to expand and validate your knowledge in digital process automation. In the long run, being a certified RPA specialist will help you accelerate digital transformation within the company you work for and give you a boost in your professional career. You can gain valuable RPA-related skills by applying for airSlate's professional course. Feel free to take it on your terms and at your own speed.
What's the use case for tasks that are leveraged by RPA software?
Roughly speaking, almost any routine and the easily predictable task can be automated by RPA tools, like airSlate. For instance, when you onboard a person to your company, you need to send out multiple forms to a new hire and your colleagues. Behind this process, there should lie a specific logic and order of actions. You can establish it and make the process move forward by enabling Bots. This way, you premake an onboarding workflow once and for good and use it for every new employee without making any extra efforts.
Is it worth investing in RPA technology?
Yes, it definitely pays to embrace RPA and implement it in your business processes. According to Gartner's predictions, RPA is in its full swing and destined to be an up-and-coming trend in the future. As the world makes a decisive shift from paper toward digital-centric operations, there is a growing demand for tools that will help companies gather multiple data and data sources into a single online source and add an automated layer to workflow management. If you're still on the fence about using RPA, enroll in the airSlate academy course on RPA. Create an account with airSlate and put your knowledge into practice.
Automate document workflows with airSlate products
Deploy any business process with an all-in-one no-code automation platform.
How to Automate Workflows of Any Complexity From Top to Bottom With the Right RPA Software
The Robotic Process Automation revolution is taking the world by storm. Companies of all sizes are doing everything they can to get their hands on the best tools for achieving quality process enhancement. Though, to apply automation tools correctly, you need to identify the problems your business is facing and find the right solution. In this article, we're going to go over a couple of common use-cases to show how businesses have used airSlate to tackle workflow bottlenecks. But first, let's learn a little bit more about RPA automation in airSlate.
What is robotic process automation?
RPA technology is a new way of working using a digital workforce. airSlate provides a fully automated workflow run by Bots. A Bot is a software robot that completes an action or a set of actions without any assistance from a human. You can embed them in your workflow without code and tell them what to do with simple «if-this-then-that» logic. Bots are triggered after specific events in the document or in the Template. For example, the Export to Google Sheets Bot activates and exports data from a document to a Google Sheet after a specific action occurs.
What benefits does RPA offer?
RPA's primary goal is enhancing process management in a way that, as much as possible, removes the chances for human error. Aside from reducing costs and saving time, robotic process automation tools offer other powerful benefits. Use them to:
prevent mistakes by eliminating manual data entry;
process a large number of documents, contracts and applications;
analyze the effectiveness of each transaction using clear statistics;
store documents accurately and avoid losing them;
easily change the structure of the workflow according to new needs.
Where is robotic process automation most effective?
Of course, RPA tools cannot replace the need to build strong internal organizational structures. But it can significantly enhance existing processes and get rid of inefficient steps.
Implementing automation correctly drastically improves:
Onboarding 


Is a process that is more complicated than many realize. Any HR manager would be able to tell you that there is a lot going on behind the scenes, interlocking several departments including Legal, IT and Finance. Getting a new hire ready for work involves filling out documents, creating accounts, giving access and buying hardware/software. Managing information is tough and traditional processes are prone to errors because every step involves new paperwork and new paperwork means more manual writing and filling. An optimized onboarding workflow uses Bots that turn the complex into simple. A new employee only has to fill out one datasheet and with that datasheet Bots will automatically take the information, fill out the other needed forms and send those forms to the respective representative of each department.

Invoice processing 


Is very important and making one mistake on an invoice can be costly for your company. Normally, the finance department has to check and double-check each digit. It's hard to imagine a more meticulous process. Burnout is common, leading to less effective work and even more errors. RPA tools enable the process to run without human intervention and greatly reduces the risk of mistakes. For example, in airSlate, when you receive a request, the invoice is automatically generated with the necessary data from your CPM system. After that, all you have to do is eSign it.

Inventory management 


Is a lengthy and extremely tedious endeavor. In large companies, counting can take up to a week or more. The question is: why does so much time and money have to be wasted on something like counting? Isn't there a better way? The reason is it's important. However, RPA technology turns a pile of paperwork into a cost-efficient process. With the right tools, products are categorized and organized on sheets. Any time that a product is sold, the system updates itself with each new document and automatically calculates the goods in stock. airSlate is a powerful inventory management system that saves you money by keeping a constant count of all inventory.

Implement flexible no-code RPA software and manage resources on a single holistic platform avoiding all the typical pitfalls and bottlenecks. Join airSlate for free today!