Self-paced
Workflow Diagram: Simplifying Document Processes
Self-paced
Workflow Diagram: Simplifying Document Processes
Design and visualize document workflows using a single, all-in-one solution. Streamline mundane paperwork and simplify collaboration between colleagues, partners, and customers using the intuitive drag-and-drop diagram.
About this course:
The course teaches you how to streamline document workflows and ensure proper access permissions. You will also learn how to keep yourself in the loop on document routing and status updates within the workflow you created.
By the end of this course, you'll be able to build and set up a workflow diagram to visualize and simplify document processes of any complexity with any number of participants involved.
What does this course cover?
This course provides detailed information on how to design and create a visual representation of a document workflow from start to finish.
Why was this course made?
We created this course to help people streamline their daily paperwork by visualizing their document workflows and setting up automated conditional routing with minimal time and hassle.
Who can enroll?
Anyone who is looking for ways to simplify and automate document workflows of any scale can enroll in this course.
The materials for this course include:
learning resources to provide you with detailed guidelines on how to create and visualize a workflow diagram.
quiz to consolidate the knowledge received.
What you will learn
How to visualize and automate a workflow within minutes
How to ensure workflow participants have proper access permissions
How to set up conditional document routing without any special skills
| | |
| --- | --- |
| Duration | 1 hour |
| Certificate | A sharable achievement is included |
| Subject | Configuring workflow visualization |
| Level | Advanced |
| Language | English |
| Price | FREE |
| Rating | |
Earn a verified certificate to demonstrate the skills you gain
Verified by airSlate
Receive an airSlate-issued certificate with the airSlate logo to verify your achievement and expand your career prospects.
Shareable on social media
Post your certificate on LinkedIn or add it directly to your CV.
All you need to digitally transform your business
The airSlate Academy combines everything you need to digitally transform your business, including legally binding eSignatures, advanced PDF editing, and automated workflows.
eSignature workflows
Familiarize yourself with eSignatures, their implementation, business value, and learn how to create legally binding eSignature workflows for your business.
Paperless workflows
Change the way you work with documents into an interactive online experience and learn how to make your documents look professional.
Achieve your career goals with airSlate's advanced certification programs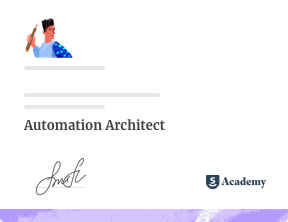 Automation Architect
Learn how to make any process in your workflow run like clockwork. Automate each step using Bots and triggers and perform integrations with popular CRMs like Salesforce or MS Dynamics 365.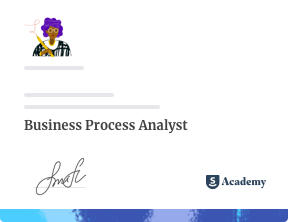 Business Process Analyst
Identify which processes in your workflow can be automated. Learn key metrics to propel your business forward and increase your return on investment (ROI).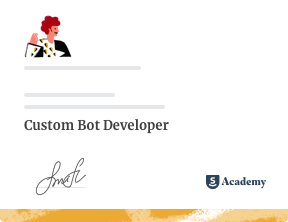 Custom Bot Developer
Learn how to design and develop airSlate Bots — a powerful robotic process automation tool that can be customized using airSlate.
View the certificate
Become an airSlate Partner
Students who complete the airSlate Academy courses are welcome to become partners. Get the necessary skills for building automated processes, helping airSlate newbies, and generating revenue.
How to bring a workflow diagram to life
Workflow diagrams are used in many industries, such as development, management, e-commerce, education, medicine, and much more. Let's look at what these diagrams are, their benefits, and what makes them multifunctional.
What is a workflow diagram?
A workflow diagram is the visual representation of a business-related process. It helps to visualize tasks and their flow between multiple people, teams, or software.
What does the workflow diagram look like?
Diagrams are often confused with flowcharts. While both lead the reader through distinct steps and are used to portray a process, they still have their differences. A flowchart visually breaks a problem or task into a sequential order or step-by-step approach to simplify decision-making. Workflow diagrams are a visual overview of business processes that show the movement of functions, activities, or resources between individuals or teams.
Diagrams often use flowchart symbols like ovals to represent start or end points, rectangles for single tasks or activities, parallelograms for inputs or outputs, diamonds for decisions, and lines illustrating relationships between shapes. Some businesses may use other figures or icons of objects or products. The one thing diagrams have in common is a linear structure. They must be sequential and ordered – each step must have a unique predecessor and successor. Any disconnected actions or tasks reveal you have problems to solve without any delays.
Reasons to create a workflow diagram
At a high level, diagrams lead to transparent and trackable work processes. Teams can streamline processes when they understand what, when, and by whom tasks must be done. As a result, organizations reduce errors and boost efficiency.
However, there are some other benefits of workflow diagrams that include:
Improved workflows. Creating charts provides insight into your processes. You can identify and eliminate bottlenecks in your everyday routines and strengthen your company's productivity.
Enhanced collaboration. When tasks and processes are transparent, team members know who is responsible for each task or role and can communicate and collaborate with greater clarity and ease.
Increased profits. Efficient workflows save time, money, and resources. And streamlined processes boost ROI for teams and companies.
Comprehensible codification. Codified processes help employees deliver sustainable work and results. For example, you can speed up onboarding for new employees and create scalable processes for growing teams.
Delight clients. Easily provide customers with features, services, or goods. When the sales process is smooth and streamlined, the higher their customer satisfaction level is.
How to create a workflow diagram
Follow the guidelines below to create a business process workflow diagram:
Analyze one of your workflows

. Take a look at how your employees complete tasks, which order they follow, and who is responsible for decision-making. Consider drawing your first scheme to visualize the current process. Mark all the steps that may be redundant, unnecessary, or overly complicated.

Indicate terminal points

. Be sure to understand and note where your process begins and ends.

Draw a new process

. Add tasks, steps, and simple activities to your chart. You'll find the right balance between too many small actions or details and critical tasks or big decisions to include in your diagram.

Identify inputs and outputs

. Every step requires resources for processing, from information to third-party services or materials. Make sure to represent key players and stakeholders for each stage.

Review for issues

. Try to anticipate possible mistakes or errors and what to do in those situations.

Test your draft

. Ask a skilled employee to check the diagram or have a small team test the workflow. Implement any feedback and work the new scheme into the business.
How to make a workflow chart work
Now that you've drawn a diagram, how do you use it to transform work processes? What if we told you there's a service that empowers you to quickly create a chart with any number of steps and leverage specialized robots to execute and bring it to life? With airSlate, you can easily automate and streamline business processes!
Enroll in the airSlate Academy courses and learn how to build automated business processes, discover efficient workflow diagram examples, generate interactive documents, and use software robots – all without writing a single line of code or hiring programmers. Start improving your business today with the airSlate Academy!
Questions & answers
Here is a list of the most common customer questions. If you can't find an answer to your question, please don't hesitate to reach out to us.
What is a workflow diagram?
A workflow diagram (also known as a chart) is a step-by-step visual representation of a business process. It is used to visualize the flow of different tasks, involved resources, and required actions within a particular procedure. Usually, it is created using images and symbols that make it universal and understandable for a broad audience.
Where can I create a workflow diagram?
You can find many services that enable you to combine various shapes into a diagram. You can try Lucidchart, Visio, Draw.io, Gliffy, which allow you to simply draw flowcharts. To implement these schemes into your work, however, you'll have to utilize other software. If you want to create a chart that will be ready to use, consider using airSlate and its professional Flow builder.
How do you diagram a workflow process?
The best way to diagram a workflow process is to draw it with all the required steps and variations on paper and then build a flowchart of the process in airSlate. This service enables you to upload or create documents and forms needed for data collection and add steps and branches to your process that will be automated. To learn more about building automated workflows using diagrams, check out the related course the airSlate Academy. Click Enroll at the top of the page and discover the most efficient way to deal with document-related tasks.
What are the 3 types of process flow diagrams?
Actually, there are many types of process flow diagrams. Take a look at four of the most commonly used ones below: 1. Process charts – flow of a particular procedure; 2. Workflow diagrams – flow of documents and data; 3. Swimlane flowcharts – interactions of separate departments, employees, or processes; 4. Data flowcharts – processing of data. If you dive deeper, you'll discover additional types like geographic, business processes modeling notation, SIPOC (supplier-input-process-output-customer), and many others.
What is the best workflow diagram software?
There is a number of software that are worth your attention. One notable example is airSlate. It enables you to build a chart with steps and brackets, add software robots that will route documents, remind employees to complete tasks, or manipulate data on its own without any inference from a human. Learn more about airSlate capabilities with the specialized course by the airSlate Academy. Click Enroll and discover the world of business process automation now!
What does a workflow diagram look like?
It's a composition of symbols that represent the flow of data, tasks, and resources between multiple employees or departments. Usually, they include ovals to define the start and the end of a procedure, rectangles to show steps, diamonds to demonstrate decisions, and arrows to indicate direction. In advanced workflows, you can also find specialized symbols describing documents, data, merging, inputs, outputs, etc.
How do you make a workflow diagram work in airSlate?
In airSlate, you have the ability to guide recipients through filling out multiple documents based on the actions they take and data they submit in each document. You begin by uploading or creating all the forms that need to be completed within a workflow. Then, you build a diagram to indicate general steps and how they and each document are connected to one another. However, that's not all you can do the with the robust solution. It is a business process automation solution, so you can add Bots that will route documents, analyze information, and complete many other actions for you.
Why are workflow diagrams beneficial?
Using workflow diagrams is beneficial for many reasons, but primarily for the ability they give you to streamline business operations. They accelerates the entire process, eliminates redundant activities, and optimizes the number of resources required to complete tasks. Additionally, correctly built workflow diagrams improve communication between different employees or teams and help you avoid bottlenecks or delays.
What is the difference between a workflow diagram and a flowchart?
A workflow diagram is broader than a flowchart. A flowchart is a sequence of steps that serve as a visual representation of one particular process. A workflow diagram, on the other hand, can include entire groups of processes handled by different individuals and teams and visually represents the flow of information, tasks, and resources in complex workflows.
What are the basic components of any workflow diagram?
Any diagram must include actions and resources. Additionally, you can indicate decisions that must be made (answerable with a simple "yes" or "no"), persons responsible for each particular action, and the time required for completing a task.