Web Forms
Create, set up, and automate dynamic no-code web forms
Integrate powerful, mobile-ready web forms into your document templates. Use the drag-and-drop form designer to add fillable fields, eSignatures, and conditional logic. Connect to multiple systems of record to transfer data in seconds.
airSlate is a critical business component for our customers, small or large






Create fully automated web form workflows on one platform
Streamline the process of collecting client information and processing data using customizable no-code web forms.
Mobile-friendly no-code web forms
Build dynamic web forms using the drag-and-drop editor. Add signature and text fields, dropdowns, formula fields, tables, radio buttons, and widgets. Customize your form's style by adding your logo, changing colors, and more.
airSlate has been essential in increasing our efficiency at Rock The Street, Wall Street. airSlate allows us to send batch emails instead of having to send each form out individually. Because of airSlate, our forms can now be easily filled out from a mobile device, which has made a huge difference for us and our recipients. The customer service has also been excellent!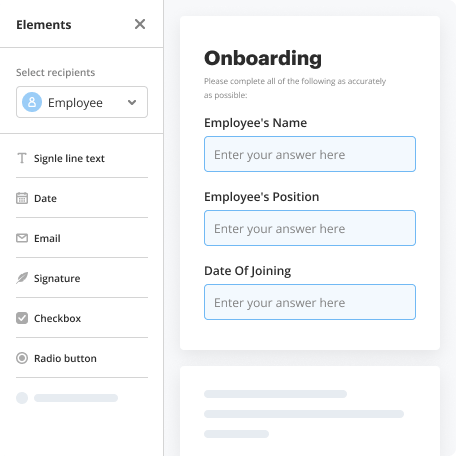 Conditional and assignable fields
Make fields conditional and required, if necessary. Set up multi-signature workflows for your web forms by assigning fields to specific recipients and establishing a signing order.
We were looking for a Build online forms solution. We have found the right solution for Web Forms with airSlate.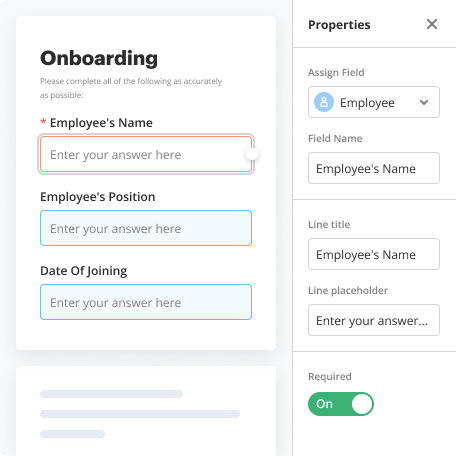 Automation through no-code Bots
Use 100+ Bots to automate and integrate your web form workflows. Send notifications, route documents, and connect to your cloud apps to transfer data between them and your web forms.
The flexibility of airSlate allowed us to design a workflow that works for us. The automation built into airSlate helped us remove many manual steps in our old process.
Alternatives
Powerful web form solution
Learn why the airSlate web forms solution beats the competition
| This chart represents a partial list of features available in airSlate, Nintex, KissFlow, K2 and Spring CM. | | JotForm | Wufoo | Formstack |
| --- | --- | --- | --- | --- |
| No-code Web form creation | | | | |
| Mobile responsive forms | | | | |
| In-person fillable forms | | | | |
| Form preview | | | | |
| Form archiving | | | | |
| Embedded forms | | | | |
| Drag & drop interface | | | | |
| Undo / Redo | | | | |
| Custom themes and design | | | | |
| Adding fillable fields to PDF files | | | | |
| Field validation | | | | |
| Field size | | | | |
| Standard fields | | | | |
| Template fields | | | | |
| Formula field | | | | |
| Multifunctional table field | | | | |
| HTML code field | | | | |
| Required fields | | | | |
| Conditional fields | | | | |
| Actionable fields | | | | |
| Branching | | | | |
| Recipient attachments | | | | |
| Accept payments | | | | |
| Custom welcome form | | | | |
| In Editor comments | | | | |
| PDF editing | | | | |
| PDF annotations | | | | |
| Redlining documents | | | | |
| eSignature | | | | |
| Certificate of completion | | | | |
| Signing order | | | | |
| Role based document access | | | | |
| Role based field access | | | | |
| Bulk send | | | | |
| Redirect to external link | | | | |
| No-code reminders and notifications | | | | |
| Custom email notifications | | | | |
| Expiration for process | | | | |
| Advanced recipient authentication | | | | |
| File sharing with teammates | | | | |
| Distribute via QR code | | | | |
| Print to PDF | | | | |
| Workflow library | | | | |
| Advanced multi-cloud document generation | | | | |
| Document import | | | | |
| Document storage | | | | |
| Address book | | | | |
| Contract negotiation | | | | |
| Contract lifecycle management | | | | |
| Document authoring and collaboration | | | | |
| No-code conditional routing | | | | |
| Multi-cloud workflow automation | | | | |
| Robotic process automation | | | | |
| No-code automation bots | | | | |
| No-code integration bots | | | | |
| No-code archive bots | | | | |
| Pre-fill forms with data from Salesforce, GSuite, Office 365 via no-code integrations | | | | |
| Extract data from forms to CRM, GSuite, Office 365 via no-code integrations | | | | |
| Custom branding | | | | |
| SSO | | | | |
| Teams | | | | |
| User management | | | | |
| User permissions | | | | |
| Organization administration | | | | |
| Audit trail | | | | |
| Multiple workspaces | | | | |
| Security and compliance | | | | |
| HIPAA compliance | | | | |
| No-code analytics | | | | |
| Custom charts and reporting | | | | |
| Mobile application | | | | |
Choose a better solution
Try airSlate's all-in-one document workflow automation for free
Contact Sales
Web forms is not the solution you're looking for?
Searches related:
form creator
online form builder
create web form
create online form
create online forms
how to create an online form
web form builder
create an online form
Enterprise‑grade security and compliance
airSlate is committed to protecting your sensitive information by complying with global industry‑leading security standards.
Security overview
GDPR compliance
Regulates the use and storage of personal data belonging to EU residents.
SOC 2 Type II Certified
Identifies organizational controls that secure your data & the privacy of your clients.
PCI DSS certification
Safeguards credit/debit card data during the payment process.

FERPA readiness
Protects the privacy of student records maintained by an educational institution.
HIPAA readiness
Protects the processing of your patients' private health information.
CCPA compliant
Enhances the protection and privacy of personal data for California residents.
Automate in minutes with pre‑built templates
Forget about weeks spent on automation setup ‒ choose from thousands of ready‑to‑use forms and workflow templates handpicked for your industry and department.
Human resources
Education
Finance
Healthcare
Insurance
Legal
Market Research
IT & Digital
Questions & answers
Here is a list of the most common customer questions. If you can t find an answer to your question, please don't hesitate to each out to us.
How do I create a web form?
You can create interactive web forms by coding or using specialized services. While most of the vendors provide basic functionality that is limited to exporting data to tables, airSlate has much more to offer. By using this platform, you can not only create a website form but also set up an automation process that will export and update information in databases or CRM systems. To do so, you need to register an account, create a Template, and select Form or Survey. Then you will be able to add any number of fields with different validation types and share it on the internet.
What is a web form?
A web form is an element on a web page that allows a user to enter specific data that is sent to a server for processing. Website owners create web forms to simplify the process of collecting and processing data. Forms don't require immediate two-way communication enabling users and website owners to process information conveniently for both parties. Additionally, fillable fields can have different validations to allow users to provide only certain data types like texts, numbers, email, phone numbers, etc.
How do you create a form for a website?
There are three ways to build online forms: write them in HTML (if you have coding skills), use specialized services, or utilize a powerful multifunctional tool – airSlate. This solution has a built-in website forms builder that enables you to create, configure, and automate dynamic forms without writing a single line of code. All you need to do is to create a web form in airSlate, get a link to it, and embed it on your website. Furthermore, you also can simplify the processing of information by setting up automatic categorizing, pre-filling, and exporting options.
What are the advantages of website forms?
Not so long ago, interactive web forms were considered as the best option to ensure accessibility for all kinds of customers. Now the time has come for powerful automation tools to enter the scene. Of course, you can still simply collect information in spreadsheets and process it manually, but with tools like airSlate and its website forms builder, you're able to collect data, transfer it to and from databases or CRM systems, and use it for further document generation. airSlate web forms enable you to prepare contracts and agreements in a matter of minutes.
Are web forms still used?
Of course. Web forms still remain an important tool for collecting data. Millions of people create forms online for a wide variety of purposes, starting from questionnaires of preferred drinks for a corporate party in Google Forms and ending with requesting details for automated contract generation in airSlate. Don't hesitate to create a web form and collect information for processing. With the development of such powerful tools like airSlate and its web form builder, the gathering of useful information has become easier, faster, and much more efficient.
What is the best web form builder?
Based on the price to value ratio, airSlate deserves to be among the top three web form builders list. It's not only about drag-and-drop options or specific validations that it has to offer but also about its wide capabilities for creating a web form and its further processing. The solution enables you to set up as many exporting options as you need, track workflow analytics, and learn more about your users than almost any other website form builder.
Can I integrate web forms into external services?
Yes, if you utilize the right website forms builders like airSlate. If you're a skilled IT specialist, you're most likely able to connect a multitude of services manually, and won't need a comprehensive solution in order to save time. However, at airSlate, we want automation to be accessible for anyone, including people that do not have coding skills. That's why we developed our no-code platform that includes a built-in web form builder and many valuable integrations with the most popular cloud storage services, databases, CRM systems, etc. We've made it possible to transform interactive web forms into a powerful automation tool with a wide range of capabilities for non tech-savvy people.
Where do I find web forms with signatures?
If you need to create an online form with a signature, airSlate has you covered. By using our solution, you'll get access to legally binding electronic signatures. Additionally, you can use our web form builder to link forms with other documents and fill them out automatically.
How do web forms work?
When users open a webpage with web forms, they get the ability to fill it out with their own data. At the same time, the code checks the information to make sure they enter valid details into these interactive web forms. Then, users are able to submit it. It means that data is transferred to the server and is being checked. If everything is OK, the server sends a response about the successful completion of a form back to the browser.
What is the role of interactive web forms for different industries?
When you create an online form, you also create a mediator between you and a visitor. This is a convenient way to get more details about your customer or collect feedback. Some web forms send information to your email, and others transfer data right to servers – most likely, you can configure it in your web form builder. Services like airSlate have much more to offer and enable you to automate all your document processes, even if you work in marketing, legal, construction, IT, or any other industry. Any sphere has its bottlenecks or drawbacks, and airSlate enables you to eliminate them.
How do you create a web form in airSlate?
Creating web forms in airSlate is possible within the stage of uploading documents that will be used in a Template. Simply click the Create New Template button at the top left corner and choose Form or Survey. This choice launches the web form builder where you can add fillable fields, indicate their names, define validation types, or insert a custom HTML code.
What is the fastest way to create a fillable form online?
It's hard to find a better solution that allows you to build online forms and embed them into websites than airSlate. Simply click on needed field types or use the drag-and-drop option to insert them into your doc. When everything is completed, you'll have an option to configure the export. You are able to connect it to documents stored in the cloud or databases and set up conditions when this export must be completed. airSlate's web form builder feature set helps you filter requests, get relevant information, and always have the most up-to-date data. Furthermore, you don't need to transfer data manually – the system does it for you!
Automate document workflows with airSlate products
Deploy any business process with an all-in-one no-code automation platform..
What is a web form and how to use it?
Modern technology allows us to use a large variety of tools in more ways than previously possible. Earlier, websites were informational portals for businesses. But now they're independent channels for communication. This communication can be organized via online chats, webpages and web forms where people create requests, provide feedback and much more. Each web form is an item on the webpage that represents a collection of form-associated elements and allows a user to enter data that is sent to a server for processing. They can have different questions, fields and options to get information from your website's visitors.
What benefits do you get when you create forms online?
Create web forms to give your customers the freedom of choice.


There are a lot of different methods for initiating contact with website visitors, and the reality is everyone has their own strategy. Some force customers to call on the phone, while others find calls time-consuming. When you offer your customer multiple ways to contact you; phone number, email, online chat, web form, etc., it gives them the freedom of choice. Giving visitors a choice keeps them comfortable and more likely to reach out to you.

You get the information that you need.


Forms allow you to control the type of data you collect. They also give you the ability to designate fields as required to make sure that the customers give you the information you need for evaluating their needs. In addition, you can define the type of data for particular fields. Then, the system automatically validates inserted data before submitting it.

Web forms are easy to track and organize.


Receiving up-to-date and user-friendly metrics that show you your team's effectiveness is priceless. Having accurate information that updates in real time is a massive advantage you and your team can execute on. Automatic email notifications are also a huge plus to have. That way you never miss or forget when a customer completes an online form.
How to create a web form
People use to think (and in many cases, they were right) that building forms was a complicated process that required a lot of time and effort. However, in the no-code wave of digital evolution, you don't have to be a developer to create dynamic web forms. Now, build online forms with the help of a lot of great solutions like Google Forms or other CRM software. They simplify the process but act as separate tools, which limits automation. For the highest levels of efficiency, find a service that is easily embedded into your workflows.
Once you find the most convenient platform for you, follow the tips below to make your web forms as useful as possible:
Decide what to ask for

. Create a web form that is short and clear. Potential customers won't fill out a web form that looks intimidating.

Define the main purpose in the heading

. Before filling out anything, each visitor will read the title/heading. If it doesn't clearly tell them the purpose of the web form they won't complete it.

Make sure to ask for a name and an email

. A web form that doesn't have the contact info of the prospective customer is useless.

Evaluate the size of the answer and create fields to support it

. Don't make the mistake of creating a question that requires a large answer and only give the prospect a small field for writing it in.

Help customers fill in the web form

. Use checkboxes, dropdowns, radio button groups and other useful tools. Using tools that have pre-fill capabilities is a powerful advantage.

Set up notifications

. Everyone loves it when companies respond to them quickly.
Where am I able to create forms online?
As we mentioned earlier, you can find many services that offer tools for creating web forms. The issue is almost all of them have poor integration. Usually, they're complicated and expensive. We recommend airSlate, its an all-in-one business automation platform that allows you to automate document workflows of any complexity. Using airSlate eliminates the need to combine multiple services for achieving one goal because everything you need for business process automation is already included and built in.
If you choose to use airSlate's web form builder, you'll get access to all their best features for custom form add-ons and functions (numbers, emails, checkboxes, dropdowns), setting options for pre-filling, changing field sizes and much more. In addition, airSlate offers powerful Bots for collecting data, transferring data and even storing it. For example, new prospects can be added to your database without any manual effort on your part, or even have notifications sent to the sales or support department warning them that a new potential customer is interested in more information.
airSlate gives you the opportunity to save time, effort and costs with higher accuracy and less time spent on routine manual processes.