Construction
Overcome process challenges while managing your team and contractors
Digitize your business processes to support workers, complete paperwork faster, and drive project efficiency. Follow industry regulations and enhance the safety and compliance of your site by keeping information and documents up-to-date at all times.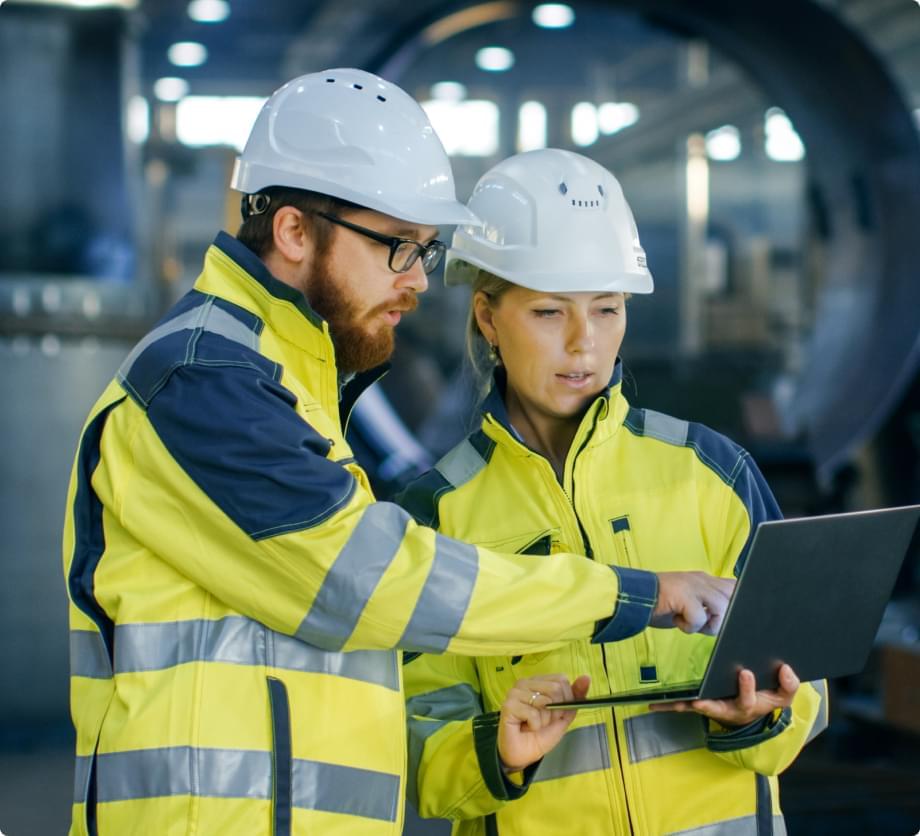 airSlate for the construction sector
Construction companies and suppliers use airSlate to digitize processes and solve critical compliance issues. No-code business automation provides visibility over project documents and forms, helps effectively manage time with accessible data, and reduces the costs and errors associated with manual processing.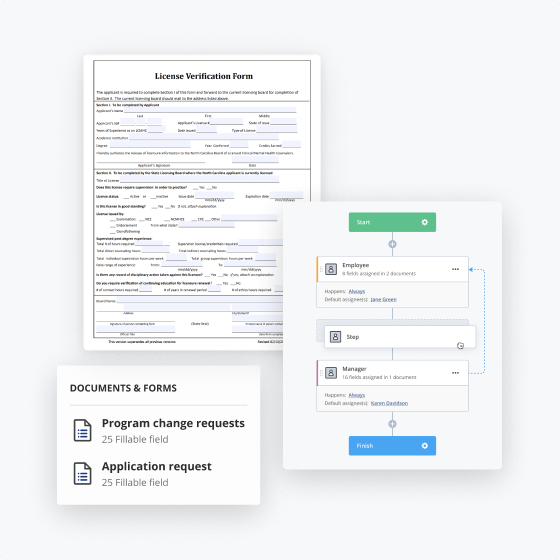 airSlate for the construction sector
Construction companies and suppliers use airSlate to digitize processes and solve critical compliance issues. No-code business automation provides visibility over project documents and forms, helps effectively manage time with accessible data, and reduces the costs and errors associated with manual processing.
Warranty repair requests

Equipment safety checklists

License verification forms

Fieldwork reports

Quality inspection requests
Start with a pre-built Template and customize it to fit your unique process
Select from pre-built document workflow Templates used by airSlate customers from the Construction industry.
Everything you need in an all-in-one platform
From eSigning to drag-and-drop process automation and hundreds of no-code Integration and Automation Bots ‒ get everything you need to build document workflows in one platform.
Streamline document generation
Use the data you receive from suppliers and contractors to automatically generate contracts, purchase orders, timesheets, permits, and more. Connect them to any system of record or database to automatically input data and create or update records.
Digitize safety management
Ensure that you are following the necessary compliance and audit protocols to satisfy industry regulations. Automate license, credential, and certification management to minimize the risk of breaching safety regulations.
Facilitate procurement processes
From purchase orders to invoicing, execute procurement tasks with optimal efficiency and reduced costs. Create dynamic workflows that remove the need for manual budget approvals, contract negotiation, and email notifications.
Simplify approvals
Move from one construction stage to another faster. Set up an automated workflow that generates requests and checklists, and routes documents across your subcontractors with complete control and visibility into the process.
Automate HR and payroll management
Create end-to-end onboarding, training, and payroll workflows. Set up automated training or skill assessments as well as role-based document routing, e-signature collection, and online verification.
Leverage analytics to enhance on-site workflows
Streamline construction management with customizable analytics and reporting to build projects smarter and faster. Track all changes in your processes including requests approved and payments made.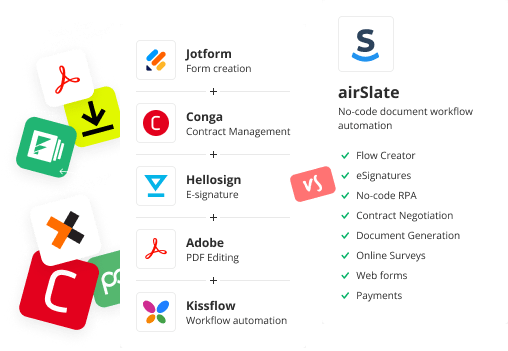 See why airSlate beats any alternative on the market
Integrate with any cloud service via no-code Bots to streamline your document workflows
Trusted by forward-thinking companies around the world


"Powerful tool, easy to use, and excellent online support"
"The customer support is beyond words. So incredibly helpful"
"Fast-tracked in 1 day for a complicated process"
Enterprise-grade security and compliance
airSlate is committed to protecting your sensitive information by complying with global industry-leading security standards.
Get the most out of airSlate

The airSlate Academy
Learn how to put workflow automation into action using market-leading solutions.

Partner Program
Collaborate with the most powerful no-code document workflow automation platform.
Automation in the construction industry
There's no point in explaining that the construction business takes a lot of effort and has a lot of lengthy processes. The introduction of robots, drones, and other automatic equipment is a modern trend in the industry. However, it applies directly to building processes, while dozens and hundreds of other processes remain document based. Really, nobody talks about business automation in construction or workflow automation for that matter.
What a lot of people don't know about the construction business is that it has tons of paperwork and before any project starts there's a lot of planning, organizing, and getting approvals. It all starts with an arrangement with the client. Then it continues on to the approving of and ordering materials stage and really never ends, sometimes continuing on after the project is built.
Why is it necessary to implement construction automation?
Let's take a brief look at a list of some of the documents you need to give to a client before a project even starts:
Contract/agreement
Scope of Work (a list of all activities that will be performed under the contract, including all responsible persons)
Schedule (when you'll complete each stage of building)
General conditions (rights and responsibilities of the parties)
Special conditions
Specifications and Cost Estimate (all technical information and requirements, including prices)
Bill of Quantities (list of diverse trades and materials)
Drawings
List of insurance coverages (guarantees concerning completion)
Anyone who's completed one project from start to finish without construction automation understands how problematic the process can be. Think about how much effort and time goes into preparing documents like contracts, approvals, and invoices.
After all, choosing the right materials, approving layouts, purchasing, designing applications, and verifying data and completeness have to be available to a long list of people: from architects, designers, superintendents, and managers to clients.
Logically, you should try to simplify this procedure and minimize the number of people who work on these processes.
Creating all these documents is much more complicated than copying and pasting data in the right places. It needs approval, correction, and attention. Employees that are forced to enter repetitive but valuable data over and over again are at high risk of making errors. When you enter a contract for hundreds of thousands of dollars, you should also understand the price of possible mistakes. If there's a risk, avoid it. People in construction know this.
How to implement automation into construction
Construction is a very hectic and busy industry to be in. Day in and day out men and women are working on getting the project done. People from every department and several companies are often working together to make sure that contracts, invoices, and approval forms get signed and in the hands of the right people.
The process can be simplified by using robotic process automation (RPA). How can RPA in construction be implemented without millions of dollars spent on software development since these high costs would be better spent on the building itself?
Utilize airSlate. This workflow automation solution helps development businesses streamline document-related workflows automatically at a more affordable cost than traditional methods. Unlike most other services, it doesn't require hiring a whole staff of IT specialists and developers. All you need is to have or prepare a capable manager who'll be able to analyze and understand all the processes — after that, configuring a construction automation workflow is as simple as 1-2-3.
How airSlate makes construction automation accessible to anyone
In a nutshell, the algorithm of airSlate's work is pretty straightforward and can be divided into three simple steps:
document generation. Upload or create professional documents used for each specific workflow. You're free to create web forms, make fillable PDFs, and request payments or attachments.

Roles assignment. 

Define a Role for each responsible Template participant and indicate what they need to do.

Bots selection. 

Select Bots that'll activate (trigger) when certain conditions are met and do the work for you.
It's simple, and this simplicity is the first advantage of our service that makes automation of construction processes possible.
Another airSlate advantage is the ability to work without a single line of code. In this solution, you'll find specialized software robots called Bots used to automate your tasks or integrate with third-party services. They can send reminders and notifications, update statuses, pre-fill documents, and archive records when you're busy with design creation, negotiation with a client, or even chilling to catch your breath before an important meeting.
Bots aren't similar to additional employees. People can make mistakes because of getting tired, ill, or running into everyday problems, but systems for RPA in construction can't. Additionally, they work better with vast amounts of data so that you can keep calm about the validity of calculations.
Another significant advantage of airSlate is the ability to customize your construction automation from anywhere. So forget about installing multiple specialized tools that waste space on your hard drive. Instead, open airslate.com in a browser, log in to your account, and access all needed tools for professional document management.
With advanced analytics widgets, you'll always be in the know about what stage a document is at and who's already seen/signed it. You'll be able to have quick access to all costs and profits, critical needs, significant events, and much more.
Furthermore, our solution has a robust base for learning. If you want to build complicated workflows with lots of steps for unique circumstances, consider completing the airSlate Academy courses or sending savvy managers on these courses. You'll get valuable knowledge about implementing automation in the construction industry, explore existing use cases, and consolidate learning through practical application. All the courses are free and accessible to anyone.
With airSlate, you'll be able to switch to automation in construction as painlessly as possible. You'll also see the results fast! Get started with a free trial today.