Self-paced
airSlate Fundamentals Certification Program
Self-paced
airSlate Fundamentals Certification Program
Get a deep-dive into the basics of airSlate. Learn how to create automated workflows from scratch to save time and reduce expenses. Discover how to automate routine tasks without writing a single line of code.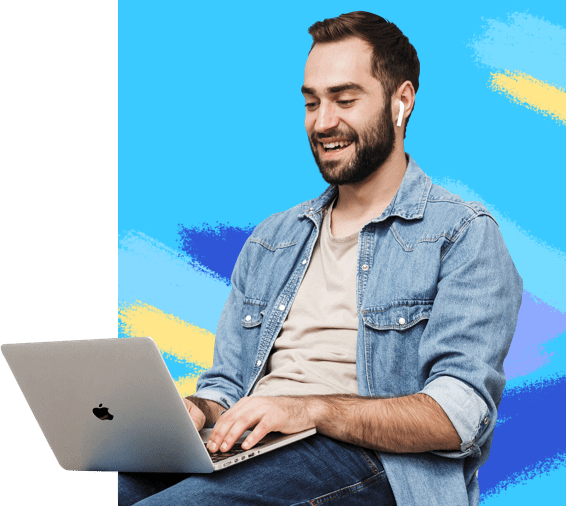 About this program:
This program is aimed at those eager to commence their no-code automation journey and start increasing productivity and saving money. The program guides you through the entire process of learning airSlate basics to putting airSlate into action.
airSlate in a nutshell represents a brief overview of the airSlate key components and benefits. After this course, students will be able to recognize the airSlate user interface, which elements it includes, and describe why business process automation with airSlate is so time and cost-efficient. Students will also become familiar with a simple use case for observing airSlate in action.
Configuring the Workspace shows students how to start working with airSlate. They will take a deep-dive into the Dashboard elements and learn which roles exist depending on the access permissions granted. Students will learn to add teammates to their Workspace and manage their own accounts by adding personal and corporate information, a profile image, and so on.
Designing the Flow reveals how to create a workflow in different ways. By the end of this course, students will be familiar with every type of document that can be used in a Flow and how to add and edit them. Additionally, students will memorize basic info about setting up automation and how to share a Flow.
Building Automation with airSlate guides students through the process of automating their workflow with airSlate no-code Bots. Students will learn how to set up Bots for sending notifications, document routing, pre-filling and exporting data, etc. The course also demonstrates how to track Bot activity and what actions to take in case a Bot fails.
Slate: the ins and outs covers the final step of workflow automation. This part of the program teaches students how to transform the Flow they've created into a Slate that can be sent to a single or multiple recipients for viewing, filling out, and signing. Besides, students will learn how to manage their Slate as well as how to track any changes made to their Slate.
What you will learn
The main components and key benefits of airSlate
How to navigate through the airSlate interface
How to onboard teammates
How to create a Flow and add documents to it
What no-code airSlate Bots are and how to use them
How to activate and track your automated workflow
| | |
| --- | --- |
| Duration | 2 hours 20 minutes |
| Certificate | A verified certificate is included |
| Subject | airSlate Fundamentals |
| Level | Intermediate |
| Language | English |
| Price | Free |
Earn a verified certificate to demonstrate the skills you gain
Verified by airSlate
Receive an airSlate-issued certificate with the airSlate logo to verify your achievement and expand your career prospects.
Shareable on social media
Post your certificate on LinkedIn or add it directly to your CV.
Achieve your career goals with airSlate's advanced certification programs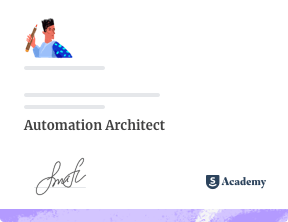 Automation Architect
Learn how to make any process in your workflow run like clockwork. Automate each step using Bots and triggers and perform integrations with popular CRMs like Salesforce or MS Dynamics 365.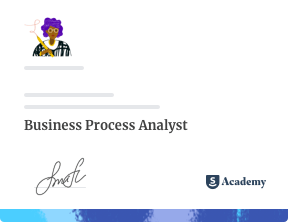 Business Process Analyst
Identify which processes in your workflow can be automated. Learn key metrics to propel your business forward and increase your return on investment (ROI).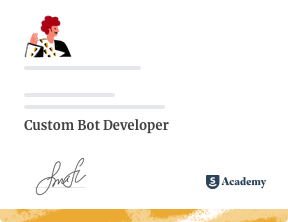 Custom Bot Developer
Learn how to design and develop airSlate Bots — a powerful robotic process automation tool that can be customized using airSlate.
See the certificate sample
Become an airSlate Partner
Students who complete the airSlate Academy's courses are welcome to become partners. Get the necessary skills for building automated processes, helping airSlate newbies, and generating revenue.
A well-oiled document management workflow is the key to your business success
Document management software lets you forget about routine monotonous processes by providing you with automation. As a result, saving you effort, time and money. Stop using tons of paper and running between offices to collect signatures from managers or executives in order to get the resources, approvals or  contracts you need.
What is a document management workflow?
A document management workflow is a system for creating, tracking and storing records. When your company sets it up correctly, your flows run much more efficiently. A key factor in business success in 2020 and beyond.
Think about your internal workflow. How is it set up and how does it compare to workflows at other companies? Typically an employee requests specific actions or objects, then sends them to a manager for approval. Then the manager either approves or disapproves and sends the data to other departments. If a mistake is made during this process in a paper-based workflow, the whole process needs to restart from the beginning. When a document management workflow is set up incorrectly, documents go in circles. Solving basic things becomes a complicated task because of hierarchy and complex approval processes. With document management software, everything is different. Everything is automatic.
Integrating powerful software for managing flows saves a lot of time and headache. After integrating document management software, life gets easier. You and your team will notice the palpable difference it makes.
What are the benefits of a document management workflow and what problems does it solve?
When it comes to the benefits of document management workflow, the list of benefits could go on and on. So let's take a look at the most significant ones, then look at each one in more detail:
Freedom to adjust flows at any time.
Process and improve flows regularly.
Accelerate the entire working process.
What do these mean for you and your business?
Complete freedom to adjust the flow
There are no restrictions. No requirements. Only you decide how your process will look and work. It can have both a linear and a tree structure with different variants and branching. Thus, it's possible to design the process as an intermediary between the employee and the manager when only one signature is required, and as a complex system for ten or a hundred recipients when much more is required. You can export data to separate databases, archive every step or simply save the changes. Using other services such as task managers or tables, you can see the current status of assignments, the workload of individual employees and their requests.
Process and flow improvements
I am sure you have dozens of ideas for making the paper process much faster and more enjoyable. You would have gladly implemented them before, but the lack of time and systematic human errors (though not critical) erode these hopes. Implement dozens of automated actions, even the little ones that keep employees informed on every «step» of their document, remind managers about new requests and offers, and pre-fill the information they need.
Accelerate the whole process
Automated systems work according to given algorithms, so they do not need to think or doubt. Further actions for each request are already incorporated into their structure. The simplest way to speed up the whole flow is to automatically send the document to the next responsible person after the previous one's approval. Collecting entire piles of paper and transporting them are in the past. Adjusting the settings will allow you to start automatically sending files to recipients based on the information included. You can also create custom forms so that the employee does not forget to provide the required information and doesn't have to restart later.
How to create your first document management workflow?
You don't have to pay for business automation seminars or take monthly courses to get the required knowledge to implement document management software. All you need to know is already in an airSlate Academy course, just waiting for you to take it. It's better to begin studying with the Fundamentals course though, you'll learn about the basic components, methods, tools, mechanisms and settings for setting up workflows in airSlate. After taking the course get acquainted with airSlate a no-code multi-cloud automation platform and use it to improve your working processes. After completing the course, you will understand the fundamentals to automate business processes and how to turn paper-based flows into effective digital document Flows.
Why do you need a document management workflow?
A document management workflow is no longer an advantage or a bonus. It's a must-have in today's world of modern business. While your employees are still copying and transferring tons of paper, your competitors have already decided that automation is the future. Dedicating more of their time to generate new ideas and communicate with customers.
With a powerful document management software like airSlate, reduce staffing, save effort, time and money. It creates a possibility for your employees to breathe a sigh of relief and focus on genuinely business-relevant processes. With monotonous tasks out of the way, there is energy for new ideas and improved teamwork for developing your business.
Moreover, you can use a document management workflow not only for collaborating with teams but also for working with clients. Instead of lengthy phone calls with customers, having an automatic process will show your clients that you are a professional business and operate at a higher efficiency than your competitors.
If you ask yourself 'what could I do to be better during the age of automation?' Please start with the airSlate Fundamentals course and start taking your business to the next level.