Digital Transformation Courses for Salesforce Admin
Get the most out of Salesforce by integrating document workflow automation. Learn to automate routine processes such as document generation, data and payment collection, approvals, and eSignature workflows of any complexity without having to switch between your CRM and your document workflow solution.
Enroll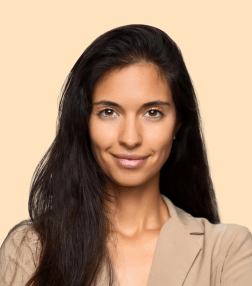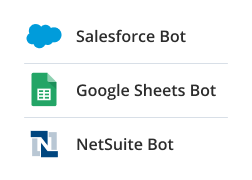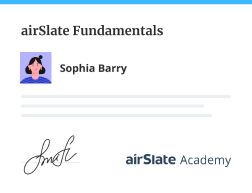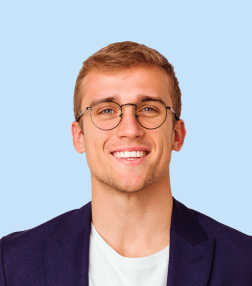 Enroll now to learn:
How to streamline data collection
How to automate document generation
How to simplify data synchronization between multiple systems
Courses & certification
programs for the
professional development of Salesforce admins
Business Process Automation with airSlate
Get key insights into business process automation, its benefits, and how to eliminate routine tasks that slow down business performance.
Document Workflow Automation for Salesforce
Get familiar with the principles of document workflow automation for Salesforce. Find new ways to streamline routine processes and tasks — all with one solution.
Pre-fill from Salesforce Record
Find out how to automatically populate documents with data taken from Salesforce records to prevent errors and save time for more valuable tasks.
Why study with us?
Learn to integrate Salesforce with your automated workflows
Discover how to integrate Salesforce with airSlate workflows to automate routine data transfer, document generation, eSigning, and much more.
Benefit from
an all-in-one
solution
Address all of your daily workflow challenges with an all-in-one solution. Generate documents, negotiate contracts, and collect payments and eSignatures without switching between multiple tools.
Enhance data security and legal compliance
Learn how airSlate ensures customer data security and compliance by adhering to key data protection regulations such as GDPR, CCPA, and so on.
Receive a verified certificate and:
01

share it on social media to prove your acquired skills

02

attach it to your CV to expand your career prospects

03

download it as a PDF or print it out
airSlate Academy: the best Salesforce administration training
It is hard to imagine a modern business operating without a CRM system or workflow automation solutions. These tools enable companies to collect and manage data effectively, helping them make informed decisions and successfully maintain their customer relationships. Salesforce is on the top list of best CRM solutions, as it provides a suite of tools that offers a 360-degree view of customers, helping to turn leads into customers and improving interactions with them. It combines marketing, sales, customer service, and IT solutions within a single digital workspace and requires the platform's admins to manage the ins and outs of Salesforce automation.
What is Salesforce administration?
Every substantial software solution requires a dedicated administrator to keep all processes functioning well and to help users get the most out of the tool. That's why Salesforce administrators are in great demand. Salesforce admins have a range of responsibilities related to platform maintenance that comprise the following:
Adding and managing user accounts, roles, sharing rules, and permissions
Maintaining the platform functionality and security
Upgrading tools for users, creating reports, and building custom dashboards
Training the company's employees on platform updates
Importing/exporting information about leads, customers, and contracts for sales specialists
Configuring Salesforce automation and optimizing integrations with other applications
Let's look at how Salesforce administrators can handle workflow automation and what digital transformation courses they should complete to help their organizations work more productively.
How to improve Salesforce automation
Workflow automation is crucial for a company's productivity. It reduces the time and money spent completing repetitive tasks and helps employees focus more on customers and sales than manual data entry.
Salesforce administrators can automate repetitive business processes across the platform in two ways:
By using the Salesforce native automation tools, such as Approvals, Process Builder, Workflow, and Flow Builder
By integrating your CRM with third-party document workflow automation solutions to configure all your business processes and ensure they are running effortlessly
While Salesforce offers more than 5,000 applications in its AppExchange, airSlate proves to be a perfect match when it comes to streamlining workflows. Connecting multiple tools to your Salesforce organization is unnecessary for configuring efficient document workflow automation. With airSlate, you can:
Generate forms auto-filled with CRM data
Notify users of paperwork awaiting approval
Create/update Salesforce records based on completed forms
Autosave paperwork to CRM records and cloud storage
Launch particular processes in Salesforce upon document completion
You can eliminate manual task execution with the no-code Bots that airSlate uses to automate the workflows. Thanks to its no-code nature, airSlate doesn't require long-term and complicated training. Still, its specialized digital transformation courses will help Salesforce admins become more effective in configuring automation quickly.
airSlate Academy online courses for Salesforce administration
We know how valuable time is for your business. That's why we've created a special learning program focused on the particularities of airSlate's integration with Salesforce. airSlate Academy offers a series of free online courses for Salesforce administration that include:
Training in business process automation that covers basic principles of airSlate functionality
Courses in document workflow automation for Salesforce
Training in configuring Salesforce Integration Bots
After a few hours and free of charge, you will know how to improve your data management and automate daily tasks with maximum benefits for your business. Enroll today!
Questions & answers
What is the Salesforce Administrator's role?
The Salesforce Administrator has an operational role on the platform. Their primary responsibilities are to keep an eye on Salesforce security and manage users' profiles and groups. Apart from that, they also maintain Salesforce automation, manage workflows in the CRM, review processes, and track any issues in them.
How do I automate workflow in Salesforce?
Salesforce has native tools for automating repetitive tasks: Flow Builder, Process Builder, Workflows, and Approvals. To configure a particular business process using these tools, you need to perform a set of actions manually. By integrating airSlate Bots into the platform, you can also set up an automatic data transfer from your Salesforce records to your business paperwork, pre-filling particular fields in your documents.
What is document workflow automation?
Document workflow automation is a part of digital transformation. It's an approach to creating and managing a flow of documents and tasks that run on their own with minimal human interaction. It helps companies eliminate manual error-prone work and reduce administrative costs. Software solutions, like CRM systems, are key elements of effective workflow automation.
Which tool is best for Salesforce automation?
Salesforce perfectly integrates with many document workflow automation tools. airSlate proves to be one of the top solutions for enhancing CRM processes, as it doesn't require coding skills to configure automation across the platforms. With airSlate, you only need to install and set up the appropriate Salesforce Integration Bot to connect both tools. You can then automate data collection in your CRM, export data quickly from Salesforce records to newly created documents, and launch particular Salesforce processes upon your paperwork's completion.
What are the best courses for digital transformation?
Among the available digital transformation courses, we recommend you choose those offered by airSlate Academy. They allow you to learn about robotic process automation and explore how to set up Bots to automate various common workflows, from generating documents to sending notifications to transferring data across several tools. Each course contains a general explanation of workflow configuration, video guidance on Bot setup, real-world examples, quizzes, and practical tasks to reinforce knowledge.
Which certification is best for a Salesforce administrator?
Salesforce administrators should regularly take courses on the platform's updates. Apart from that, they should learn what other software solutions suit the CRM and their particular needs, and how to integrate them correctly to get the maximum positive outcome. airSlate Academy offers several free courses dedicated to Salesforce automation. This Salesforce administration training covers business process automation with airSlate in general and focuses on document workflow automation and Bot implementation for Salesforce tasks. Register today to quickly learn best practices for improving your CRM processes.