Enrollment is open
Workflow Automation for Operations
Learn how to automate all the key operations that your company handles, from generating reports to approving software requests. Going digital with airSlate goes hand in hand with automating even the most complicated actions within your workflow — making your business processes transparent, fast, and cost-effective.
About this program:
This certification program is aimed at anyone working in operations and is looking to streamline and enhance their daily workflows.
The program guides you through the entire process of learning the basics of airSlate, presents typical use cases, and teaches you how to apply this knowledge in practice to increase efficiency and reduce stress for your operations team.
The Essentials section familiarizes you with the key airSlate components, the user interface, and its elements. It will show you how to start working with airSlate, create a workflow from scratch, add documents to it, set up no-code Bots to automate the process, and share your workflow with participants. You will also learn how to keep yourself in the loop regarding any activities in your workflow.
The Use Case section will show you how airSlate helps automate and streamline the most common workflows for business operations, e.g., Incident Reporting, IT Requests and Approvals, and so on. You will also learn about the key benefits of business process automation for operations departments and learn how to evaluate their efficiency upon implementing airSlate.
The Bots section of the certification program includes courses dedicated to the Bots suitable for the use cases presented in the previous section. Each course contains a detailed overview of a specific Bot's characteristics and functions as well as step-by-step instructions for its configuration. You will learn to automatically transfer data between your airSlate records and external systems (e.g., Google Sheets), save completed documents to a cloud storage folder, send reminders and notifications about process completion, and more.
What you will learn
How operations departments can save time and reduce costs with airSlate workflow automation
Where to start deploying airSlate, onboard teammates, and configure your Workspace
What the most typical use cases for airSlate in operations management are
How to set up a typical workflow for business operations, completely automate it, and track any changes within it
What no-code automation is and how to use airSlate Bots
The most popular Bots for workflows that operations departments run and their step-by-step configuration
| | |
| --- | --- |
| Duration | 3 hours |
| Certificate | A sharable achievement is included |
| Level | Beginner, Advanced |
| Language | English |
| Price | FREE |
| Enrolled | 2344 students |
Pursue a Verified Certificate to show off the skills you gain

Verified by airSlate
Receive an airSlate-issued certificate with the airSlate logo to verify your achievement and expand your career prospects.

Shareable on social
Post your certificate on LinkedIn or add it directly to your CV.
All you need to digitally transform your business
The airSlate Academy combines everything you need to digitally transform your business, including legally binding eSignatures, advanced PDF editing, and automated workflows.
eSignature workflows
Familiarize yourself with eSignatures, their implementation, business value, and learn how to create legally binding eSignature workflows for your business.
Paperless workflows
Change the way you work with documents into an interactive online experience and learn how to make your documents look professional.
FAQs
Will I earn a separate certification for each course or just one for the entire Operations Workflow Automation program?
You will receive an individual verified certificate for each course you pass in the Operations Workflow Automation program. In addition, you will receive the verified certificate for the entire Operations Workflow Automation certification program.
Can I take the courses in the Operations Workflow Automation program in any order?
We recommend passing these courses in the order they are listed in the Operations Workflow Automation program to maintain the logical sequence.
Become an airSlate Partner
Students who complete the airSlate Academy courses are welcome to become partners. Get the necessary skills for building automated processes, helping airSlate newbies, and generating revenue.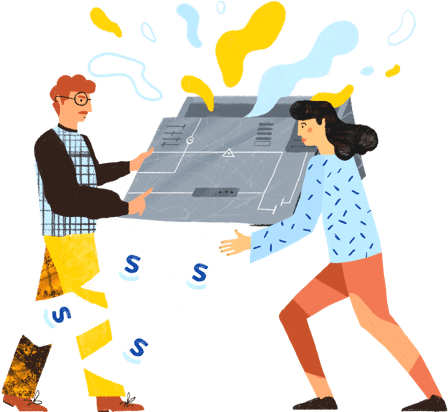 The best business automation software for operations management
It's not enough to have a great idea and budget for its realization to build a successful company. Growth is accompanied by a massive amount of processes in areas like marketing, human resources, and operations management.
What is operations management?
Operations management's primary purpose is to control production methods and business operations for achieving the best results. In other words, operations managers strive to build the most efficient processes possible. However, this doesn't only include the manufacturing of goods and optimizing production lines but also includes the simplifying all work-related steps.
By implementing business automation into your operations workflows, you can take your organization to a higher level of efficiency.
Why organizations adopt business automation software to improve their operations management
What are the typical responsibilities of an operations manager when the automation of business processes is taken out of the picture?
Look for ways to improve existing processes
Evaluate and plan how staff uses inventory
Control legal compliance within an organization's processes
Increase profitability by examining financial data and managing budgets
A manager's responsibilities are full of time-consuming tasks. All of them require communication with people, collecting feedback and additional information, and transferring data between various cloud storage services.
Luckily, business process automation software is capable of taking all of the mundane, routine work. Systems can process data much better than people, so why not let them do it? They don't get sick, tired, and don't need to take the kids to school, visit the dentist, or go on holidays. Let's take a closer look at what the automation of business can look like with the right software:
Streamlined document processing. All information inserted into form fields will be mapped and routed to corresponding fields in different form fields making the process of filling out and processing documents much faster.
Accelerated data collection. Business automation solutions are designed to make collecting information from recipients easy, even including tools for sending automated reminders.
Eliminated human errors. When software controls the pushing and pulling of data it eliminates a majority of document errors as long as the data was entered correctly the first time.
Improved analytics. Dashboards are extremely helpful in helping operations managers make smart business decisions by offering up-to-date analytics in real time.
Enhanced document management. If your BPA software is set up correctly, you should be able to manage documents much easier than before, as all form types can be configured to be stored in the appropriate folders automatically.
Optimized work hours. A system can be set to operate 24/7 without breaks or vacations, allowing you to keep your man hours used on higher-value activities.
What is the best business process automation software?
There are three types of business automation technologies: code, low-code, and co-code. The first two types require you to hire IT specialists to build new software for you or to customize your existing software. In any case, both require a significant amount of money and energy.
No-code automation is the way of the future for business process automation. It doesn't require you to be an IT specialist or hire an entire department of developers; you can become an automation architect on your own with the help of airSlate. All the tools are available right from your preferred web browser: open the airSlate website, sign in to your account, and start implementing automation in your business and eliminating tedious processes.
Naturally, it's hard to become a professional in the sphere of business automation. The airSlate Academy is a free environment for learning about business process automation. Enroll in the Operations course and learn how to implement and enhance automation in any business process. Enroll today to start automating the routine!