IT & Security
Streamline document workflows within your IT department
Process feedback and requests, conduct surveys, and prepare reports without compromising your IT-related processes. Use the all-in-one, no-code solution to automate data collection, status updates, reconciliation, and many more operational tasks to eliminate human error.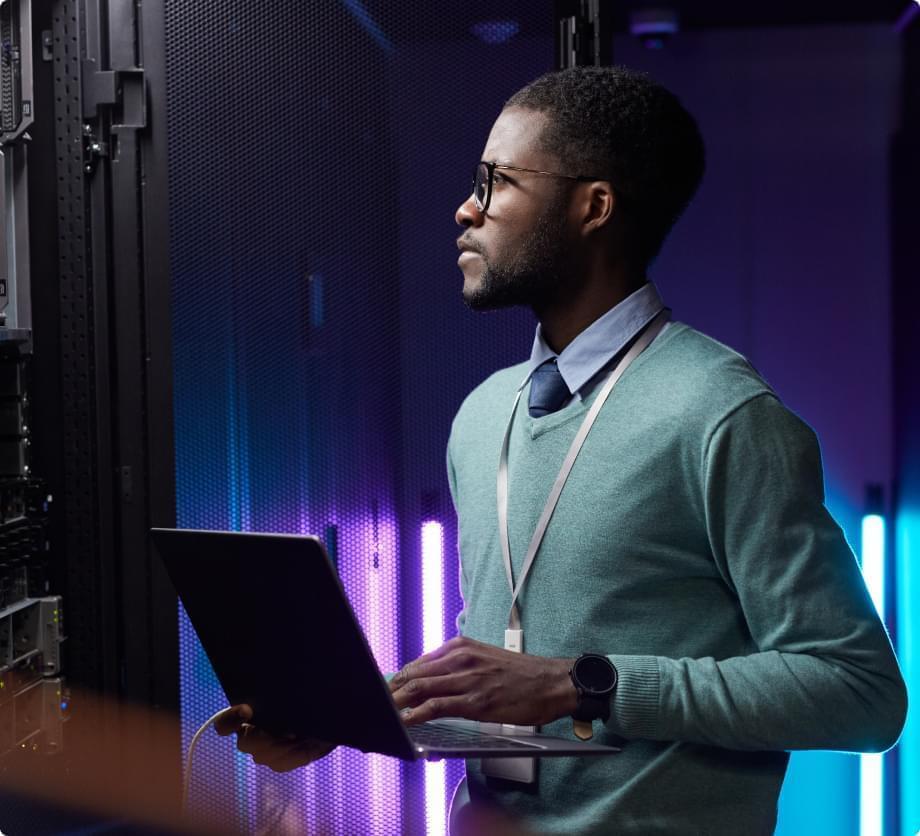 airSlate for IT staff
airSlate empowers IT specialists to strengthen their company's operating efficiency by automating their document workflows and syncing data between systems. Rededicate time and effort that was previously wasted on routine requests towards more valuable initiatives.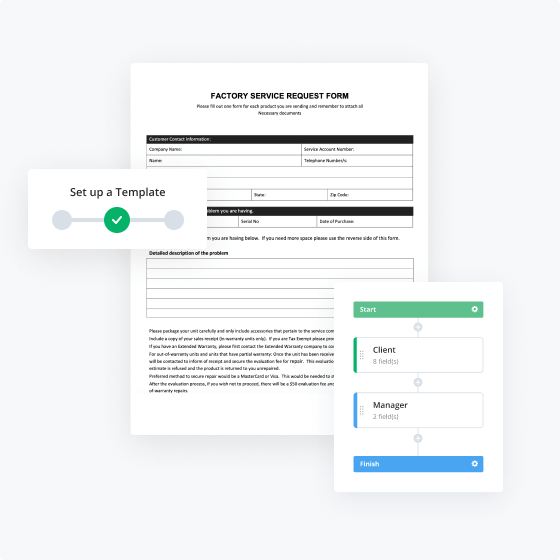 airSlate for IT staff
airSlate empowers IT specialists to strengthen their company's operating efficiency by automating their document workflows and syncing data between systems. Rededicate time and effort that was previously wasted on routine requests towards more valuable initiatives.
Maintenance authorization

IT service requests

Equipment requests

Credentials requests

Employee offboarding
Start with a pre-built Template and customize it to fit your unique process
Select from pre-built document workflow Templates used by airSlate customers from the IT & Security industry.
Everything you need in an all-in-one platform
From eSigning to drag-and-drop process automation and hundreds of no-code Integration and Automation Bots ‒ get everything you need to build document workflows in one platform.
Process requests and reports - to rephrase
Keep employee productivity high by fixing problems faster. Set up automated workflows with requests, reports, and updates, to simplify your IT department's management of routine tasks.
Automate feedback forms and surveys - ind
Reveal potential problems by collecting user feedback via an HTML form generated from a public URL. Get responses and transfer them to your system of record automatically.
Tie together siloed data
airSlate Integration Bots allow you to work with multiple systems of records simultaneously. Automatically transfer data between services such as Google, NetSuite, Microsoft Dynamics 365, Microsoft Teams, Salesforce, Salesforce CPQ, and more.
Create your custom processes
From A/b testing surveys and software evaluation to status updates and security notifications, deploy department-specific workflows by supporting your organization's unique objectives and goals.
Ensure security and compliance
Share and store your internal documentation with industry-leading security standards. airSlate fully complies with HIPAA, SOC 2 Type II, PCI DSS, CCPA, 21 CFR Part 11, and GDPR regulations.
Track the progress of any process
Track workflow activity such as inquiries received and survey forms completed with a comprehensive view of every process from beginning to end.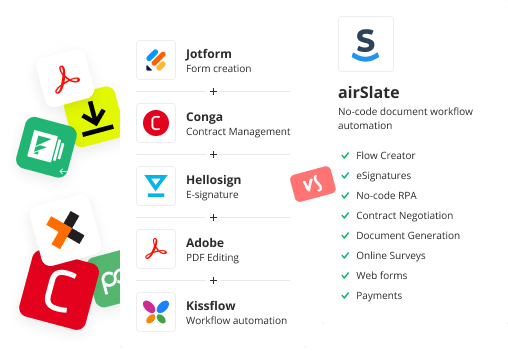 See why airSlate beats any alternative on the market
Integrate with any cloud service via no-code Bots to streamline your document workflows
Trusted by forward-thinking companies around the world


"Very slick and powerful"
"Simple, flexible, and effective. What more could you want?"
"I would now be lost without airSlate"
Enterprise-grade security and compliance
airSlate is committed to protecting your sensitive information by complying with global industry-leading security standards.
Get the most out of airSlate

The airSlate Academy
Learn how to put workflow automation into action using market-leading solutions.

Partner Program
Collaborate with the most powerful no-code document workflow automation platform.
Get long-term value for your business with IT process automation
Get long-term value for your business with IT process automation
At the core of any successful company lies efficiently organized and orchestrated IT processes. They often involve a document-heavy routine and many administrative tasks, and they get even more challenging with the switch to hybrid and remote work.
Let's review an example of a software evaluation process. It seems pretty simple on the surface. You create a baseline of questions to learn what your key customers like or dislike about your product. Then you need to send them out to your users, ask them to complete the survey, send reminders, collect and analyze results, and route the completed surveys to a CRM. It's time-consuming and can lead to lost time and customers. Putting software evaluation aside, it also applies to cases when, for example, an IT worker needs a hardware upgrade to meet their workload requirements. It usually involves multiple signers and many unnecessary steps that might affect project delivery and performance in general. Luckily, there is a more streamlined way to deal with all document-based processes related to the IT industry. It can be achieved with IT automation tools.
What is it automation?
IT automation is when repetitive and mundane tasks involved in business processes are taken over by either AI or RPA technology. It helps free up teams to concentrate on higher-value tasks, reduce the "human factor" in working with critical documents, and make all processes more refined and organized. In the long run, with the help of IT automation software, companies can increase transparency among teams, better adapt to different types of work, improve employee satisfaction rate, and create a more eco-friendly workspace environment.
How can IT teams benefit from IT process automation software, like airSlate?
First and foremost, the right IT automation tool can give companies more opportunities to invest in and focus on employees, their most significant assets, and direct their talents towards more meaningful tasks. This is only a part of how your business can benefit from automating the day-to-day routine processes. With airSlate, you also get:
Industry-compliant document management.

airSlate follows industry best practices in user data safety and protection and implements privacy regulations such as HIPAA and GDPR. You can be sure that your data is kept and managed safely.

Endless opportunities for automation and integration.

No matter what you work on, be it a request for proposal for website design or onboarding of a new hire, airSlate features a myriad of options to make any process as smooth and frictionless as possible. You can collect, push, pull, and replicate the data across the documents without leaving the applications you already work with.

Significantly better level of accuracy.

airSlate is designed to minimize human interaction with document bases and data routing processes. This will leave less room for erroneous situations.

Smooth integrations and API setup.

airSlate offers a broad spectrum of software and cloud solutions it can be connected to. You can easily create and launch an isolated sandbox environment where you can integrate, test, and deploy all features without affecting your company's existing infrastructure.

Workflow automation fine-tuning.

You can access an extensive template-based library of workflows that cater to different industries and requirements.

Advanced auditing capabilities.

When you work with airSlate, you can track who (designated parties), when (time and date), and where (IP location tracking) specific actions on documents were performed. The factors mentioned above serve as a single source of truth for you, your partners and colleagues, and ensure that documents are legally binding.
How to get started with IT automation using airSlate
airSlate is primarily a no-code solution. It means that you don't need to be well-versed in programming or hire more people on board to integrate our IT automation tools. Here are the essential steps to get your workflow up and running:
Register a free account.
Create a Workspace. You can create as many as you need.
From the All Templates tab, set up a new Template.
Visualize your Template. Otherwise, choose a pre-made industry-specific Template from our library.
Upload your document(s), select ones from the library, or generate them from scratch.
Edit the document(s), add fillable fields, create specific conditions for them under which they will be triggered.
Assign roles to the fillable fields and manage document execution rights.
Add Bots to automate the newly created workflow.
If IT process automation is something you're not familiar with, we've prepared everything to get your automation journey off to a good start. You can learn how to automate routine processes by reading our follow-along instructions, tutorials, and recommendations. Also, you can sign up for the free courses provided by the airSlate Academy that will walk you through the automating and managing of documents with airSlate.
Try airSlate now and make your routine IT processes less reliant on human intervention.